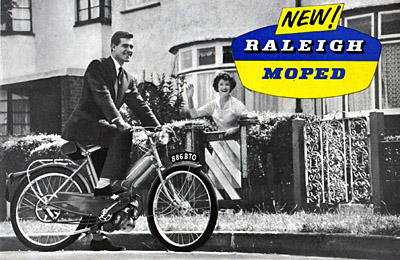 RM1: no need for colour photography
when the moped is grey.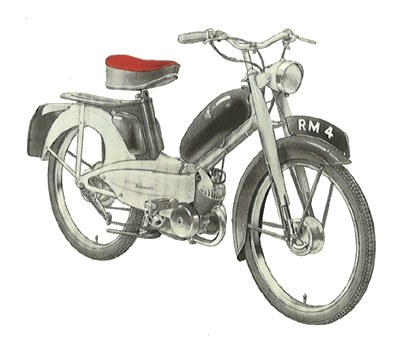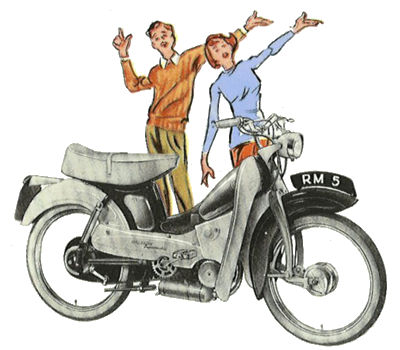 Starting with a bit of period background to set the stage: Raleigh announced its first RM1 moped at the Savoy Hotel, London in October 1958, which was finished in what Raleigh described as 'Duo-tone grey enamel', otherwise we have no further interest in the RM1 in respect of this presentation.
In May of 1959 the RM1c (clutch) model was introduced, to join the earlier direct-drive version, until both models were discontinued in December, to be replaced by the RM2c in January 1960, and finished in maroon and light 'dove grey'. On 19th April 1960, the giant Tube Investments Group agreed terms for the takeover of Raleigh Cycles, and Raleigh was subsequently appointed to head up the group re-organisation of all TI companies and products within the British Cycle Corporation, including Norman, Phillips, Hercules, and Sun.
In October 1960, Raleigh de-listed its Sturmey–Archer powered RM2c moped and announced the start-up of a completely new range of mopeds to be made under licence from the French Motobécane company. New RM4 Automatic and RM5 Supermatic models were announced in November 1960 with production scheduled to start in February 1961, and presented in a new two-tone corporate colour scheme of 'Charcoal and Pearl Grey' (which was actually more of a light cream, while the Charcoal seemed to be a very close return of the dark grey deployed on the RM1).
Both models featured step-through frames, the RM4 being a single-speed machine with automatic clutch, rigid frame and telescopic front forks, costing £59–17s–0d, while the 'flagship' RM5 (based on the Motobécane AV89) was fitted with variator transmission, leading-link forks and rear suspension, a dual-seat, and priced at £87–3s–0d.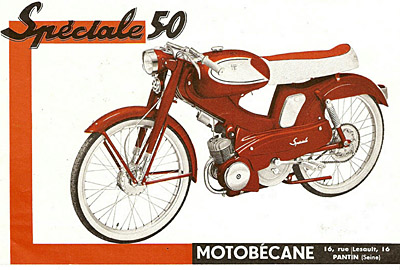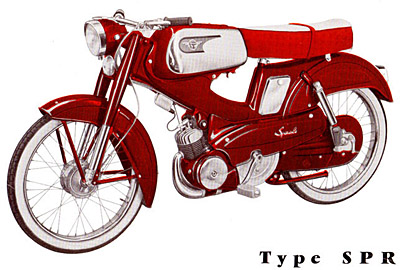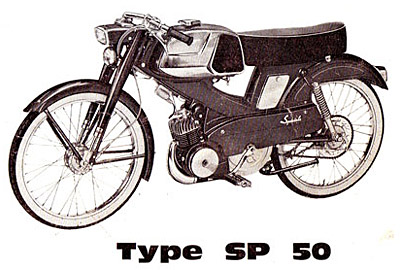 While Raleigh was preparing for the introduction of the RM5 Supermatic to Britain for the new season in 1961, Motobécane had already introduced its own AV89 and an SP50 'Sport Spéciale' version at the Paris Salon in October 1960. The SP50 was shortly joined by another toned down SPR50 'Spéciale Route' sports model in 1962, for more practical comfort, having a chunkier style of larger capacity chrome-sided top-tank with belt loops, the same heavily valanced front mudguard and fully enclosed chain-guard of the AV89, with a larger round headlamp set. It was still finished in 'Chaudron' bronze and carried the same sporty low-forward handlebar, but was more 'functional' for a mature appeal.
An SP98 model was also launched in 1962, and introduced a third 'angular' type of top-tank with detachable panels, meaning all three tanks were in use at the same time on different models in 1962—which probably seems a bit silly…
The original Motobécane SP50 model with its round 'Mottaz' tank was discontinued in 1963, while the SPR 'Spéciale Route' changed to the angular, detachable panel tank from the SP98 (although pictures in leaflets were still showing illustrations of the earlier tank into 1964)—so now we're more sensibly down to just one common top-tank.
Starting from early Raleigh corporate colours, then drifting into Motobécane sports fuel tanks, it maybe around this point you might be wondering quite where this intro is leading?
---
OK … So we've established the RM5 frame with leading-link forks and the angular, detachable panel top-tank were available components in 1963, so if Raleigh had prototyped a concept 'sports' version of the RM5—could it have looked something like this?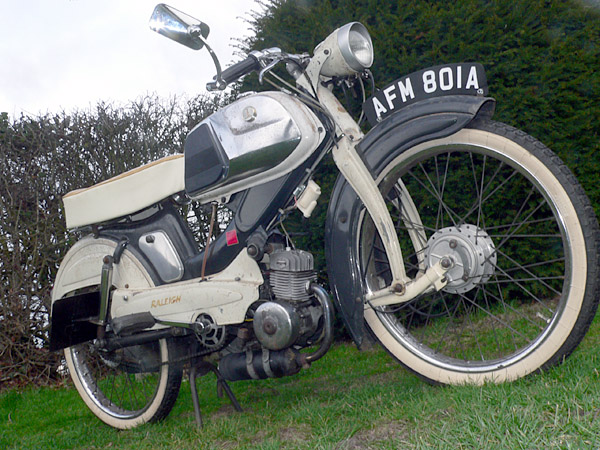 This RM5 Supermatic Sports would have been a machine that Raleigh could have very easily built, since all the components to assemble such a machine were already in production at Motobécane. The SP50 frame to mount a top-tank had existed since its introduction in October 1960, as had the leading-link fork set, though Motobécane had always chosen to fit telescopic forks into their SP50 frame.
Raleigh was already factoring-in a wide range of Motobécane parts to assemble its various models around this period, from RM4 (Nov 1960) to RM9 (Apr 1964), so all the required components to create this RM5SS would have been readily available.
Since Motor Imports of London were importing equivalent Motobécane models, Raleigh was actively trying to make its own licence branded equivalents look a little different, and Motobécane had never produced a Sport Spéciale version with the leading-link fork fitted.
Our RM5SS Concept is dated 1963, so it could be a prototype built by Raleigh Research & Development Dept from period components, but we'll come clean, it's not, because it's a custom-built special.
So how's it done?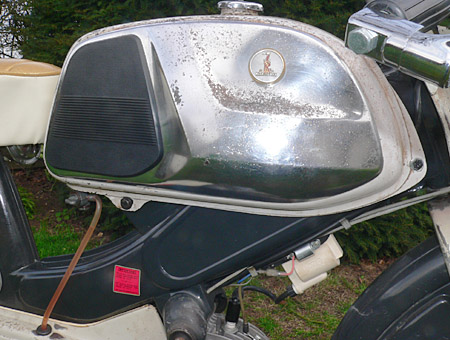 Because you can't fit a top-tank onto the in-frame tank chassis, the outer sides of the frame-tank have been cut away, then blanked off by welding in flat sheets with swaged edges to make the panels more rigid, and look like an original form. A formed bracket is welded to the top of the frame spine to support the rear mounting for the tank.
The stem mounted all-rounder pattern handlebars are turned upside down in the stem (á la RM12 style) to effectively become drops, and the rear footrest mountings cut from the rear suspension, so without any passenger, you can always tuck down along the dual seat to take advantage of the best aerodynamics.
The usual rear lamp bracket and rear number plate is removed from the rear mudguard, and replaced by a continental-style mudguard mounting rear lamp unit for a cleaner back-end look.
The offside rear suspension shroud now carries a spring loaded flip-plate (it's a sort of custom thing where the number plate folds in half, with a spring to open it). You might easily forget to open this, and ride around all day with the plate closed, and if you get pulled up, then just surreptitiously flip the catch if you have opportunity, or 'sorry occifer, just forgot to open the plate—there, fixed'.
Look inside the front mudguard, and you can see the rubber-band suspension has been replaced with ex-Norman Nippy front springs, which will be more resilient, though probably not as reactive as the bands.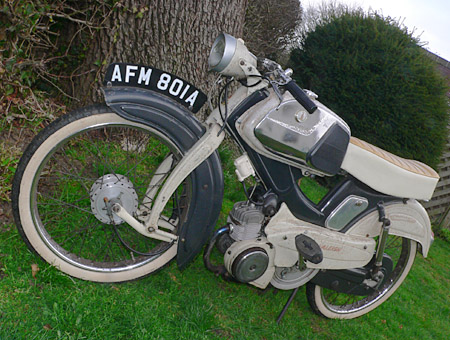 Another surprising modification of note is that the rear brake lever bracket is drilled to carry a switch operating a rear brake light, and it actually seems to work!
So, on to the motor, and that's been modified too, fitted with a 72.5cc Airsal GAC cylinder kit, which means it's compressing an additional 22.5cc into the same 5.5cc head space, which pushes the standard 9:1 compression ratio up to 12:1.
The standard H14 carburettor has been replaced by a Dell'orto SHA15/15C (C indicates it has a cable operated choke shutter), and 1mm increase in the carburettor venturi diameter is going to add around a further 0.2bhp.
Increases in the capacity, compression ratio and carburettor size all increase the power.
The engine power output of the original AV89 engine was 2.7bhp, and while we don't know quite what the new output is, it's probably well over 3bhp. The gearing ratio has also been increased by 8.3% by changing the rear sprocket from 48 teeth, down to 44 teeth.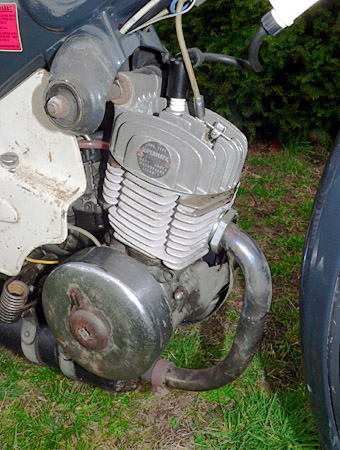 So by now you're probably wondering: how does it go?
OK, the lever fuel tap switches on–off–res under the back centre of the tank (which seems an awkward place to locate the fuel tap—maybe you can easily reach it from both sides—or maybe it's just difficult to reach from either side … take your pick).
Best starting procedure is off the stand and a 'flying' pedal start, so twist the throttle grip forward to decompress and get the engine turning over, then twist the throttle back, trigger the choke and the motor fires up right away. You'll need to keep tweaking the choke trigger a bit to hold the engine from dying out, till running clears after a minute.
The variator delivers a progressive ratio change up to the top of its range, after which the revs increase to whatever they'll get up to under the prevailing conditions.
Despite the raised drive ratio, it pulls very well, and acceleration is noticeably stronger than a standard machine.
A period RM5 road test by 'Centaur' in Cycling dated 6th November 1961 reported a top speed 'with the throttle wide open—maximum speed being in the region of 35mph' (this approximation might seem a conservative estimate, since in our 'Bronze Age' article we paced a standard AV89 at 36–37 upright in still air on flat, 38–39 in crouch, and 43–44 downhill).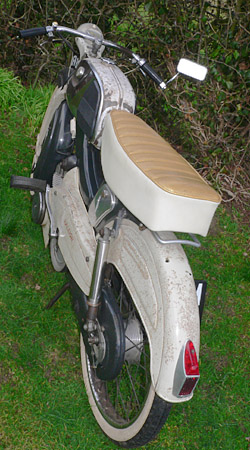 The 22.5cc/45% increase in cylinder volume, certainly wouldn't equate to a direct 45% increase in performance, and though it will certainly increase the engine power, it won't necessarily increase the revs that the motor can achieve, in which case the top speed could remain much the same.
Raising the drive ratio by 8.3% would suggest around 40mph on-flat should be expected as long as the engine is able to pull the increased gear (which we're pretty sure it would, because of the power increase).
Since the Huret 60mph speedo wavers from the moment we pull away, its vague indications are obviously going to be somewhat unconvincing … more of an approximeter than a speedometer, but we planned for this, because Huret speedometers have established a 'reputation' over the years, so we have a pacer for our road test. Speedo peak reading wavering around 50–52mph on a light long downhill run in crouch as paced at 45mph.
With the extra power the motor produces from the capacity increase, it's really easy for the bike to pull up to around an indicated 45 (actual paced 40) on flat, cruising easily in upright posture in still air, and consistently maintaining that pace. A standard AV89 could only be worked up toward that kind of speed with the rider in a crouch, and would invariably drop some pace just by sitting back up.
Despite the extra capacity of the Airsal GAC 72.5cc conversion however, the transfers and exhaust porting are probably similar heights to the original AV89 ports, so while the GAC cylinder pulls better, it doesn't seem to achieve significantly higher revs than the AV89 cylinder.
The RM4 was dropped in February 1964, to be replaced with the RM8 Automatic Mark 2, which again was finished in the Charcoal and Pearl Grey combination. Around the middle of 1965 the RM8 now became offered in a choice of two colour schemes, Pearl and Charcoal Grey or Pearl Grey and Royal Blue.
The SPR50 'Sport Spéciale' was imported to the UK from June 1965, which was when the angular chrome-panel sided tank first appeared in Britain.
All the Motobécane Sport Spéciale models featured a telescopic front fork, while the Raleigh RM5 retained the leading-link fork right up to June 1965, when it changed over to telescopic forks along with the fitting of a square headlamp and new colour scheme of Pearl Grey and Fire Red.
In June 1965, Raleigh also introduced its new RM12 Super-50 sports moped with AV89 motor, but based on a rigid frame with telescopic fork, finished in black, with a Neptune Blue fuel tank and sporting plastic 'chrome' stick-on knee grips.
The Charcoal and Pearl Grey corporate colours were fast disappearing, and from November 1965, the option was deleted from the RM8. Drab monochrome was out, replaced by a variety of colours.
The moment of corporate colours had passed.
The Raleigh RM5 Supermatic Sports never existed…