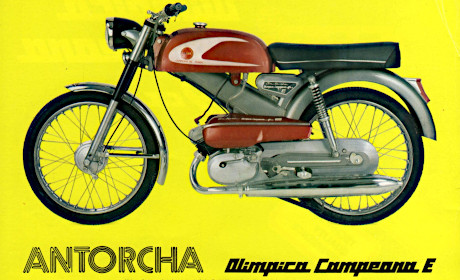 Derbi's origins began in 1922 from a small bicycle workshop in the village of Mollet near Barcelona, founded by Simeó Rabasa I Singla (1901–88). The focus remained the repair and hire of bicycles until May 1944 when Rabasa formed a limited liability company named Bicicletas Rabasa together with his brother Josep and a group of small investors, with the aim of moving into manufacturing his own bicycles, and the old workshop was expanded with new bays to cover the production requirements.
Bicycle manufacturing proved commercially successful so, in 1946 and supported by its profits, work began on the development of a motorised cycle prototype with telescopic forks and a rigid frame.
As a back-story link, Fiat director Óscar Ravá fled to Spain from Italy to escape the fascists during World War II, and established a Lancia dealership in Barcelona, where he also marketed Rabasa bicycles.
In 1948 Óscar established an arrangement with Moto Guzzi to enable his firm to manufacture the Italian motor cycles in Spain. He outsourced component manufacture to several reputable Spanish firms, including the well-established ISA (Industry Subsidiaries Aviation) in Seville, and Rabasa Mollet (Barcelona) for frames, forks and sheet metal parts. With the participation of these two companies the first 65cc Moto Guzzi Hispania appeared in August 1949, with some differences from the Italian model. In March 1950 the contract with Rabasa for the first 1,000 units came to an end, and Rabasa was replaced by EMTISA (Estampados de Metal Tis, Sociedad Anonima = Tis Metal Stampings Company Limited) the sourcing difference only being indicated the by the frame number.
In 1949, production of the new SRS series mopeds began with rigid frame Type-1, and followed with a further plunger rear suspension Type-2, called SRS from the initials of Simeó Rabasa i Singla.
Rabasa chose an already established proprietary IRESA (Industrias Reunidas Espanolas SA) 48cc two-stroke engine, rated 1.5bhp@4,500rpm, with a 5.5:1 compression ratio. The engine featured gear primary transmission, clutched to a manual two-speed gearbox controlled by a lever on the right-hand side of the fuel tank, and a final chain drive. Its maximum speed was given at 35km/h (22mph) and consumption at 1.5 litres per 100 kilometres. The SRS frame carried a single cycle-style saddle, with a motor cycle top-tank, exhaust going straight backwards from the rear-facing cylinder, and drum brakes.
The SRS achieved popular success in post-war Spain, with many different models released over the following years, including some with engines up to 65cc and increased speeds up to 45km/h (28mph).
Sales of the SRS proved successful enough to initiate a change in the company's direction, and at the June 1950 Barcelona International Trade Fair, the company unveiled its first prototype motor cycle, now presented as a Derbi 250! The Derbi name was taken from an amalgamation of the Catalan phrase Derivats de Bicicletes (derivatives of bicycles), as an acknowledgement of the company's history and its location. The new Derbi 250 was a licensed version of the Jawa 250 two-stroke single with some 'developments', where the original gear lever control on the left-hand side was replaced by a heel & toe rocking pedal switched to the right, with rear brake lever transposed to the left. The kick-start remained on the left side, while ribbed side casings replaced the smooth castings on the Czechoslovakian model. The frame was identical to the original Jawa, though the front fork was slightly changed. It offered the same innovative manual and semi-automatic Jawa slick-shift clutch, and a gimmicky set of lights in the headlamp nacelle for speed indication. The new Derbi model however, wasn't destined to become available for sale for a while.
On November 11th 1950, Rabasa Company changed its trading name to Nacional Motor SA.
In 1951 the SRS moped underwent changes of the cycle frame, to which a twin shock swing-arm rear suspension and a larger fuel tank were added, and further changes to the IRESA engine, which was up-rated to 53cc for 2bhp and 48 km/h (30mph) as maximum speed. The SRS moped was discontinued at the end of 1953, and the SRS brand disappeared with it.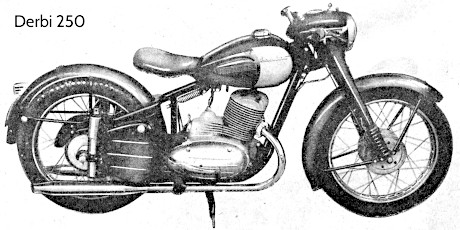 The initial Derbi 250 model became available for sale in its first series form from the beginning of 1952, with engine spec 65mm bore × 75mm stroke for an exact displacement of 248.87cc, compression ratio of 6.3:1 for 9bhp@4,000rpm, and quoted a top speed of 100 km/h (62mph).
At the Barcelona International Trade Fair in 1952, Derbi presented an interesting 90cc prototype light motor cycle, which subsequently developed with its capacity increased to 95cc in April 1953, and completed for market sale September 1953. The Derbi 95 was a two-stroke split-single, with two 32mm pistons × 59mm stroke into a common 7:1 compression chamber, rated 1.4bhp@ 4,500rpm, with a three-speed foot-change gearbox for a given top speed of 70km/h (44mph). Its single cradle frame with twin shock swing-arm rear and telescopic fork front established it as a popular machine, and large numbers were produced.
A 'Super' second series of the 250 evolved in 1954 characterised by fitment of a larger fin, flat-top, higher compression 7:1 cylinder head for 12bhp@4,200rpm, and changes to the front fork. A slightly remodelled 95 was shown at the Barcelona International Trade Fair in 1954, and shared the stage with two new Derbi prototypes, though neither of these would be manufactured in their display format. One was a scooter with 98cc engine, and a 'Super CC 125' with Hispano—Villiers engine. The scooter with faired motor cycle cradle frame, twin shock swing-arm and telescopic forks, did actually reach production in 1955, though with a home built Rabasa two-stroke motor of 125cc 54 × 54 'square' bore and stroke for 5.5bhp@4,500rpm, three-speed box. A 125 Turismo appeared in place of the Super CC using the same engine as the scooter in the same frame but without scooter fairing, while the Hispano—Villiers engine was left on the shelf. The Super CC reappeared in 1956, now under the title of Derbi 125, which was basically the Turismo with different front and rear suspension (which would subsequently be replaced by more conventional telescopic forks and rear suspension).
A third series came in 1958 when the 250 adopted aspects of the 350 twin to create a restyled model.
In 1957 Derbi introduced its largest capacity motor cycle, being another licensed Jawa, with twin-cylinder 350cc 16bhp motor, and again fitted with special higher compression cylinder heads and other compatible changes applied to the 250. The i twin was mass-produced by Derbi, with production rising to 4,200 units a year, and the number of employees increasing to 280.
Derbi manufactured the 250 model for a little over ten years, ending in 1962.
In the early 1960s Derbi started building its own 49cc and 74cc engines based on a Sachs licensed design, and soon started to develop a number of racing models.
In 1965 Spain introduced new moped legislation requiring pedals to be fitted, and a maximum speed on flat not exceeding 40km/h (25mph), and during the year the Antorcha (Torch) 49 was introduced. These early models were fitted with a licence-built Sachs three-speed engine with pedals, but also had footrests and a foot brake, telescopic forks, round sculpted tank and cylindrical toolbox.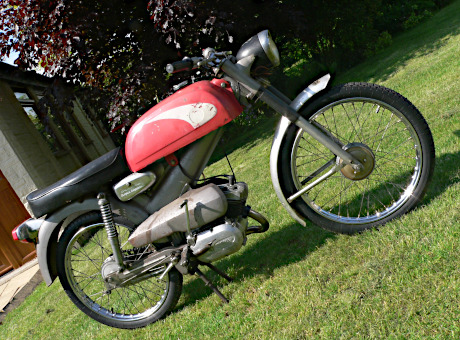 Different Antorcha models followed with fork & lower mudguard stay trims, a round unsculptured tank, a moulded toolbox, and the pedal shaft relocated to the rear swing-arm spindle.
Derbi's first competition win came in 1968 with Barry Smith at the IoM TT races, from which Derbi went on to win the 50cc world championships in 1969, 1970, and 1972, and 125cc Grand Prix world championships in 1971 and 1972.
Our featured bike, dated 1972, is apparently a Derbi Antorcha Super 49 Olimpica Campeona E3 (yes, that's a grand and flamboyant title. Olimpica Campeona = Olympic Champion).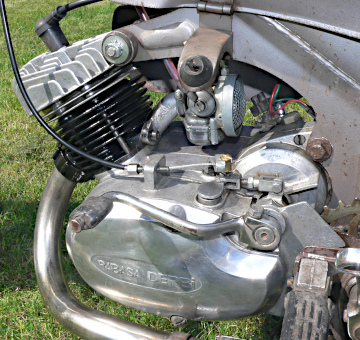 To comply with the Spanish moped law of the time, the Antorcha is an 'original' sports moped with pedals, but the way that Derbi engineered this was a little unconventional. It has everything that a motor cycle has, but also has everything a moped has too!
It has footrests with foot-changed gears on the left-hand side, and a kick-start on the right.
If you want to pedal it like a moped (as if anyone would ever want to do that), the pedal set is just an add-on token to meet regulatory requirements, and its operation would never have been seriously expected to assist the machine in the manner of a traditional pedal moped. To pedal the bike, you have to fold up the footrests, and push the kick-start lever end back through the arm to get everything out of the way of the pedal arcs. The main drive chain is on the left-hand side (normal), but the pedal chain is also on the left-hand side (very NOT normal). The pedal chain front sprocket is fitted inboard of the swing-arm and on the swing-arm spindle which rotates to double-up as the pedal shaft, and because the freewheel sprocket screws to the left-hand side of the rear hub, it requires a special left-hand thread to screw onto the hub. All conventional freewheel sprockets are right-hand thread for mounting on the right-hand side, so if you wanted a left-hand thread freewheel, you'd probably find it very difficult to source. Most Spanish Antorchas in use, normally seem to have had their pedals removed so they don't get in the way.
Because the Derbi motor has a kick-start, you'd normally expect the engine to be kick-started, but this isn't so easy because the kick-start fouls the right-hand footrest. You can fold up the footrest, but the kick-start still fouls the right-hand pedal arm, so the kick-starter is only effective for half its stroke, which rarely seems enough to start the engine. Generally it's easier to just put the bike in gear and bump start.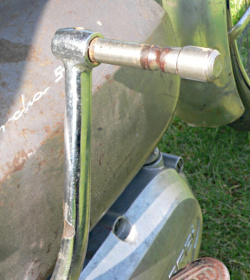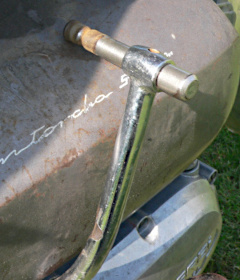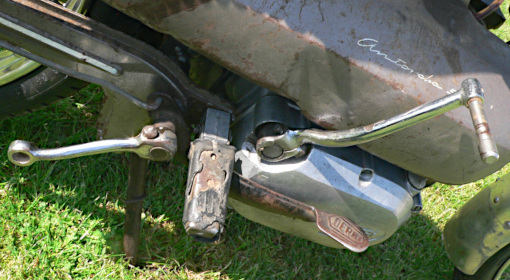 The back brake is foot pedal operated by rod linkage on the right-hand side.
Ideal light switching is controlled from the left-hand handlebar off–dip–beam beneath the grip, while a red button on the top is cut-out, and black button for horn. The left-hand clutch and right-hand front brake lever brackets are welded to the handlebars, which bolt through mounting brackets by the fork top nuts. The alloy levers are stylish and slender, with a cursor twist-grip throttle control and choke lever on the right. This gives a super clean and tidy handlebar set, which looks really neat and uncluttered.
The headlamp shell doesn't have any speedometer, no socket to fit a speedo, and no obvious way to even fit a speedo drive to the front hub. The horn mounts underneath and behind the headlamp shell, and out of sight. There is a steering lock fitted into the steering head, but no key (there never is). Petrol tap switches reserve–off–main under the left-hand side of the tank.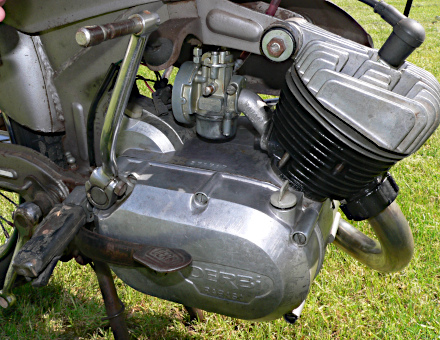 Since we're going for the easier bump start option, shift the gear lever up into first, pull in the clutch, then simply scoot the bike out of the garage and drop the clutch. Keeping the engine turning while teasing the choke trigger delivers an instant result and the engine starts right up, then tweak the choke trigger as required if the motor starts to die out. It doesn't take long before the motor runs clear, and we do a few turns up and down the drive to get a feel of the clutch and gear-change. Instant impression is how narrow the bike feels to sit on, and how high the footrests are, so your legs are quite folded, and you have to lift your foot off the left-hand footrest to shift gear, both up and down. While the gear lever position isn't in the optimum setting, because of the long arm movement it may not actually be possible to set the gear lever to operate from the footrest and simply just toe up or down. Though E4 four-speed versions were also available, our E3 model has a three-speed gearbox one-up, two-down with neutral between first and second. The lever has a very light action with no click location feel, and a long arm movement. Selection is fine going up or down, but has no 'feel' to find neutral, which is usually pretty difficult to locate.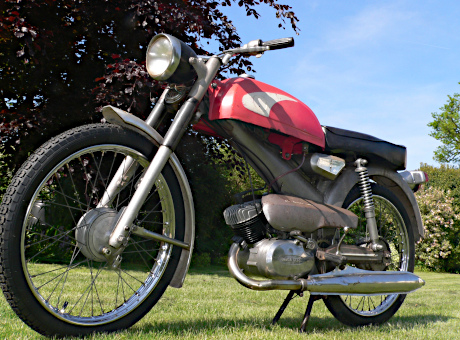 First gear feels quite low since it runs up its revs very quickly, while switching into second contrasts with a big ratio jump, though the power produced by the motor has no trouble pulling through the gear. With the revs building up, it's time for third (top), which the motor again has no trouble pulling through an easy cruising speed at 30mph (paced). A two-way run along the straight topped out at 35mph both ways, and peaked at 36 on a long light downhill (all paced). The motor was clearly revving out and would undoubtedly pull a higher drive ratio. Derbi seemed to list 13 tooth and 14 tooth front sprockets to fit the Antorcha, so our guess is that this machine is probably fitted with the 13 tooth. Fitting a 14 tooth front sprocket suggests 39mph would be expected, which the power of the motor would easily pull, and if there's room to fit a 15 tooth one, then 42mph could be achievable.
The side panels fold up on hinges for carb access, and underneath the panels we find a Spanish licensed Dell'orto SHA14/14 made by Arbeo Bilbao, which has a cable operated shutter choke, and a special cranked flood button to clear the left-hand head mounting bracket, so was clearly a special carb made for this Derbi installation.
Even in its seemingly standard form, our bike is clearly way faster than the expected Spanish moped regulation 40km/h (25mph), and the fitment of a 14mm carb was also a surprise. UK market versions with a 14mm carb and 9:1 compression cylinder head (which our bike also has) quoted 4.5bhp@ 5,700rpm, while Spanish specification Antorchas list fitment of a 10mm carburettor and quote power 2.2bhp@5,000rpm, and may well have had a lower compression cylinder head.
The same hubs and brake plates are used for front and rear by fitting a sprocket for back, and a blanking plate for the front. Brake hubs are 105mm, and laced into 18-inch 'no-brand' chrome rims shod with 2.25 tyres.
There are nice alloy fork legs, but plastic headlamp brackets and lower shrouds, though cast aluminium headlamp brackets became available for later models. The original Ideal rear suspension units feel quite firm, as do the front forks, and there's no missing the immediate impression that the Derbi delivers a hard ride.
The bike is widely adorned by logos with 'Derbi Rabasa' on both engine side casings, 'Derbi' pressed into the footbrake pedal, front brake lever and clutch lever, on the tank badges (missing), imprinted in the seat cover and on a decal on the back of the rear mudguard, 'Derbi' printed on the back of the seat with 'Campeona del Mundo' (Champion of the World). 'Antorcha Super 49cc' decals on the side panels, 'Antorcha Olimpica Campeona' (Olympic Champion) decals on the toolbox covers, and a Derbi 'world' decal on the front mudguard, 'dos veces sub Campeona del Mundo 50cc 1967/1968', and if you're still in any doubt, the petrol cap is embossed 'Derbi Campeona del Mundo'—so modest!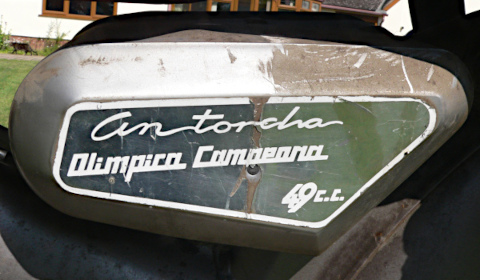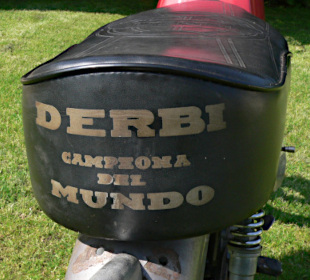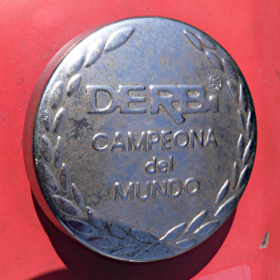 The Derbi centre-stand proves to be quite irritating, as most people generally handle a bike from its left-hand side, and access to the stand is obstructed since it hides behind the silencer. Since there is no tag on the stand to tease it out with your right foot, it requires leaning over the right-hand side of the bike to push the stand down enough so you can catch it with your right foot before you can lift the bike onto the stand. Fine if that works, but it's a fly-back stand, so if it slips off your foot, then it springs back up to hide behind the silencer again. Alternatively, you can handle the bike from the right-hand side, then you can access the stand with your left foot, but that may not be natural to most right-handed people.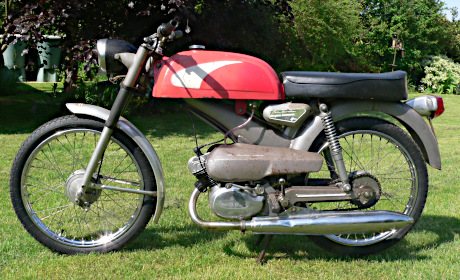 Overall it's an interesting and unusual sports moped, of which six models were listed in the UK from 1975–77 by Derbi Concessionaires Ltd, Bremar House, 27 Sale Place, London W2 1PT, but only seemed to have sold in very limited numbers since it's hard to find magazine references to them, and we've never seen a UK market example.
Following the death of General Francisco Franco in November 1975, Spain began the challenging transfer process from a fascist dictatorship towards a democratic economy. During 1977 the Spanish motor cycling sector underwent a period of sales crisis. Bultaco, Mototrans and Ossa disappeared from the market. Suzuki took over Abell, Honda took over Montesa, and Yamaha took over Sanglas, while Derbi seemed better placed to adapt to the national transition (la Transición española).
In 1982 Derbi presented a new engine with cylinder options from 50–80cc, and designed for 4-, 5-, and 6-speed gearbox options according to the requirements of countries it was planned to be sold into, and a new mass produced scooter (named Scoot) was presented at the Paris Exhibition Hall in September because, unlike Spain, the French specification did not now require mopeds to have pedals.
When the 50cc class was increased to an 80cc displacement in 1984, Derbi took four consecutive world championships between 1986 and 1989, before the 80cc class was dropped in Grand Prix competition. Derbi also scored further racing successes in 125cc Grand Prix competitions, winning world championships in 1988, 2008, and 2010.
Simeó Rabasa I Singla died in 1988, though the company continued, and launched a new Vamos scooter in 1992.
By 1997 Derbi had begun a major investment to expand their stake in the increasingly popular scooter market, with an update of the existing range, and introduction of a new generation Hunter model.
1999 introduced the new competitively priced two-stroke Atlantis scooter, followed in 2000 by the new Senda-R and Supermotard sports trail motor cycles, with 50cc two-stroke liquid-cooled engine, 16.5:1 compression ratio and rated 9bhp, with a six-speed gearbox, and a remarkable 60mph performance.
Now there's good news and bad news—in 2001 Derbi boosted its sports models range, hurray! News in July—we've just been bought out by Piaggio Group … Ahhh!
Derbi pressed on regardless, and continued introducing new motor cycle and scooter models from 50cc to 150cc and, in 2006, introduced the Derbi Mulhacen 659, powered by a 659cc single-cylinder and also a Mulhacen 125 café racer with a new four-stroke, twin-cam, liquid-cooled, 15bhp engine.
Further racing World Championship titles in the 125 class followed in 2008, and its ninth constructor title in 2010, followed by a second place in the last 125cc two-stroke class World Championships in 2011.
At the March 2011 presentation of Piaggio Group results for 2010 it was announced that production from the Derbi factory at Martorelles near Barcellona was to be transferred to Italy and the Far East.
At 11pm on 22nd March 2013 the factory closed, and though Piaggio still continues to market products under the brand, Derbi is no longer made in Spain. Over 500,000 various Derbi Antorcha models were reportedly made before production ended around 1980.