With the arrival of the 16-er legislation on 15th December 1971, a 16-year-old learner rider applying for a driving licence starting from the New Year in 1972, found themselves no longer licensed to ride a solo motor cycle up to 250cc or unlimited capacity with a sidecar attached, but would now be confined to a moped until 17.
This motor cycling licensing law change became the trigger for the evolution of a new infamous class of motor cycle: the Sports Moped.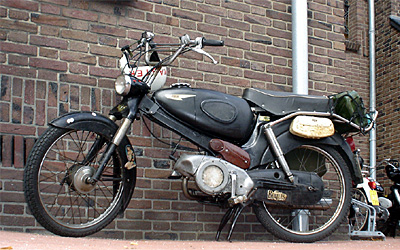 Puch VS50S Sport [Photo: Jacob Vader]
The definition of a moped up to this time was simply 'A machine of engine capacity not exceeding 50cc, and equipped with pedals by means of which it is capable of being propelled', and was unconcerned about further classifying the group.
Sports mopeds though, weren't a new invention of the 1970s. Indeed the Italian Gloria brand had presented its 3/m Sports moped as far back as 1952, and while sports mopeds subsequently became popular on the continent, it wasn't anything that had particularly been adopted in Britain, but now a condition was set to popularise demand for sports mopeds in the UK.
Up until the time of the 16-er law, sports mopeds in the UK were pretty much down to Motobécane SP50, SP50R and SP93 Sports Spéciale models, Raleigh RM11 Super Tourist, RM12 Sports 50, and other occasional odd imported obscurities like the RAP Rocky & Imperial, Berini M35 Super Sport, Solifer Speed, Victoria Avanti and Dot–ViVi Avanti Racer (and it's OK, there's no shame if you don't know what any of those models are).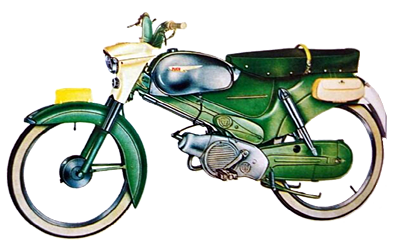 Puch VS50S
Puch was among one of the first manufacturers to get a 'new' sports moped onto the British market with the introduction of its VS50 Sport in April 1972, and optimum timing for catching sales in the new season, though this moped wasn't a machine suddenly created just to cash in on the new opportunity of the UK market. Puch had been making Sports 50s since introducing its first VS50S Sport in 1957, which was created by simply fitting an enormous capacity triangular 'touring' tank into the step-through section of the MS50 frame, giving the moped more of a motor cycle style—though it was a slightly bizarre look…
The subsequent VS50S model of 1959 was equipped with a dual seat and introduced a smaller and more proportionate style of top-tank with the step-through frame section below filled by a panel. This subsequently evolved into a panel each side with a frame space between, to create a toolbox accessed by a lid on the left-hand side.
By 1967 a VZ50 three-speed fan-cooled sports moped and a four-speed 4.8bhp MN kick-start motor cycle were added to the continental range. These were soon joined by a new M50 Mokick with a tubular frame and an angular tank in 1968. Also in 1968 came a further VZ50 'Skymaster' three-speed fan-cooled sports moped, though fitted with a fully enclosed chain-guard. Around this time, Sport style 50s were clearly more established and popular models on the continent than they were in the UK.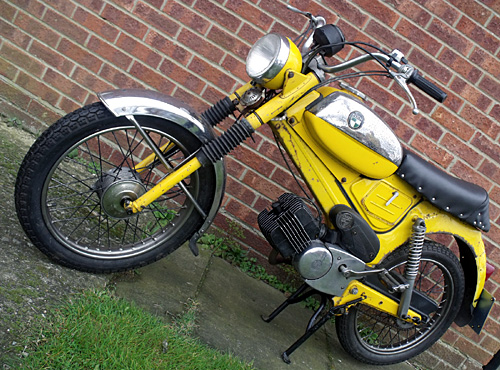 As new VS50 Sport mopeds started appearing in UK showrooms in April 1972, their arrival was very blatantly obvious—because they were painted in a screaming bright yellow!
To the casual glance it's easy to dismiss the Puch VS50 Sport as a boy-racer styled MS50 with the fan-cooled top-end replaced by a pretentious big-fin air-cooled cylinder and head, then a top tank and infill panels beneath to make it look more like a motor cycle. And yes, that's pretty much what it is, just a superficial sports-styled moped to appeal to 16ers … though there's actually rather more to the bike than that.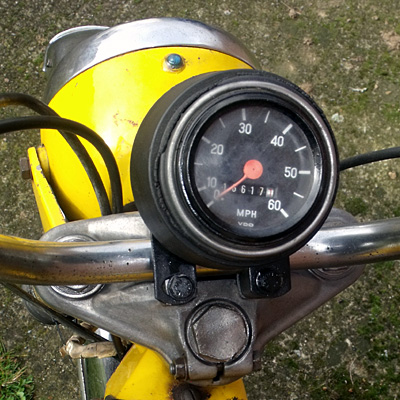 Early VS50 Sport versions seem to have had the speedometer located within the headlamp shell, and the top end of the engine was originally in as-cast aluminium finish, with a grey plastic air-box and grey chain-guard. Glass's Index indicates that VS50 Sport imports stopped in March 1973, however an updated VZ50/3P version had already been introduced in January 1973 to succeed it.
For its second season the speedometer became remounted in a casing off the handlebar mounts, the cylinder and head were finished in black with the edges of the fins linished to alloy, and the air-box and chain-guard now moulded in black plastic.
The changes were distinctive, but so minor and cosmetic that even the Puch illustrated parts list covered the two VS & VZ versions within the same manual, but distinctly identified the VZ50/3P as a different model, which is what we have as today's feature bike.
There's a number of distinctive and quite cool features about the bike, like the Silentium exhaust with 'gills' on its sides at the end—what's that about? Maybe some idea to scoop in air and disperse the smoke? Never mind, it looks good.
The speedometer sits atop a couple of brackets bolted off the handlebar clamps. Not discretely tucked away flush within a headlamp, but prominently positioned so you can plainly see it's marked up to 60mph (the usual MS and VS models generally fitted a 45mph speedo), the trouble is that the hi-beam indicator on the top of the headlamp becomes obscured from your line of sight from the seated position.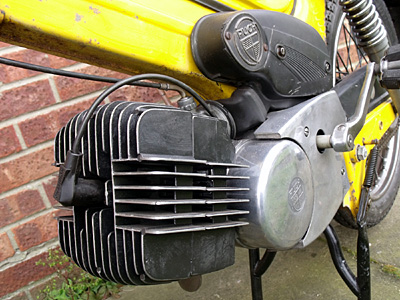 The infill panels in the frame below the tank and seat form a contained toolbox space, with a key lock for access by a cover in the left-hand side. In the same manner as steering locks, the keys always get lost, so the lock had been drilled out and has been replaced by a lever latch, which is much simpler, more practical, and unlikely to be lost.
The VZ Sport has proper full-size telescopic forks, with a nice looking cast alloy top yoke, and proper cast steel bottom yoke (much better constructed than the flimsy and short telescopic forks off the bottom yoke on the MS models).
The front fork set carries a large 125mm headlamp fitted between motor cycle style brackets, which looks markedly different from the smaller MS moped type headlamp nacelle.
Instead of half-width steel hubs with 19-inch wheels on 2.25-inch moped tyres like the MS, the VZ wheels are built on full width 105mm big-brake finned alloy hubs, with wider 17-inch rims and fitted with proper four-ply 2.75-inch motor cycle tyres. Because of the wider rear wheel, the swing-arm is also wider than the MS models, and so is the centre-stand, which is mounted on the swing-arm, so it has a firmer base when parked.
The wider swing-arm also needs completely different, longer and firmer rear shocks.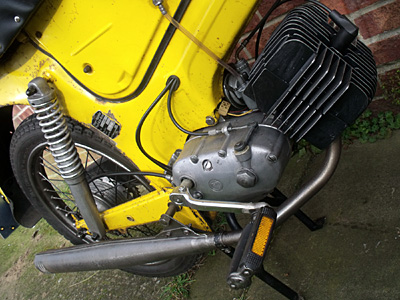 The motor cycle style fuel tank looks smart with the chrome top quarters and its badges, but why does a Puch Sports moped need a petrol cap of 90mm diameter? It's not as if it's like filling up a jet aircraft, and more probably just a marketing idea that it needs a feature like that to suit the image they're trying to sell.
The air-cooled engine employs the same basic specification as the fan-cooled motor, using a common crankshaft, clutch, and gearbox; and the same 38mm bore piston with 43mm stroke. The given compression ratio of these air-cooled Sports models is however higher: 9.5:1 compared to the standard 6.5:1 compression for the fan-cooled motor. The difference is achieved by a lower combustion chamber volume of 5.1cc, compared to 7.5cc of the MS fan-cooled head.
There is a logical theory in also finding more useable power by converting a fan-cooled engine to an air-cooled motor, because it is generally taken that driving a forced-air fan can sap up to 10% of an engine's output.
The VZ air-cooled Sport engine is rated at 3.2bhp @ 4,800rpm, and quoted maximum revs are 5,000rpm.
By comparison the VS50D specifications indicated compression ratio of 8.5:1 for 2.7bhp @ 4,700rpm, while a standard MS fan-cooled motor was quoted at 2.3bhp (though with no given rpm, so the power rating might not relate). The carburettor employed is the same 12mm Bing for all models: MS50V (fan-cooled), VS50D (fan-cooled), and VS50 sport (air-cooled).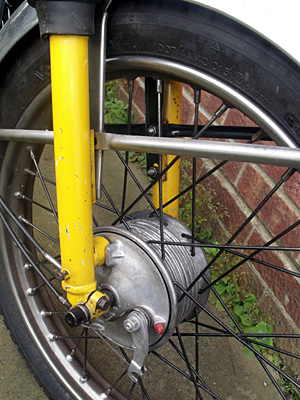 The petrol tap is located at bottom right of the tank, marked 'Z' forward for off, down for on, and 'R' back for reserve. There's a flood button on the top of the float chamber, but it's rarely cold enough to need that level of enrichment to start. Usually, just snap down the choke lever and start with a couple of kicks on the pedals, but in this case our bike doesn't seem to want any choke at all and readily fires up without choke. The motor seems typically noisy as the large fins seem to resonate and actually amplify engine sound, so these models often sound more mechanically harsh to the rider, though it does seem to mask the typical clutch bearing noise a little.
The engine feels readily responsive to blipping the throttle, which is probably helped by the higher compression ratio of 9.5:1 on these Sports models, compared to the standard 6.5:1 / 8.5:1 compression ratios on the MS / VS fan-cooled models.
Clutch in, twist forward into first, and off we go. Helped by its higher compression ratio, the VZ makes a rather more energetic getaway than the MS moped models, its motor feeling to pull well for a brisk acceleration. That Silentium silencer also seems rather noisier, but that's going to be all part of its image. Now to the curse of all these models, the dreaded three-speed hand-changed gears! Forward for first, neutral in the middle, between back for second, then right back again for third. Gear selection is rarely good on a Puch, and usually involves a degree of feeling around and crunching to engage some of the ratios. This shifter has been fitted with a brand new selector plate and indicator, which cleanly locates first and straight into second. Third however is a wrestling match, which finds us unable to grapple the grip around enough to engage the position, so needs letting go of the grip so we can better pull the whole lever bracket back to locate the clutch lever index.
Changing down proves fine, again locating second, neutral and first with no problem; it's just that up-change to third, which is difficult on this bike. Maybe it'll settle in with use, maybe it'd benefit from new nylon lined cables, or maybe it'll just always be horrible…
Running around our test course, the suspension is firm, and handling is really very good, certainly whole lots better than the spongy feel MS mopeds. The VZ Sport feels and handles like a proper motor cycle, and the brakes are effective too.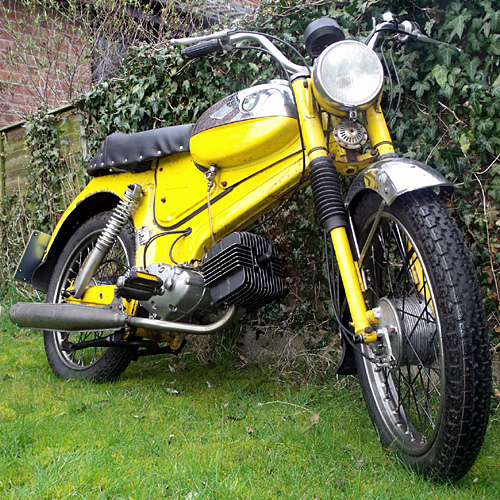 A comfortable cruising pace for the motor is found in top gear around 31–33mph, up to which the performance feels good within the expectation of a moped, with reasonable acceleration and good pull up hills, though the handling of the cycle chassis is more capable than the power from the engine. On flat in an upright posture sees 36–37 clocked by a sat-nav from our pacer, hitting 38 on the flat in a crouch, and 40 downhill, at which the motor felt and sounded to be revving out, so you probably wouldn't want to be holding it at that top speed for long.
The VDO speedometer gave accurate readings at all speeds confirmed by the pacer's sat-nav.
The sports-style fastback seat probably looks too short to take a pillion passenger with any degree of comfort, and there are no rear footrests fitted, so it's fair to conclude the bike was only really intended to be a single-seater. Posted at a price of £155.99 in August 1972, VS50 Sport imports stopped in March 1973 & VZ50/3P Sports imports discontinued in January 1974, though there were enough bikes around in the trade for the models to still be selling from stock further into 1974.
The VS and VZ50/3P Sports versions together were actually only imported for just 21 months because, in reality on the streets, Puch's yellow Sports moped wasn't cutting the mustard against the competition. It didn't stand a chance against the performance and appeal of the Yamaha FS1-E, or a whole load of various Italian models, and Puch had to come up with something better, because word was quickly getting around that the VS50 Sport was too slow.
Puch adapted its M50 motor cycle by the addition of a 'token' pedal set, which was introduced to the UK as an M50 Sport four-speed sports moped from September 1973 until July 1977. It was a bulky machine, and expensive, costing £220 in February 1974, rising to £265 in March 1975 by 20% inflation! This 'motor cycle' had a tubular steel frame, but technically still qualified as a moped, since it had 'dangly' pedals that acted as footrests, and was started by raising either pedal to use as a kick-start. Manufacturers were already beginning to interpret their ways around the moped law.
The 'Flying Banana' was succeeded by the VF50 Sport in January 1974, which looked much the same, though painted blue, and displayed a second instrument pod, so presumably the speedo was joined by an electronic rev counter? The VF50S never seemed to generate many sales, and was posted as discontinued in October 1976.
The history of the moped was redefined on 1st August 1977, when its official description changed from 'A machine of engine capacity not exceeding 50cc, and equipped with pedals by means of which it is capable of being propelled', to 'A machine of engine capacity not exceeding 50cc, restricted to 30mph, and weighing not over 250kg'. So legislation 2.0, kickstart, footrests, and slow—problem solved!