Despite being able to identify the make of this cycle as an Italian Audace from the faded remains of its original decals, we've been unable to find any references to this manufacturer, so we really can't tell you anything about the frame builder.
Audace translates from Italian as 'Boldness' or 'Daring' and, for those interested in period bicycles fitted with clip-on engines, this example narrates its own story by examination of the machine we have today.
This Audace has a 57cm (22½-inch) frame No. 76564 and, since the rear wheel is only equipped with a single-speed freewheel, we can reasonably conclude the cycle was purchased and intended for leisurely riding (around 10mph).
Like many Italian manufacturers, Garelli emerged from World War 2 with a devastated and ransacked factory and little prospect of resuming manufacture of its last military products for the former Fascist government. Moto Garelli restructured shortly after the war, now calling itself SpA Meccanica Garelli and listing its address as Via Visconti di Modrone 19, Milano.
The tremendous demand for economic transport attracted a number of former military equipment manufacturers back to lightweight motor cycles, but it wasn't until 1947 that Garelli returned to production with an innovative 38.5cc two-stroke auxiliary engine to equip common bicycles. The horizontal cylinder arrangement allowed easy attachment, and a friction roller transmitted drive direct to the rear tyre.
Unveiled at the Geneva Show in March 1947, from the house of Adalberto Garelli, with Carlo Alberto Gilardi as Chief Engineer to the project, the tiny type-307 clip-on motor was an instant success. Less than a mere 4 inches wide and weighing in at barely 4kg, its 35mm bore × 40mm long-stroke specification of 5.5:1 compression ratio gave 0.8bhp @ 4,200rpm for 20mph, and the Dell'orto carburettor delivered around 200mpg economy!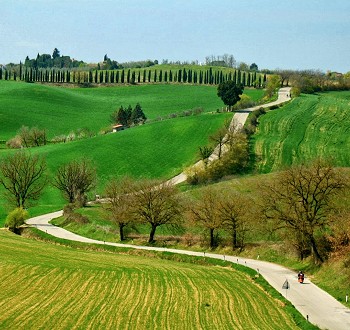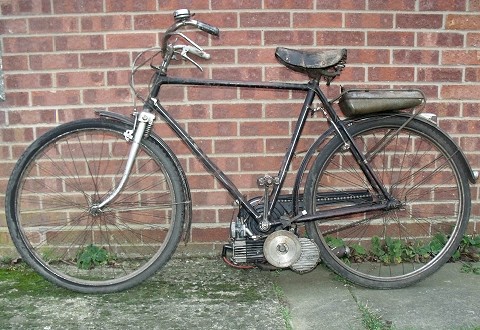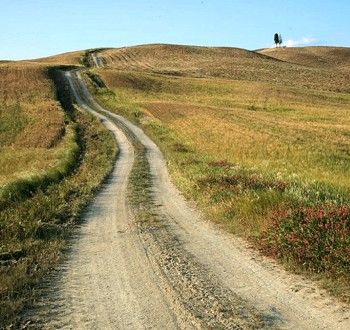 Audace–Mosquito flanked by examples of strade bianche
Our Audace was subsequently fitted with a Garelli 38.5cc cyclemotor engine 302250 kit, which dates to about 1949–50, and would have very capably doubled the bicycle's speed potential.
A number of Italian roads about this time would have been classed as strade bianche, which means 'white roads', and in Italy this expression refers to a network of unpaved roads that run through the countryside. The name comes from the colour of these roads during the summer months, due to their composition of dry earth with limestone gravel and small stones. There are still a lot of roads like this in Italy and, back in the 1940s and '50s, many more would have been unpaved, and would have been a harsh ride on a cyclemotor.
Because the extra pace and weight of a cyclemotor gives a hard ride on rigid cycle forks, it's fairly likely that the proprietary Casalini sprung fork set was fitted to soften the ride.
The Casalini Piacenza wobbly-sprung forks are fully chrome plated, appear to be a high quality piece of workmanship, and probably weren't a cheap addition. As you hit bumps, the forks spring by 'hinging' at the bottom yoke pivot, so the wheelbase extends as the steering headset goes down. These seem to have a lot of springy movement when you bounce the bike, and one might imagine them to be seasick specials, but they actually work quite well, and ride far better than you might expect.
The Audace came with rod brakes, which had its original rods running neatly through the handlebars for a nice clean and tidy look.
The original rear rod brake linkage is retained, which routes in an unusual 'V' configuration, down the frame down tube to the pedal crank, then back up the saddle tube, to work the calliper beneath the saddle and just forward of the rear stays (this was seemingly a period feature adopted by better quality Italian bicycles of the time).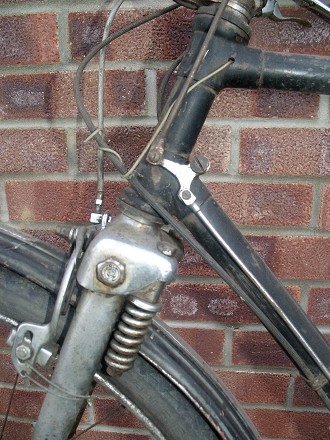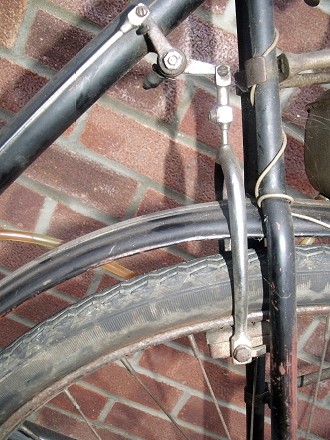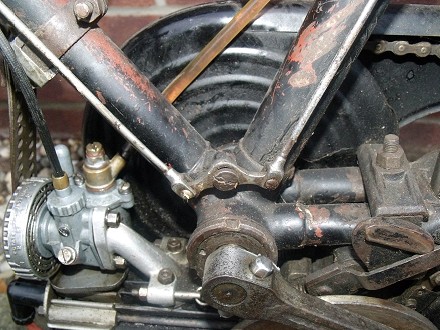 The right-hand (front) rod set must have been removed when the Casalini sprung fork conversion was performed, since the front rod brake linkage wouldn't have been compatible with the Casalini cable-operated front brake calliper. Consequently the right-hand control set is now quite cluttered by a two-in-one throttle lever control on top, and a decompresser lever control underneath, resulting in the front brake lever being inward facing beneath the North Road pattern handlebars, where it's perfectly positioned to stick into your knee when mounting or dismounting. Because of the form of the handlebars, there isn't really anywhere else to put the brake lever, so you just have to live with it like that.
Chrome trims run down the centres of both mudguards, which add to the special look of quality finish, and both wheels are shod with 26×1½×1?, 650×42B Micromotor tyres.
Located down by the motor on the left-hand side is a simple latching lever with an aluminium knob—back for drive disengaged for cycling mode, then move the lever forward and latch to engage the drive roller.
The Dell'orto carburetter is marked and numbered on a rotate-able air intake that we presume to be doubling up as some choke type strangler mechanism. This is awkwardly marked in Italian, which we presume to be indicating some form of graduated enrichment … not particularly helpful.
Inverno→ ←Estate
6 5 4 3 2 1
(A subsequent translation: Inverno = Winter, Estate = Summer).
Starting: turn on the small fuel tap at the bottom front right of the tank and, because we didn't really know what the choke control positions meant, we decided to leave that alone at Inverno?1, and try instead pressing the flood button on the float chamber top.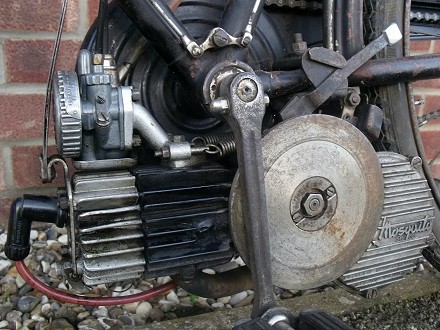 Turning on the fuel tap at bottom front of the tank mounted above the rear mudguard, you can fascinatingly watch the fuel flowing on its journey through the long clear pipe, all the way down to the carburetter in front of the cycle bottom bracket.
Engage the drive, and then navigate to the road with the decompresser engaged, so the motor makes a friendly chuffing noise. If you further open the throttle lever when holding on the decompresser, you also hear a sucking pulse through the carburetter as the motor draws breath. It's almost like a little steam train, which sounds very quaint, and something you'd never notice on modern bikes with their baffled induction filters.
Mounting up, we're predictably stabbed in the knee by the front brake lever, then pedal off, drop the decompresser, keep pedalling, and open the throttle. Almost immediately we're encouraged by a couple of pops from the exhaust, then we're off!
That was surprisingly easy starting, the motor sounds very pleasant with a healthy popping tone, and straightway produces tractable torque at even low speed and trickling around slow turns up and down the road.
You can instantly take a shine to a motor like this—just like a friendly pussycat…
We're amazed how closely the inside of the straight left-hand pedal arm runs to the external flywheel. It looks as if it would shave it on rotation, but mysteriously it doesn't. It's so close that you can measure the gap with feeler gauges—just 30 thou at the closest point!
No stand is fitted, so you're looking for fences or walls to lean the bike against, or handy kerbstones to prop it on a pedal in the gutter.
The road test results are: 18mph on the flat, 23mph on a shallow downhill incline, 15mph against a shallow uphill incline.
Our Audace–Mosquito has been a real pleasure to ride as we cruise leisurely back to base along leafy country lanes, gently pulling to a stop to dismount—and stab ourselves in the knee again with the wretched front brake lever!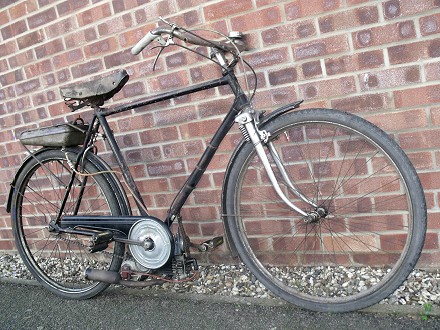 The Audace–Garelli is a super lightweight machine: 2½ stone (35 pounds/16kg) rear, and 1 stone 9 pounds (23 pounds/10.5kg) front, its all-up weight of just over 4 stone/26kg makes it easy and practical to handle.
Torquey and docile, it's dead easy to ride, though it's never going to achieve any great speeds, but you wouldn't realistically expect that from an early 1950s' motor of such small capacity, and a cast iron piston—it's just not built for revs. It's made for pushing a cycle along smoothly and consistently at steady pace … and it does that absolutely beautifully.
Based upon the period style of the brake rods running through the handlebars, our best guess is that the Audace would have been a relatively expensive pre-war cycle, around the late 1930s, and probably cost over 600 Lira (around £7–10s) when it was bought. The later addition of the Garelli cyclemotor kit would have cost a further £25 around 1950, to double its practical speed. We have no references what the cost of the Casalini sprung fork kit might have been, but a typical Webb sprung fork kit for cyclemotors around 1950 cost 75s + a further 10s for the cable operated brake set, which would have been essential to replace a rod brake set as on this Casalini kit.
News of the Mosquito motor rippled across Europe as journalists, impressed by the design and novelty of such a tiny motor, widely reported the engine in the motor cycling press. A small column in The Motor Cycle dated 8th January 1948 would seem to be among the first introductions to enthuse over Garelli's ingenuity to its British readership, while the Sterling Engineering Company of Dagenham entered speculative negotiations to try to make and sell Mosquito engines under licence onto the UK market, but their project was not secured. Despite the lack of any national distributor, journalist Harry Louis still managed to acquire an example for appraisal and report in The Motor Cycle later in the year.
Unprecedented continental uptake of the engine however, quickly found Garelli appreciating its production was failing to keep up with demand, particularly from France, where the Mosquito had become popular.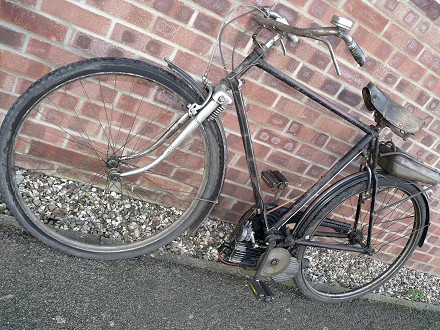 The solution to the supply problem came about by Garelli granting a manufacturing license to Etablissements Chapuis Frères, a long-established maker of bicycles at 24 avenue de Neuilly, Neuilly-sur-Seine. To protect Garelli's name and reputation, the license came with demanding conditions requiring Chapuis to lay out an entirely new factory to build the Mosquito engine, with both high tooling standards and machining facilities.
By 1950, Chapuis Frères had founded the plant and were marketing their licence-built Mosquito engine attachment kits with Gurtner manufactured carburettors licence-built to the original Dell'orto design. Not only were they making the engines, but also two complete cyclomoteur frame assemblies of their own design, which they sold under the 'Presto' brand as the 'Confort' and 'Sport' models, and while Presto seemingly means nothing in the French language, it translates from Italian as 'fast'.
Le Salon de Paris exhibition in 1951 found the Chapuis stand displaying another new variant, this time posted as the BMG (Bici Mosquito Garelli). This machine introduced a new 315 model Mosquito motor, with increased 40mm bore × reduced 39mm stroke, resulting in a 49cc undersquare specification for a higher 1bhp rating at the same revs. With the bacon-slicer flywheel now enclosed within a cast aluminium engine cover, the changed visual appearance easily identifies the evolved motor, which was claimed to propel the machine around 28mph for 200mpg fuel consumption.
Motor cycling development was moving apace in these times, and you'd probably have thought that the original 38.5cc type-307 motor would have been superseded at this time, but not so! The BMG Mosquito 315-model was only a brief machine, and production ceased at the end of 1952, while the 307 continued.
For 1953, Garelli announced yet another Mosquito engine, as the version 38–B cyclemotor.
This employed the preceding BMG engine, but omitted the internal reduction gear, so the drive roller located directly on the crank journal. Despite a compression ratio posted at just 5.5:1, the motor still quoted the same 1bhp, but re-rated at a lowly 2,800rpm—the buzzing Mosquito was now set to be droning along instead!
While further 'Centrimatic' versions of the 38–B now equipped engines with centrifugal clutching functions, one might have thought again that the old 307-series 'reduction' motor should have been made obsolete by the introduction of the 38–B direct-drive motor in 1953, but it wasn't!
The original 38.5cc motor remained in production, side by side with the later 38–B series models!
1954 found Garelli introducing the Velo-Mosquito, along developed lines of the earlier BMG. This purpose-made, pressed steel, rigid frame with leading-link forks was a simple and study mounting for the 38–B cyclemotor, and completed the missing link to the obvious next step.
The first 'proper' Garelli moped, as it would be recognised today, appeared in 1955, but this was by no means a sudden end to the Mosquito cyclemotor series that had set Garelli buzzing on its way. All three Mosquito cyclemotor engines, the Centrimatic 49 for £35–6s–6d, the 38–B direct-drive 49 for £38–4s–6d, and even the original 307 at £30–9s–7d were still being listed available as late as 1960!
It just goes to show what a great little engine the Garelli 38.5cc type-307 was, an original clip-on cyclemotor listed for 13 years!