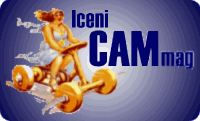 ---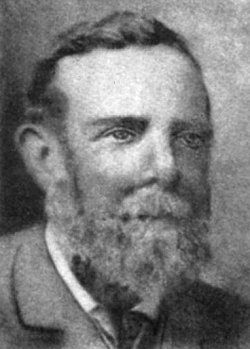 James Parkes
Having landed back in Britain in the late 19th century, we climb a nearby hill, so our vantage point affords an extensive view across an old industrial landscape. Extending the telescope of our spyglass, we survey the scene in more detail, and sweeping the setting before us, it isn't long before we manage to pick out what we seek. At the foot of a column of smoke rising into the mid-morning sky, gangs of men toil to shovel piles of greensand, and pour molten bronze.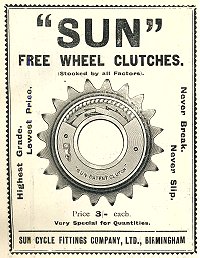 Sun advert from 1906
The Sun Cycle Company is traceable back to origination from James Parkes & Son, a brass foundry at Alma Street in Birmingham making, amongst other things, incandescent lamps - hence the adoption of the Sun brand name. In 1885, James Parkes decided to take advantage of the newly developing market in bicycles and began making frames and fittings for other companies. This new outlet proved very lucrative and the company moved to larger premises in Aston Brook Street, Aston, around 1887, and then shortly changed its name to The Sun Cycle Fittings Company.
Founder, James Parkes died in 1896, being succeeded by son Joseph Parkes, who incorporated the business and changed its name to The Sun Cycle and Fittings Company Ltd in 1907 as the factory had now begun making its own bicycles using the brands of Sun and Sun Spider. Sun became very successful within the cycle industry; making many patented improvements to bicycles, and progressed to produce its first motor cycle in 1911.
With the onset of the Great Depression during the early 1930s, falling demand resulted in the decision to cease building Sun motor cycles in 1933, though the business did continue making parts for other firms and producing its own bicycles. In 1936, F C Parkes, grandson of the founder, with his son, Peter Parkes, was credited with development of the lightweight sports cycle.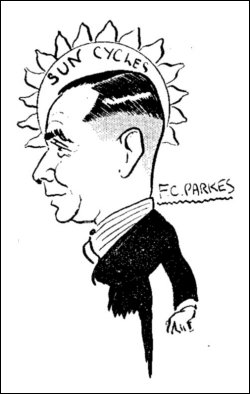 Caricature of F C Parkes in 1937
With some economic recovery towards the end of the decade, and the fast developing popularity of new Villiers-engined lightweights, Sun belatedly decided to hop on the bandwagon with the classically badly timed announcement of three autocycle models for 1940. The base machine mounted the Junior motor with a rigid fork, a second variant fitted a JDL engine with a Webb sprung fork, while the Super De Luxe premium version further included louvered engine shields. Few machines were built or sold before the war returned Sun to making fittings and rivets.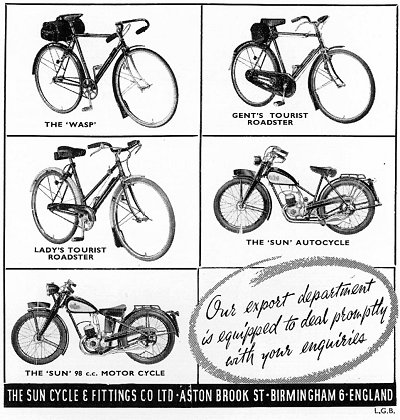 Some of Sun's range in 1949
The Sun autocycle resumed peacetime production in 1946, though now as just a single base model with JDL engine and blade girder forks. Villiers advised succession of the earlier motor by their latest 2F engine in 1949, so Sun's original autocycle was promptly replaced with a completely fresh model, and accompanied by the introduction of a new 1F powered 99cc motor cycle.
Quick to perceive that the autocycle star was fading, Fred Parkes dropped that machine from the range at the end of 1950, but the 99cc motor cycle continued and was joined by other Villiers-powered 122cc, 197cc Challenger, and 225cc Cyclone motor cycle models.
The new Villiers 4F engine replaced the 1F in 1953, at which point the model appears to have been designated as Mark 2, so post-datedly rendering the earlier 1F machine as the Mark 1.
The 99cc motor cycle model emerged for the 1955 season equipped with a larger 2¼ gallon fuel tank (previously 1½ gallon), and a new name: the Hornet. Up to the end of 1956, the 99cc motor cycle/Hornet had been finished in maroon with a gold lined tank, but late in the year its paintwork became changed to Saxe Blue with gold lining for the coming 1957 season.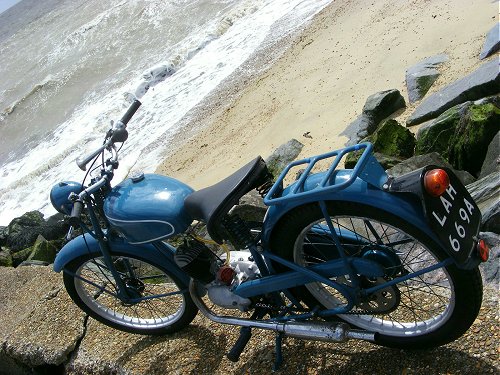 Having been separated from its original registration and traceable history, our feature machine dates as produced in 1957, which was certainly when its XMC 335 frame was made, though the 604B22298 engine number would seem a little 'premature' for that year. Villiers records the 604B< batch series as allocated to Sun in the following year, so it's concluded that this machine probably wasn't built up and released by the factory until 1958.
Sun frame serialisation follows a rather irregular code, and may only become appreciated with a little explanation: prefix letter X represents Sun's year code for 1957, MC is motorcycle (AC = autocycle, MS = motor scooter). According to the reference books, our machine should officially be indicated as XMC H 335 but it seems they didn't bother stamping the H for this Hornet model.
While only 335 frames for a machine that had been in production for eight years might appear to present Sun as a very small time builder, their frame numbering system didn't quite follow general practice. Sun seemed to restart their number serialisation from each new year code, and appeared to continue the same sequence for all their different frames, so this would have been the 335th frame of any type made in the 1957 model year. This makes it extremely difficult to figure out how many of any particular model may have been made without access to the factory records.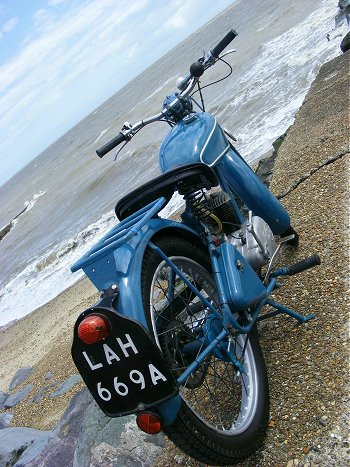 All the known Sun 2F autocycles are identified with a 1949 OAC prefix, implying that these frames were all made in only one single batch. Considering this autocycle was discontinued in 1950, Sun's low production numbers, and that a significant proportion of these 2F autocycles went for export to North America, examples of this model represent a particularly rare find today.
It certainly appears that Sun were building frames in batches, then working their way through the stock, so if fewer bikes were bought than they might have been expecting, then a later bike may have an 'old' frame.
A bridge pipe underneath connects the two halves of the petrol tank, so there's just the single fuel tap on the left hand side. Our Hornet's 4F engine is fitted with Villiers's own S12 carburettor, which has a knob that says 'pull to choke', so we try that, give a couple of kicks, and the engine fires right up. Starting was easy enough, but after pulling in the clutch, the Villiers 4F motor comes with its curse of the clumsy 2-speed trigger gear-change. Fortunately, our Hornet has this close enough to the throttle so that you can just about finger up for first, and thumb down for second, without actually having to take your hand from the twist-grip. While appreciably better located than a James J11 Comet we tested in January 2009, it doesn't make the change operation any less cumbersome, and the gears still crunch often enough to make even the most experienced rider sound like a total novice to the often wincing pedestrians.
A couple of early wobbly shimmies from the front end weren't particularly confidence inspiring, leaving our tester disinclined to trust the handling very much or want to push the bike too hard into cornering. Examination of the fork set pivots didn't really reveal anything of concern, but the cheapo block tread, eastern European, hard compound tyre would certainly not be the sportsman's choice!
Not attributing our Hornet's little wandering tendencies to anything the factory might be responsible for, the ride continued with a firm grip on the bars to ensure our unpredictable insect would keep flying on a course that the pilot intended.
Speed on the flat was nominally around 35mph according to wind or incline, with firing regularly breaking into loud staccato 4-stroking whenever the motor wasn't pulling hard. The downhill maximum was paced off at 39, with the motor continuously 4-stroking due to being off-load during the descent. Approaching the slope on the other side, combustion ran even again as it slogged up the incline between 22 & 24mph
Though the rear brake operated efficiently, it embarrassingly creaked to a halt like the front door of a haunted gothic mansion. Finding a right-sided footbrake on a British-built machine of this period was rather unusual; normally this would be disposed on the other side, so the Hornet found your left foot with nothing to do.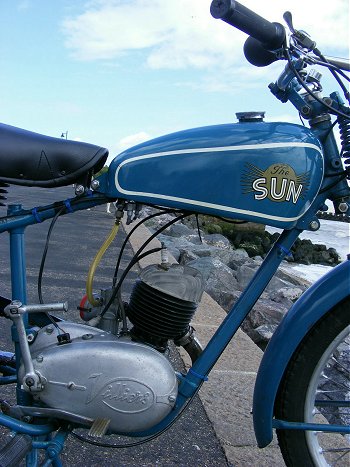 The unusual rear hub configuration of drive sprocket on nearside and separate brake drum on offside probably accounts for why Sun adopted the simplest solution of the right-sided footbrake.
The Bown '98' Motorcycle, and Norman's model 'D' also used the same rear hub arrangement, but engineered a crossover shaft on the linkage to keep mounting of the brake lever on the 'correct' side.
The front brake seems to have a tiny little drum, and probably gave a good account of itself considering its size, but wasn't really up to the job of bringing a 2-speed 99cc motor cycle down from speed.
Lights prove surprisingly effective for an unregulated 6 Volt system, producing appreciably better illumination than the feeble dimness of the earlier evolution Junior and Junior De Luxe autocycles with their 6 Volt × 1 Amp head and 4 Volt × 0.3 Amp tail bulbs. Curious as to how Villiers may have conjured this miracle, we looked a little further into the 4F specifications…
The books do not appear to advise the actual generator output, but list the bulb wattages instead. For the AC direct lighting set, the headlamp is given as 6 Volt 24/24 Watt and the tail lamp 6 Volt 3 Watt. For a DC rectifier/battery system, the headlamp shows 6 Volt 12/12 Watt and the tail/stop lamp shows 6 Volt 3/18 Watt.
The dating of our Hornet at 1957 puts it in a time of changing themes for Sun, as the company proposed its first 99cc model Geni scooter with trigger-change 4F engine but, by the time it reached production later in the year, was fitted with the foot-change 6F motor and incorporated a number of further detail changes.
As the lightweight Geni scooter went forward into the following year with a further improved Mark 2 version produced from June, the Hornet motor cycle was withdrawn in early 1958, around the same time as ownership of The Sun Company was sold on to Tube Investments Group.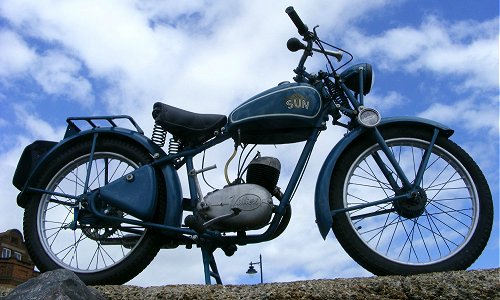 Though the name and assets transferred to the British Cycle Corporation list, the sale agreement still left the Parkes family in control to operate and manage the business, and seemed to introduce some speculative investment to the concern as Chairman, Fred Parkes, announced the company would move into full-scale scooter production with the only dedicated scooter production line in the country.
Initially presenting the new Sunwasp scooter with a 150cc Villiers engine, the conventionally styled model was introduced in 1959 with a standard kick-start 174cc 2L fan-cooled Villiers engine with 3-speed gearbox, or an optional Siba electric starting version. Introduction of the scooters was matched by withdrawal of the Wasp 197 motor cycle & Overlander 249cc twin in 1959 to finally conclude motor cycle production, as the popularity of scooters was perceived a more promising sector - though it's been comically suggested that Sun might have stopped building motor cycles as they couldn't make any more frames after 1959 (Z), because they'd used up all the year letters!
Tube Investments Group agreed terms for the takeover of Raleigh on 19th April 1960, and just one year further on found an ill wind of change blowing through the TI/Raleigh Industries Group.
The 98cc Geni and 174cc Wasp scooters were dropped at the end of 1960 and replaced by two new Sunwasp Mark 2 De Luxe and KS scooter models for 1961.
An announcement in April 1961 outlined further restructuring of factories of the British Cycle Corporation. Closures were posted of Norman at Ashford, Sun Cycle & Fittings Phoenix Works at Aston Brook Street, J B Brooks in Great Charles Street, Birmingham, and Wrights Saddle Co of Dale Road, Selly Oak.
It was stated that over the next three years, manufacture of all bicycles for the group would relocate to Nottingham, while mopeds, scooters, motor cycles, saddle work & luggage from Brooks and Wrights was to concentrate at the Downing Street, Britannia Works in Handsworth.
Sun scooter production ceased with closure of the Phoenix Works on 20th June 1961, though models still represented the brand on trade listings up to the end of the year to clear remaining stocks. The Sun production line was also used to build the Panther Princess (Phelon & Moore Ltd) and the Dayton Flamenco (Dayton Cycle Co Ltd) scooters, which also ceased on this date.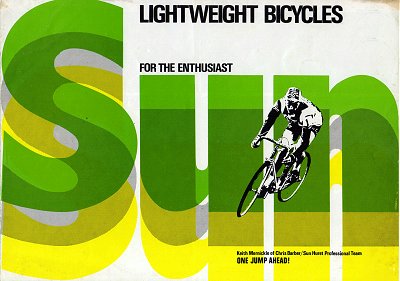 Sun was producing professional
racing bicycles in the early 1970s
With declining sales of cycles and motor cycles in the late '50s, as things worked out, it looked as if the Parkes family might have sold out at just the right time. Peter Parkes resigned at the time of the closure, and Fred C Parkes himself retired as company chairman a month later, on July 31st.
Sun bicycles continued beyond the end of the Aston Brook site, with production transferred to the Carlton Cycle Works at Worksop, Carlton being another part of the TI/Raleigh Group.
The 'intended' relocation over three years, as stated in April 1961, of all group mopeds, scooters and motor cycles to concentrate production at the Downing Street, Britannia Works in Birmingham, never happened ... all powered products became built by the Raleigh Motorised Division at Nottingham.
Raleigh sales manager David Denny reported during our interviews with him, that the Sun production line equipment was stripped out of Aston Brook Street Works, and taken back to Nottingham, possibly for further use in assembling the Raleigh RS2 and RS3 Roma scooters licensed from Bianchi's Orsetto model.
Raleigh's established Motorised Division in Nottingham continued to assemble its mopeds and scooters up to the sudden bombshell announcement from owners, Tube Investments, in June 1969. All employees of the Motorised Division were given three months notice of redundancy, on the news that all powered products were to be dropped forthwith.
Sun branded pedal cycles continued to be marketed under the auspices of Raleigh Industries until 1986.
---
Next - Like Sun, other companies of the British Cycle Corporation were entering turbulent waters as the Tube Investments Group liner sailed into the 1960s. We pick up this parallel story to focus on a particular Mark 4 model as this established manufacturer announces a completely new range of mopeds in December 1959.
A Tale of two Nippys seems a pretty big article for the second slot, and was really intended as a main feature to run before the end of 2010, but kept slipping back down the pipeline, so thought we might just try and squeeze it in right on the border!
---
[Text and photos © 2010 M Daniels. Period documents from IceniCAM Information Service.]
---
The Sun Hornet was one of those articles set to amble along at a nice steady sort of pace, trundle gently down the old literary conveyor belt, then drop off the end to publication in its own gentle time ... when we got round to it.
There was a bit of light preparatory research, a casual text draft ahead of the road test and photoshoot somewhere back in February 2010. It was certainly very cold shooting piccies on the seafront towards Cobbold's Point, but they generally came out well despite the seasonal hard light.
All well ahead of the game ... until just a couple of months later when the editor of BTSC's magazine, The Independent, is calling up, wanting two article packages delivered for editing to publication before Danny flies off to Cyprus in the next two weeks! Arghhh!
What's been happening here is that, for quite a while now, IceniCAM has been licensing out a whole bunch of our articles to several other publications, the Moto-Guzzi Club Magazine Gambalunga, Vintage Motor Scooter Club Magazine, RumCars (Register of Unusual MicroCars), The Radial Rudge Owners Club Magazine, Priory Press Ipswich Transport Museum Magazine … …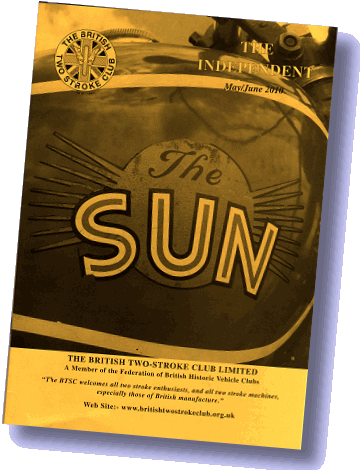 The Sun on the front cover
of The Indpendent
After earlier having run a newly re-written Elswick-Hopper Lynx Project in two parts, and The James Gang, we mentioned to the BTSC editor that we had some 'light motor cycle' articles in the pipeline, which he may be interested in for "sometime in the future" ... but it seems that submissions for forthcoming editions were suddenly found to be 'unexpectedly light', so they would like to call a couple of these off 'rather sooner', if that might be alright please?
This did create a little unplanned excitement (blind panic) in the writing department, resulting in an emergency 'drop everything else' to complete and deliver A Little Sunshine in one week, and another new article Idris the following week.
Probably as some consolation, the Sun feature made the front cover of The Independent, and became their main feature across the colour centre pages, so a nice result, but yet again it meant we'd put out an article with another publication before running it in our own magazine, which isn't quite going according to plan.
Despite repeating the same title as the BTSC article, the IceniCAM version was extensively rewritten and carried quite a bit more reference detail, as well as our signature story-style additions to the intro and exit text.
The Hornet is another bike from Colin Clover's collection, to which he's very kindly offered access in its entirety, for us to work our way through, so there's a number of very nice machines lined up to come out of this stable over a forthcoming period.
Debuted at Horham in 2009, Colin's Hornet is an unusual eye-catcher, as Sun was only one of the minor producers, and examples are rather hard to find. This was the first of Colin's machines we booked for feature, but not the first of his machines to appear in an article, since his 'Speedway' Wisp unexpectedly got there first in The Afterlife, edition 14, July 2010.
Production costs were all very reasonable, at just £20 for fuel down to Cobbold's Point, + two there-and-back trips to Leiston, and thanks to IceniCAM reader, Keith Robinson of Hartlepool, for sponsoring the feature.
---