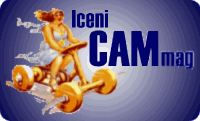 ---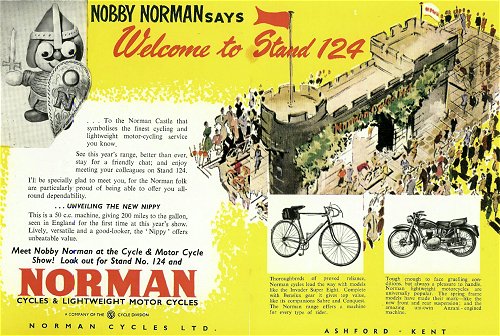 Advert for the Norman stand at the 1955 show
"...unveiling the new Nippy"
Having progressed from bicycle production in the 1920s to producing autocycles and light motor cycles from 1939, Norman Cycles entered the market with its first moped model at the Earls Court Motor Cycle Show in November 1955. The attractively styled Nippy with rigid frame and 1.25bhp Sachs engine was not, however, produced in their factory at Ashford in Kent, but actually a factored branding of the Achilles Capri moped manufactured at Wilhelmshafen in West Germany. Norman even employed Achilles's very own colour photosets for their early promotional literature!
Norman followed the popular adoption of the first Nippy moped with the introduction of a Mark 2 model (based on the Achilles Capri plunger frame version) at Earls Court in November 1956, and the subsequent de-listing of the original rigid frame Nippy Mark 1 in January 1957. By this time the fitted Sachs motor had progressed up to a 1.6bhp rating. Following the bankruptcy of Achilles in 1957, Norman secured the tooling and rights from the receivers, to continue moped manufacture for themselves in Britain. Back in Germany, the yard gates of Achilles-Werke were locked shut for the last time in 1958.
With the acquisition of the tooling to produce the former Achilles Lido model, Norman introduced their own version of this machine in October 1958, now fitted with the new Villiers 3K moped motor, and adapted the Nippy Mark 2 to a Type 2 variant in an exercise to share parts between the models. The Capri fork set was discontinued and its plunger frame now mounted a complete Lido front end, comprising fork set, headlamp nacelle, front mudguard and handlebar console. The Lido rear mudguard was also fitted to match at the back and the earlier continental press-formed chain guard replaced by a simple bent steel plate. The Villiers 3K engine now became a standard fitment, while a Sachs motor could still be installed as a 'special option'.
By November 1959, the company notified discontinuance of all these models in preparation for the announcement of a complete new range of mopeds. Norman had converted the Lido frame press-tooling with interchangeable inserts to allow formation of a petrol tank integral in the spine. Announced in December 1959, the machines in this new range were more clearly defined. There were two completely new Nippy models - the Mark 3 with bolted-on rigid rear frame section and sedentary MiVal automatic engine priced at £56-14s, and the Mark 4 with swing-arm sprung rear frame and Villiers 3K 2-speed engine pitched at £65-2s. Top of this moped range was the 'new' Sachs 2-speed powered Super Lido at £72-3s, although this actually represented little more than a return to the original Achilles configuration for this machine.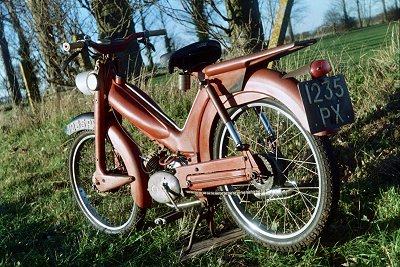 The main object of our feature however is the Norman Nippy Mark 4, which brings us to our first particularly nice and unrestored example.
Though having had essential mechanical repairs to keep the cycle functional, the bike has been preserved in very original order; pretty much all the original fixtures and fittings remain completely undisturbed for full appreciation of how the machine was initially built.
Frame number E-00969 tells us this is a machine from early on in the frame series, and still retaining its original registration serial 1235 PX issued by West Sussex authority on 2 April 1960.
The front mudguard still carries its original dealer plate "Lewis Thirkell Ltd, 62 The Boulevard, Crawley. Tel: 25507". Though the cycle frame is painted in red, it's notable that forward portion of the front mudguard was originally finished by Norman in black as the preparation of a background for the application of adhesive white front number plate letters along either side. Our example however, still wears its original built-up aluminium plates with raised white plastic-moulded numbers and letters.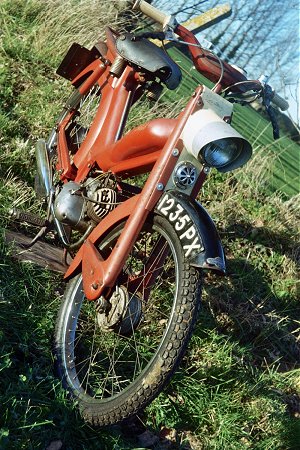 Few transfers managed to survive for decades on the plastic lighting nacelle, but the remains of a faded 'Norman' decal at the front top of the moulding certainly confirms that the manufacturer located their logo in this position. The headlamp projection is further augmented by the addition of an interesting aluminium cowling that is fixed to the moulding. Initially we thought that this might have been added to cover up some damage to the plastic nacelle, but examination beneath the alloy hood showed the nacelle to be in perfectly good condition. This alloy peak is certainly not any original factory fitting, and must have been some preferential modification of one of the bike's earlier owners from the days when it was in use.
Pull on the Ewarts plunger fuel tap at bottom left of the frame, and watch bubbles flow down the clear pipe until the float chamber fills. Push down the choke shutter on top of the carb, and a little tickle of the flood button just for good luck. The engine fires up within a couple of spins, but proves reluctant to pick up revs until it's been warming for a while, so we play with the switches while waiting for the motor to join us.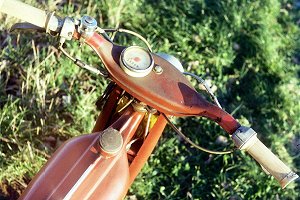 The 3½" diameter Miller headlamp radiates the dull golden shine of a waning moon, while the Miller Type 39 tail lamp unit glows at the back like an angry ember, and the Miller 17 Watt horn gives out a feeble croak when goaded by a press of the button. The Lycett tension sprung saddle is an original fitting, as is the Lucia 40mph speedo set. The hole in the handlebar console was originally sized by Achilles to take Lucia instrumentation, which required bigger socket holes than other contemporary sets from VDO or Huret, and explains why these other makes may not be readily fitted without the deployment of an adaptor plate.
Recent fitment of a new clutch cable finds a pleasantly light lever action, but the gears engage with a clunk and snatch. The low first gear barely allows a maximum of 15mph, but the revving engine rather cries for an up-change much past 10mph, leaving a big jump up to second as the motor labours through the chasm of widely spaced ratios, until the revs start to pick up again around 20mph.
Comfortable cruising speed was found about 25mph, with a best on flat paced at 28mph, though that could probably have been built up to a little over 30mph under more favourable conditions, and with the assistance of a tail wind.
Our downhill run was paced to a peak of 33mph, and despite charging the uphill climb on the other side at full tilt, the 3K motor seemed to lack the power to pull its second gear ratio under these conditions, requiring cogging down to first to complete the ascent. A fairly disappointing showing, but not one that we haven't experienced before with the Villiers 3K, everything was very similar when we previously tested the Norman Lido with a 3K motor unit.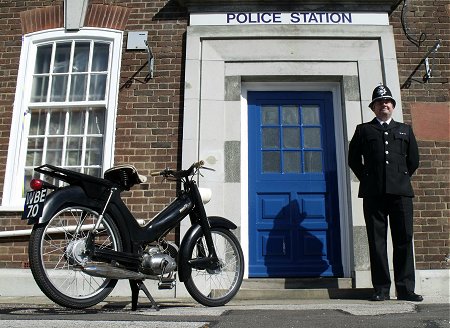 Our second Mark 4 is also a pretty original machine, being another largely unrestored example, but makes a rather interesting contrast to our first bike...
Frame number E04815 tells us it was 3,846 machines further down the line than our previous example, and also still retains its original registration serial WBE 70, issued by Lincolnshire Lindsey authority on 22 April 1960 ... barely three weeks after our first machine.
An MVL (Motor Vehicle Licensing) Card and Register search of Lincolnshire archives reveals this bike was registered to Lincolnshire County Police, and went into service as one of a small batch of mopeds issued to village policemen to patrol their own and neighbouring villages.
Lincolnshire's association with powered lightweights appeared to start in 1954, when the Chief Constable purchased 30 (undefined) autocycles, described as fitted with a hand-operated gear selector, which might seem to narrow the selection down to the Excelsior G2, as this would be the only model to fit that description.
Nippy mopeds were also used by several regional Police Forces, including Norman's home county of Kent, Derbyshire, Shropshire and others.
Records show that Kent Constabulary purchased two Nippy Mark 1's from A A Hitch & Co. in July 1956, followed by a further 20 Mark 2 models in November 1957. Both types were Sachs powered machines, and though little is known about their actual use, most were kept in service for five years, and some even up to seven years.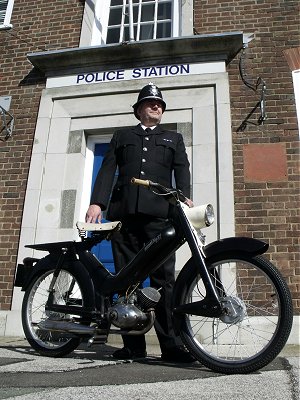 Nottinghamshire purchased as many as 50 Nippys to serve on rural beats, but these didn't seem to have been popular in this county, as the machines were quickly discharged from service.
Though the cycle frame of our featured Mark 4 Nippy is painted with all black metalwork, this is not any special finish produced for the police service, as many of the civilian machines were also coloured in this scheme.
Probably not helped by the cold day, our police Nippy shows no interest in starting on the choke alone, so we encourage it a little by tickling the flood button. A couple of prods returns a hopeful cough from the motor, so more tickling and more coughing, but still it proves reluctant to keep running. The problem seems to be that when you try and give it a bit of throttle, this automatically lifts the choke off too, so there may appear to be difficulties with this arrangement under adverse conditions. It takes several more attempts before we get the motor to catch, so the Villiers 3K may not appear the best choice of engine for cold early morning starts.
Once running though, it warms to a reasonably responsive throttle, and seems eager enough as we drop the clutch and head up the road. First gear isn't particularly friendly to locate, requiring the grip twisted right round and held against the forward stop, until the clutch lever is fully released to engage the gear. Failure to execute this operation securely would inevitably result in the gear jumping out.
The shift up to top involves wringing the grip back towards the rider through 90° of arc, with the impression of being rather too much movement for the purpose of selecting just two gears.
This machine feels as if it develops a little more urge than our first example, pulling up to a best top speed of 30mph along the flat with a light tailwind. The downhill gallop was paced at a maximum 33, but our police service mount faded against the following incline in a very similar way to its civilian counterpart, necessitating a change down to first to crest the rise.
Once in bottom gear, the 3K motor gives the impression it could conquer practically any obstacle put in front of it, since even on the uphill climb our Nippy could still be run right up to its maximum revs at 16mph in this ratio.
The impression of there being little power to spare was very much underlined as our mount struggled against headwinds and faded on inclines, but it rode and handled well enough, the lights worked and proved brighter than expected, and the horn produced an aggressive buzz. Both stoppers were quite effective, and use of the front brake didn't induce any temperamental rearing-up on the leading links.
This Mark 4 Nippy came out of police service in January 1965, and does not appear to have been used on public roads since, as the vehicle excise license expired at the end of the month, and was never renewed.
Overall, both Nippys gave the impression of being a little underpowered and lacking in performance from their Villiers motors, though probably neither were helped by Norman's indifference to economy of materials - the Mark 4 weighs in at a rather portly 119 pounds, even before a rider approaches the saddle!
Norman seemed to be constantly developing and simplifying their Nippy and Lido mopeds right from the time the machines were taken over from Achilles. Comparative examination of several machines can reveal a sequence of progressive changes. The tubular welded form centre stand was a carry over from the earlier plunger Mark 2 Nippy that the Mark 4 succeeded. The tubular assembly was shortly replaced by a press formed steel plate stand. Both stands prove compatible to either of the different frame mountings.
We notice also, that the cast steel dropouts at the back of the swing-arm on our 'civilian' machine had been replaced by simple cut plates and a plethora of spacers on the 'police' bike.
Charles and Fred Norman retired as business at the Ashford Works was wound up on 30 August 1961. Just three years after the collapse of Achilles found Norman also closing its doors for the last time.
The Norman Nippy Mark 4 continued on listings up to May 1962 to clear remaining stocks, being finally recorded by Glass's as discontinued at frame number E15527.
Lincolnshire's Norman mopeds appear to have been succeeded by a sizeable fleet of Raleigh RM5 mopeds, which seem to have established more popularity due to their automatic operation and better performance.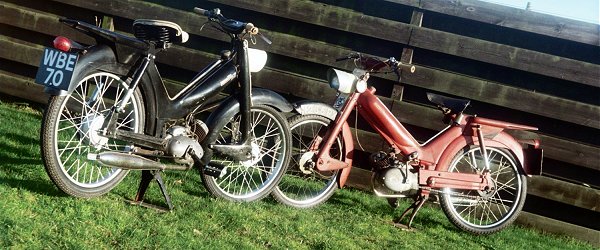 ---
Next - Another crossover link leads up to the main feature slot, as we stay with the running British theme again, and take an easy slide back just a few years to the mid-1950s.
There's no sense in beating around the bush about our next main feature. We can confidently predict this bike is almost certainly going to win outright first prize for the most dreadful machine we've ever attempted to test.
Is this some unheard of contraption from some long forgotten manufacturer who hardly sold any because the bike was complete rubbish? No, not at all - it was BSA, and That's just Dandy!
---
[Text and photos © 2011 M Daniels. Period documents from IceniCAM Information Service.]
---
For our second feature, the red Nippy Mark 4 initially arrived into the workshops in early 2009 for some partial attention under its previous owner, Barry Thomas of Southend. Despite the poor mechanical condition, it struck us what a nice and original machine it was, so we arranged to have the bike returned for a feature once completed and back on the road. Unfortunately, it never was fully finished before the owner abandoned the project and expressed a wish to list the bike up for sale. So, not wanting such a nice example to slip away, we bought it in, just for the article, and finished it off ourselves. Once completed, it was posted back up for sale on IceniCAM Market, and passed on to its next owner within a couple of weeks.
The black 'ex-police' Nippy Mark 4 was a strangely similar story. Previous owner Carl Harper at Rattlesden had the machine for a couple of years, on the premise that we could have the bike for a feature once it was fixed up... Unfortunately, it never was, and another abandoned project appeared for sale. Knowing the interesting and rare provenance of this bike, and again not wanting it to be 'the one that got away', the bike was bought-in just for the article and run through the workshops to finish it off. Actually, it proved in a far more 'demanding' condition than expected and, one complete rebuild later, when we'd finally made a decent bike out of it again and got a good article, off it went again to another appreciative buyer.
Tale of two Nippys is certainly the hard way for us to produce articles: buying in machines, fixing them up, then selling them on. We really don't want to be doing too much of this since it's far too labour intensive, but these were such nice and exceptional examples that it would have been a shame to miss the opportunity to present this special feature on the Norman Mark 4 moped.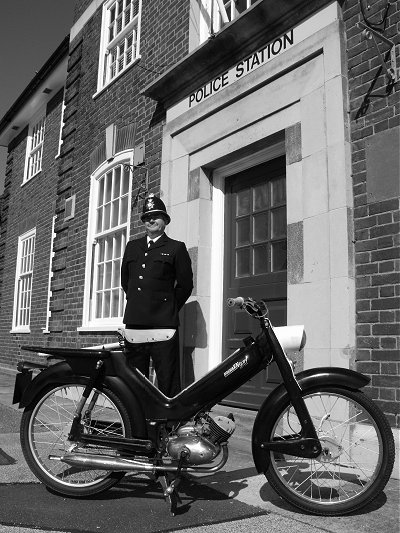 Main photoshoots were completed in late January and early February of 2010, when it was freezing cold and generally not the greatest time of the year for best light. The 'cover' photoshoot was arranged through Suffolk County Police and taken in front of Felixstowe Police Station at High Road West on 8th April 2010.
Yes, it was the real thing!
On set, PC388 Peter Stewart appears with the bike, wearing old-style uniform and helmet, to give the pictures a suitable period look. The Felixstowe station façade seemed ideal, barely having changed since the building was erected in 1913 and, once we'd cleared the modern dayglo-battenburg police vans and cars out of shot from the front car park, the pictures looked really good.
We did ask some of the interested police officers what they might have thought about being given such a moped for patrol duties? Expecting critical derision, the somewhat surprising response was that they imagined the Nippy would have been happily received in preference to a police bicycle in 1960, and they would probably appreciate a modern scooter equivalent today as a very efficient means of getting around town. There are quite a number of other countries that do provide small scooters for town work. They're certainly cheap, and appear fairly successful, so perhaps the UK forces might be missing a trick here?
A photoshoot set with notes about the bike was also sent on to the force's PR section, for publication in their Constable's County police magazine.
Since we don't count workshop restoration time and parts into article production costs (just as well, or this one would have worked out really expensive with all the work that went in to sorting out both bikes), we might actually say that production cost of the Norman Nippy Mark 4 feature was, technically, pretty minimal.
All photosets were shot in digital, and the only diesel fuel consumed involved a mere 6 mile each way journey for the police station pictures, so that's somewhere round about £1.50p!
Sponsorship for the feature is credited to Guy Bolton, who probably never thought for one moment that we could actually produce a feature for less than his single figure donation, and further neither expected that we might ever attach appreciation to such a significant article as Tale of two Nippys.
---