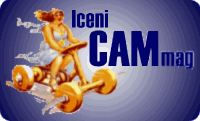 ---
Developed during 1966 under its unapplied RM7 designation, the Raleigh Wisp was officially introduced in April 1967 and finished production in September 1969, following the decision in June of Tube Investments board of directors to discontinue powered products and close the Nottingham Motorised Division. The Wisp had its brief moment, and proved a popular machine, but what becomes of an old moped after it's of no further use, and taken that long, last ride to the ramshackle shed at the bottom of the garden?
Is this what happens to a Raleigh Wisp in The Afterlife?
Time ticks on, and the Woodhouse-Cornish SIM50 "Speedway In Miniature" children's garden/track bike first appeared in late 1974, and though capable of being ridden by an adult, was specifically designed and built for appeal to 5 to 10 year age group.
Now it's 1976, and the conversation goes something like this…
"John's dad just bought him a new SIM50 for his birthday, and now our James wants one too".
"Oh fine, but they're over a hundred and thirty quid! What do you think? I'm made of money"?
"Well he's 10 in a couple of months and a little motorbike is all he goes on about. If we can't afford a SIM, then perhaps you could do something with that old moped in the shed you haven't used since we got the car".
So dad went down to the shed and dug out his rusty old Raleigh Wisp … thinks, "now what could I do with that"?
In fact, around this time, there would have been few better candidates for a kid's conversion than an old donor Wisp. The small 12-inch wheel size was most ideal, and exactly the same as a SIM, so it's pretty much just a matter of dropping the handlebars and lowering the saddle post to reduce the seat height. The simple to start and operate Motobécane automatic is a robust and well-proven little engine, so the Wisp would appear a most suitable prospect.
Now if you're imagining that a Wisp cut-down might be an odd one-off, you could be surprised. Maybe great minds do think alike, since we easily found four in our local area - and there are many means to an end!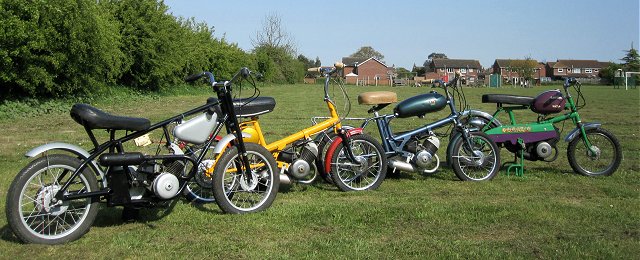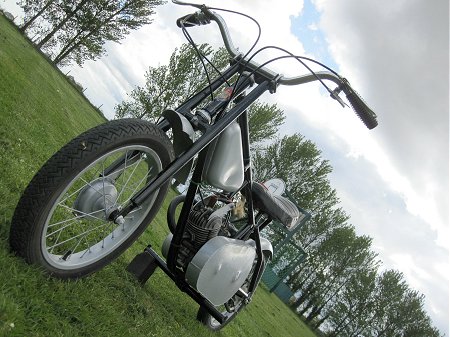 "Speedway Wisp" was built in 1977 as surprise present for Christmas that year, and didn't use the original frame since the main tube was bent in the middle, so a new chassis was brazed together from 1" and ¾" electrical conduit tube. The bike was built by Colin Clover for son Adam at nearly seven years old, emulating a speedway style because of the popularity of the sport at this time and their support of Ipswich Witches.
The bike was ridden by Adam at Huntingfield Farm and the Willoughby Arms pub at Parham near Framlingham, seeing frequent use up till 1982, and occasional service thereafter, until at the age of 16 when it finally became succeeded by a Honda MX50 road-going sports moped.
This frame is stamped 02, since 2 frames of the same style were made, the first being for Adam's friend Dale Frost. With Dale being 2 years older than Adam, the 01 frame was built a little taller, and constructed using frame elements, headstock, rear and front lugs etc from a donor bicycle, since no old Wisp frame was available for this machine.
01 was finished in blue & silver, and 02 originally in green & silver (now re-finished in black/silver grey). Both 01 & 02 frames were equipped with SIM Mark 3 aluminium petrol tanks and SIM seats sourced from a local motor cycle dealership.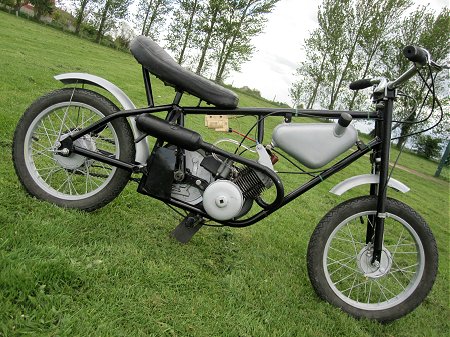 The primary guard was fashioned from sheet metal to shield the belt drive and pulley effectively and, coincidentally, appears almost identical to a production guard of the SIM.
We quite like the high level exhaust, made up of improvised pieces of pipe, but utilising the original Burgess exhaust, so proving nice and quiet when easily getting the bike going from a push-start.
Handlebar height is not adjustable, being determined according to type of bars fitted, and measuring 31 inches with the current set. The seat height is also fixed at 22 inches.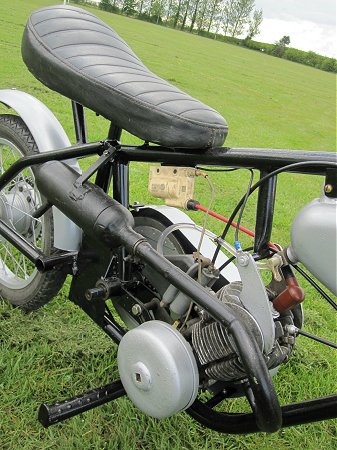 When the Wisp was first introduced, Raleigh originally fitted it with the smallest standard 44-tooth sprocket that Motobécane had available to suit the hub. In combination with the small 12-inch wheels however, the drive ratio proved rather too low, resulting in motors being over-revved to achieve little more than 20mph, and creating a spate of engine failure warranty claims. To counter the customer complaints, a special 36-tooth rear sprocket was produced by Raleigh themselves, and fitted to later models to raise the ratio, in an attempt to address the motor over-revving.
With the later pattern Wisp 36-tooth rear sprocket fitted, this Speedway machine should be geared for the higher top speed.
The original 1.7bhp engine was returned to the frame with split-fin cylinder and 7.5:1 compression ratio head. Mounted onto a conventional 10mm manifold, the fitted carburettor is an earlier series Gurtner BA10 type, which is not the original carb, and had actually been replaced by the new AR10 by the time the Wisp came onto the market.
A Karco lever petrol tap is located at bottom back of the SIM tank, which proves difficult to access on this bike, since things are rather 'busy' in that area - and the tap drips constantly as soon as we turn it on. Wishing to avoid the possibility of any exciting incident from petrol dripping onto the engine, we stuff a rag under the leaking tap, then whiz straight down the track for the pace bike to read off top speed at 28mph.
The wide handlebars give firm and confident control, and coupled with the lower centre of gravity from the reduced height riding position, our little Speedway Wisp actually feels more stable than the conventional road-going moped! Maybe the home-built frame with 40½-inch wheelbase contributes something towards this improvement, since a longer wheelbase often helps with stability at speed, and the original Wisp frame wheelbase is only 39 inches.
The Woodhouse Cornish SIM50 was further joined by other makes of children's bikes in 1978, as Puch introduced their Magnum X, and NVT (Norton/Villiers/Triumph) brought out the Ranger. With major manufacturers joining in sales of these machines, it's now quite apparent that mini-bikes are being considered a serious commercial proposition.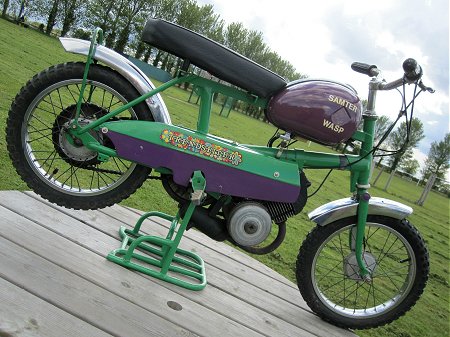 "Samter Wasp" is a long-standing Wisp conversion, thoughtfully produced by cycle trade fitter Robin 'Suffolk Wheels' Cowling in 1979 for use by his daughters, Samantha and Teresa. Though the girls have long since outgrown the machine, endearing memories and a sense of nostalgia prevents them from letting dad dispose of the bike, so it continues to occupy a space in his garage that he'd much rather use to store something more useful.
We're grateful anyway, since we have another bike to play with for our feature!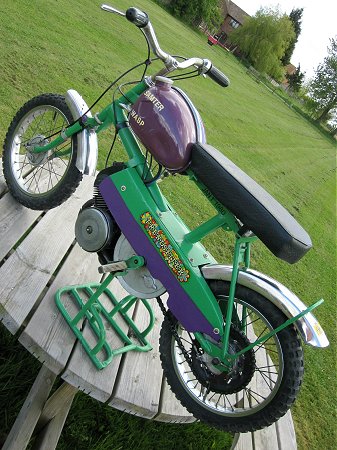 The saddle stem is cut away to reduce the overall height, with a strut welded-in between the steering headstock and stump. The top tube is crowned by an NSU Quickly petrol tank to present a more 'motor cycle' look, then an old Mobylette rack inventively converted to form the base of a mini foam seat, at a fixed height of 23 inches. Adapted Mobylette AV89 side panels are fitted backwards on opposite sides, to shield the belt and drive chain effectively.
While the low centre stand bracket is removed to resolve any grounding issues, this bike doesn't require any prop to stop it falling over, in a nice little touch - it has it's very own custom made paddock stand!
The wheels are shod with a pair of chunky 16"×2" BMX tyres, so they look the part too. With the pedal set removed, and folding footrests fitted from the flywheel shaft, getting Samter started will be down to a push.
The handlebars are adjusted down to a height of 30 inches, being their lowest possible setting without hitting the petrol cap. Presumably as a minor safety consideration against the lever protruding from the handlebar, the choke trigger is relocated to left side of the frame, just ahead of the tank, which means just right hand on the throttle to steady the bars while scooting the bike off and thumbing the choke.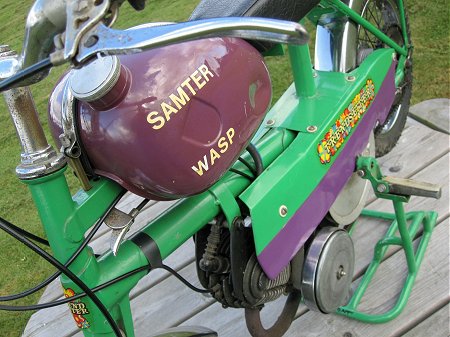 Performance should probably be similar to a conventional road-going Wisp, since the original 1.7bhp engine has been returned to the frame with split-fin cylinder and 7.5:1 compression ratio head. Carburettor remains the original Gurtner AR10, mounted on the standard Wisp 9mm manifold. The fitment of the early 44-tooth rear sprocket for a low drive ratio allows a very capable acceleration to easily pull an adult away from a standstill without any concern for loss of the pedalling facility. Top speed clocks off to a best of 21mph, at which the motor becomes limited by phases of four-stroking.
The short 'bubble' NSU tank, and close seat, give Samter quite a forward riding position, more suited to a small child, and not particularly apt for a full size adult.
The NVT Ranger was re-titled the BSA Junior from August 1979
The Woodhouse-Cornish SIM50 proved popular enough to continue in production through four model types, up to 1986, only becoming discontinued when its supply of engines ran out.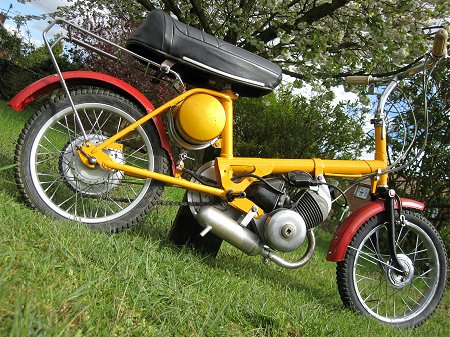 "Old Yellow" has something of a partially lost history, having been bought by Richard 'TigerMan' Berry at Brands Hatch Festival of 1,000 Bikes autojumble around 1995, the cut-down conversion having already been completed at some unknown time prior to purchase. The bike was lent to brother Mark, for use by his sons Charlie and Luke, up to 2002, when it fell into disuse, before being dismantled for an uncompleted renovation, and remained incomplete when the components were disposed of in 2009. Reconstruction was completed in our workshops, since which time the machine has returned to its previous owner for further use by his own children.
This looks to be the simplest of our conversions, since this machine uses the original petrol tank, with the saddle stem cut away just above the filler. The rear stays are then bent around the top of the tank, trimmed off, and re-welded to the post. The perennial problem of the crummy Karco petrol tap appears to have been resolved by threading the outlet boss to fit a cheaply available lever tap, with 90° outlet union.
Other aspects of the bike however, may be rather less obvious than they appear… The handlebar set is readily adjustable by a lock-lever, and that's certainly not a Wisp feature! This bike has been adapted with RSW16 bicycle handlebars and front forks, which requires conversion of the headstock bearings to suit.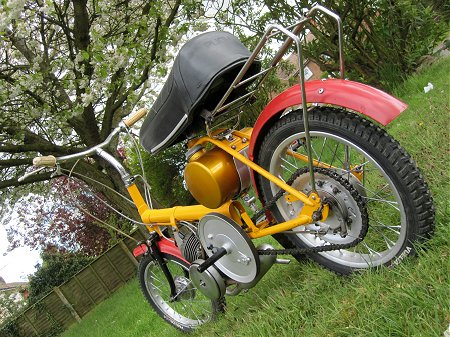 Though the RSW handlebar set forms an artistic shape, the readily adjustable lock function seems to have little practical use in this application. The form of the stem prevents the handlebars from being dropped beyond their lowest setting of 33 inches at the start of the stem curve, and the forward curve further limits compactness if the bars are turned through 90° for storage - just one of those well intentioned ideas that rather seems to have backfired.
There's also an RSW16 front wheel with hub dynamo, calliper brake, RSW Mark 2 front mudguard (no lamp mount, where the headlight was fixed from a steering head bracket on the Mark 2), rear mudguard, and RSW rack. In fact it appears that almost as much of this machine has come from Raleigh Small Wheel 16 bicycle, as from the original Wisp.
The knobbly track tyres are a BMX size, nice and cheap, do the job, and look the part.
The 1½ length foamy saddle has been adapted from a Puch Free-Spirit export moped, using Mobylette base fittings, and results in a seat height of 25 inches that doesn't appear readily adjustable.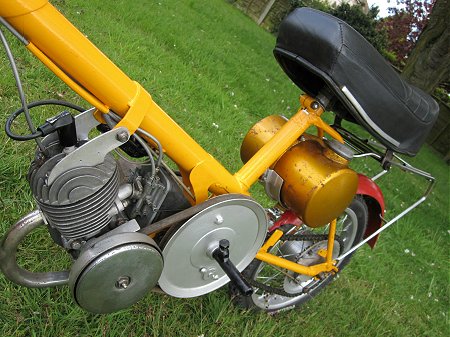 Engine wise, to limit the performance, it's been re-built to the earlier 1.4bhp specification, with small-ported 'continuous fin' cylinder barrel and 6.5:1 low compression cylinder head, and retains its original Gurtner AR10 carburettor on the standard Wisp 9mm manifold.
The complete stand bracket has been removed to resolve possible grounding issues in track use, so this is another bike looking for a leaning post whenever it stops. Again, our pedals are gone, and footrests fixed at the flywheel shaft, so once more we find our starting method is down to a push.
Directly under the tank now, the fuel tap proves rather inaccessible, and this location would certainly become inclined to grime accumulation. With the original engine covers and pedal drive fittings in place, tap access would be totally impossible, but with the pedal chain wheel now removed you can reach the lever from the bike's right side. It's easy to appreciate why Raleigh adopted an extended switch operation for the petrol tap on their road-going Wisp moped.
Just paddle the bike away on the decompressor, thumb the choke, throttle back, and it fires right up. Probably helped by its low drive ratio with fitted 44-tooth rear sprocket, Yellow pulls off well, even with a full size adult aboard. The old pedal set was obviously an unnecessary aid.
The Burgess exhaust proves an efficient silencer and effectively limits the sound to a mellow hum. The motor accelerates the bike quite enthusiastically in the initial phase, but fades away as the speed picks up, then breaks into a limiting bluster of four-stroking to top out at 19mph as the restricted engine build specification takes effect.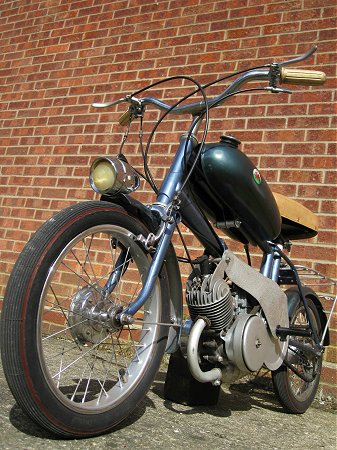 "Dragon" only came into the workshops as little more than a bare frame among a leftover pile of parts from the assembly of Old Yellow. It was apparent there were still enough pieces remaining to create a second machine, so this is what was built from the bits that were left, and some other stuff that was lying around.
The frame was already 'cut-down', in what appeared to have been an earlier, abandoned attempt to produce a 'paddock bike'. It seems that the rear stays might have rusted through at the top on the original bike, so were bent around to be re-welded on the stump. The saddle stem had been cut down to the junction, and the full-length stem brazed into place in the tube. The bottom of the centre stand bracket was sawn off just below the frame tubes.
It was a pretty hideous mess, and there the unfortunate 'project' seemed to have ended.
The frame on this bike received a number of further alterations in our workshops, with a top tube added forward of the stump, up to the steering head, primarily just to support the Phillips Panda Mark 3 petrol tank rather than to act in any structural capacity. Because the length of the Panda tank would have interfered with the saddle position, a second stem is welded behind the original location, to set the Wisp single-seat back a couple more inches to clear. The current seat height is set at 26 inches, with remaining clearance to the petrol tank allowing adjustment down to a minimum of 25 inches.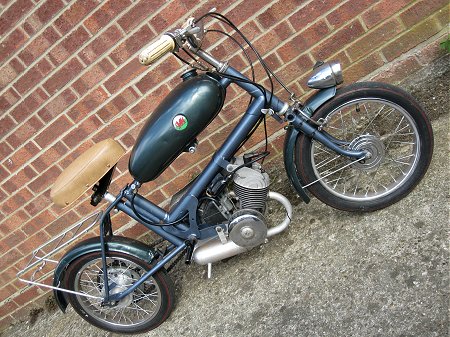 The Panda Mark 3 tank adaptation wasn't exactly any necessity, just a cosmetic conversion to give the bike a more individual 'motor cycle' look; it's a nicely shaped tank and everyone agrees it suits pretty well.
Potential problems with remains of Wisp's low slung stand in off-road use, have been resolved by complete removal of the rest of the bracket, so there's no concern about ground clearance, but it does mean you have to resort to leaning the bike everywhere it stands.
With a lowered seat position, the original Wisp handlebars would become like a pair of ape-hangers, so a replacement Runabout bar set brings the controls down to a sensible level. The handlebars are currently set at a 32-inch height, but remaining capacity in the stem would probably allow these to go down as low as 29 inches.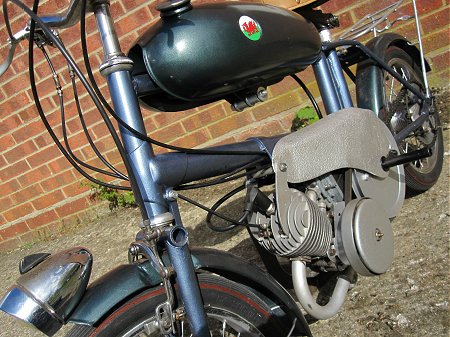 The forks are Wisp, but the front wheel and calliper brake are taken from RSW16 bicycle, as also is the RSW Mark 1 front mudguard with mounted headlamp, which was returned complete with its wiring, and still works the light from the front hub dynamo.
Performance has been partially limited by use of the earlier 1.4bhp specification engine, with small-ported 'continuous fin' cylinder barrel and 6.5:1 low compression cylinder head. Carburettor remains the original Gurtner AR10, mounted on the standard Wisp 9mm manifold.
'Dragon' was only completed in April 2010, and called after the Welsh tank badges, which are really only conveniently sized fridge magnets that just happen to nicely fit the old badge sockets, and were cheaply purchased from a gift shop at Llanfairpwllgwyngyllgogerychwyrndrobwllllantysiliogogogoch.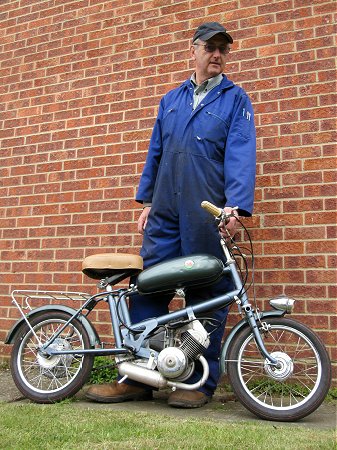 With the complete pedalling set removed, starting is down to a push, and tube-type footrests are mounted off the flywheel shaft. Pull out the plunger of the Ewarts petrol tap at back right of the tank to open fuel flow. Forward decompress with the dual-action twistgrip, scoot forward, and the engine readily turns, turn back the throttle and thumb the choke trigger below the left lever... and the motor starts right away with no more than a smooth hooverish hum from the Burgess silencer. The engine runs so quietly you hardly notice its even running, which would probably be a good thing, since the sound of a youngster roaring up and down the garden on something with a straight-through pipe would inevitably develop some irritation.
The fitment of a 44-tooth rear sprocket for a low drive ratio allows the restricted motor to easily pull even an adult away from a standstill without any pedalling requirement. Acceleration is pretty brisk up to the machine's rev ceiling, which is restricted by four-stroking from the low porting specification, and the limited top speed of 16mph would seem unlikely to intimidate any young novice.
Some impression of the small physical size of these 'Garden Wisps' can more easily be appreciated in relation to scale, where they typically stand just above knee height to an adult.
Wisp cut-downs for use by youngsters, do seem to have established as a conversion dating back many years, and may occasionally be produced today as dead Wisps do still turn up. Since they are individually built, every one seems a little bit different, and all have their own character. Three of our feature machines have given long, and certainly hard service in their afterlife re-incarnation, proving durable enough to still be serviceable today. The young riders commonly develop an affection for these, their first mounts, which subsequently preserved and still remaining operable, seem quite likely to find further use with another generation.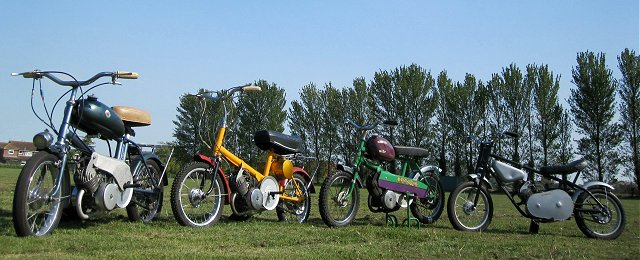 ---
Next - In our 'oddball' third feature, Jack the Lad rides this sporty moped that doesn't have any pedals, so you'd probably call this a motor cycle, but the law classifies it as a moped, so anyone wishing to dispute this description - don't come to us! You might care to take the matter up with the Government. We can give you their address, 10 Downing Street, London, SW1.
The model was first introduced nearly 30 years ago in 1981, and remained in production for 15 years. Our feature bike is towards the end of the line.
---
[Text and photos © 2010 M Daniels. Period documents from IceniCAM Information Service.]
---
The cut-down Wisp feature had been hovering in the background for quite a while, knowing that several of these things were around in various forms, mostly non-functional, incomplete or dismantled. The only working one for many years was Robin Cowling's 'Samter' at Suffolk Wheels, which we'd long said we wanted to do a feature on sometime, but again, never really got round to doing so.
The prospects started changing in summer of 2009, when Paul Nelmes 'donated' (aka dumped), a load of Raleigh Wisp and RSW16 rebuild leftovers round at the workshops. This pile of junk included remains of the ex-Richard Berry 'Old Yellow' garden Wisp, the parts to reconstruct it, and still enough bits to make up a second machine, that was to become 'Dragon'.
"If you don't want it, then I'll just take it on to the tip!"
Well, you can't be throwing stuff away if you know that something can be made from it, can you?
Though the amount of time and effort put in over the following six months was probably disproportionate for the two little bikes that resulted in the end, the actual costs were very low, just a few pounds for each bike. Both were finally completed over the first week of April 2010.
Colin Clover's 'Speedway Wisp' was only incidentally spotted when we were testing some other of his superb collection for feature (more of those appearing shortly). Outlining the cut-down Wisp article plan, Colin duly restored his own machine, and then there were four - the same number of bikes as the previous SIM feature!
A presentation structure based upon a home-made-SIM theme began to materialise, and with nothing planned for the 'oddball second support' slot after Plan Z, we made an impulsive decision and committed with the link at the end of the Zorplan feature.
Appreciating the Zorplan text file went to editing for edition 13 only just before the end of March, and considering that only one of the little Wisps was complete and working at the time, this was a bit of a gamble that everything could be pulled together.
Much of the text had been worked together before the end of April, so it was then just a matter of getting all four bikes together for brief test pace and SIM-stylee photoshoot in May.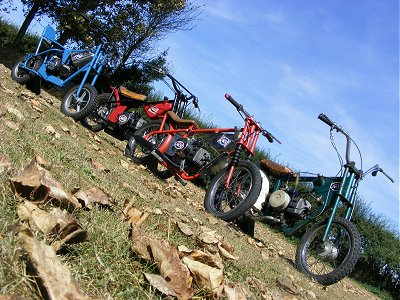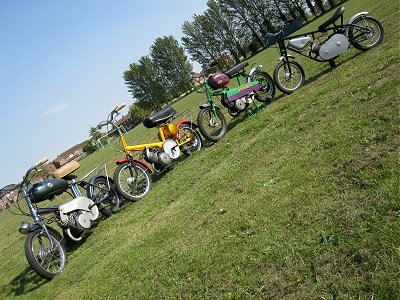 Our Wisp photoshoot mirrors the SIM one
Les Gobbett of the Leicester Enthusiasts sent in a sponsorship for "Any Raleigh article", but we don't imagine this is quite what he had in mind! Sorry Les, but the devil inside made us attach your credit. We'll make it up later with something more suitable.
These production notes were also largely drafted together during the 4 hour return flight from Cyprus - all busy, busy, busy!
An unforeseen effect of introducing a certain Welsh place name into the text, was finding this word was too long to fit into the usual column width, hence a slight adjustment had to be made. Llanfairpwllgwyngyllgogerychwyrndrobwllllantysiliogogogoch (58 letters) may be the longest town name in Europe, but there is an intermediate halt to the 9-hole golf course on the Fairbourne & Barmouth narrow-gauge steam railway, recognised as the world's longest station name: Gorsafawddachaidraigodanheddogleddollonpenrhynareudraethceredigion (66 letters), though nobody actually lives there.
---