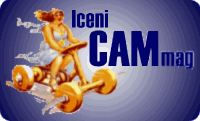 ---
A very bright and hot day right in the middle of people taking the first cut off the land. The yellow Moby 50V was very happy to go into town and be shown off to neighbours, friends and visitors. It was the only moped in attendance and many folks were interested; some mentioned they used to have a moped or they know of one and a couple of people asked me to look at their little bike in their barn sometime soon. I did go and try to get a Zündapp going which was close, but the magneto failed to give up even an anaemic yellow spark. We will have to look at that one soon so we will have someone close to ride along and hang out.
Country fairs are fun: a chance to socialise and catch up on one other's news. There are also a lot of mechanical things to play with and check out. All of the items on display are functional and are very eagerly demonstrated, such as a 1900 sisal twister, hay presses, petroil powered washing machine, petrol engined sheep shears (don't know what was scarier for the poor sheep - the crowd, the shakey hand of the elder trying to manipilate the shears or the sound of the silencerless single cylinder powerplant). There was also cow milking - which I am definitely not good at by any stretch of the imagination.
My personal faves:
The ever scary 'hit and miss' engines with 8 inch bores and flywheels the size of a small car - churning out 8 true horsepower at 300rpm, noisily sparking every forth or sixth stroke with the occasional loud backfire to keep you on your toes. The steam powered rock crusher - chuffing and spewing steam from various outlets under a plume of hardwood smoke, driving a 4 inch wide, 20 foot long drive belt up to a crusher designed to turn football-sized rocks into pieces barely larger then a pea.
And lots of tractors - the smallest this year was an old Ironhorse with a 3.5 horsepower engine and the largest was a Massey-Harris 555. The best tractor, as far as mechanical oddities go, was a home-made one from the late 1930s. Various machines and equipment were picked apart for components to go into this marvel of inventiveness from the big recession years of last century. It appears to be some sort of sculpture made of a gigantic meccano set with most of the components bolted rather that welded.
There is also a gentleman who fabricates 1/2 scale replicas of vintage tractors. The mini tractors actually work as they are built on lawn tractor chassis and the lawn tractor engine is cleverly hidden with a tin replica engine.
Something that probably would never appear at a fair in the UK is a 1940 Bombardier AutoNeige. The dark blue, refurbished machine was trailered in by the owher. It has a cedar wood interior, upgraded 12 Volt electrics and an added gas heater.
Now there is time to prepare for the BIG meet on the first weekend in July just south of Ottawa at St Albert Cheese Factory. The meet is the Canadian Vintage Motorcycle Group annual bash, lots of cycles big and small, lots of people selling off extra bits, spares and entire cycles. A few years back Mac bought a very well loved Lambretta at the sale and has been using it as his principal transportation. The CVMG have always invited those of us who love the smaller engines bikes and made sure we feel welcome.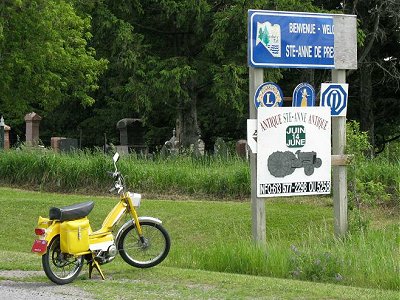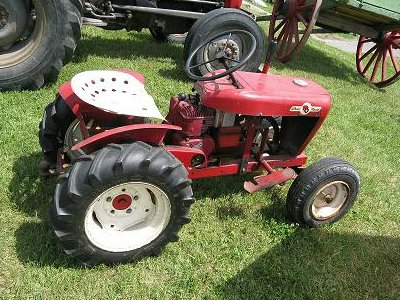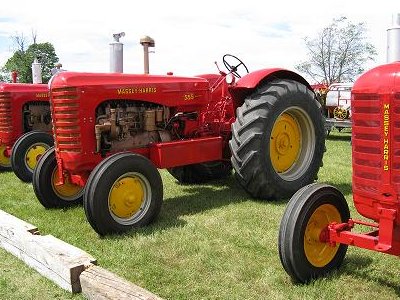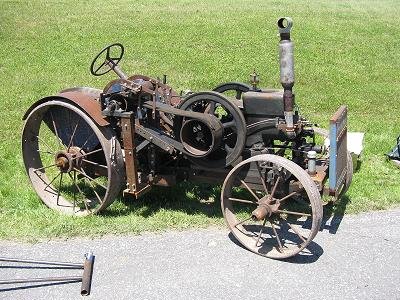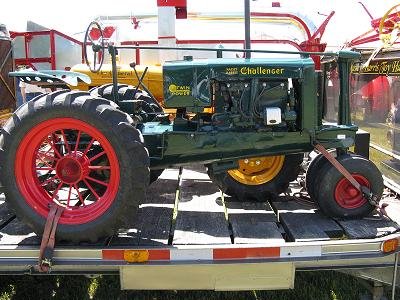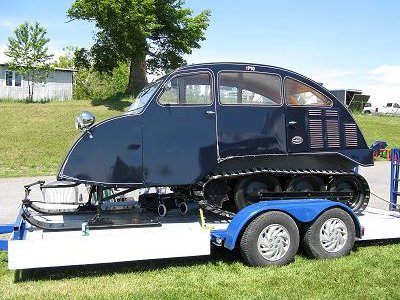 ---
| CAMmag Home Page | List of articles | List of events |
---