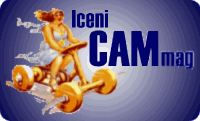 ---
The weather was not the best for riding - cold 14°C - damp and windy. The rain did hold off at the event during the day, which was a blessing. The show pitch was very mucky, however, because we have been having miserable weather for a week straight. So the bikes were allowed to park on the crushed gravel employee parking lot rather than the very moist grass.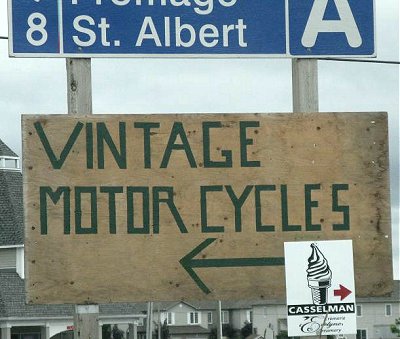 The route to the show was well marked with hand made large plywood signs, however you may notice that someone from the Casselman Ice Cream stapled a sign for their shop on the nailed up Vintage Motorcycle sign. Unfortunately the weather was against them getting any extra business for their shop.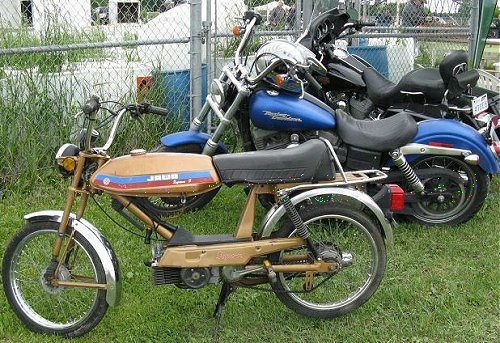 Jawa Supreme 3
There were not many mopeds or scooters at the show. A lovely Jawa Supreme 3 parked amongst the Harley Davidsons. The Jawa was for sale "as is" and fetched $200 from Pierre who is quite eager to get it running. Pierre has been mucking about with some Honda CT70s so he is well versed in smaller bikes.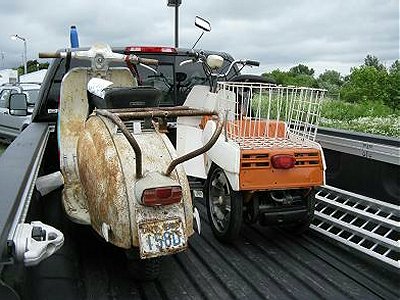 Lambretta and Ariel 3 on a pickup truck
Three Lambrettas were in attendance - two Lambrettas drove in (Mac and Corey) and one Lambretta came on a pickup truck with a BSA Ariel 3 - the Lambretta was for sale and the Ariel was not - but the owner is considering our offer of giving the trike a good home where she would be loved. The Lambretta was very 'barn fresh' and had been parked many years back in the back of a barn. The Ontario licence plates are from 1966 when it was originally parked. According to the vendor the engine would turn over with the appropriate amount of force... Corey ended up buying the Lambretta for his collection for $500 and arranged for delivery. Sweet deal!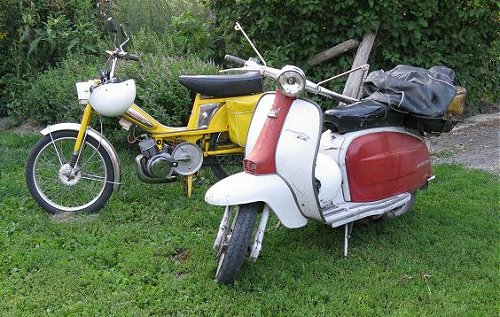 Mac's Lambretta and Dave's Mobylette 50V
Mac's completely original Lambretta won the scooter award, which is very nice as the scooter has spent its life as a daily driver and is a good old soldier.
A Motobécane 7 series showed up in a truck but I failed to get a picture of her before she left. Orange with two flat tyres and missing a lot of bits, the vendor was hoping for $250 which is rather steep for what amounts to a parts bike if all the rusted fasteners would release their death grip on the bits. I did make a very low offer on it because the vendor said he would consider anything. My anything was much lower then his, I guess. But he did pass on his phone number before he left so I might just end up with the Motobécane.
Another person who was looking at the Motobécane mentioned they had quite a collection of parts for the bikes and would let me have them for $100. He claims there are enough parts to make a couple of complete bikes so this is worthwhile also checking out over the next few days.
Not small enough but definately worth a mention to larger motorcycle fans was a very well used Villiers engined 1966 Greeves. Also some early vintage single cylinder road bikes: a Velocette, a couple of BSAs, a Royal Enfield and a Triumph Tiger 100. A Honda CL175 and a Honda Twin Star 185 were also in attendence, which I found interesting as they were high mileage and well cared for daily drivers. There was, of course, a lot of larger vintage motorcycles to view and muse over.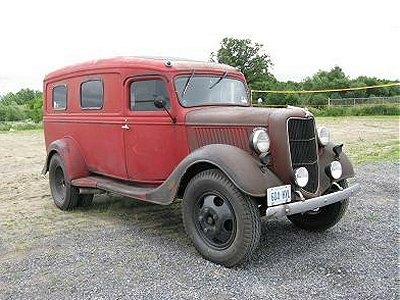 Mid August is the next planned event within reasonable driving distance from us. 165th annual Vankleek Hill Fair is a typical Canadian rural fair with something for everyone.
---
| CAMmag Home Page | List of articles | List of events |
---