Our story starts on 23rd January 1878, with the birth of František Janeček at Klaster nad Dedinou, one of the smallest villages in East Bohemia. He grew up with engineering interests and studied mechanical engineering at the State Technical School in Prague, progressing through Berlin's Technical University, then taking up employment with the Schuckert Electrical Engineering Co.
He soon returned to Prague for a new job at Kolben, one of the largest electro-technical manufacturers in Bohemia. In 1901, František was appointed to manage a newly constructed plant in the Netherlands where he also furthered his studies at the Delft Technical University and came up with the idea of a new method of current supply for tramways, which was purchased by the English for £2,000. In 1905 František was recalled to Prague for promotion to manager of Kolben mechanical workshops.
In 1907, František travelled abroad of his own accord to gather experience of German and English companies, returning again to Prague in 1908 to start his own mechanical engineering laboratory and workshop business using capital from the sale of two arc lamp device patents, which were bought by two German establishments for the sum of 70,000 Marks. The lab and workshop with 13 employees was Janeček's way to realise many of his ideas, which he offered to various companies.
As World War I fell like a dark cloud across Europe, Janeček served a short active service on the Italian front, then returned to his drawing board and, within a short time, had registered sixty patent applications, including several military-related devices. The best was a hand grenade with safe detonator and, after the war, he started his own grenade manufacture at Zizkov in Prague, then in 1920 established a further production facility of precision instruments and tools at the town of Mnichovo Hradiste, 60km north of Prague.
In 1922 Janeček bought a decrepit former Sachs shoemaking workshop at Prague-Nusle, called 'Green Fox' after its origin as a historic roadside inn and, by the following year, the site was rebuilt as a new Zbrojovka Ing. F. Janeček (munition factory) to transfer manufacturing from Mnichovo Hradiste, with the project being funded by orders from the Czechoslovakian Ministry of National Defence for the restoration of Schwarzlose machine guns from the former Austro-Hungarian Empire.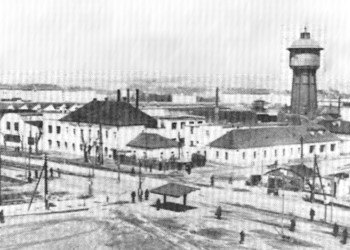 Jawa's 'Green Fox' site in 1929
Further armaments orders resulted in an extension to the plant, specialised and updated equipment, and employment of professional personnel. Despite the investments, Janeček grenade production came to an end in 1926 as demand for some armaments began to wane as peace was again settling across Europe. The Schwarzlose machine gun design became obsolete when the Československá Zbrojovka (munition factory) at Brno came up with a new ZB26 machine gun model in 1928. By this time Janeček was considering other products to substitute for the shrinking market for his munitions. While considering the manufacture of various products from typewriters to sewing machines, his final decision fell in favour of motor cycles.
While Janeček was contemplating what to do next, there were 21 motor cycle manufacturers active in Czechoslovakia at the time, among the leading brands being Cechie, Itar, Terrot, Orion, with Premier and Praga heading the list, though production was generally just small batch manufacture. Even Praga as the largest, built only several hundred units each year. Czechoslovak makes represented an insignificant minority of the home market, since motor cycle sales were primarily dominated by foreign-made brands. While there was patriotic interest in national products, domestic finance for large-scale production was lacking—but Janeček had funds at his disposal—his decision was not to develop a machine of his own, but to start licensed production of an established machine, as he purchased a licence to produce the Wanderer 500 OHV motor cycle.
Wanderer was an established German make from Chemnitz that had been manufacturing motor cycles since 1902, but while Wanderer had built its name on quality and advanced design, its crown had become usurped by BMW. The latest Wanderer 500cc motor cycle was a new and imaginative design by Alexander von Novikoff, and only first built in 1927, with a triangular pressed steel fabricated frame and shaft drive.
Because Wanderer had produced the bike in a hurry, and not adequately tested it, it proved unreliable and suffered many teething troubles requiring extensive rectification, and the many guarantee repairs had already caused a financial loss. Wanderer not only licensed Janeček's production of the bike, but also gave him all their unfinished parts and the complete suite of manufacturing tooling—so it may be no surprise that while Zbrojovka Ing. F. Janeček was preparing its new licensed motor cycle for market in 1929, Wanderer Chemnitz was in the process of dumping the project and winding up its own motor cycle production.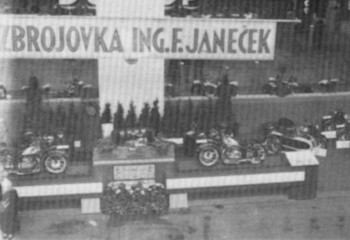 Jawa stand at the 1929 Prague Show
A trademarked brand name was needed for the new motor cycle, and they came up with the idea of connecting the two first letters in the names Janeček and Wanderer, to result in a simple and memorable easy word to pronounce, and created an attractive trademark. Further, since W was a non-existent letter in the Czech language, it added a degree of foreign intrigue to the name for domestic sales. Zbrojovka Ing. F. Janeček registered the new Jawa trademark at 10.30am on 17th August 1929, at the Patent Office under number 37-525/Prague, before the bike made its autumn debut at the Prague Motor and Motor Cycle Show, which opened on October 23, 1929.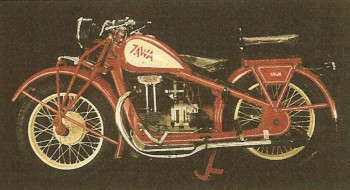 Jawa OHV 500
The first Jawa differed from the original Wanderer in several details, the most obvious being its large drop-shaped tank. It was priced at 14,890 crowns—but it soon became obvious that an expensive 500cc motor cycle may not have been the best starting choice; furthermore, the front fork frequently fractured, which resulted in a pressed-steel fork redesign for the second series model in 1930, listed at the reduced price of 14,000 crowns. The third series in 1931 introduced a new fishtail silencer style, optional four-speed gearbox, and oval Jawa emblem on the fuel tank, while the price was further dropped to 12,000 crowns.
In 1931, profit from armaments sales was double that of the motor cycle sales, though this was also happening through the middle of the Great Depression, which effectively started on Black Thursday October 24th 1929 when American stock market crashed 11% at the opening bell (the very day after Jawa's new 500 motor cycle was launched in Prague). While only 1,016 motorcycle units were reportedly manufactured up to 1931, it's not so bad considering the times, however Janeček's dreams of motor cycle mass production had to be postponed.
Janeček was not the only Czech armaments manufacturer that had started looking toward alternative products following the downturn in weapons sales after World War I, and in 1929 Československá Zbrojovka a spol at Brno acquired a cycle parts manufacturing plant in Kralupy nad Vltavou, from which it expanded bicycle exports into several European countries, Asia, Africa, and South America. This was followed by motorised cycles in 1932, and finally motor cycles built at its Strakonice plant in 1935.
With the world still gripped in the clutch of the Great Depression, Janeček realised the times would be more suited to utility motor cycles, so Jawa purchased Villiers 175cc engines, starting to build them into its own frames in 1932, and also using Villiers gearboxes, carburettors, chains, wheel hubs, brakes, magnetos and headlamps. Presented at the Prague Spring Motor and Motor Cycle Show, the 'one-seventy-five' was advertised as the 'Better machine for less money', and at a price of 4,650 crowns was a third cheaper than its competitors. It was the right bike at the right time, and this time, Jawa hit the jackpot! In just its first year over 3,000 Villiers 175s were manufactured, almost three times as many as the number of 500s produced over three years!
By the mid-1930s, Jawa already dominated its home market for motor cycles, but ČZ was unrivalled in the popular under-100cc category, with its 73cc and 98cc models.
In Czechoslovakia, autocycles could be ridden from the age of 14, requiring no driving licence, no registration, no road tax, or third party insurance, so almost the same as a bicycle! It's easy to see why they were so popular.
Jawa subsequently presented its new '100' at the 1937 Prague Sample Fair, where the factory publicity department staged a competition for visitors to propose a name for the autocycle. Within three weeks visitors had written over 15,000 suggestions on lottery tickets for the 2,500 crowns prize, and 'Robot' was chosen, as proposed by 68 competitors.
As its first small capacity production, the Robot was a particularly significant machine for Jawa. Powered by a single-cylinder, air-cooled two-stroke engine of 47mm bore × 57mm stroke for 98.8cc, rated 2.6bhp@3,750rpm at 5.7:1 compression. The three-speed gearbox was in unit with the engine, with lever shift by a gate on the tank. The engine could be started by pedals from standing, or by pushing, and an in-built freewheel in the gearbox allowed the rear wheel to be driven by the engine or pedals.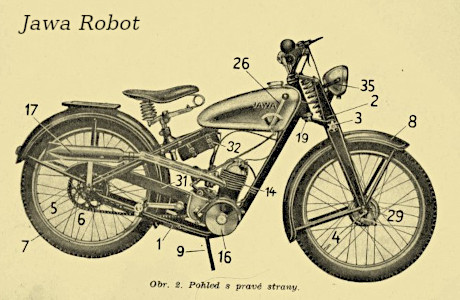 The frame and front forks were assembled from lightweight pressed steel sections, and wheels shod with 2.25 × 19 tyres. Robot was a lightweight, weighing just 49kg (7st 10lb) for a given maximum speed of 65km/h (40mph), and completely made by Jawa, except for the Gratzin carburettor. Jawa effectively produced 12,000 Robots up to the close of motor cycle production in 1940.
Pre-war, Jawa's range had extended to 175 & 250cc two-strokes, 350 side-valve & OHV motor cycles, 700cc 2-stroke-twin cars in 1934, and 615cc 2-stroke Minor-I cars from November 1937; it also gained a number of trials, sprint, and racing results in competition.
On 15th March 1939, Nazi Germany invaded Czechoslovakia, changing everything. By April, the factory was directed to take up transferred military production of some parts for the aircraft industry, bomb carriers and small stationary engines for generator sets.
Production of motor cycles was stopped in 1940.
On June 4th 1941, František Janeček's famous last words were reportedly, 'Carry on, I'm leaving…' and shortly after 8am, he died of lung cancer. Following his death, the firm became a family joint stock company, as provided by Janeček in his will, drawn up in April 1940.
Following World War II, production of pre-war models immediately resumed, built from huge stocks of parts that had been squirrelled away from the Germans, and work started towards the production of other models which had been secretly prototyped during the war, developed and even tested under the noses of the occupying forces by painting them in Khaki military camouflage, with fake military number plates, and BMW badges—the brazen cheek of it!
While Jawa resumed with motor cycles and cars after World War II, Czechoslovakia re-established as an independent country again, but on 27th October 1945, the entire Brno Armoury was declared nationalized. On 7th March 1946 a separate company, Považské Strojárne np, was established in Považská Bystrica, and all ties to Brno Zbrojovka were disrupted. During this period, the company turned to the manufacture of various unlikely products, including furniture, and was looking for new applications for its machinery in peacetime. Also in 1946, a government contract orders came to an end, stopping the production of the Jawa Robot and ČZ 98 lightweight motor cycles in the Prague and ČZ Strakonice factories.
This was seen as an opportunity for the now independent factory in Považská Bystrica, and in a short time the Bystrica design team had created a small motor cycle they called Manet M90, its name being derived from the nearby Manín mountain, which was within sight of the Považská Bystrica factory. The new Manet motor cycles were introduced to the public at the 28th International Automobile Exhibition in Prague in October 1947 and went into mass production by the end of 1947. Jawa and ČZ motor cycles now had Manet as a new competitor.
Following a coup in 1948, Czechoslovakia became a totalitarian one-party socialist state under a communist administration, the country was now part of the Soviet-led Eastern Block, and all manufacturing fell under the control of Czechoslovakian nationalised industry.
Manet motor cycles were constructed at Považská Bystrica up to 1951, when assembly was discontinued due to the Korean War favouring a return to ammunition manufacture and production of vz52 rifles.
A government directive on 9th May 1953 charged Jawa Prague's chief designer Josef Jozíf and engineer Jan Křivka with the development of a utilitarian pedal-assisted motor cycle of less than 100cc, to be a simple and economic transport that would not require a licence, and would be suitable for use by a wide range of general workers. After the end of the Korean War on 27th July 1953, three workers from Považská Bystrica helped with the development work and preparation of production documentation and, by 1954, the first prototypes were moved to Považské Strojárne.
There was, however, an amendment to the regulations before its introduction, which meant that the machines no longer required pedals, but were regulated by engine capacity, power output and maximum speed instead. The engineers responded in time to create a revised version that returned the Považská Bystrica factory to motor cycle production in July 1955, though it was no longer a machine of its own design or Manet branding. The new model was the Jawa 550 Pionýr, with a kick-start, air-cooled, two-stroke, single cylinder engine of 49.9cc, three-speed gearbox, and step-through pressed-steel frame. This soon acquired the nickname of Pařez (stump) because of the shape of the frame's seat section. Manufacture ended in mid-1958 after over 106,000 had been produced.
Other prototype motor cycles were being jointly worked on in parallel developments at Jawa Prague and Považská Bystrica and, although presented as the new 50cc model Jawa 555 at exhibitions and in the professional press, the machine actually went into production in Slovakia, and took over as an updated version of the discontinued Jawa 550 Pionýr. Jawa 555 manufacturing began in July 1958 and by the end of production in 1962, a total of over 327,000 units had been produced, though Považská Bystrica was charged a small licence fee for the privilege of building each machine for Jawa Prague!
With Manet/Tatran S125 scooters coming to an end by 1968, designs were begun for new basic rigid-frame mopeds, as a Type-28 export model with large 23" wheels, which was subsequently dropped. A second version with smaller 16" wheels went into production in 1970 as the Jawa M-228 Babetta, which was named after a popular song of the time: 'Babetta went to the world'. The lightweight moped was a simple single-speed automatic rated for 40km/h (26mph) but designed for performance variations to suit different export markets, and was claimed to have the world's first 'Tranzimo' contactless transistorised ignition system.
By order of PZO Motokov, Považská Bystrica-built Babetta mopeds had to be branded as Jawa for commercial reasons, and Považské Strojírny paid Jawa 100,000 crowns a year for its licensed use, while Manet branding seems to have been mothballed. The M-228 Babetta ran up to 1973, when it was replaced by the M-207 Babetta model.
Production of engines for the M-207 took place at a branch plant in Rajec from 1973, while Babetta moped assembly was transferred to the plant at Kolárovo in the south of Slovakia from 1976. Production of M-207 Babetta mopeds in the main plant of Považské Strojírny ceased as it switched over to the manufacture of aircraft engines, though it retained constructional development and control of moped production in the branch plants.
A new M-210 two-speed automatic Babetta succeeded the 207 in 1983, and was joined by a single-speed automatic version produced from 1985. The Jawa coding of 210:130 = model 210 and 130 is single-speed 30mph; 210:120 = model 210 and 120 is single speed 20mph; 210:230 = model 210 and 2-speed 30mph. We're doubtful that they made 2-speed 20mph versions restricted with a 9mm carburettor, because what would be the point?
Under the complicated communist administration, the various manufacturing plants fell under the management of a vast ball-bearing manufacturer in Slovakia called ZVL, who were now directed with a the task of producing further military aircraft engines. More space was needed to fulfil this order, so moped production would have to move.
By the end of 1985, ZVL restructured its locations into independent branches, ending motor cycle development in Považské Strojírny, while the production licence for the Babetta M-210 would transfer from Považská Bystrica (Manet) to ZVL Kolárovo and its new auxiliary plant in Čalovo, close to the Hungarian border.
In 1986, production of the M-210 moped range moved to the new Kolarovo/Čalovo factories, which had no experience of this model's construction, and received all the transferred production equipment, test equipment and technical documentation from Manet. The sudden transfer went as well as you might imagine, and support from Manet was required until the end of the year.
At this point we encounter a couple of road test machines, both dated 1988.
---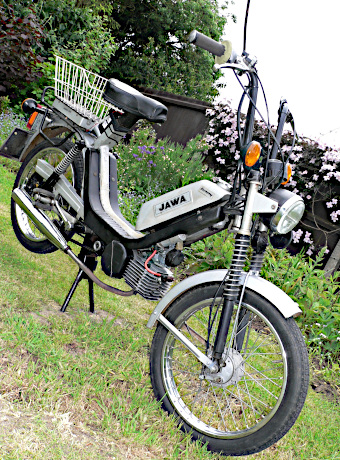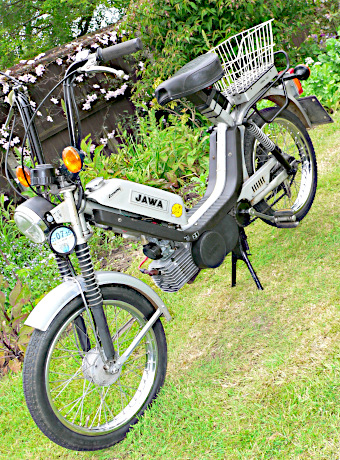 Our first example is branded as 'Jawa' and 'Economy' on the fuel tank, 'Jawa 130' on the toolbox sides, and 'Jawa' moulded onto the clutch cover, so a 210.130 automatic single speed model, silver in colour. Weight is given in Imperial as 112.4lbs. It has a 40mph speedo (illuminated by internal bulb), is fitted with an electric horn, and was clearly imported as a British market machine.
The engine is specified as 39mm bore × 41mm stroke, 49cc, 9:1 compression and rated 2.38bhp@5,000rpm. The frame has telescopic forks, twin-shock swing-arm rear suspension, with cast alloy hub brakes, and wheels mounting 2¼ × 16 tyres.
Fuel turns off–on–off–reserve at the bottom left of the tank, with the lever set into a small porthole in the left-hand plastic frame trim. Click the choke on by pushing a rod at the bottom left of the 12mm Jikov 2912 carb/air filter; this will automatically release when the throttle is opened. On the stand to spin the pedals, the motor turns over and fires up quite readily, but immediately impresses with high engine noise. Its last road tax expired in 2015, and its subsequent storage for eight years in a damp allotment shed has obviously resulted in corroded main bearings. It runs, but rumbles badly, and a brief test ride shows poor acceleration with a reluctant best indicted of 25mph (which is unsurprising considering the decayed main bearings), so we didn't consider it worthwhile performing a formal paced test.
There's an empty steering lock socket on the headstock, which shows no signs of any lock ever being fitted, so was that an extra?
Removing a plastic cap on the back end of the frame finds an original hand pump still in the rear frame tube.
To switch to pedal mode, pull the cap over the front sprocket, and turn 90-degrees to disengage the motor for pedalling.
The CEV indicator set is an optional extra, with a battery tie-wrapped behind the saddle stem (the battery is normally fitted in a box under the right-hand toolbox). The battery is charged from the generator set. Indicators are switched L–off–R on the right-hand handlebar switch, and still work when the engine isn't running, so are clearly wired from the battery. The winker relay is located in the right-hand toolbox; the left-hand one is just toolbox. The rear basket is original and came with the bike, but has to be removed by a wing-nut clamp to be able to remove the right & left toolbox lids.
There is also a button on top of the right-hand switch: an ignition cut-out button.
Lights are switched off or on by a rocker switch on the back of the headlamp shell, with a second switch on the left-hand bar for beam–dip and electric horn, and a brake light operates from switches under the brake levers.
---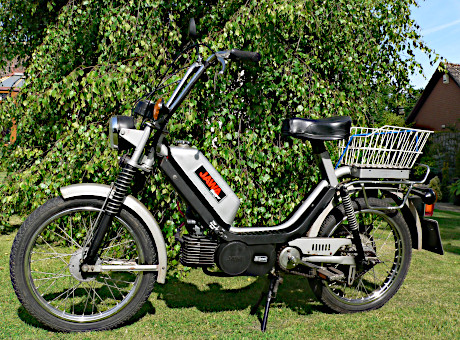 Our second example is branded on the fuel tank as 'Jawa', 'Shopper', 'Automatic 2-Speed E', being a two-speed automatic (210.230), and 'Jawa' moulded onto the clutch cover. It's silver in colour, with 12mm Jikov 2912 carb. On the frame serial plate, weight is given in Imperial: 112.4lbs. It has a 40mph speedo (illuminated by internal bulb), is fitted with an electric horn, and clearly was imported as a British market machine.
Pulling away is different from the single-speed versions, as revs increase notably more quickly in the lower drive ratio. Accelerating in first ratio can gently change up to second at 15mph on light throttle, or it can be held in first longer if you keep the throttle full open up to maximum revs at an indicated 20mph, at which the shift finally 'lurches in' with a protest at such abuse.
Best on flat once hot indicated 32–33mph, and long light downhill indicated 34–35mph, but best paced clocked 30–31mph.
The single-speed motors have two clutches, one for starting and the second for drive, both within the primary clutch drum. The two-speed motors have the same two clutches in the same primary clutch drum, but also have a third clutch built into the centre of the primary synchronous belt driven pulley. This two-speed drive pulley is recognised by a stainless steel disc cover in the centre of the pulley, where the single-speed pulley is just plain with two holes in it. The single-speed and two-speed versions both have the same final drive ratio, so we would expect the same top speed. Holding onto full throttle in first gave some impression that it might actually be slowing down this phase, so we decided to settle the matter with a drag race between our two-speed silver 'Shopper' and our 1991 blue/green single-speed model … tension mounts as the lights flash down from red, through the amber sequence to green, and go!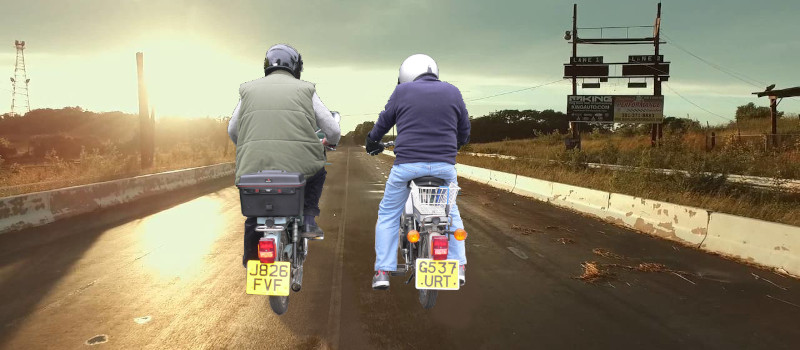 The two-speed model pulls ahead straight away due to its lower first stage ratio, but fades as its revs increase past its point of maximum torque, and holds onto first until it revs out at 20mph, where our blue single-speed momentarily overtakes, the two-speed switches into second and chases the single-speed down the track, but is unable to overtake.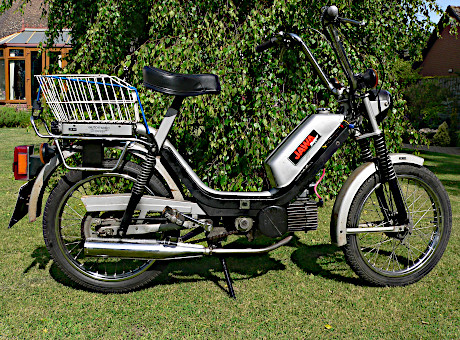 On our second run the two-speed employs the trick of throttling back at the moment of optimum revs to encourage an quicker change up into second at around 15mph, but the action drops just enough speed for the single-speed to draw back level, after which the bikes run down the strip side by side.
Generally the single-speed version will win the drag race, because the two-speed requires perfectly timing the change just to maintain a draw. The only real advantage of the two-speed is that the lower ratio allows better steep hill climbing abilities.
Again the CEV indicator set is an optional extra, with the battery located in its original box positioned under the right-hand toolbox. All other aspects are the same as the single-speed version, including the same empty steering lock socket.
The November 1989 'Velvet Revolution' against the single-party government of the Communist Party of Czechoslovakia initiated a number of political and economic changes after the collapse of the socialist economies in 1990.
During the period of communist Czechoslovakia, the PZO Motokov foreign trade company had controlled the distribution of mopeds under the Jawa brand. After the revolution, mopeds were still produced at the behest of Motokov, but no longer compelled the use of Jawa branding, and the M-210 became sold under the name of 'Babetta'.
ZVL Kolárovo was now facing up to essentials of privatisation: the need to make a profit, and the lack of state funding. The cost of materials and energy increased, while formerly secure markets of other former communist states were opening up to new eastern and western products, and now spurning traditional Soviet brands.
The two-speed transmission system was discontinued due to reported 'unreliability issues' of its operation.
---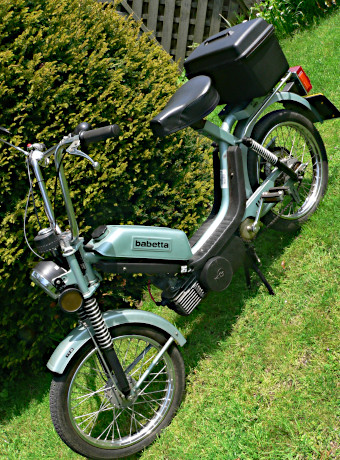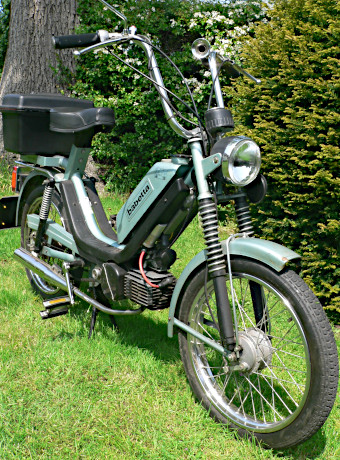 Our third example, dated 1991, is simply labelled on the tank as 'Babetta', further on the toolbox sides as 'Automatic', and 'ZVL' moulded onto the clutch cover' The frame has metallic light blue–green paint. It's a 210.130 single-speed machine with its dry weight on the frame plate now given in metric as 51kg. This bike features a 60km/h speedometer illuminated with a bulb, and best indicated speedo reading on flat 45km/h (paced 30mph). We tried a crouch position on a long light downhill run, and managed to tease the speedo needle past the 45km/h marker … 46, maybe even 47, though our pacer insisted it was still just 30mph.
It has the same 12mm Jikov 2912 carburettor as the 1988 models.
The headlamp is just a single filament 6V/15W, and switched off & on by a rocker switch in the back of the headlamp shell, while the tail light is 6V/3W. There is no beam–dip, no brake light switching, and no indicators or battery.
No electric horn or horn button had ever been fitted, and this bike came equipped with just a cycle bell, which was not admissible for the UK MoT test, so a bugle hooter was substituted. Blank steering lock socket welded to the headstock, but no lock kit ever appears to have been fitted.
---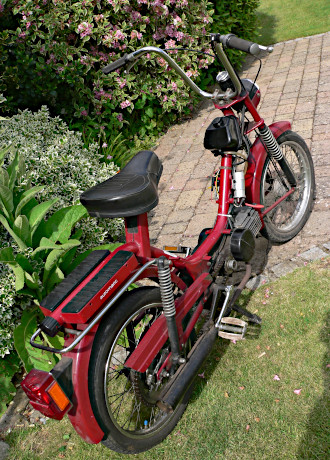 Our fourth example in red paintwork is dated 1991, was an incomplete machine and only acquired for useful spares, missing the fuel tank and frame trim panels. Fitting a small lawnmower fuel tank and with a little maintenance and service, we got the bike running. Since there is no original fuel tank, we presume this would have originally been Babetta-branded; it's labelled 'Automatic' on the toolbox sides and has 'Jawa' moulded onto the clutch cover. It's a 210.130 single-speed machine with its dry weight on the frame plate now given in metric as 51kg. This bike features a 60km/h speedometer illuminated with a bulb, and red paintwork. No indicators and a single filament lighting circuit switched by a rocker switch on the back of the headlamp.
Setting out for our road test, we immediately noted the speedometer didn't work, the brakes were terrible, and though the lights and cut-out button worked, no horn or horn button ever seemed to have been fitted (like the blue bike, which was only fitted with a cycle bell). Again a blank steering lock socket was welded to the headstock, but no lock kit ever appears to have been fitted—it looks as though the steering lock must have been an extra.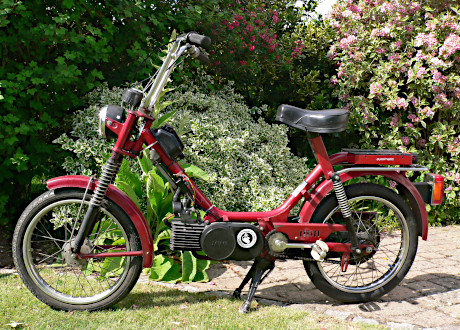 'Red' seemed to run and accelerate pretty well, though the following road test paced the bike completely revving out at just 25mph, which seemed a bit odd? Counting only 12 teeth on the front sprocket compared to the 14-tooth front on the other three test models accounted for this difference in top speed, but we have no idea why it was fitted with a 15% lower drive ratio as it's clearly a fairly worn and original sprocket.
---
'Issues' began arising in the 1990s as decrepit production machinery compromised quality, and falling sales initiated a reduction in the workforce, with short time working, and even some temporary closures of the factory. In 1993, Czechoslovakia split into two separate counties, as the Czech Republic and Slovakia, so the Kolárovo factory building Babetta mopeds in Slovakia suddenly found its supplies of many primary components from the Czech Republic now involved importation from another county. Motokov, as the sole Babetta distributor, was Czech-based, so Kolárovo decided to set up its own international marketing, but didn't really know how to do that, so it didn't go so well. The production department became Babetta AS, while the marketing department was re-formed as a separate company called Mopedy sro, but subsequently had a major falling out and split from its own factory; meanwhile production quality hit rock bottom.
The 210 engine evolved into a new 225 engine, which looked much the same, though now with a kick-start replacing the pedal starter mechanism. A subsequent deal supplied the Kolárovo 225 engine to the Riga moped factory in Latvia, in a barter exchange for Riga Stella frames. This resulted in the unfortunate Babetta 134 model, with such appalling quality from the Riga factory that Kolárovo had to re-weld all the frames joints, which were prone to fracture.
It only delayed the inevitable. In late 1997, the Kolárovo factory was closed.
Pre World War II, the structure of the various factories seemed simpler, in that various manufacturing plants were differentiated by the different owners, branding, products made, and where the respective ČZ, Jawa and Manet factories were based.
Following the post war nationalisation of everything, and throughout the period of Soviet influence, brand names were applied under direction of PZO Motokov marketing of vehicle products or parts that could be made, or part made, in any of the factories under the ZVL blanket. The original brands effectively lost connection with their identity, though it's probably little different from many international brands today, which are often no longer even made in their country of origin.
New Jawa motor cycles are still available today, as four-stroke singles with twin exhaust, in differently styled models 'Jawa' (295cc), 'Forty-two' (295cc), '42' (295cc), '42 Bobber' (334cc), and 'Perak' (334cc). These bikes wear the same famous 'Jawa grenade' badge, but share a stronger link with India than František Janeček or Czechoslovakian history. In much the same way as Royal Enfield licensed production in India, Jawa also licensed production of its models to former import agents Irani in 1961, who sold them under Yezdi branding until the company ceased in 1996.
In January 2022, Yezdi re-launched in India as Jawa Motorcycles by Mahindra through its Classic Legends subsidiary, with a licensing deal from the original Czech Jawa Moto company.
Further models are sold under 'Yezdi' branding as 'Roadster' (334cc), 'Scrambler' (334cc), and 'Adventure' (334cc).
Everything has changed, only the badge remains the same.