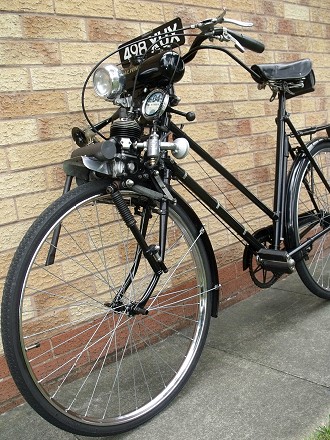 The lights of the strange trade-carrier town fade into the falling dusk as we drift on down-stream in the middle of the river flow. There seems no opportunity to reach either bank as darkness now falls, so we settle down into the hull of the boat to bide our time, while the gentle rocking motion is actually very restful…
We are wakened by a soft bump and the sound of rustling reeds as our boat lightly brushes a shallow shore of the bank, and since we can now see in the early morning light, we take the opportunity to hop ashore. As we jump to land the boat is pushed once more out into the stream, to continue its inevitable onward journey to the sea…
The question though, is where, and when, are we now?
A short walk to the nearest town answers our question of where, as Berkhamstead in Hertfordshire, so we somehow ended up drifting down the Grand Union Canal, and glancing at the date of a paper on a newsstand … blimey, there's a war on!
John Latta was a former Chairman of the Society of Model and Experimental Engineers in London, an enthusiast for small capacity engines and their applications, and contributed some theoretical studies on two-stroke gas flow to the Model Engineer magazine from Autumn 1941.
He built a number of internal combustion engine models in the post-war period, when he began a series of experiments on motor assisting a bicycle by means of model engines.
The first such effort in September 1947 mounted a 6cc two-stroke Edgar T Westbury-designed Atom Mk-3 model aeroplane engine in a frame fixed to the left-hand side of his wife's bicycle, and driving the front wheel by a roller on the tyre.
In the spring of 1948 he began planning how to modify and adapt a Magpie motor (built by Gerald Smith of Nuneaton) to its intended cyclemotor application and the prototype 15cc 'Tailwind' cyclemotor was first registered as JRO 989 in May 1948 on Latta's own Elswick–Hopper bicycle. On 7th October 1948 Latta submitted a patent application for a cyclemotor stepped roller design which would effectively provide two gears. Transition between the diameters would be accomplished by a conical ramp, and cable operated by a lever to slide the engine sideways across a carriage. The Magpie engine seemingly only served as a test bed for John Latta to develop his ideas on two-speed roller-drive gearing, but nothing more was documented on its progress.
On 20th January 1949, Model Engineer Magazine published news of Dick Ostler's award of the coveted Challenge Cup at a model engineering exhibition in Ipswich, with his 25cc Ostler Mini-Auto cyclemotor engine.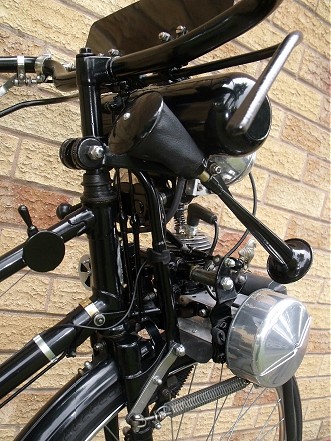 Ostler's home-made model engine had been under development since its first rear-mounted prototype version was built around 1941–42; it was followed by a second front-mounted prototype a few years later. The third Ostler engine was completed and road registered 8710 PV in early 1948 for proof testing, and its presentation in Model Engineer magazine was accompanied by an advert from Craftsmanship Models Ltd. of Ipswich, to 'build your own autocycle' from a set of plans and basic kit of castings for home model machining.
As such, the Ostler gained acknowledgement as the first British cyclemotor model engine to be adapted as a clip-on unit and reach a stage where it became sold as a complete set of commercially produced castings for home machining.
John Latta was a subscriber to Model Engineer Magazine, and we may only speculate if the Ostler report might have spurred him on, but in June of 1949 the first trial of a Tailwind Mk 2 was taking place.
John Latta had been joined on his project by fellow model engineers John B Grout-Smith and Reginald Henry Bury, who together embarked on making three new prototype engine units of 29cc with stepped drive.
Latta's motor was completed first for test running the engine on the JRO 989 number plate, and initially appeared in air-cooled form, but by July was sporting a Wipac Bantamag flywheel bladed to deliver fan-cooling through aluminium ducting.
The Reg Bury engine was also completed and mounted for registration as KPX 541 on 9th July 1949, and recorded as 'Bury 29cc engine number 1900 built into Raleigh bicycle frame 8718E'.
The Latta motor was remounted onto a BSA Streamlight bicycle (though still wearing registration JRO 989); it and Reg Bury's machine were both photographed by John Grout-Smith at Bury's home town of Bognor Regis.
In September 1949, Latta and Bury decided to undertake a more 'testing' trial of their Tailwinds by taking the machines on a tour of the Scottish highlands, where they reported that a gradient of 1 in 8 could be climbed successfully in low gear with the aid of pedal assistance, though what proportion of rider to engine effort might have been involved in the result wasn't indicated.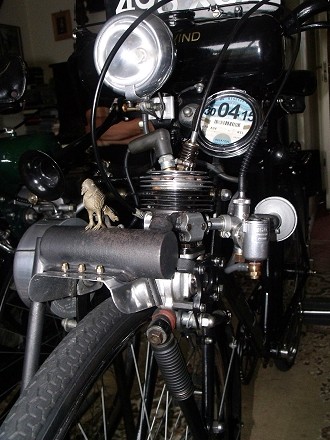 Our Tailwind wears number 1900 stamped on the crankcase, so this is Reg Bury's original engine, now rebuilt onto a basic single-speed wartime BSA 22-inch frame 'All-black' step-through lady's cycle, which was so called because the all-black finish came about as a result of there being no plated parts employed at this time.
The cycle has subsequently been fitted with chrome plated rims and a three-speed hub, having rod brakes, and a friction dynamo running on the rear tyre to power the lights.
A view inside the front mudguard allows us to examine the two-speed stepped front drive roller, which demonstrates the simplicity of the principle by its conical ramp to transition the diameters, and covered by a bonded grit coating for traction.
The method of sliding the engine across on its mounting bar has now been changed from the small cable operated trigger, to a large two-position lever, with up for low gear, and down for high ratio. This provides a firm and positive gear-change, which is quite in keeping with the principle of on-going engineering, and is a further development that Messrs Bury and Latta would surely have approved of.
A ratio change moves the motor 1¾" across its mounting and, though the frame can be lifted and latched off drive from the front tyre by a grip-lock lever, this is not a practical operation to work as any clutching function because of the strength of the spring to engage the roller to the tyre, and the further addition of a hydraulic damper to prevent the motor from bouncing off drive.
The engagement mechanism is therefore only practical to latch in either position, for engine drive, or disengaged for pedalling the cycle, and you don't need to 'clutch' the motor off to change gear while the engine is running.
Ignition comes from a Wipac Bantamag, and the carburettor is an Amal 308/15 with ⅜-inch bore, mounted on a manifold on the left-hand side of the cylinder.
The motor employs twin-port Schnurle-loop scavenging, and its piston has a plain dome top, but one of the obviously unusual features of the Tailwind's motor is its transfer arrangement, with its ports laid out to the front of the cylinder on either side of the exhaust port, which are presumably directing their charge toward the back of the cylinder … that's going to be interesting!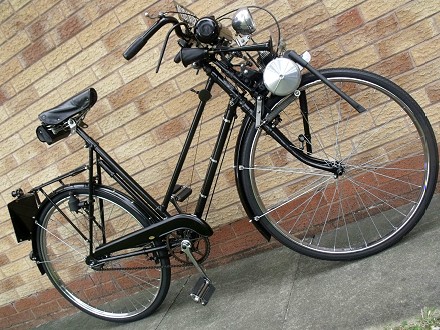 Below the cast-iron cylinder with screwed-on alloy transfer covers, the crank is an overhung design, but with a 'support' crank-web pegged onto the big-end and engaging a short journal into miniature ball races within the crankcase cover.
This is presumably a vibration reducing arrangement for the crank; something similar can be found on early Villiers F-series motors and Cady Super-Isodyne engines; however, with these motors the crank assembly is more ordinarily 'secure', while the Tailwind crank 'outrigger' is simply engaged, but not actually fixed!
Since the engine is mounted over a 26-inch front wheel, with the fuel tank located off the handlebars to gravity feed the carburettor, the Tailwind does feel front heavy with a high centre of gravity, requiring careful handling off its workshop stand, and cautious parking beyond its garage because it has no stand of its own. These front-mounted cyclemotors can easily fall over with a mighty crash, which can cause some serious damage.
Even with the motor engaged, it proves easy enough to navigate our Tailwind out onto the road with the decompresser engaged, and we turn on the fuel by a small lever tap under the left side of the tank, then saddle up … yeah, that literally is up, because this machine is configured for a taller rider, so we're barely going to be able to touch the ground, even on tippy-toes!
A 38-inch saddle height with only a 30-inch inside leg will present some complications, so we're going to be looking for kerbs when we can…
Opting to start in top gear allows more road speed to be built up for more stability, and seems a better option for our novice abilities with this unfamiliar machine and its alien controls.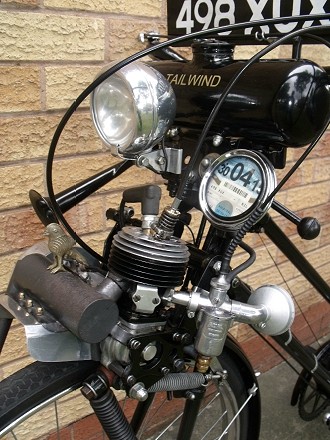 The carburetter employs its conventional Amal strangler choke shutter and, because of the backward facing arrangement, conveniently places the shutter control to the left-hand side, about level with the bottom steering head, so a reasonably accessible location to control from the riding position.
Closing the strangler, we pedal away on the decompresser, then drop the trigger and keep pedalling, while levering the throttle to try and find an optimum starting position. Spurred on by a few encouraging chugs, there's more pedalling and more chugging, until we decide we've probably reached the situation where there's more chugging than pedalling … so we stop for a short breather, and open out the strangler to try it again without the choke now. This seems to do the trick and we manage to get the motor to catch and run, though it still requires pedal assistance until it gets up enough revs to pull under its own power.
Thinking perhaps the engine is too cold at the moment, we coast around the back roads a while to get some feel for handling the bike, and to work some heat into the motor before our main test run. While we readily adjust to the riding technique, the lack of low-speed torque barely seems to improve at all as the engine warms up, so this may be an odd characteristic of the unusual transfer porting arrangement?
The Tailwind engine seems completely devoid of torque at low revs, and barely seems capable of pulling under its own steam until around 5–8mph in top ratio. The two-speed drive arrangement can overcome this low-speed lack of torque in the engine by changing into bottom ratio, but first gear seems extremely low, and only delivers a practical range up to around 10–12mph, before the motor is absolutely screaming its head off by 15mph.
It barely seems worth the bother of the gear change for normal usage, when it's just as easy to pedal assist the motor through the initial phase and up to revs, so the bottom ratio might appear to be more of an engineering novelty. John Latta claimed that his two-speed, stepped-roller design was primarily intended to offer better assistance on hills, but there seems something of a scientific flaw in this application. Because the low-gear roller is a smaller diameter of only ⅞ inch, the main diameter of 1⅜ inches represents a 57% increase in drive ratio, so first gear has 36% less surface engagement to the tyre than second gear. During hill climbing, and at a time when the engine revs and load against the transmission would be at their highest, traction to the smaller drive roller would be at its lowest, so a common result is that the low drive ratio loses its grip under load, the grit roller spins and simply eats the tyre, so the two-speed roller drive system doesn't actually prove much use at all against inclines. First gear is really only practical to use for improving acceleration, but the mechanical operation of changing gear barely seems worth the small gain it offers, while a little pedal assistance more easily achieves the same effect.
With our pace vehicle in attendance, we pedal across the junction, then open the throttle wide on the main road, and cruise about 1½ miles before turning back for our fast paced run, clocked at 25mph on a Sat Nav.
The Tailwind motor revs cleanly and smoothly right up its range, and it's a real surprise how high it seems to rev! There are no four-stroking effects at all, so exhaust gas scavenging was certainly working very efficiently at speed, and we can only presume that the cylinder must have a relatively large exhaust port, which would probably be contributing toward the lack of torque at lower revs.
Many of Tailwind's cyclemotoring contemporaries were commonly afflicted with four-stroke running at speed, which effectively gave a ceiling to the revs they could achieve, but the Tailwind engine proved remarkably different for its time, seemingly going on to rev smoothly like an electric motor.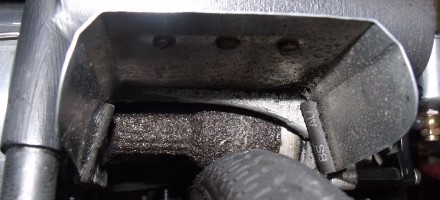 During our test, we even ran the Tailwind against a 51cc Busy Bee cyclemotor, which developed much better torque, but despite conceding 22cc, the 29cc Tailwind was a whole 4mph faster, and easily left Edgar T Westbury's design behind in its wake.
By the end of 1949, there were other production cyclemotors beginning to appear for sale on the commercial market, the GYS, the Mosquito, Trojan Mini-Motor, and Britax announced their concession to import the Ducati Cucciolo.
Everything seemed to fall quiet again on the Tailwind front over 1950, while the (November) Earls Court Show introduced further makes of cyclemotors to the British market, including the British Salmson Cyclaid, Cyclemaster, Cymota, and Power Pak.
Still nothing more of the Tailwinds was heard right up to 29th October 1951, when West Sussex Authority issued a registration NBP 107 to John Basil Grout-Smith of Bognor Regis for a 'Smith' own construction cycle attachment engine No 300 of 49cc capacity—which represented the introduction of a new Mk 3 Tailwind motor.
The team had seemingly been busy producing another series of more powerful models based on engines of 43mm bore × 34mm stroke, with disc valve induction, and still using the signature Tailwind two-gear stepped roller design.
The first public appearance of the Tailwind Mk 3 was on 8th May 1952, when the British Two-Stroke Club and Auto Cycle Union jointly organised the Motor Assisted Cycle Demonstration Trial in London.
The engine of John Latta's machine was now enclosed in a sheet metal box topped by a fuel tank, and mounted on the BSA Streamlight bicycle (though the tax disc still indicated its make as 'Hopper'), and again returning the original JRO 989 registration. The Tailwind entries also included John Grout-Smith, and probably Reg Bury (who did not appear in the list of finishers).
The Motor Cycle magazine report described the Tailwind as 'a promising 49cc two-speed design, still in the development stages'.
Stone & Cox
Motor Specifications and Prices was an annual publication produced by Stone & Cox. It listed all vehicles sold in Britain: Private Cars, Motor Cycles, Power Units [ie: cyclemotors], Petrol and Oil Commercial Vehicles, Farm Vehicles, Electric Commercial Vehicles, and Steam Commercial Vehicles. At the end is a complete list of registration marks with the year and month eash letter combination was first issued. It's a bit like having a complete set of Glass's Check Books in a single volume.
It's a useful, if fragile, book—fitting all that in one volume meant printing it on very thin paper.
Stone & Cox inexplicably listed the Tailwind as commercially available in 1952, quoting a top speed of 22mph, but giving no price, while the growing selection of cyclemotors listed on the British market now included the ABJ Auto Minor and Bantamoto, while the GYS had now become the Motomite.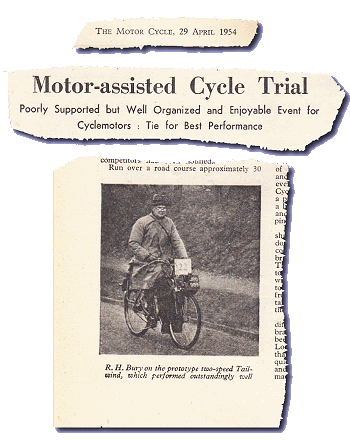 Reg Bury riding JRO 989
The Tailwind team returned to the same event again in 1953, where Reg Bury's model was notably different with larger engine fins for plain air-cooling. All three machines qualified for first class certificates.
Production cyclemotors on the British market in 1953 now further included the Vincent Firefly, while some like the Cymota had come and already gone, and the GYS/Motomite had now become the Cairns Mocyc, but there was still no sign that there might be any production Tailwind available any time soon.
Reg Bury again entered his Tailwind (or a Tailwind—the machine Reg Bury rode in the 1954 trial was JRO 989) for the third BTSC event in 1954, but the attendance of only 36 competitors reflected the dramatic collapse of interest in cyclemotors, and this was the last 'official' appearance of the Tailwind.
John Latta's machine certainly remained taxed up to the end of 1956, and John Grout-Smith's Tailwind remained taxed into 1958.
John Latta died in 1959, but most of the Tailwind cyclemotors miraculously survive in a private collection, including the 15cc Magpie motor, which passed on to a VMCC member in the 1980s, in decrepit condition with the crankcase broken and missing ignition parts.
The Tailwind project never resulted in any definitive Tailwind model, since the various different machines were never any more than ongoing model engineering experiments which constantly evolved and developed according to interpretation of the three engineers who created them, and there was never any real indication that the Tailwind would ever reach commercial production in any form.