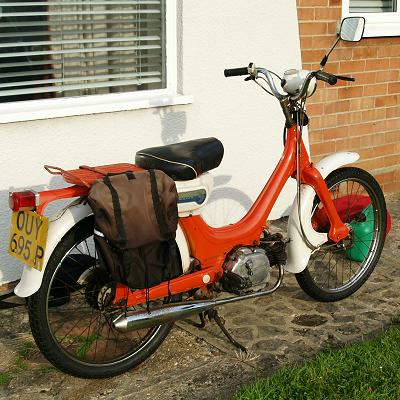 Dave 'Doctor' Watson is a chap I have known of for over 25 years but we only got on talking terms about six years ago when I got chatting to him at our village carnival. There was a display of mopeds, cyclemotors, and motor cycles on the village green; most of the machines belonged to Dave including an orange PC50 much like XVW 30L used to be. I was interested in the bikes in general, the Honda in particular, and I enjoyed having a chat with a like minded bloke.
Whether or not Dave knew what he was letting himself in for when he invited me to pop around to see him one day, I have no idea but to be honest I wasn't sure either. About a week after the carnival I popped around to see Dave and that was the making of a friendship. We spent most of the day looking at bikes, talking bikes and enjoying the common interests we have. I was quite amazed when Dave told me about some long rides he had done by moped because I thought that Marjorie Santer & I were the only folk daft enough to ride further than the shops on their mopeds. It turned out that Dave was an old hand at such rides and in fact he was about to ride back from Lands End to Lowestoft. Now I was intrigued.
In the midst of our discussions over the next few days Dave agreed to sell me his 'spare' PC50. He wasn't super keen to let it go but we agreed a price and the very first machine to leave the Watson collection became mine on the same morning that Dave, Carl, Rolly, Soapy, Jim, and David headed off, with Clive and Ann, for the furthest south point of mainland Great Britain. I waved the merry band off and pushed the PC home, complete with soggy back tyre.
That was it for my second PC50. I never rode it anywhere, never MoT'd it and never really satisfied my desire to get back on two powered wheels. OUY 695P left me about a year later having sat at the back of my garage doing nothing for 12 months. It was replaced by a secondhand tandem which saw much good use before being replaced by a brand new tandem. OUY was the one that got away.
---
I still had the moped bug. I went out and bought a Vespa Ciao from a man in Lowestoft. It was cheap, cheerful and a non-runner with no MoT, not a promising start but it proved to be a good purchase from which I have derived much pleasure. A PC50 it is not, so after a dalliance with a Russian 125 (another bike of my youth) I was in the market for another PC.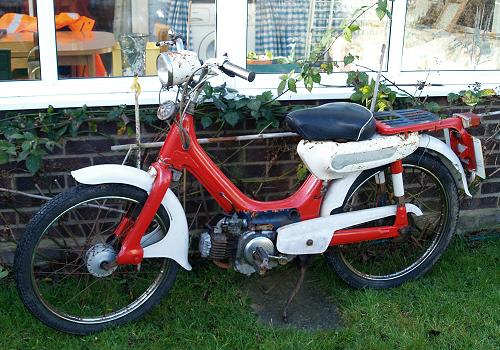 I've never met the vendor of UAH 62R and I bought the little Honda solely on the evidence of the photos on social media. Caveat Emptor! Let the buyer beware. The moped was in Staffordshire with local delivery possible. I agreed a price and arranged with one of my longest standing friends, who lives in Staffs, to accept delivery. A few days later the Honda was delivered. The 19:30hrs delivery was actually after 21:00hrs and the chap had to scrounge diesel from my friend in order to get home.
I sorted out a date to fetch the moped and to catch up with my college pal John. One Saturday in mid-December I set out from home early to get to Staffordshire and back in the daylight, well almost daylight. My route is well worn but a little less than mainstream. Out of Norfolk via Downham Market & Wisbech then cross country to Melton Mowbray eventually picking up the A50 towards Ashbourne. As I bypassed Barrow on Trent a heavy snow flurry swept across the carriageway. I hoped I would get away from the snow before it held me back. Taking the A515 to Ashbourne I saw more snow laying about. Once in the Peak district I headed north & took a side road to Hartington, the village where 'Peak Practice' was filmed. From there I was on a single track lane to my friend's house. Packed with snow, the lane was the last half mile of my outward trip and it was no fun. At one point, a sharp right hand bend which dropped away from the apex, the mighty Kangoo got a bit excitable but I managed to keep between the dry stone walls without hitting them. I didn't return to Hartington that way but took a route which had been gritted.
John was pleased to see me although he wondered if I would turn up, given the state of the weather in his part of the world. We had a good mardle and a tour of his workshop and yard before he wheeled out the little Honda. He said it looked a good purchase and we loaded it up before saying farewell. The journey home got better the further east I travelled. I only stopped for fuel and when I got home I had done 400.5 miles in about 9 hours travelling. Unloading in the dark I wheeled the Honda into my workshop and left it there to marinate in a quick squirt of GT85 (other lubricants are available—ask your stockist).
Christmas came and went. Nothing happened in the workshop. A buyer came and went, taking the Russian 125 with him & I was enthused to start work on the Honda. Meanwhile the Ciao got a quick whizz around the road just to ensure that it is still running. The Honda appeared to have stood outside, for a while at least. All cables were seized & both wheels showed rust patterns evident of standing in one place for too long. A little hard work, lots of penetrating oil and some elbow grease got all the cables working to an acceptable & safe standard. It was apparent, from the excessive travel of the brake cam operating levers, the brake shoes were worn out; something else to add to the shopping list.
Having taken a day off work to potter about, I took the Doctor's advice and stripped the carburettor, cleaned it & reassembled it. The engine would not start. I call the DW moped advice line, or at least sent Dave a message, and he appeared. Within 10 minutes we had the engine running and how chuffed was I? Dave retired to a warmer environment while I carried on pottering. I had already removed the tatty top box to reveal a filigree rack and more of the blue paintwork. The red bike I had seen and purchased is registered as blue and shows clear signs of having lived the life of a blue PC50 before a rattle can vandal painted what was visible in a bright red goo. However the life of a PC can be in many shades including orange, which was the original frame colour of this machine. The paintwork is so poor and the bike far from original that I have decided it will be blue once again, after all DVLA says it is blue. The engine in UAH 62R is not a PC50 engine but it is the engine from a PF50 as shown by its number. DVLA is aware of this change, now.
I contacted Mark 'Danny' Daniels for some spare parts including two new tyres and four brake shoes. Danny's excellent service saw the parts get to me in lickety split fast time. I added some more enthusiasm and more soaking with penetrating oil then I was able to strip off the rear wheel. Time to retyre? Not yet. I wanted to get on with stripping down ready to prepare for painting. Off came the rear swinging arm to reveal? Tada! Lacey rust holes in the offside underneath of the swinging arm. This was not a good discovery but it was better than either the MoT tester (not for long) finding the rust or me finding I was riding a self steering moped.
The list of necessary spare parts is growing as is the list of jobs to be done. I have decided that I am not aiming for concours (too fussy & I am not sufficiently skilled) but I am aiming to only do the job once. Thus project PC progresses, at a moderate pace.