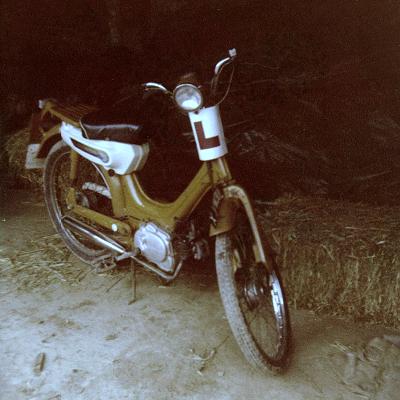 Life with a PC50 wasn't what I intended. I already owned a motor cycle, registered in my name since I was 15 and I didn't see the need for a sports moped, even if my bike wasn't any faster than a FS1E. The winter of 1978 drew on and I was cycling four miles each way to get to and from my part time job on a farm at weekends and school holidays. By Christmas I thought it might be a good idea to get some power under my backside and take the puff out of riding to work. I was keen to get a Mobylette but my Dad was a Honda man & Denis Osborne's dealer ship was about a mile or so from home. A new NC50 was out of my budget but a secondhand Honda was affordable. At £79, XVW 30L was set to become my wheels for the next year or so.
It was snowing on the January evening when I picked up the little Honda from East Hill. I went into town taking left turns, after all this was my first powered flight on the highway. I made it alive to the bottom of Brook Street and then I had a right turn to make with traffic lights to aid me in my efforts. The rest of the journey home was uneventful and I avoided the steep climb up from Ipswich Road to home by coming home 'the back way' from Harwich Road. I parked the bike in Dad's garage alongside his Jupiter & sidecar and my own Minsk 125.
For months the PC provided me with ride to work transport and odd trips out locally, including a ride with another lad from school who lived out in Dedham and owned an older PC50. We enjoyed comparing our bikes and now, on reflection, I think his was an OHC unlike my pushrod engine model. I often rode out with a mate on his SS50, guess who led the way? The PC would never set the world on fire but it would always get me where I wanted to go.
One day I wanted to go to Huntingdon, because my sister needed help to move house and I was going to help her & my brother in law. To help them out I needed to be in Huntingdon on a Friday afternoon. Easy solution: ride there on the PC. I looked at Dad's Bartholomew's map book and worked out where I needed to go. I wrote myself a little list of towns to ride to or through plus some road numbers and that was my route. I use the same method nowadays. With the route planned I loaded up one Friday lunchtime and headed off west from home. The route on the A604 (now derated to a lesser number) as far as Chappel viaduct was familiar because I rode there by push bike most weekends to help out my friends David & Martyn who owned a fleet of preserved Scammells. After the viaduct I was in new territory, for me, having only ever been a passenger towards Halstead and beyond. I made my way, slowly and steadily, through Halstead and the Hedinghams onward to Haverill. Just after the Suffolk town I pulled in close by some roadworks. The roadmen looked askance at me as I jumped about trying to restore some life to my little bum, which was decidedly numb. I smiled a cheery smile in reply to their quizzical stares, mounted up and pottered off. Not long after my bum rest I passed Linton Zoo & Linton College. I made my way safely across the Four Went Ways, near the famous Comfort Cafe. The next challenge was Gog Magog Hill and the dual carriage way, which the moped and I both survived.
Cambridge, being a city of many bicycles, was not too much of a challenge for a moped. I followed ring road signs and looked out for Huntingdon on the big green boards. Those of you who know the route west from Cambridge towards Huntingdon on the A14 (formerly A604) will recognise that it is not a road suited to small lads on small 'peds. By accident more than design I managed to avoid such trouble by getting myself on the road to Granchester, a place famed by Rupert Brooke's poem. From there I took a variety of back roads to Godmanchester, which I knew was near Huntingdon and thus avoided the main road but still made my way to the former county town.
It didn't take me too long to whizz around the town to find my brother-in-law's office. Parking up on the pavement, I went in and said hello to Alan who was surprised to see me so early. I think the jaunt had taken me a little over two and a half hours, not bad for 70-odd miles. Alan ushered me out of the office and left me to amuse myself in the birthplace of Cromwell for a couple of hours. I meandered about looking in shops, taking in the architecture and watching people. By the time Alan was ready to knock off work I was back at the car park looking out for his Wolseley Hornet. He shot off at a great rate of knots, his usual Scouse speed around town, and I tried to see where and when he weaved left and right in order to get to the house that his employers had arranged as temporary accommodation for their latest employee.
We spent the next 24 hours or so moving furniture from Surrey to Cambridgeshire and then I made the journey home.
---
Furniture removals over, it was time to head for home. I got the PC out of my sister's back garden and round to the front of her temporary home and pedalled off to get started. It wasn't picking up straight away but I persisted & got it going before I rode off slowly towards Huntingdon town centre to wend my way onto the A604 (nowadays it is called the A14). I found the dual carriageway, crept up the slip road and was heading east.
The miles dragged by, then stopped dragging by. Spluttering and coughing we ground to a halt tucked inside the clearway line on the side of a busy main road. I thought that I'd let the fuel get too low but that wasn't the case. I didn't have much nowse about internal combustion engines & knew very little about condensers, points or timing, so I had no idea what was wrong but I did know that I had to get home & there was no plan for rescue. So I took the PC out of drive and pedalled a bit, and a bit more, and a bit more. All this at the side of the main road from everywhere else towards Felixstowe. On a scale of 1 to 10, where 1 is no fun at all and 10 is ecstatic fun, this rated in the minus numbers. I was very bothered and thought I might have to face pedalling home (70 miles). I think that I recalled a petrol station some distance ahead & I hoped I would get there. After what seemed like ages I decided to give the moped another try. Strenuous pedalling got it running and we were off, not fast, not happily but under power.
In those more innocent times I used to travel with almost no cash, no bank card (no bank account!) and no membership of a motoring organisation. My Dad owned a motor cycle combination, not a car, and we knew no one with a van or motor cycle trailer. In order to get home I had to get myself there. I was a naive youth with little idea about stuff in the grown up world and no 'Plan B'.
I developed a method to get home: ride until the PC said 'No more'. Then pedal along for a while. Stop and cool down, both the bike and me, before getting the bike running once more. It worked out that I managed about eight miles at a time which made the journey home quite slow and rather labourious. There were several times when I thought I would not get back to Colchester, when the moped would not start or when I felt too worn out to pedal any further.
I think I walked the little Honda up the 1 in 8 hill above which we lived. What I do recall is how tired, relieved and angry I was when I got home. Frustration was probably the main cause for my feelings because I just didn't know how to cope with the mess in which I appeared to be. I was still at school & I didn't need to PC to get there but I was annoyed that there must be something wrong that needed fixing. My youngest sister had a friend, 'Rifty', who rode a motorbike and who might be able to help me out. With some sibling rivalry ensuing I managed to get Rifty involved in helping me. The problem transpired to be a partial seizure; the little bike just wanted to rest when I had worked it harder and harder.
We stripped the top end of the engine and, with Dad's help, contacted Robertson's Engineering who were able to offer a rebore & the supply of piston and rings to suit. J.D.Robertson & Co.Ltd. have been repairing and restoring engines since 1930; they worked quickly to sort my job out. Within a week the parts were back with me and reassembly seemed quite straight forward until we got to sorting out timing. I am still not a tuning genius, I understand the theory but I am not a skilled practitioner. After much trouble we got the engine to run but it was never a great success. I used the Honda to get to work on Saturdays and full time from July to October when I transferred my allegiance to my Cossack Minsk.
In December I had to press the Honda into service when the Minsk met an unfortunate end. It complained and stuttered along until I purchased a Honda CG125 and traded the PC into the bargain. The CG and I travelled far and wide. The PC went on to be used for another year, by a new owner but it was last licenced in 1980, just after I left it at the local Honda dealers. By January 1981 it was no longer on the road, but according to DVLA it could still be out there, or at least DVLA has not been advised of XVW 30L's demise.