Struggling to our feet, dazed and confused, we look upward to see the last sparkling shards of the shrinking portal in the sky closing above us—wherever we are, there is no going back that way!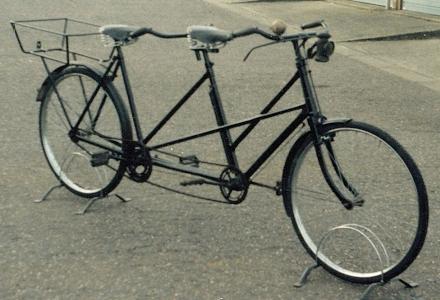 '…a trade carrier tandem! … you don't see any of those!'
Or do you? This 1923 James tandem has a factory-fitted carrier rack,
though it was probably intended for a large picnic basket rather than
delivering groceries.
Standing up and brushing ourselves down, it seems we've landed in a field adjacent to a path, which we follow, to find our track shortly joins a road that seems to lead towards a town at the bottom of a river valley. Having barely started on our stroll down the road, we are suddenly alerted by the ringing of a bicycle bell behind us, so we step aside to the verge to let the cycle pass, and then turn around to observe what is approaching.
To our great surprise it proves to be a young couple on a trade carrier tandem! That's unusual, you don't see many of those—in fact you don't see any of those! That really is unusual!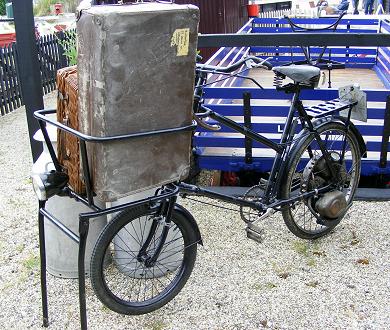 A Cyclemaster powered trade carrier whirrs up the
platform ramp beside us, to unload some large cases.
The couple give a friendly wave of thanks as they whiz on by, and are shortly followed by a succession of several other trade carrier cycles, also enthusiastically ringing their bells to warn of their approach, then a trade carrier tricycle bringing up the rear! That really is most odd!
Continuing our walk down towards the town, the hillside affords a clear view across all the buildings and streets. We see no cars, only pedestrians and cyclists, and without exception, every single cycle is a trade carrier! The scene before us is clearly not our present day, and reminds us of the 1930s, so not only have we fallen back in time, but would also appear to have slipped sideways into some strange alternate trade carrier dimension!
We recall a strange feeling that we've been here before, and now some odd twist of fate seems to have drawn us back again, but this time it must be for something else, and a poster pinned to a telegraph pole invites us to 'visit the museum and see … The bike that never was!'
We amble onward to the railway station, sit on a bench to study the scene for a while, and observe that several of the busy trade carriers are not being pedalled at all, but leave a trail of smoke behind them. Ah yes, last time here was nearly ten years ago, testing a number of ancient and extremely rare trade carrier autocycles for the article 'In the Trade', featuring Norman, James, and a one-off special Levis–Hercules, so surely we're not here to revisit the same machines again?
A Cyclemaster powered trade carrier whirrs up the platform ramp beside us, to unload some large cases from its carrier frame to the waiting train. We wonder whether we're meant to be here to maybe cover some trade carrier cyclemotors like this Cyclemaster? But somehow it doesn't feel like that…
A whistle blows along the platform and we instinctively look around to the right—and notice another poster pasted to one of the pillars of the platform roof, again inviting us to 'visit the museum and see … The bike that never was!' At which point a cold tingle courses through our very being, and somehow we now know where we must go.
We walk up the main street as all manner of makes of trade bikes pedal by, and we even see a couple of carrier autocycles plying their trade, including the very same Hawkes & Sons, Grocers machine we tested last time we were here.
Those special trade autocycles are certainly revered in this strange world, for many people stop to watch them ride on by.
Further up the street we come to a hill on the left, where a signpost points us 'to the museum', which stands proudly facing us from the top of the road.
We walk up the steps and are pleased to see a sign at the entrance 'free entry', which is just as well, because we don't know what currency they use here.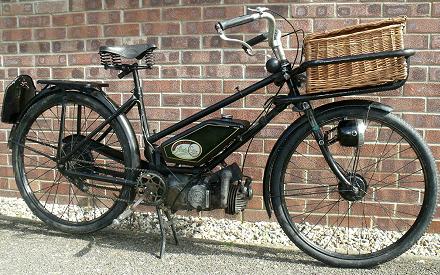 We wander around various rooms looking at all manner of old and fascinating cycling memorabilia, until an open doorway leads into a large hall, where a trade carrier autocycle majestically stands on a plinth in the middle of the room.
Irresistibly drawn, we stroll across to study this machine, and are thunderstuck to see the graphics on the tank display the logos of a Coventry Eagle Auto-Ette! Surely not? How can this be? Coventry Eagle never posted any literature on any trade carrier autocycles!
This certainly calls for some careful study…
Both front & rear wheels & tyres are 26×2×1¾, so this is a large front wheel machine, which means it has a shallow fore-carrier frame dimensioned at 20 inches by 14 inches. Both the Norman and James carrier autocycles had small front wheels with deep carriers, so this is obviously something very different!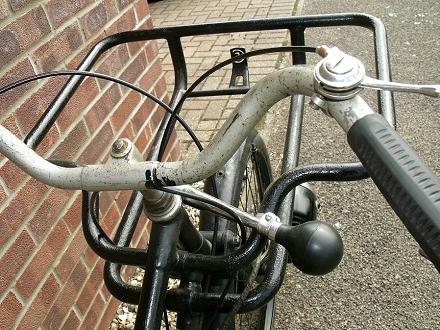 The front carrier is an integral and permanent assembly of the main frame, having an extended neck on both upper and lower headstock bosses to accommodate mounts for the carrier frame, and solidly married by brazed lug construction, so it certainly appears that the chassis was made like this. The bottom carrier frame lug was clearly cast for tradesman cycle application as it's made with a flat boss (undrilled) for mounting a rod brake linkage. This could make sense as Coventry Eagle certainly made trade carrier cycles, so may well have used trade carrier cycle headstock bosses to create an auto-carrier frame.
The correct Coventry series autocycle frame stamp is correctly located on the bracket at the bottom of the down tube, just above the engine and behind the tank, and there's absolutely no doubt that this is a Coventry Eagle autocycle frame. We can only date the vehicle as 1940 from its frame number C4854, as there is no other supporting documentation and the bike has been re-registered, so there remain no clues as to its former history.
It appears the carrier frame lugs would probably have fouled a normal Coventry Eagle long tank, so it presumably originally had a modified long tank or mounted some other tank of its own, but since no fuel tank came with the frame, it was installed with a James half-tank, which was adapted in the reconstruction as being the most suitable alternative to fit the frame.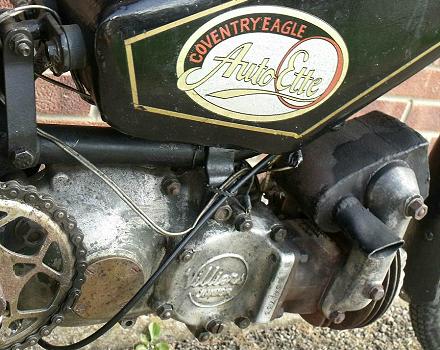 Coventry Eagle would have been fitting JDL engines in 1940, but this Villiers Junior De Luxe engine mounts an odd overhead exhaust that looks like a home-fabricated steel box, and the engine number D534/733 gives away its secret that this is a JDL 'Industrial' engine from a Danarm chainsaw, and certainly wouldn't have been an original fitment in this frame.
A 'CE' headlamp bracket is centrally mounted from a small diameter cross-tube welded into bottom/front of the basket frame, but our specimen doesn't use this, mounting its front lamp instead from a bracket fixed to a boss off the right-hand fork leg. It seems a reasonable conclusion that this whole front fork set was probably not an original fitment since it would appear unlikely for any manufacturer to offer two standard optional positions to mount a headlamp.
We don't know what make of front forks these are, and have so far been unable to identify them, but they are a rocking-pivot suspension type, with 1¾-inch lead ahead of the pivot. This puts the fork leg 7/8-inch ahead of the steering head centreline, and results in a mighty 50-inch wheelbase due to the two 26-inch wheels.
The controls are inverted brake levers, which is in keeping with usual Coventry Eagle fitment, a griplock clutch lever, and lever throttle.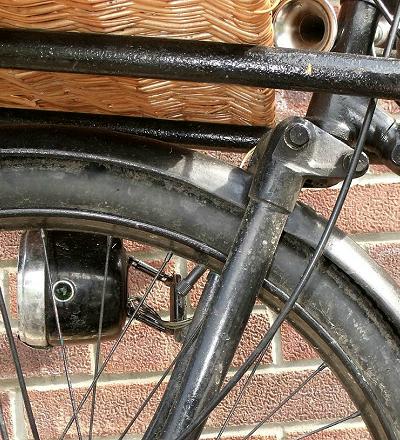 The rear frame is mounted with a period pressed-steel rear carrier, though supported on sturdier upright mountings than might be typical for a 'domestic' autocycle, and the rear carrier firmly supports the back mudguard from brackets at its ends.
While intently poring over the auto-carrier and taking our notes, we failed to notice that the museum curator had been observing us for a while, until he finally sauntered over and greeted us with the comment 'You chaps certainly seem to know your autocycles, so who exactly are you?' We tell him of our particular interest in his extraordinary machine on display and that we write for a motorised cycle magazine called IceniCAM, which seemed to dramatically transform his approach, and he instantly became dead keen to talk to us about our previous visit, so somehow our 'In the Trade' article must have filtered its way back to this place—and before we knew it, the helpful curate was now offering us the opportunity to test ride his priceless and unique exhibit!
Wheeling the Coventry Eagle out of the hall, down a corridor, and into a backroom workshop, we checked the oil, mixed some fuel, then rolled it out into a courtyard behind, to photo-shoot the bike against a back wall.
Starting procedure is conventional autocycle, fuel on, choke on, ahhh!—there's no decompressor, just a 'blind' valve in the head with no operating means, so we won't be able to kick-start this by pedal on the stand. The technique here is pedal the bike up the road on the clutch to get a bit of momentum, then drop the clutch, the engine spins and fires up, so snatch the clutch lever back onto its latch, regulate the motor by its throttle lever, then ease the choke clear.
Once settled off-choke, we can then pull away from a standstill, but its best to help the getaway with some light pedal assistance since this is kinder on the clutch for a single-speed motor. Out through an alleyway to exit around the side of the museum, then down the hill toward the main street. The ironwork of the fore carrier is initially a little distracting while we weave up to pace. It is an unfamiliar impression having so much metalwork in front of the steering head, but just focus on the road and you soon get used to it.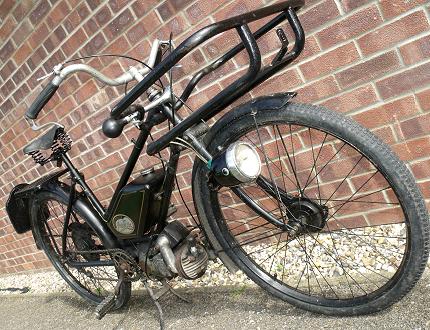 Turning right from the junction and back into the main street, the JDL motor offers strong torque throughout its mid-range and works quite well in a light commercial role. Strong, but docile—rather like a plodding carthorse! Vibrations start coming in through the cycle chassis above 20mph, so it's generally more comfortable to ride below this speed rather than much above it. The better technique is to treat the auto-carrier like a trade cycle, which would be more easily ridden at a steady average, or you just knock yourself out to little purpose. In the case of our trade carrier Auto-Ette, you don't have to pedal, just let the motor do the work, but it's also easier to ride if you choose to ease along at economic pace.
Now burbling through the busy end of the main street, the crowds of shoppers all turn to watch us ride by on this mysterious motorised carrier, then break into a spontaneous round of appreciative applause as the exhaust sound changes to an on-load drone as we tweak back the throttle lever to push along the pace down past the station, steadily running around 25–27mph, but the vibrations are getting busy and will become quite tiring if that pace is held for long.
High torque from the JDL motor makes it pull well from low revs, and very tractable in a working role, but not so happy as the revs go up. The power falls away and it pretty much reaches a plateau that it doesn't want to go beyond, while its overhung-crank design punishes the rider with waves of vibration through the pedals, the seat, the handlebars—it's certainly going to tell you when it thinks it's going fast enough!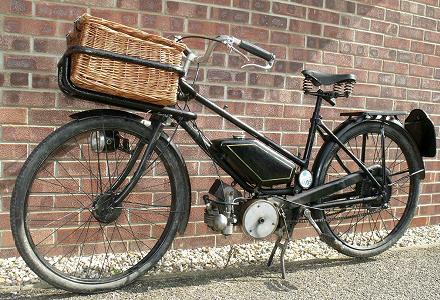 Our 'Cov' has no speedo, so best on flat was clocked at 30mph by the pace vehicle. The downhill run was a real handful on this cumbersome trade carrier, exhaust roaring, vibrations off the scale, and wrestling with an unexpected weave into the dip, the pacer clocked us at 34mph, and for an instant there seemed to be choirs of heraldic angels playing celestial harps by the roadside as a whole life of thrashing autocycles and mopeds flashed before our eyes—but by some miracle, we survived to tackle the hill climb section.
The ascent dropped pace as expected, but the high torque JDL motor dug in as the revs fell away, and there was never any doubt that the gutsy motor would easily crest the rise without need for pedal assistance. A JDL might not like running fast, but plodding up a hill is certainly something it can do fairly well.
Coasting round the hill and back to the town, we got to test the brakes in entering couple of bends a little faster than our confidence in the handling. The brakes performed fairly typically for the age of the machine, requiring handfuls of hauling on the levers to a seemingly disproportionate effect for the effort involved. Then discretely round the back entrance of the museum to return our mount to the curator, and thank him for the loan of his remarkable Coventry Eagle Auto-Carrier exhibit, and with the assurance that we would produce another trade carrier feature some time in the future.
We walk on down to a park by the river, then sit among rows of empty chairs by the deserted bandstand, writing up our notes to the peaceful background of birdsong, until the light starts fading as the sun goes down.
Looking up, we see an empty rowing boat drifting slowly down the river, until it bumps into the bank just ahead of our spot, so we get up to investigate. The boat is traditional clinker built, with a nameplate 'Tailwind', and its prow post trailing a tying-up rope into the water. We hop aboard to pull in the sodden rope, which ends in a frayed break after several yards, but we turn to find the boat has already drifted away from the bank, and now we are caught by the current with no oars aboard. There is no option but to drift on downstream with the flow, and watch the lights of the strange trade-carrier town fading into distance of the evening.
Where will Tailwind carry us?