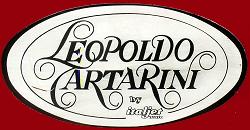 This was an interesting looking machine that caught our eye, because it carries the charming appeal of an old-fashioned cyclemotor, though it is actually a relatively modern version of a traditional pedal moped.
Badging on the bodywork comprises script lettered stickers on the side panels, reading 'Leopoldo Tartarini by Italjet Moto', and carries 'Class' decals on the frame down tube, so that's our lead into finding a little more about the bike and its origins…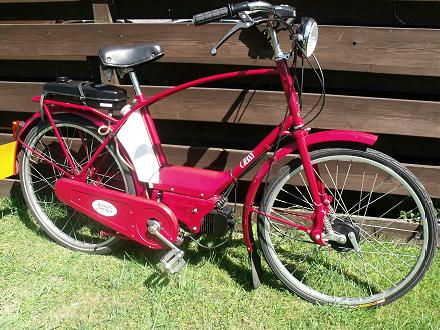 Leopoldo Tartarini was born at Bologna on August 10th 1932, into a motor cycling family where his father operated a dealership selling Frera, Moto Guzzi, and various other brands, then later a Ducati agency as the company became established after World War 2. The young Leopoldo started competition in smaller capacity categories to obtain his international sport licence, and secured several racing successes for Ducati and Benelli, before an accident in the 1955 Motogiro left him badly injured and brought his racing career to a premature halt, but he still kept riding motor cycles.
In September 1957 Leopoldo and fellow racer Giorgio Monetti embarked on a journey around the world using two Ducati 175cc motor cycles as a publicity stunt, covering 60,000km and visiting 42 countries on five continents. They left Bologna to ride to India, then Australia, New Zealand, South America, North Africa, and through Europe back to Italy. Upon their return in 1959, Leopoldo decided he was ready for a new challenge, so left the family dealership business to begin the establishment of his own motor cycle company at Castel San Pietro Terme, and produce motor cycles using MZ engines, which resulted in the original company name of Italemmezeta. The first bike was a 125cc two-stroke model, followed in 1962 by a sports moped then called the Italjet, which Tartarini soon renamed his company after, then went on to build further Minarelli powered models.
Ongoing early 1960s' Italjet minibikes included 'swinging' names like Kit-Kat and Go-Go, then the 1967 Italjet Grifon 650 with its Triumph Bonneville motor attracted the attention of American motor cycling entrepreneur Floyd Clymer.
In the confusion following the Associated Motor Cycles business collapse of 1966, Indian branding was 'unofficially adopted' by Clymer, who 'attached' it to USA imported Italjet mini-bikes with 50cc Minarelli engines, and popularly sold these as new 'Indian Papoose' models, as well as returning more Indian-branded Royal Enfield and Velocette engined motor cycle models with Italjet designed and manufactured frames. Clymer's death in 1970 brought an end to this Indian episode.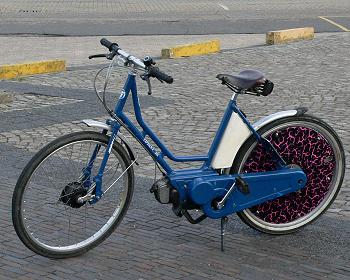 Dutch-market Tiffany-25 in Utrecht
Tartarini's original and imaginative designs of a multitude of mopeds, motor cycles and scooters carried Italjet through the '70s, into the '80s, and onward to the '90s…
The 'Ladies' style Tiffany step-through frame version of our Class moped came to be distributed in the Netherlands through Yamaha's network from 1990, seemingly as an attempt to capture 'Snorfiets' sales from the Spartamet–Sachs.
The 'Gents' style crossbar-frame Class version didn't appear to get any mention for the Dutch market, so it's presumed the model might have been considered to hold minimal appeal to gentlemen there, who generally seem to favour geared machines.
On some parts of the continent these machines were designed to be practical to use as either a pedal cycle or a moped. The idea behind this being that you could drive it on the road into town, then switch to pedal mode and cycle it along specific cycle paths and in other traffic-free areas.
The Netherlands had 'Snorfiets' category machines, as a performance limited class of moped restricted to 25km/h (16mph), for which wearing a crash helmet is not a mandatory requirement, so the Tiffany would almost certainly have been restricted to comply with this specification, typically by fitment of a diminutive 8mm carburettor or other limiting means.
Dutch sources reported the Tiffany though, as 'failing to achieve popularity due to starting difficulty', so we might watch out for that…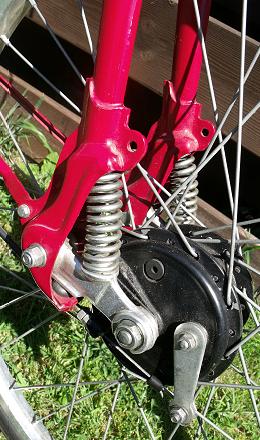 Some early examples of Tiffany and Class machines found their way back across the channel as private imports from the continent, but may be variously restricted to comply with different market regulations, but they also came to be officially imported and listed in Britain.
Class & Tiffany models were being advertised across Greece during 1993, and were listed by Italjet Moto (UK) Ltd by December 1993 as part of a range of machines at the time including the folding 'Pack-3' and other motor cycle models.
Since the UK specification didn't require market built limited performance as 25km/h 'Snorfiets', nor compliance to continental 40km/h moped regulations, maybe British market machines might have been 'carbed up' to the engine's full potential?
Our featured Class example is believed to be a genuine UK Market machine, which should probably have been registered in 1994, but the bike carries a 1978 S-registration, so somebody got that badly wrong when they were dating it! There's also a Raleigh 'Heron head' sticker on the frame headstock, but we don't believe that's anything to do with the bike, and think it's probably something that somebody added to present some familiar name for easier UK registration, because the bike is cheekily recorded on its registration document as a Raleigh (which is also obviously not right!) Though it's a relatively modern moped in terms of design, there's quite an old fashioned elegance about the look of the cycle frame, which is obviously achieved by the traditional cycle-style tubular construction of its chassis. The rigid rear frame and leading-link forks further contribute to an evocative impression of 1950s' cyclemotors and early mopeds, but look a little closer, and the engine unit is recognisable as Piaggio's seemingly immortal Ciao/Boxer/Bravo/Si motor, which originated in the early '60s. In this evolution the engine is fitted with an electronic ignition system, but was still in production some 30 years after its introduction, which just goes to show what a successful motor it was. Inaccessibly buried deep within the assembly, and between the engine mounting plates, there's obviously a Dell'orto carb of some sort, but we can't tell what size it is because that would involve practically taking the bike to pieces to access it … maybe 10mm … possibly 12mm? We'd probably guess at 12mm because that was the size being fitted to Piaggio Si models, which were still being made around this time. Popping off the left-hand side cover doesn't give any more practical view or access to the carb, but does at least allow us to note that the belt drive from the engine output shaft is just a simple automatic clutch mechanism with a single-speed pulley on the back of the drum—no variator on this model like there is on a Si. The wheels look to have decent size hubs (which would seem a better standard of equipment than bicycle calliper brakes), and laced onto Cerchi Maccari 36-hole alloy rims with 25 × 1.75 tyres. The frame carries its original plastic moulded petrol tank in the space between the saddle down tube and rear mudguard, but also carries a second 'reserve' fuel tank strapped to the rear carrier. Apparently it was very common for these machines to develop cracks and leaks in their original fuel tanks. In use, seemingly every single tank fractured and suffered leaks, so maybe that's some indicator of the level of product testing at the time. The 'reserve' tank is plumbed in, so after figuring out the petrol tap, which is confusingly arranged as the lever pointing up for reserve, middle for off, down for on, we manage to secure a fuel supply. There's the usual choke trigger sticking out of a port in the right-hand side panel, snap down to latch for on, and that will release automatically when the throttle is opened. There's a trigger under the left control lever, which clearly operates the decompresser, so roll off the stand and mount the tall frame (that 36-inch saddle height seems a long way up when you only have a 30-inch inside leg—eek!), pedal away up the road and pull in the decompresser so the engine starts spinning, release the decompresser lever and keep pedalling … keep pedalling … try easing open the throttle slightly so as not to unlatch the choke … still pedalling … chug … chug … come on! Finally, the engine catches and we open the throttle to get some revs up. That'll be the 'difficult starting' then…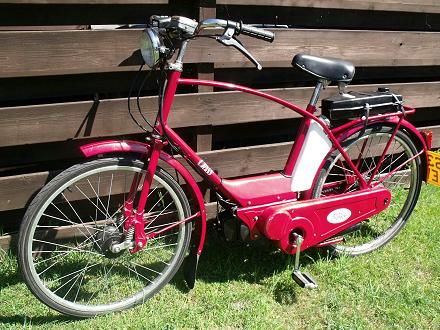 Coasting up and down the road as our pacer readies himself (our Class has no speedometer), the acceleration proves stronger than we expected, but the revs also seem to rise quickly, so we suspect these bikes were probably quite low geared, and consequently may not be expecting a great turn of speed.
Our pacer turns in behind us so we throttle away smartly down the road and round the corner … the initial phase seems positively brisk, but there's obviously a vibration issue going on here, and it just gets worse the faster you go. Cruising along with our pacer we determine that the vibrations start creeping in around 12mph, then you can run up to 15mph where they become more noticeable, and cruising up to 18mph they increase to becoming uncomfortable above that speed.
Perhaps if we go faster, it might be possible to get through the vibration band? No you can't! The vibes absolutely get a lot heavier the faster you go, and it gets so bad that the vibration proves more of a limiting factor than the bike's actual performance. There have been times on a few road tests over the years where there have been moments when we wondered if we might survive, but never quite expected to be facing the prospect of death by vibration!
Some of the bike's vibration problems are probably compounded by the obvious fact that the motor is under-geared, so it's very capable of revving out, and under-geared machines are always worse for developing vibration than a motor that is constantly pulling a load—but what we have with the Class however, is vibration on a completely different scale of pain. It's no wonder all the tanks split!
Up to 18mph is a little uncomfortable, though survivable, but above 18mph you're starting to play Russian Roulette. Will the fillings fall out of you teeth before your eyeballs blur into double vision? You might be sterilised? Will your blood boil with air bubbles and give you a brain haemorrhage? Braving all for the sake of completing our road test, we manage to push up to a paced 23mph flat out on the level, which suggests this bike was probably built to a continental 40km/h market specification. Though the bike relatively easily got up to this speed, there's no way a rider would be able to hold at this pace for long—you just couldn't endure the vibration … but there is more … would the downhill run be survivable, or might it be like the first pilot flying through the sound barrier, where everything goes smooth and quiet?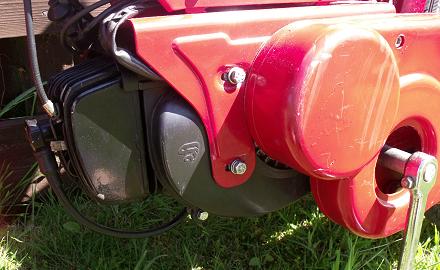 With everything frantically buzzing like we couldn't believe, we dive into the downhill section. Directly in proportion to the increasing revs, the vibrations continue to increase through shattering waves which course through the frame, the saddle is tingling so furiously we slide to the side of the seat to try and ease the pain. The handlebars are now vibrating; the howling scream of the engine and everything on the bike is trembling like a high frequency earthquake—then … Arghh! … the electric horn cover on the handlebars bursts open so the battery explodes out of the case and bounces down the road, leaving the lid flapping on its hinge.
We shut down and abort the dive, while our pacer is frantically hauling on the brakes behind to avoid crashing into our back… and manages to run over the battery.
Picking up the pieces, we decide we're definitely not going to attempt that again, and the final paced downhill speed must sit at 29mph. The challenge of trying to break the 30mph barrier on an Italjet Class can go to some other rider on another day—that's quite enough of that, thank you very much!
Back at base we re-fitted the battery and tried the horn—which made sort of creaking and groaning noises, but it still worked … well, sort of …
After having been devastatingly shaken and disturbed by our Class's motor, it's almost a pleasure to switch the drive lever on the left side of the rear hub to 'cycle mode'. This completely disengages all connection to the engine and allows the machine to be ridden like a normal bicycle without any of the energy sapping drag that often afflicts a lot of mopeds.
The relative calm and tranquillity of cycling can however be returned to the chaos of vibrating madness at just the push of a button on the back of the transmission case, which releases the latch on the drive lever.
The idea of pedal-cyclemotors no longer seemed to register with people in Britain by 1993. The pedal moped had long been phased out following the 'slo'ped' reclassification of 1976, so a traditional moped wasn't something that people may generally relate to any more. The Class and Tiffany didn't hold any particular advantage over any other type of 50cc machine, since a moped is now always a 'slo'ped' in the UK, and doesn't become a bicycle just because you may not be using the engine, so technically, you still have to wear a crash helmet even if you're pedalling it.
The idea was possibly more suited to different legislation on some parts of the continent, but not anything that could quite work with UK motoring regulations, so examples of either type are only infrequently seen.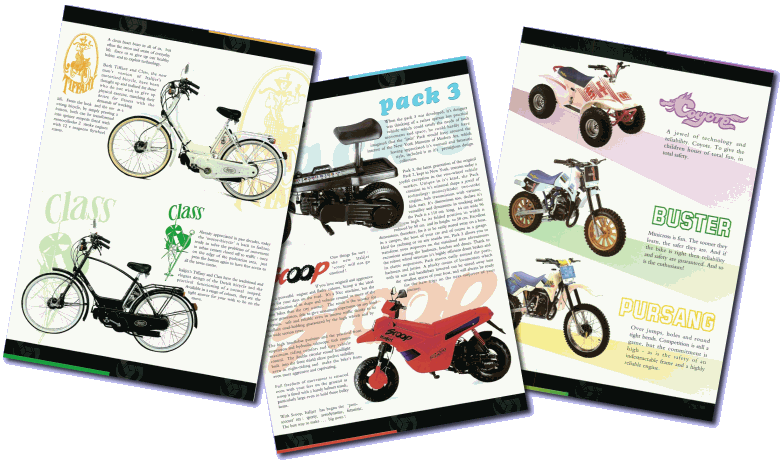 The 1993 Italjet range for the UK market
With around 180 workers producing up to 90,000 units a year from Italjet's modern 10,000m² factory on the Adriatic coast near Pescara, the business surfed the popularity of a European scooter boom through the 1990s, which fuelled a revival of the company's competition aspirations for 125 GP racing in year 2000. This coincided with the time when the new Grifone motor cycle, powered by a 900cc Triumph triple engine and launched at the 1999 Milan Show, was being developed toward production, and a completely new factory in Roseto being built to manufacture this new model. A sudden collapse of sales in the European scooter market and financial over-commitments soon resulted in withdrawal from competition after the 2002 season, and sudden cancellation of the Grifone project but, by 2003, the receivers had moved in.
The Pescara factory and the firm's Bologna headquarters both closed, and the majority of its product lines were sold by the administrators to Kinetic in India, where various Italjet designs and models continue to resurface periodically.
Italjet's latest three-wheel 'Scoop' design, which had debuted at the 2001 Milan Show, was acquired by Piaggio then branded and re-launched to become the acclaimed twin front-wheel MP3 that is still on sale today.
During its 44 years of existence, the original Italjet Company developed more than 150 motor cycle and scooter models, many of them original and imaginative designs, with most created by Tartarini himself.
This wasn't however the end of the road for Leopoldo, as he next founded the Tartajet design consultancy, focusing on the development of advanced concepts for various clients around the world, including major manufacturers in Europe and Asia.
In 2005 a revived Italjet company was launched by Leopoldo's son, Massimo, and under this new direction developed a range of lightweight touring motor cycles based around the South Korean Hyosung 650's frame and engine.
Leopoldo Tartarini passed away on 11 September 2015 at his home in the hills outside Bologna, at the age of 83 … a great loss to the motor cycling world.