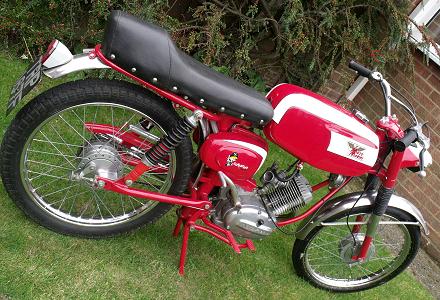 Born on 22nd January 1898, to a family of limited means in the northern Italian town of Bologna, Alfonso Morini began his working life apprenticed to the local blacksmith, and saving everything towards a future when he dreamed of being able to start his own bicycle and motor cycle repair workshop.
He opened a business briefly before the outbreak of the First World War, but only just in time to find himself called up for service in the Italian army and subsequently posted to the automobile and motor cycle repair section at Padua.
After the war, Alfonso established a partnership with Mario Mazetti, another enthusiastic and skilled engineer and, pooling their financial resources, formed the M–M (Morini–Mazetti) company of Bologna in 1924, with the launch of a simple two-speed 125cc road-racing two-stroke. This caused a big upset in September 1927 by winning its class race of the Italian Grand Prix at Monza.
After 1930, M–M switched from two-strokes to making road going four-strokes with SV and OHV engines, then later OHC engined sports machines, which were mainly built for competition use.
Alfonso Morini severed his connection with M–M in 1937, toward realising an ambition of founding his own motor cycle company, but these were difficult times and, despite being ready with new motor cycle designs, Moto Morini became established in the building of three-wheel trucks rather than the intended production of two-wheelers.
At the start of World War Two, the fascist government re-directed the factory towards the manufacture of aeronautical components and military equipment. In Bologna, the Morini factory was situated at the heart of one of Europe's principal centres for non-ferrous foundry works, and its area became subjected to constant and heavy aerial bombardment as allied forces began their advance up the country.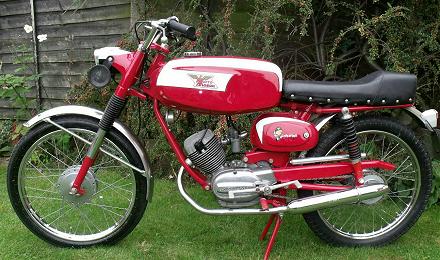 Despite Italy's armistice being signed with the allied forces on September 3rd 1943, and publicly declared on the 8th, the Morini plant was completely bombed out later in the year. Although Italy had surrendered, the northern part of the country remained under the control of Nazi forces, which fought on in occupied territories.
It wasn't until 21st April 1945 that Bologna capitulated, so Alfonso could finally return to assess his ruined factory and organise rebuilding.
The business relocated onto Via Bergimi in Bologna and became one of the first Italian manufacturers returning to production in 1946, with a three-speed, 125cc two-stroke single-cylinder motor cycle—clearly another 'Bantam-like' example based upon the pre-war German DKW design that was readily adopted by so many post-war motor cycle makers.
Across town, the M–M factory was totally devastated by Allied bombing but, very much against the odds, former partner Mazetti also managed to restart his production in 1947.
Morini entered sports competition and continued with two-stroke motors up to 1950, when production was further joined by four-stroke racing machines, and four-stroke engines were soon introduced for road bikes too.
As Moto Morini ascended, M–M seemed to inversely decline and, never managing to recapture their pre-war glory, Mazetti's company closed in 1957.
Our interest begins approaching with the introduction of the 125cc four-stroke Corsaro (Pirate) motor cycle in 1959, but this machine is slightly beyond our small capacity brief, and it wasn't until the 38th Milan Show in November 1963 that Morini launched the subject of our focus: a miniature sports motor cycle called the Corsarino (Little Pirate).
The unit construction, four-stroke OHV engine is 41mm bore × 37mm stroke for 49cc. The first models were specified with an 8:1 compression ratio, while later sports (race and scrambles) models rated nearly 10:1 compression for 4.5bhp @ 9,000rpm with claims to be capable of up to 50mph performance.
The first two machines presented were:
Model 'V'—a step-through framed, single-saddle, moped-style machine with three-speed hand-shift, but footrests instead of pedals, and
Model 'Z'—a similar moped-style machine with dual 'buddy' seat.
While the 'Z' model switched over to a four-speed foot-change gearbox in 1965 and continued up to 1969, model 'V' was only listed up to 1966 (using up the 3-speed hand-change motors).
Model 'ZT' was a motor cycle framed street cruiser model from 1964 to 1970.
Model 'ZZ' was a race-style framed sports motor cycle, with a four-speed foot-change from 1970 up to 1975—which is where we come in. Our Corsarino today is a model ZZ, apparently in the 1966–67 style; its 'F' age-related registration would seem to confirm this. However, the Italian homologation number DGM 8238 OM stamped on the frame shows it couldn't have been made before the summer of 1970 and the frame number of ZZ☆47873☆ suggests it's even younger than that.
While this isn't the first time we've covered a Corsarino, our previous example back in July 2010 was a hybrid three-speed hand-change Scrambler which proved hopeless for off-road use, and under-geared for on-road use, so its road test didn't work out quite so well, and we felt the bike didn't really convey a particularly representative impression. This time things are going to be different, because its motor has a much more practical four-speed foot-change gearbox.
Our ZZ looks like a proper motor cycle with kick-starter and footrests, but crosses over a few moped attributes, like having magneto ignition with battery-less AC electrics and no ignition switch, so it's simply kick to start, and earth the cut-out to stop in the manner of period mopeds.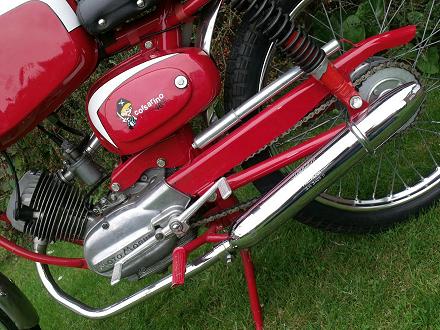 Finished in its classic period two-tone paintwork, our Corsarino is certainly a smart bike, and has something of a fast look about it, but how might a sportily styled four-stroke roadster compare against the contemporary two-stroke racers of Track Day '60s?
Once again the test run will be shadowed by our pace vehicle, since our mount is not fitted with any speedometer.
Starting seems so simple, just turn on the fuel, but then there's a choice on the Dell'orto UA15BS carburetter, of whether to choke, or use the tickle button on the float chamber, or tickle and flood, or if it then doesn't start to wonder if you've flooded the motor—oh why do these simple things have to become so complicated?
We opt for the cautious option and just give it a few trial kicks first, which doesn't work; so try snapping down the choke, which doesn't fare any better either; so we lift the choke and go for flooding the float chamber with the tickler button. A couple more kicks achieves the result we're after, but running seems to start fading as the flood effect fades, so we try a little choke to hold the motor to warm. This seems to work OK, so as heat gets into the engine, we can steadily lift the choke shutter clear.
It just goes to show that four-strokes can sometimes be just as temperamental as any two-stroke.
We expect it'll need to get its motor thoroughly hot before performing at its best, so we cruise away to build up a feel for how she works.
The original Moto Morini 'Silentium' exhaust growls along under load, accompanied by a degree of mechanical noise from the pushrod operated valve gear. You do tend to notice some mechanical noise, since the open bell mouth of the carburetter on the four-stroke engine doesn't generate anything like the same level of induction roar that we experienced on the two-stroke track racers.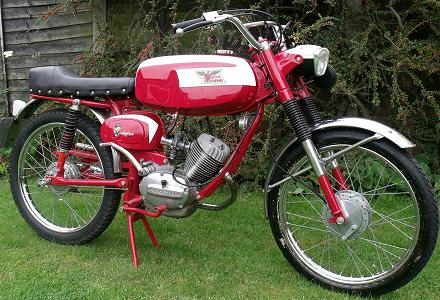 Corsarino originally started with a three-speed hand-change box, and converted to a four-speed foot-change in 1965. The old cable change mechanism was effected by an outside connection disc on the back of the gearbox, so trapped within the limits of the original design, the compromised foot-change employs a toothed operating arm outside the back of the gearbox controlled by an external selector mechanism.
The gear lever comprises a heel-and-toe rocking pedal, with forward/down for first, official neutral between first and second, then back/down to second. Back/down again to third, but you'll probably struggle to find this on the up change and hit one of the false neutrals instead … never mind, maybe we'll find it on the way back down again! Click again and you may get lucky and find fourth, but you may not, and just find another false neutral instead. Repeating the up change will eventually find the top of the box for fourth gear in the end.
Morini's four-speed gearbox seems to have more neutrals than gears!
Top and bottom gears are the only gears you can be sure of finding, while everything between seems largely random. Changing back down rarely manages to find the only 'official' neutral when the engine is running, so you often have to actually stop the motor to be able to engage it.
Due to being over-geared in the typically 'old Italian' style, the motor only manages to pull up to 38mph in upright position on the flat. Tucking down helps a little in reducing the drag, allowing the motor to creep up to a best on flat of 40mph, but the engine doesn't produce enough power to be able to overcome its over-gear. You'll never get the motor to rev out on the flat since it simply can't pull the ratio, which means you can hold the throttle flat out pretty much all the time without risk of over-revving.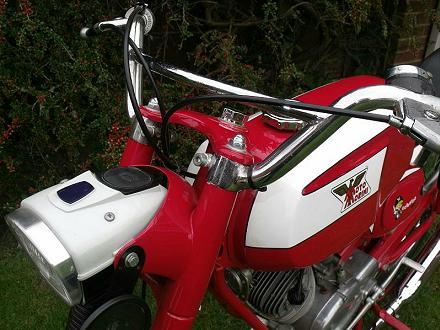 Only when diving into a downhill run can the speed be pushed up toward maximum 50mph, at which the savagely snarling exhaust tone and screaming revs should be enough to convince most people of that as a sensible ceiling.
Wheel/tyre sizes are 2.25×18 front & 2.50×18 rear, so the bike seems to sit long and low, with nice Grimeca full-width alloy hubs for good braking, the rear footbrake being particularly effective.
Handling was good too, the chassis feeling well planted on the road with firm suspension for a confident ride. The 'cruiser' handlebars gave a more leisurely riding posture than cramping down on the clip-on racers, and you could still slide back along Corsarino's dual saddle to effectively dip into a lower profile.
The Dansi magneto-generator supplies a direct AC output, with the mostly CEV electrical set providing illumination of sorts that probably won't be up to the performance of the bike.
With a small cartoon style graphic of the 'Corsarino/Little Pirate' on its lid, the toolbox looks to have a large capacity, but the external size of the pressing is like a Tardis in reverse, as it proves much smaller on the inside than it is on the outside.
With only a best 40mph on flat performance, the four-stroke Corsarino ZZ Sports didn't really prove much competition against our two-stroke track racers, but it did look good, and sounded nice.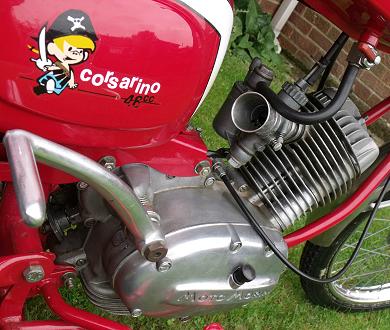 Corsarino 'Scrambler' models were built from 1967 to 1975, and 'Super Scrambler' from 1970 to 1975.
Alfonso Morini died on 30th June 1969, at the age of 71, leaving his daughter Gabriella in control of the company.
Later 60cc 'Twister' Corsarino motors were produced for US export.
Corsarino versions continued in production up to 1975, when the model was discontinued.
Despite the import of other Moto Morini motor cycles into the Britain over the 1963–75 manufacturing period of the Corsarino, we can't find any records supporting any models formally marketed and officially listed in the UK, so any examples in the country today would be probably be considered under the vague category of 'grey' imports.
Owners of the Cagiva Group, the Castiglioni family, were actively acquiring businesses around the mid-'80s, and purchased Morini in 1987 to join their portfolio of Ducati and MV Agusta.
Ducati holdings was sold on to the Texas Pacific Group in 1996, and included the rights to Morini but, since Ducati had no plans to build Moto Morini motor cycles, the brand remained in mothballs.
In April 1999, Morini Franco Motori SpA (a company founded in 1954 by Alfonso Morini's nephew), negotiated manufacturing rights to use of the badge, bringing the name back within the Morini family, and established a factory producing new Moto Morini motor cycles next door to its existing plant at Casalecchio di Reno.
Subsequent sales however, seemed unable to sustain the business. In September 2009, Moto Morini SpA filed a voluntary submission for bankruptcy, with an application for government assistance.
Completed stock motor cycles were listed in a liquidator's 'fire sale' during 2010, then some staff were called in early 2011 to build up a further 45 complete machines from parts stock. Following this final clearance sale, the intellectual property rights of the business were offered for auction in April 2011, but no tenders completed.
In July 2011, the company assets were sold for 1.96 million Euros to a newly-formed business called Eagle Bike, established by Italian entrepreneurs Sandro Capotosti and Ruggeromassimo Jannuzelli.
The new owners 'leased back' the original Morini factory, which had not been included in the business sale, and production began in March 2012, restarting construction of exotic hand-built Moto Morini branded custom/sport motor cycles.