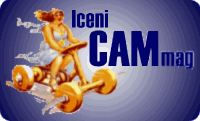 ---
Born on 22nd January 1898, to a family of limited means in the northern Italian town of Bologna, Alfonso Morini began his working life apprenticed to the local blacksmith, and saving everything towards a future when he would be able to start his own bicycle and motor cycle repair workshop.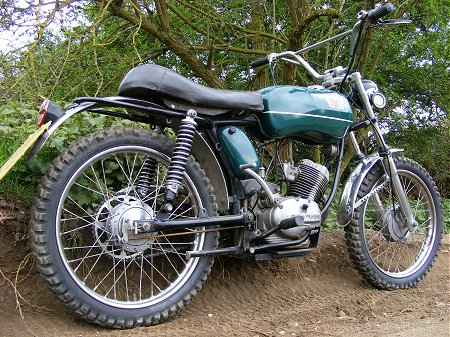 The business opened briefly before outbreak of the First World War, but only just in time to find himself called up for service in the Italian army, and subsequently posted to the automobile and motor cycle repair section at Padua.
Following the war, Alfonso established a partnership with Mario Mazetti, another enthusiastic and skilled engineer. By pooling their financial resources they formed the M-M (Morini-Mazetti) company of Bologna in 1924, with the launch of a simple two-speed 125cc road-racing two-stroke, which caused a big upset in September 1927 by winning its class race of the Italian Grand Prix at Monza.
After 1930, M&endash;M switched from two-strokes, to making 4-strokes with SV and OHV engines, then later OHC engines, primarily for competition use.
Alfonso Morini severed his connection with M-M in 1937, to realise the ambition of founding his own business. These were difficult times, and despite being ready with new motor cycle designs, Moto Morini became established in the building of three-wheel trucks rather than the intended production of two-wheelers.
At commencement of World War 2, the factory was directed by the fascist government to the making of aeronautical components and military equipment. In Bologna, the Morini factory was situated at the heart of one of Europe's principal centres for non-ferrous foundry works, and was subjected to constant and heavy aerial bombardment as allied forces advanced up the country.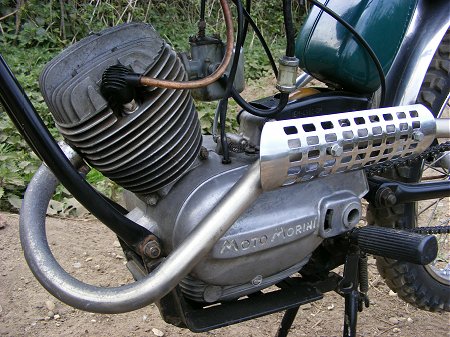 Despite Italy's armistice with the allies signed on September 3rd 1943, and publicly declared on the 8th, the Morini plant was bombed out later in the year, since although Italy had surrendered, the northern part of the country remained under the control of Nazi forces. It wasn't until 21st April 1945 that Bologna capitulated, and Alfonso could return to assess his ruined factory and organise rebuilding. The business relocated onto Via Bergimi in Bologna, and became one of the first Italian manufacturers returning to production in 1946, with a three-speed, 125cc two-stroke, single cylinder motor cycle - and clearly another example based upon the pre-war German DKW design.
Across town, the M-M factory was utterly devastated by Allied bombing but, very much against the odds, former partner Mazetti also managed to restart his production in 1947. Morini entered competition racing and continued with two-stroke motors up to 1950, when production was joined by four-stroke racers, and later for road bikes too. As Moto Morini ascended, M-M seemed to inversely decline and, never managing to recapture its pre-war glory, Mazetti's company closed in 1957.

Our interest approaches with the introduction of the 125cc four-stroke Corsaro (Pirate) motor cycle in 1959, but this machine is slightly beyond our small capacity brief, and it isn't until the 38th Milan Show in November 1963 that the subject of our feature was unveiled - a miniature, 50cc, sports four-stroke motor cycle, the Corsarino (Little Pirate).
The unit construction, OHV engine is 41mm bore × 37mm stroke for 49cc. Initial base models were specified at 8:1 compression ratio, and later sports (race and scrambles) models at nearly 10:1 compression for 4.5bhp @ 9,000rpm, and claimed capable up to 50mph performance.
Model 'V' was a step-through framed, moped-style machine with 3-speed hand-shift, but footrests instead of pedals.
Model 'Z' was the moped style machine with dual 'buddy' seat, listed with three-speed hand-shift gear arrangement 1963&endash;65, and four-speed foot-change thereafter.
Model 'ZT' was a motor cycle framed street cruiser.
Model 'ZZ' was a race-style framed sports motor cycle, introduced with four-speed foot-change.
Scrambles style models were introduced from 1967, and should only be expected to mount the four-gear foot-change motor. We don't know quite how the scrambler chassis might have been designated, but our feature bike frame is marked ZT☆18348☆, so according to the Moto Morini model chart, might appear to be based on a 'street' machine&emdash;and close enough in specification not to need a separate Italian homologation?
Moto Morini 50 models production series
Model
1963
1964
1965
1966
1967
1968
1969
1970
1971
1972
1973
1974
1975
Corsarino V
Corsarino Z
Corsarino ZT
Corsarino Scrambler
Corsarino ZZ
Corsarino ZS Super Scrambler
Dollaro moped (2-stroke)
It wears a 1968 UK registration plate, presumably of more recent age-related issue, since there's an Italian licence 'disc' mounted off a headlamp bracket, and the rear light has a continental pattern lens with no number plate illumination.
Morini did not commonly indicate engine numbers in Italy, or many other countries either, and while we should be expecting the P4 engine with a foot-change, this bike mounts a three-speed hand-shift. The left side case is certainly from a foot-change model, so our best guess is that this bike is a 'Bitza', built up out of bits of assorted Corsarino model parts from several different years. The front forks look like Marzzochi, and with nice Grimeca hubs, it certainly seems to have some quality fittings.
Corsarino wears a little dual-type saddle that looks as if it would be rather 'intimate' as a two-seater, and though the swing-arm carries lugs for mounting rear footrests, none is fitted.
Controls on our Corsarino seem pretty conventional. There's a handlebar mounted five-way switch for horn, lights, and cut-out, but there's also a security isolator switch tucked under the tank on the HT coil, so just check that's on 'run'. Petrol tap down on the left side of the tank, no choke, just a tickler button, so we try the kick-start without flooding first - and the motor fires up first time, so that's a good sign. The revs run up on their own initially, then settle back after 20 seconds or so to a normal tick over, so we guess that's telling us we're ready to go now. As expected, the straight through exhaust delivers a pretty loud note for such a small bike, and a couple of twists on the grip show good response on the throttle and the engine is keen to rev. The motor sounds mechanically smooth, with little more than a light tappet whirr noticeable from the top end.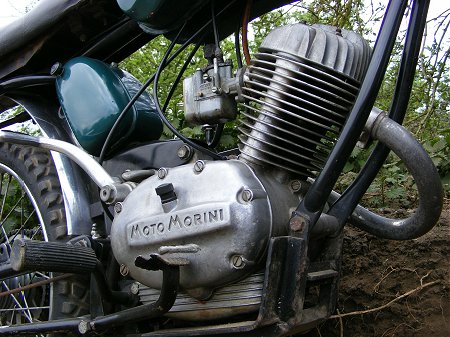 Clutch in, and twist the hand-change back for first, which smoothly selects without any clunky noise, though also lacks any feel to tell it has actually located. The motor feels nice and strong, so you don't need many revs on to pull away, then with the clutch out and twisting back the throttle you can feel the urge of the motor - for about one second before it's revving out at 12mph! Ok, so first is silly low, but reaching up for second isn't so easy with the 'no feel' Domino twist-shift, and you end up twiddling around trying to locate the gear. When you finally find second and get out the clutch, we discover the lever doesn't lock the gear in position, so it can just as easily fall out again&emdash;you have to make sure you keep that twist-shift held in exactly the right place.
Wind back the throttle and you can feel the urge of the motor - for about two seconds before it's revving out at 20mph! Ok, so second is pretty low too, so we grope around for the no-feel third (top), that also fails to lock the gear, wind back the throttle and you can feel the urge of the motor, for only a few more seconds before it's revving out again at a howling peak of 37mph - meanwhile, the pace bike has decided to drop back and pretend it has nothing to do with us, since its pilot doesn't want to be implicated in any way with the deafening racket from Corsarino's straight through exhaust!
So now we've ascertained that this machine is fitted with trials gearing - it makes any further subjective road test pretty pointless!
Running an unregulated battery-less lighting system on such a low-geared configuration, would seem a formula rather too likely to frazzle the bulbs with extreme wattage surges, or disintegrate the delicate filaments with the shattering vibrations at revs, so we weren't really inclined to even try the switch. The owner did earlier say that bulb failure was rather a common problem!
With its off-road ratios, our Corsarino Scrambler is quite impractical for highway use, and only cruises relatively happily on-road below 25mph in top, above which the vibrations and exhaust roar from the screaming engine make it completely insufferable. The paced readings were taken only in the very briefest of bursts up to speed, to spare the motor suffering.
The three-speed hand-shift arrangement also renders the bike particularly difficult for off-road use too, so all considered&emdash;what's its point?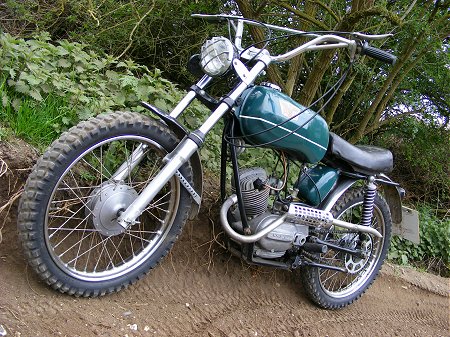 Alfonso Morini died on 30th June 1969, at the age of 71, leaving his daughter Gabriella to control of the company. Later, 60cc 'Twister' Corsarino motors were produced for US export. Corsarino versions continued in production up to 1975, when the model was discontinued. Despite the import of other Moto Morini models into the Britain, over its twelve year manufacturing period, the Corsarino never came to be officially listed in the UK. Any examples in the country today are classed under the vague category of 'grey' imports.
Owners of the Cagiva Group, the Castiglioni family, were actively acquiring businesses around the mid-'80s, and purchased Morini in 1987, to join their portfolio of Ducati and MV Agusta. Ducati holdings were sold on to the Texas Pacific Group in 1996, and included the rights to Morini, but since Ducati had no plans to build Moto Morini motor cycles, the brand remained in mothballs. In April 1999, Morini Franco Motori SpA negotiated manufacturing rights to use of the badge, returning the name back within the Morini family, and established a factory producing new Moto Morini motor cycles next door to its existing plant at Casalecchio di Reno. Recent sales however, have appeared unable to support the business. In September 2009, Moto Morini SpA filed submission for bankruptcy protection, with an application for government assistance. Presently (July 2010) looking for new investment, the company continues trading in administration.
Now if you find yourself becoming confused about some of the Morini relationships, this may really make your head hurt!
Franco Morini was Alfonso's nephew, who, with Vittorio Minarelli, set up FBM (Fabricca Bolognese Motocicli) in 1950, a factory manufacturing motor cycle and moped engines.
FBM's first products were complete motor cycles, among which was the original Gabbiano (125cc) with a two-stroke horizontal single-cylinder engine and the 200cc four-stroke Vampir, with four speeds and able to reach 110km/h.
In 1954 the company began to produce 48cc moped engines in addition to motor cycles, and in this same year Franco Morini set about to establish his own company under the name of 'Morini Franco Motori' at Zola Predosa, Bologna.
In 1956, FBM motor cycle production ended as the partners formally split. Vittorio Minarelli re-established his business as 'F B Minarelli' in a 2,000 square metre area, with twenty mechanics producing a daily output of up to 70 motor cycle and agricultural application engines for both home market and export. The basic 50cc moped motors from the now two separate factories were practically identical, and some parts could even be readily exchanged between the different engine makes. Morini Franco Motori did make light motorbikes and mopeds for a short period, but the brand was primarily only sold into the Italian domestic market, and the company subsequently concentrated on manufacture of proprietary engines.
In 1967, F B Minarelli changed its name to Motori Minarelli and opened a new plant in Lippo di Calderara di Reno. By the 1970s its output had reached ¼ million engines per year.
In 1990, Minarelli began an association with Yamaha to commence production of scooter engines, in addition to its existing 50cc and 125cc motor cycle engine ranges.
By 1995, production reached 410,000 units per annum, and the company employed 350 people.
Motori Minarelli secured engine supply contracts with Aprilia, Malaguti, Betamotor, Rieju, and others, including Yamaha Motor España and MBK (the former French Motobécane, which Yamaha have owned since the mid '80s).
Minarelli itself was formally acquired by the Yamaha group in 2002.
---
Next - Forsaking any ideas to fly out of Bologna, we opt instead to ride the train route back across northern Italy, and onwards to Europe. However, a landslip further down the line finds us stranded in Milan - so what can we do but test another bike?
Time travel has now become so easy we can jump the decades at a snap of the fingers. Back once again to those crucial years after the war.
This new Italian 50cc four-stroke is about to start production - but is probably not what you think it may be!
Also, this connection strangely flips our format around, as this support link appears to lead to the next main feature. Something Out of the Extraordinary seems about to happen!
---
[Text and photos © 2010 M Daniels. Period documents from IceniCAM Information Service.]
---
Making
Pasta-Blaster
In a very similar saga to Green Machine, the Moto Morini Corsarino Pasta-Blaster feature had been sitting in the can for a similarly interminable period. The bike was lent for feature by Charlie Chatsworth from Wivenhoe, Essex, then roadtest and photoshoot completed way back in summer 2007.
There just always seemed to be other features to present first, or it didn't seem to fit in with the programme, or wasn't the right material to balance the particular magazine content&emdash;basically just any excuse to avoid tackling the extremely difficult research background on another obscure Italian bike!
Having started our support feature Italian bike sequence with the Moto Guzzi Motoleggera back in January 2010, then the Motobi April 2010, it seemed like we were really running out of excuses to ourselves not to bite the bullet and finally get on with the long awaited Corsarino Scrambler feature, so finally committed to present this article in the end link of Not an Egg.
Not having looked at the Corsarino notes for several years, and rather optimistically and conveniently 'remembering' that much of the research and note preparation had already been done. Imagine the horror when Danny looked up the file, and in fact found that very little had been done at all&emdash;so another frantic scramble to prepare another research pack, and another text file to urgently draft together in Cyprus.
This certainly wasn't the last of these Cyprus 2010 drafts either. There another two major articles came out of this 'working' holiday, so watch for those to appear later on.
The Morini article incurred fuel costs of £20, and dating so far back, was also shot in 35mm, so another £7.50 for film, developing and digital conversion.
Sponsorship became credited to John McCartney in Bolton, as thanks for a non-specific donation.