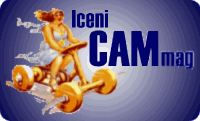 ---
Oh dear! It's another article about some ancient relic, with another story that starts over a hundred years ago!
This is really two stories that roll into one, so it should all come together as the chronological threads weave into place.
In 1906, brothers William and Arthur Hughes Butterfield set up in business together as engineers at Stechford, Birmingham 9, with interests in a relatively new technology of the time—development of the internal combustion engine.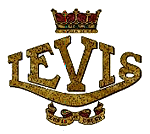 By 1910, William had built his own engine and was aided by engineer and keen motor cyclist Howard Newey, who worked on design of the machines. Within the following year they became established as motor cycle makers under a name taken from the Latin phrase levis et celer (light and quick), and so the Levis brand was launched.
Their first prototype motor cycle was based upon a bicycle frame with a 198cc single cylinder two-stroke engine and belt drive. A larger 269cc engine version appeared later in 1911, priced at £35–10s, and just two years later the business was going well enough for the company to become incorporated under the title of Butterfields Ltd, with Howard Newey as Works Manager. Butterfields designed and made their own two-stroke engines of 211cc, 269cc, 292cc, and 349cc and sold these in a number of Levis models until the domestic market became suspended in 1916 due to the First World War.
Motor cycle manufacture resumed again in 1919, with the Levis brand establishing itself as one of England's leading builders of two-stroke machines, and consolidating their reputation through a very active involvement in racing. The business continued through the economic recession of the mid-1920s by concentrating on producing keenly priced economy machines, then introduced new models into the range as the Great Depression began to subside into the 1930s. The first Levis four-stroke engine, a 346cc OHV, was introduced in 1927, then an OHC 247cc and 498cc OHV in 1933, and further joined by a 591cc OHV in 1937, though the staple business remained primarily two-stroke based.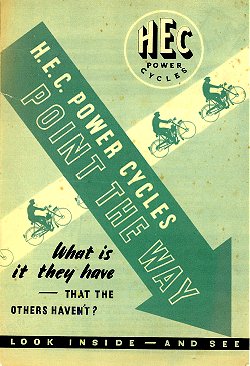 The Hepburn Engineering Company of 234 Pentonville Road, King's Cross, London N1 set up HEC Power Cycles Ltd to manufacture autocycles, based on an 80cc deflector top two-stroke engine of their own design of 46mm bore × 48mm stroke, but manufactured for them by Levis.
The HEC Power Cycle first appeared at the Earls Court Show in November 1938, marked at a price of 17 guineas (£17–17s), and the prototype machines differed only slightly from later production models.
By spring of 1939, the business had relocated to Birmingham, and the bike and engine received some development modifications.
The usual controls were fitted, using inverted levers to operate the brakes. The improvement of a pedal-back brake was later offered as an option, though HECs fitted with this also retained a conventional lever braking set, so it really was an extra! A rear stand and a carrier were other useful features that had not been included on the prototype but were incorporated on the production version. To accommodate the addition of a rear stand, the exhaust had to be changed. On both versions the engine exhausted into a large alloy expansion chamber; the long tail-pipe of the earlier machine extended to the back of the rear wheel but later models needed the pipe shortened to leave room for the arc of the stand, and a second tubular silencer barrel further became added within the tube. A less obvious improvement was a change to a three-point, rather than two-point, mounting for the engine.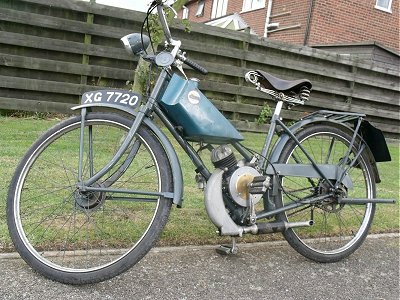 Our HEC/Levis is certainly a wholly different machine that very much went against the grain of the more usual Villiers-engined generic autocycles of the period. Not only did the HEC have an exceptional motor that was unusually mounted in the crook of the frame, but the cycle chassis also appears strikingly individual, not least for its interestingly shaped petrol tank. The fuel tank design is most logically explained as all its folds and forms can be assembled by welded corners without the need for dedicated and expensive press tooling. This would have been a most ideal solution for low volume manufacture at the time. The distinctive fuel tank certainly imbues the 'Power Cycle' with a unique persona.
Another striking impression is how 'compact' the bike appears! It has a fairly similar height in the usual way of autocycles of the time due to the 26×2×1¾ wheels, but its length appears short and stubby, so we unfurl a tape and measure the wheelbase: just 44½", which is little different from a conventional pedal cycle, so the 'in-frame' engine installation has hardly affected the geometry!
Continuing with HEC's vital statistics, the scales read 6 stone dead (only 38kg) with oil and fuel, so light enough to manhandle easily in tight spaces.
It doesn't take much handling however before appreciating that the pedals appear too close to the ground, since the fitted 5½" crank arms allow just 2" clearance so, if you're inclined to be a bit silly, they might be doubled-up as a useful side stand, even without the need to use a kerb! This poor pedal to ground clearance can make the machine quite impractical to cycle. After having caught your feet a couple of times, a rider may become cautious to start the machine by any means other than on the stand.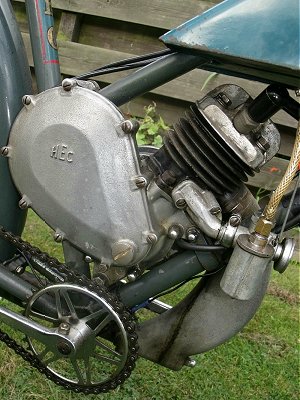 The fuel supply turns on under the right side of the tank by a small lever tap. The Amal 27/64" bore carburettor has a flood button on the float chamber, but we never used that, favouring instead the shutter choke operated by a small rod up the right hand side of the tank. With no decompresser to the cylinder head, it's generally better to get some turning momentum going with the clutch disengaged before dropping the lever, or it can be quite hard to turn the motor against compression from a standstill.
Once the engine starts firing, a tweak on the throttle lever and pushing off the choke finds that it probably didn't require any enriching at all; the motor seems to run clear pretty much straight away and responds to throttle right from cold. The exhaust settles to a subdued gurgling note as we prepare to make our departure.
The spring loaded rear stand is a marvellous development that sadly wasn't copied by other autocycle manufacturers. You just roll HEC off the stand and it flicks right back, ready to go! No messing about trying to wrestle the dragging rear stand into a clip at the back of the rear mudguard like pretty much every other autocycle—HEC's stand is really good!
As you throttle up and drop the clutch off its grip-lock latch, the rider does need to give a little pedal assistance for initial take-off, then the engine takes over with a muted phuttering at low speed. Opening the throttle lever is responded to with an induction draw at the carburetter and louder roar from the exhaust. As the bike builds speed up the road, waves of vibration come up through the pedals, and the rider becomes aware of a fair amount of mechanical noise generated from the engine. There's something of an 'agricultural device' feeling about way the machine rides: crude and harsh to the rider, though the passing impression to pedestrians and our tracking pace rider was the bike sounded smooth and pleasantly docile, which can often be the way with these ancient contraptions. Many old machines can be like this to varying degrees, seeming better to observe than to ride.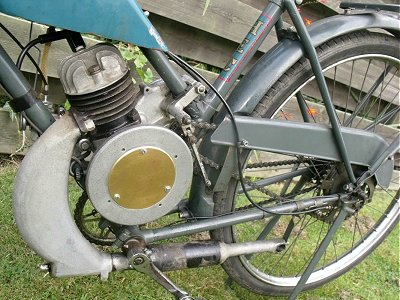 The rider quickly becomes aware of a 'hunched' nature to the riding position of this autocycle, primarily as a result of the relatively short cycle frame with its stunted wheelbase. This results in a very upright riding position, and is too compact to adopt any practical crouched posture against a headwind.
Any attempted contributions towards pedal assistance are readily punished by the pedals and your feet hitting the ground from the mere 2" clearance, so this is an autocycle that will certainly hurt back if you try and help it, which might seem rather at odds with reportedly fitting heavy duty ½ × 3/16 chain and pedal sprocket sets to some machines.
The motor seems to settle down to comfortable and steady cruising around 22mph, with a best on flat clocked by our pace bike at 24mph.
The downhill run clocked off at 28mph, at which the motor was clearly revving into territory it didn't want to be, with lots of mechanical noise and waves of vibration making this a particularly uncomfortable pace to run.
The Motor Cycle magazine published an HEC road test in their edition of 25th May 1939, and reported 'The HEC has a fairly low engine gear ratio (14:1), and this combined with the light weight of the machine and an extremely 'peppy' engine, provides acceleration well above the average. Response to the throttle was immediate (*yes, it makes more noise) and a speed of 25mph was attained comparatively rapidly. Higher speeds are available if required; indeed, under favourable conditions the speedometer registered 35mph, which is remarkable for an 80cc power unit'.
We're quite surprised at that report too, since our fastest downhill run only achieved 28, and there was absolutely no question this bike was ever going any faster than that, and certainly not 25% faster! We think their speedometer was probably a little optimistic.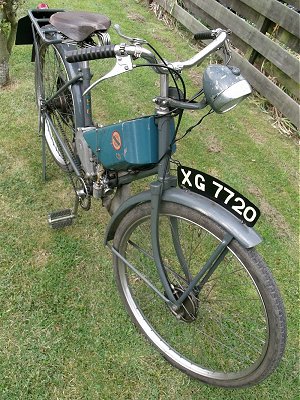 The hazards of low ground clearance for the pedals will harden any rider's resolve not to assist this autocycle in the following uphill climb, and the speed steadily fell away before the bike finally managed to struggle over the crest at just 12mph with no pedal assistance.
Both brakes were good, which is something we very rarely get to compliment on autocycles and, turning on the light switch, even at low engine revs, the lamps were so bright we quickly turned them off again for fear the bulbs might burn out. There was a feeling these might have been fitted with cycle bulbs of too low a wattage, and we didn't feel the urge to revisit the experience with the risk of something going pop!
For anyone looking at pictures of our test machine for reference, we should point out this vehicle has been rebuilt with a number of obviously non-original fittings: the saddle, handlebars and stem, brake and throttle levers, headlamp and bracket, tail lamp, drive chain-guard, and magneto cover inspection plate.
The frame number of our feature machine appears to be 615, which places its dating around later 1939.
With the onset of World War 2 in 1939, the Levis plant was turned over to making aircraft parts and air compressors.
HEC's Thorpe Street Works (behind the Hippodrome theatre), were heavily bombed on 3rd May 1940, completely wrecking the factory. HEC frame serialisation was concluded at number 885, and anything that could be salvaged from the ruined building was removed to Butterfields works at Old Station Road, Stechford, and the HEC business became merged with Levis.
According to employees of HEC, there had been some special developments of the Power Cycle; a 'racing' version with dropped handlebars and smaller 20" wheels, and a tandem model!
There was certainly a significant number of Levis engines left over after the manufacture of the HEC Power Cycle was so prematurely concluded by the Luftwaffe, and these were being offered up for sale for many years afterwards. Though the Levis autocycle motor never again found its way into any other British production built machines, some continental assemblers later seemed to have employed the engine in small quantities; announced as late as May 1951, the Swedish built Apollo being one example.
Looking at various Levis 80cc engines, it's notable there may be some differences, in that motors made for HEC generally seem have these initials cast onto the chain-case, while other engines are cast with the Levis logo on the primary cover, and have an additional filler plug at the top of the case.
Like the Wallington Butt and Scott powered Cyc–Auto models, the Levis propelled HEC is a rare and unusual example in the more general world of Villiers and Excelsior powered British autocycles. Like many machines, it has both good points, and shortcomings, but mainly it is interesting and different.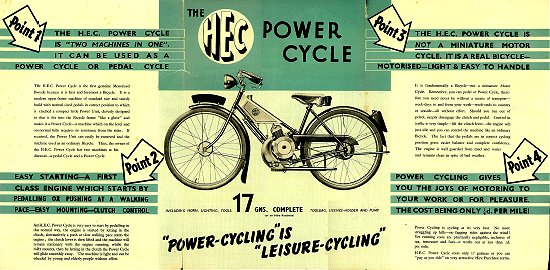 ---
Next—What's our next support feature? Ah yes, it's sailing off to the New World colonies for us, with a couple of continental built cruisers. That's what we like, the wind in our eyes, bugs in our teeth, and the free spirit of adventure in Last of the Line!
---
Making
Against the Grain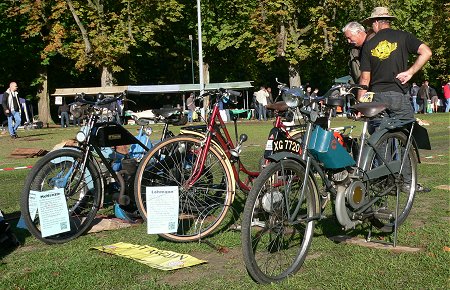 The HEC on display at
Nationaal Veternaan Treffen in 2012
Our opportunity for the HEC autocycle came as the bike was delivered to the workshops for reconstructive magneto set work, carburetion, and general engine attention to return the machine to operational function. An infrequent opportunity to find a particularly rare and unusual autocycle on our very doorstep, so a deal was done with owner Colin from www.Buyvintage.co.uk that we got to test the bike when it was fixed.
The bike was processed during September 2012, very timely also to exhibit at Nationaal Veternaan Treffen in Holland, and appear on the EACC/IceniCAM stand at the Copdock show, before returning back to Brighton.
Because of its particularly interesting nature and rarity of the machine, we naturally wanted to get the article out as soon as possible, so the feature went on the fast track to publication in just about 6 months, which is fairly quick compared to many of the timescales we seem to work to these days ... it's really not unusual for a number of our articles to be in the tubes for several years!
Further research into HEC is very difficult, since there are no real leads to little that isn't known already. Hepburn Engineering Company is one of these cases where it's quite unlikely to turn up anything new—the trail has grown very cold over the last 70 years. The Levis element expanded a little more background, but the real interest proved to be our road test in comparison to The Motor Cycle road test of 25th May 1939. In reading their tester's report, we began to wonder if they were even commenting on the same machine!
Readers and other publishers seem to have been basing and repeating HEC performance off this report for seventy years—and it just seemed so hopelessly inaccurate! Our downhill run could only muster 28mph, and there was absolutely no way that anyone was going to wring any more out of one of these engines—it's a primitive deflector-top design of only 80cc and, realistically, never appeared likely to outrun any period Villiers Junior or de Luxe with 25% more capacity.
Any claim that "under favourable conditions the speedometer registered 35mph" only goes to suggest their speedometer was wildly inaccurate. It just seemed crazy to even think they might get 25% more performance out of their machine when we could only mercilessly thrash ours up to 28mph on a downhill run. Response to the throttle was immediate—yes, it does make more noise when you open the throttle ... and 'an extremely "peppy" engine, provides acceleration well above the average'—no, it doesn't at all, it's altogether slower than a Villiers Junior because it's got a smaller engine!
Performance of this HEC was quite similar to another of these Levis motors we ran several years back in the Levules trade carrier autocycle In the Trade and, where the motor particularly scored was smooth flexibility at low revs, a relentless plodder—but most certainly not performance. We think the period Motor Cycle road test really got it wrong, and everyone has been quoting and repeating it for years—welcome to myth busting!
Nobody seems to have actually got around to retesting an HEC Power Cycle in 70 years, and so few were made, or survived, or got used, that no one ever came to question the accuracy of the pre-war yardstick road test.
If someone might like to stand up for the 1939 Motor Cycle report and can offer us another machine to confound our latest test, then we'll be quite happy to try it but, until then, we consider that period report is blown out of the water!
Sponsorship tag went to Jim Stuttard of Lincolnshire Section EACC, and our production costs on this article were—zero, because the bike arrived by customer carrier and returned by incidental transport. Not bad for a freebee feature!