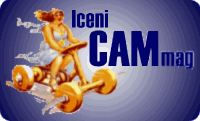 ---
As quick as you can say those magic words 'Puch Maxi', most people will immediately conjure an image of the original and classical pressed-steel frame, rigid-N & S-sprung models that first appeared in the late 1960s and continued right through until 1987, when the company was taken over by Piaggio and the remaining Puch range subsequently discontinued.
The 'Maxi' term however was more equated to mopeds fitted with the horizontal E50 type engine in its automatic single-speed, automatic two-speed and manual two-speed versions, and the title wasn't restricted to the archetypal pressed steel frame, but covered a much wider range of stylised frame variations.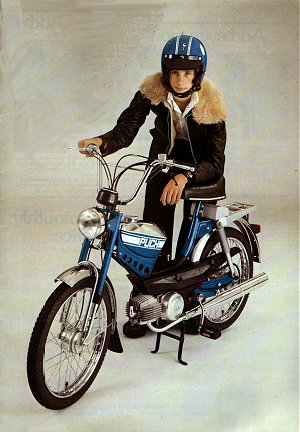 Maxi Sport
One of these derivatives was introduced to the UK in January 1975 as the Puch Maxi Sport, and particularly differed in having a tubular formed spine frame, with a separate 3.5 litre fuel tank mounted towards the steering head. Many of the cycle fittings were sourced from proprietary parts manufacturers instead of the familiar in-house Puch-produced components used on earlier models—some evidence of Puch drifting more towards assembly than total manufacture.
Input to development and manufacture of various Puch model tubular chassis and other small-wheel designs is credited to a joint association with Austrian metal company Kromag, who mainly specialised in production of steel wheels plated with chrome, or magnesium cast, hence their composed business title.
Now, this feature isn't really following the Maxi Sport, but a very specific spin-off variant of the model that came about slightly later when the US retail company Sears ordered batches of a derived model for distribution onto the American market from 1977. For sale through its department store catalogues, these mopeds were branded as the Sears 'Free Spirit'. Few of these particular machines were sold on the western continent under the Puch badge since Sears's marketing policy specifically favoured their own brand label.
Puch had worked with this American distributor in the past, previously making motor cycles, scooters, mopeds, and bicycles for Sears, which were sold under 'Allstate' badging from 1954. The Allstate logo was dropped in 1967 in favour of promoting Sears's own label, continuing the factoring of Puch motorised products up to 1969. After this, Puch remained to supply a line of Sears-branded 'Free Spirit' bicycles, until a moped boom swept the USA in the late 1970s, so it was an obvious progression for both companies to capitalise on this opportunity to produce and sell a moped bearing the same name.
The Sears Free Spirit moped was based upon the European Puch Maxi Sport model and was presented in three variations:
The basic machine came as an all-rigid fork & frame model, finished only in blue, without a speedometer, mounted a conventional cycle-style single-saddle, was completely devoid of any badging, and only identified by Sears mark on the VIN plate. A rear carrier was available as an accessory.
The two other models both came with fully sprung frames and 1½ seat, but generally only differed from each other in colour and trim finish. These bikes were marked by 'Sears' decals on the tank and 'Free Spirit' printed on the back of the seat.
The 'red' Free Spirit came with painted mudguards, spoked wheels and plain fuel tank.
The third and final Free Spirit model was called the De Luxe, equipped with stainless mudguards, 'snowflake' pattern alloy wheels, and fuel tank finished with a black moulded trim.
While UK market Puch Maxi E50 engined models were all rated at 2.2bhp after 1974, Sears Free Spirit E50 engined mopeds needed to meet some markedly different specifications. In America, different states specified different top speed requirements, so engines were supplied in 1bhp, 1.5bhp, or 2bhp ratings according to demands of the respective state.
817.80800 / 62.81.11.0 - 1.0bhp (colour blue)
817.80810 / 62.82.11.0 - 1.0bhp (colour red)
817.80820 / 62.82.11.1 - 1.5bhp (colour red)
817.80830 / 62.82.11.2 - 2.0bhp (colour red)
817.80840 / 62.82.11.3 - 1.0bhp (colour silver)
817.80850 / 62.82.11.4 - 1.5bhp (colour silver)
817.80860 / 62.82.11.5 - 2.0bhp (colour silver) UK market model series.
There were subsequently four different speed ratings according to motor power, 17mph, 20mph, 25mph, & 30mph (UK spec).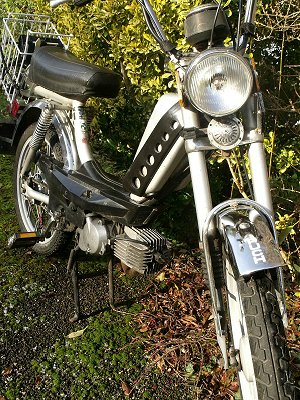 US market Free Spirits were usually specified with a lower 9.2:1 compression ratio, where general European spec was 11:1. Because of the lower compression ratio, the ignition timing was more advanced, 1.3–1.7mm compared to European 0.8–1.2mm.
European market Maxi models were standardly fitted with a 16-tooth front sprocket, but US market models were lower geared by a smaller 15-tooth sprocket. And US market legislation wasn't simply limited to restricted performance for mopeds; there were further compliance specifications to equipment that differed somewhat from the European norm.
The Sears Free Sprit features a markedly different electrical set. Instead of the familiar Bosch internal HT coil, the mag-set has only a low-tension winding to drive an externally mounted HT coil. The stator set has additional generator coils, some wired through constant earthing, and operation of systems breaking the earth to effect the circuit. One coil alone drives a 10-Watt brake light in this manner. Consequently, there is about three times as much wiring to the electrical set as would be found in a typical European spec machine.
The rear lamp is quoted at a conventional 5-Watt rating, but the headlamp is unusual in being specified with a 21-Watt single filament, and it was somewhat uncommon by the 1980s not to have a main beam & dip facility!
Also notably, the Free Spirit returns to pedals for starting and assisted operation, while many European specification mopeds had gone over to kick-starting with footrests by this time—the American market demanded that a moped still required pedals. Rather more strangely, where the earlier 'pedal' Maxis had a decompresser to assist starting, the Free Spirit has a 'blank' cylinder head with no decompresser, which may prove slightly more difficult to get the engine turning in the usual manner. To help here, the pedal ratio is lowered by the fitment of a fairly large 23-tooth freewheel, which reduces the cycling drive ratio by 25%.
We can only presume this might have been as a consequence of some American emissions issue regulating decompression release and venting into free air? Legislation in most American States required two independent means of stopping the motor so, without any decompresser, this technically comprises:
1: a kill-switch, and
2: Using the starting clutch-lock lever to stall the motor.
Free Spirit models were introduced with traditional spoked wheels in 1977, then phased over to Italian Grimeca 'Snowflake-pattern' cast alloy wheels in 1978, which seemed a slightly unexpected choice, since Puch had earlier begun fitting its own pattern of cast alloy wheels to its own European mopeds.
The Free Spirits were Sears-branded models, particularly produced for US sale, and feature a number of unusual and unique changes specified to comply with regulations of the various American states the machines were being sold into and, while we've managed to source a couple of American Free Spirit models for our feature today, these are actually Puch-branded Free Spirits which were sold into the UK market! So what's going on there then?
Well, the story goes that, while Sears took batches of Free Spirit models from 1977–79, sale of the last batch to Sears was not completed for whatever reason (let's not get into the politics of why that may have happened), so Puch found themselves stuck with a quantity of machines, and positioned to clear them onto the UK market.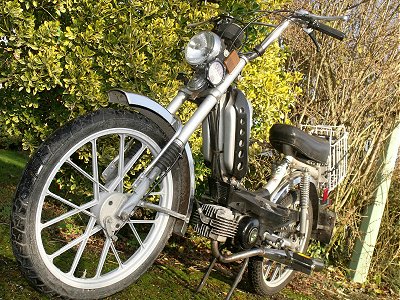 In preparation for this, the equivalent European 'Maxi Sport' model was withdrawn from UK market listings in February 1979, and officially replaced by the Free Spirit by June 1979.
Our first 'export spec' Free Spirit was UK V-registered in 1980.
It has subsequently experienced some changes, being fitted with a standard UK market 11:1 compression ratio cylinder head and European specification 14mm Bing carburettor.
The rear sprocket is reduced to 40 teeth (original fitment had 44 teeth), so that's geared up by 9%. The original front sprocket of 15 teeth is now reduced to 13 teeth, so that's geared down by 13%, which overall means the gearing is reduced by 4%. It's fitted with the original Grimeca 'snowflake' pattern cast alloy wheels, but the exhaust pipe & silencer is changed to a UK market Puch Maxi Executive 'big-bore' system.
Preparing to start the Free Spirit is fairly similiar to the normal Maxi models, fuel tap on/off/reserve at bottom left of the tank, push down the adjacent choke rod, pedal away, and you will instantly notice the difference made by the lower ratio freewheel sprocket—there's appreciably more pedalling for quite a bit less progress! Pull in the clutch-lock lever once you're moving, at which the motor fires right up, so absence of the decompresser seems a small issue with the lower pedal ratio and the ability to hold in the clutch-lock lever and pedal until the engine does start, whereas with the decompresser it may only briefly catch once the lever was released, and failure to start would require the lever pulling and releasing again—sometimes several times. Maybe some things are better without the decompresser?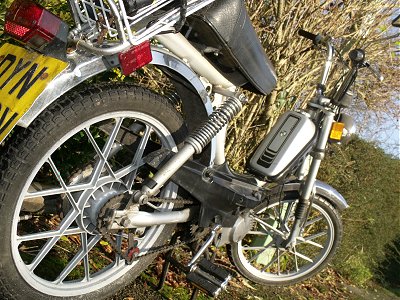 We burble gently down the road and turn slowly without opening the throttle so as not to lift the choke; it's a cold December day, so we take our time to give the motor some moments to settle before gingerly opening the throttle to ease in a little air. Our patience pays off as the slightly hesitant engine decides to continue running instead of dying out, so no restart necessary, and we slip gently away with the pace bike turning into our wake.
Feeding in a little more throttle down the lane, we clear the choke completely within a few hundred yards, and the pace bike pulls alongside to compare relative speedo readings ... 15 same ... 20 same ... 25 same, so it appears that the 40mph VDO is reading reasonably accurately.
Though Spirit seems to pull reasonably well, we're aware that it feels to be holding back against a light incline at this stage, which we put down to the cold engine, so turning onto the main road we settle at a 25mph cruising speed to work a little heat into the motor against the headwind.
Swinging into the lane at the end of the straight, the wind now turns behind us and, having got the motor up to temperature, we can now build up towards top speed and tuck down to try best on flat in crouch with a moderate tailwind—indicated 35mph, which the pace bike confirmed. Pressing on to the downhill run pushes the revs to peak at a speedo reading around 40mph, while the pace bike reported 41.
Ours was only a flash glimpse as we howled through the lower section of the dip, since rider readings of the Free Spirit speedo are irritatingly obstructed by the brace across the handlebar set, which runs right across your line of sight.
The uphill climb dropped some 15mph, but cresting the rise at 25 was a good showing.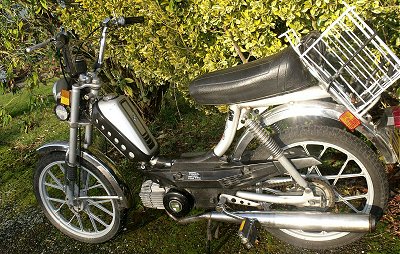 The Free Spirit did manage to generate a low level of vibration at full-out running, not overly intrusive for short bursts, but it would become progressively wearing if held on full throttle for long, which, in a way, might be some credit to the tough and durable Maxi E-50 engine that it can sustain such treatment.
The droning Executive exhaust did become a 'little wearing' by our return leg. The muffled 'megaphonitus' sound is different, but we think the standard system is preferable—even our pace rider commented on following the wailing 'Stuka dive-siren' going through the downhill section!
Compared with the open section, pressed-steel and flexi-feel swing-arm of the standard S-Maxi, handling of the Free Spirit was felt to be much improved due to its tubular welded swing-arm assembly. The brakes worked very capably in the Grimeca alloy wheels, and the chassis rode appreciably better than its pressed frame Maxi cousin.
An obvious oddity to UK riders is the US switchgear: the right handlebar two-position kill-switch is marked 'Engine Stop/Run - Off', while the left handlebar lighting switch is amusingly marked 'low-off-low & horn'—there being no beam/dip, and just a single filament 25-Watt headlamp bulb fitted, which seemed to burn very brightly.
The brake light operates from inbuilt switching in both hand levers, and the brake light is driven from its own generator coil in the mag-set, which is permanently connected to ground the output, while the lever switches break the earth circuit so the power diverts through the brake lamp. We've seen this type of wiring set before, on Motom and Tomos, but still don't know what the point of it is? It just seems like complication to little purpose.
Particular irritations were the cross-brace obstructing sight of the speedometer, and the inability to catch the centre stand leg from below the silencer on the left-hand side of the bike, which is the normal side to handle the machine from for a right-handed person.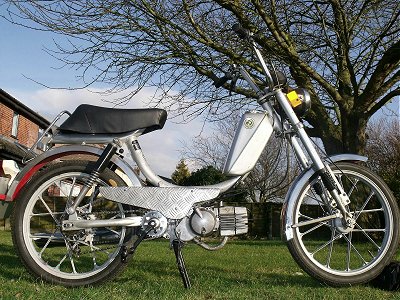 Our second Free Spirit 'Silver Rat' has, however, been extensively 'Europeanised' for simplicity. Internal HT coil, basic wiring, just 6-Volt × 18-Watt single filament front lamp, 6-Volt × 4-Watt rear bulb, and no brake light. A decompresser cylinder head is fitted for conventional starting, and a 22-tooth freewheel sprocket is fitted for a slightly higher pedal ratio. There is no need for an electrical cut-out circuit since the motor can now be stopped on the decompresser 0151just like the Maxi originally used to be.
The main improvement to the Free Spirit frame lies in the rear suspension swing-arm being a welded tubular construction, to provide a much more rigid pivot than the original Maxi-S pressed-steel swing-arm assembly, which was always somewhat 'flexible', and contributed to some 'interesting' handling moments.
One step forward, but another step back. The Spirit centre stand is a real puzzle! There was never really anything particularly wrong with the original Maxi centre stand. Though there were two different lengths (shorter for the rigid-N, and longer for the sprung-S model), these were stable enough and easy to operate, so why change it?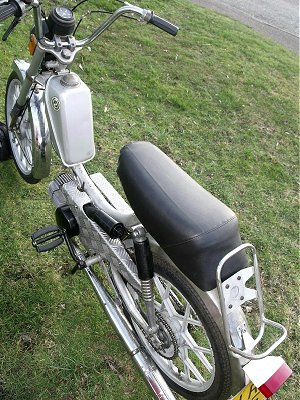 The Free Spirit stand is so ridiculously over tall that the front or rear wheel can hover some 3 inches off the ground and, because the stand position is located pretty much at the balance point of the bike, then it tends to readily tip forwards and backwards on the stand. Because the moped is so light, it also tends to rather spin round on the narrow stand legs, and is so clumsy and unstable that it's something that people could become quickly irritated by-we certainly were!
Our Rat-Spirit is no longer troubled by the original easy-shatter plastic side panels that you'd probably have little prospect of replacing for this obscure model. Instead it's wearing a pair of custom made panels, cut and formed from practically bulletproof quarter-inch Dural chequer plate.
Since this Free Spirit was sold in the UK, it wears a 30mph 'sloped' qualification plate and carries a speedo only marked up to 30mph, so let's see?
Starting the Silver Rat is pretty easy: turn on the fuel tap at bottom left-hand of the tank, and push down the choke rod poking through the top of the panel. The carb does have a float chamber flood button to aid cold staring, but this is fairly inaccessible and completely unnecessary to get the motor fired. Pull in the clutch lock-lever under the left-hand bar set, spin the pedals and release the lever as the engine turns over. Just a couple of spins find the motor ticking over, then gingerly ease open the throttle to raise the revs and clear the choke.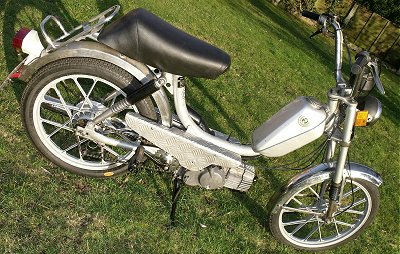 The Maxi engine is a single-speed automatic, so the clutch feeds in during the initial acceleration phase, then locks in around 15mph+ where there's a good delivery of mid-range power so the moped builds speed well as a result of its standard 11:1 compression ratio.
Suspension is just plain sprung and undamped at both ends, but rides comfortably enough at the limited performance of the bike. Silver Rat is shod with a 'custom combination' of rubber, with a fairly wide 2.50×17 rear tyre and slimmer 2.00×17 on the front, but handles well and rides comfortably on this special arrangement.
The foam padded 1½ saddle gives a good support while still absorbing any vibration that may be transmitted, so scores well on the seating.
Despite a 7-Watt reduction down to 18-Watt, the headlamp proves surprisingly bright, and the ULO 4-Watt tail lamp adequate.
The horn struggles to produce a muffled buzz, enough to legally qualify, but not likely to cause much alarm.
This bike is running on a 42-tooth rear sprocket (originally 44-tooth), so the final drive ratio is increased by 4.5%. Downhill best, still air, and needle pinned on the end stop of the 30mph VDO speedo, so the pilot had no idea that the actual speed was clocked at 36mph by pace bike.
Even though the pedal gear is raised by 5%, the pedal ratio is still so ridiculously low that the rider is barely going to be able to assist the machine unless it's practically stopped, though the Maxi is rarely short of enough power to climb most hills, so it's not really an issue.
The handlebar set on this bike has been replaced by a European bar-set without any cross-brace to obstruct the view of the speedo, and fitment of the standard European Maxi 'small-bore' exhaust system produced a familiar sound we were more comfortable with.
The UK model Puch Free Spirit was de-listed in March 1980, presumably as the last of the batch was cleared. The two-speed Custom, two-speed Custom GL and Maxi Super Executive SKXGL models were also discontinued along with the Spirit.
After cessation of further business with Sears in 1979, Puch continued selling into the American market with other moped models under their own logo.
Kromag was subsequently bought out by automotive alloy wheel distributor Alcar, and restructured into the business that continues as Kromag Metallindustrie GmbH, though seems to have no further association with mopeds.
---
Next—our support feature covers two markedly different mopeds with a very similar visual appearance, and sharing a common size of 14-inch wheels. One pertains to be fast as a train, while the other is just a cutie, but were these really just another horrible vision of what mopeds of the future might have looked like in the past?
It's hard to perceive how either of these machines might ever be viewed as any classic-ped, but that might depend on your view, and which generation you come from. Widely built in the 1980s, both bikes are already over 25 years old, so maybe that automatically qualifies them as 'classics' already?
This is an extensive feature, and some people have unkindly suggested that Shop till you Drop might be more about quantity than quality ... let's face it, this article has to run sometime, so we might as well get it over with!
---
There was no effective definition of a moped in the USA before 1974. In theory, they were subject to the same rules as full-size motor cycles. The enforcement of these rules was sporadic until 1973 when the Department of Transportation placed an embargo on non-compliant imports. However, by 1974, representations from Motobécane, Peugeot and VéloSoleX combined with the oil crisis led to the National Highways Traffic Safety Administration (NHTSA) relaxing some of the requirements that mopeds had to comply with. This was just the first step that led to a moped boom in the US.
The new NHTSA rules defined what could be legally sold across the USA. When it came to riding them, it was down to invisual states to legislate. A moped trade organization—the Motorized Bicycle Association—was formed to lobby the staate legislatures. By the beginning of 1977, 23 states had enacted legislation:
| State | Capacity | Power | Registration | Speed | Minimum age | Licence | Insurance | Helmet |
| --- | --- | --- | --- | --- | --- | --- | --- | --- |
| Arizona | up to 50cc | up to 1.5bhp | required | 25mph | 16 | any licence | | |
| California | | less than 2bhp | required | 30mph | 15 | learner permit | financial responsibility | |
| Connecticut | less than 50cc | up to 2bhp | | 30mph | 16 | any licence | | |
| Florida | | up to 1.5bhp | | 25mph | 15 | | | |
| Hawaii | | up to 1.5bhp | | | 15 | | | |
| Indiana | | less than 1bhp | | | | | | |
| Iowa | up to 50cc | | required | 25mph | 14 | written test | | |
| Kansas | up to 50cc | up to 1.5bhp | required | 25mph | 14 | written test | | |
| Louisiana | up to 50cc | up to 1.5bhp | | 25mph | 15 | any licence | | |
| Maryland | less than 50cc | less than 1bhp | | | 16 | any licence | | |
| Massachusetts | up to 50cc | up to 1.5bhp | required | 25mph | 16 | learner permit | | |
| Michigan | | less than 1bhp | | 20mph | 15 | | | |
| Nevada | | | | 30mph | 16 | any licence | financial responsibility | |
| New Hampshire | up to 50cc | up to 2bhp | required | 30mph | 16 | any licence | financial responsibility | |
| New Jersey | less than 50cc | up to 1.5bhp | | 25mph | 15 | | | |
| New York | | up to 1bhp | | 17mph | 16 | | | |
| New York (Class B) | | | required | 30mph | 16 | any licence | required | required |
| North Carolina | | less than 1bhp | | 20mph | 16 | | | |
| Ohio | | less than 1bhp | | 20mph | | | | |
| Pennsylvania | up to 50cc | up to 1.5bhp | required | 25mph | 17 | licence | financial responsibility | |
| Rhode Island | | up to 1.5bhp | required | 25mph | 16 | any licence | | |
| South Carolina | | less than 1bhp | | 20mph | | | | |
| Texas | less than 60cc | | required | 20mph | 15 | written test | | |
| Virginia | | less than 1bhp | | 20mph | 16 | | | |
---
Making
Last of the Line
Our Free Spirit article option had been stewing 'on the backburner' for several years, as local colleague David Evans kept an example in his stable, which we held test offer on for anytime we wanted. Test of Evans bike however, had coincidentally been pre-empted when the workshops built up the Europeanised 'Silver Rat' in February 2012 as the last from among a job lot of 'basket case' Maxi's that were processed through the workshops late 2011/early 2012. As 'Rat' fell off the re-assembly line, we managed to run the bike round for a quick roadtest and photoshoot before it got advertised and sold on.
At this time there wasn't really any Free Spirit article to speak of, just pictures and brief notes in a text file.
While the Indian moped went through test at a busy time in October, with lots of bikes coming and going through road-test at the prospect of suitable weather fast running out on the approach to winter. It was certainly getting fairly cold by the time Evans Free Spirit finally ran through test in December, and pretty much became one of our last tests of the year. Adding these notes to Silver Rat started initial progress on collation of the research file over the Christmas period.
Obviously we'd heard rumours of the Sears Free Spirit story—it was just a case of putting flesh on the bones to get the tale formally documented.
Another incentive for getting the 'Last of the Line' article together, was that Puch Club Magazine Austria had requested this article as a follow up to their January 2013 re-publication of our Zorplan/Puch feature from April 2010. We generally prefer our features to go out in our own magazine first if possible, but sometimes that luxury has avoided us in the past!
It might seem surprising how many 30+ year old Puch Free Spirits there are still in UK circulation, but the Maxi is tough little bike that delivers the beans, and does everything it says on the tin. We've known of some 6 FS bikes running just in our local area, so all credit to their durable construction to be around so long.
Some of the American Sears Free Spirit models, however, seemed rather less appealing with their variously restricted performances. The 1bhp × 17mph 'blue' basic model with rigid frame and rigid fork sounds particularly uninspiring...
We felt the Free Spirit story made a good little tale in the end, worth telling, and there are still bikes about for people to actually relate to.
Keith Robinson, IceniCAM reader, Hartlepool collected sponsorship credit on this one, not for any other reason than being in the right place at the right time, and having recently made a couple of small donations that covered the absurdly low production cost of less than £5.