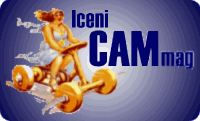 Text by Mark Daniels
Photos by Mark Daniels and Andrew Pattle
---
Orwell Yacht Club
One had to wonder whether there might be any adverse effect on the Mince Pie Run transferring back to the East Anglian Cyclemotor Club after so many years, though it didn't seem to have concerned the earlier Radar, East Anglian, Horham, Peninsularis, Coprolite, or Kneel's Wheels Runs when they switched, however you never quite know till the day.
Arriving at 10am with Martin Gates, what we thought would be early, the car park of the Orwell Yacht Club was already packed! We had to drive on to the Bundwall track and find parking space in between the boats!
It was immediately apparent that counting attendance numbers barely held much significance, MPR26 was going right off the scale! As Martin unloaded the bikes, I popped the regalia over to Andrew Pattle on the busy IceniCAM/EACC pitch in the clubhouse. The besieged catering facilities convinced me to forgo a cuppa on this occasion, time being better employed in snapping bikes for the website, however even the photography appeared to be another unending task, since as fast as I clicked off shots - more machines just kept arriving!
Much credit is due to The Coasters and Sudbury Scooter Clubs for co-ordinating a spectacular and colourful turnout of varied and impressive machinery, not just traditional Vespas and Lambys, but sporty cut-downs, modern space-frame super scoots and even a classic Heinkel Tourist. Somebody said there were 38 scooters, but who knows, there sure were lots, and they looked bright and cheery on this cold and overcast January morning.
Wandering round our class of bikes, an even wider selection. Small groups of gathered compatriots... The St Neots boys, (Chris Saunders - Raleigh RM5, Alex Lees - Norman Model C and Ralph Richardson - Rudge) set about 'helping' (read sabotage) Barry Bartholomew from Chelmsford fettle his funereal black Francis-Barnett Powerbike 56, which was destined to only crest the rise on Bourne Hill before suffering a puncture. A small-wheel monkey cluster: Julian Bocsi - Honda, Paul Daniels - Solo 726, Steve Cobb - Garelli Katia, Paul Nelmes and Pauline Keeble - 2-up on a Yamaha Chappy and Marcel Mizon - Brockhouse Corgi. Brian Barley - Tomos, and Bill Doy - Honda PC50. Team Stafford, Bob and John's PCs seem to get more decrepit each year, but still soldier round.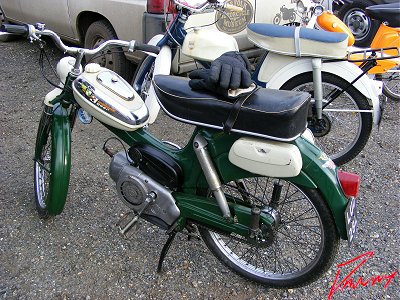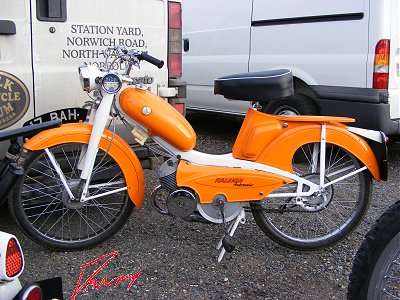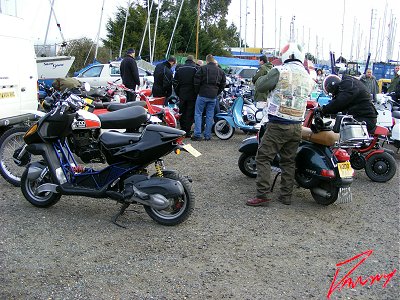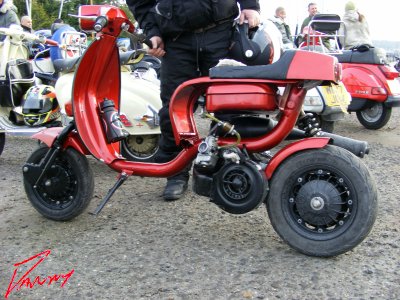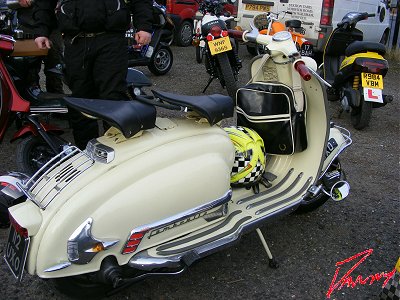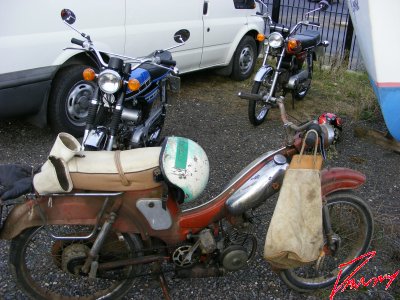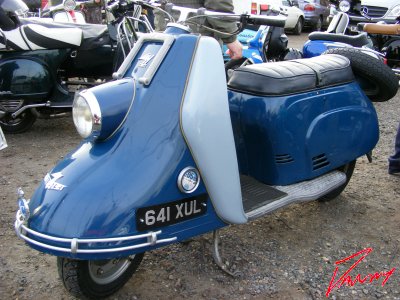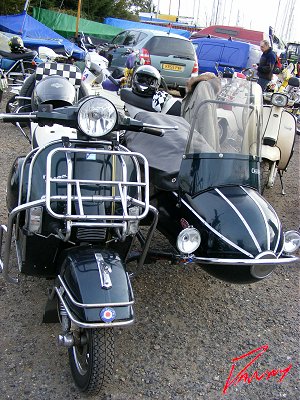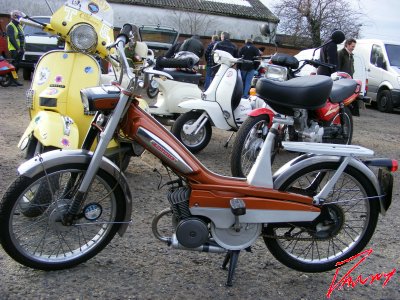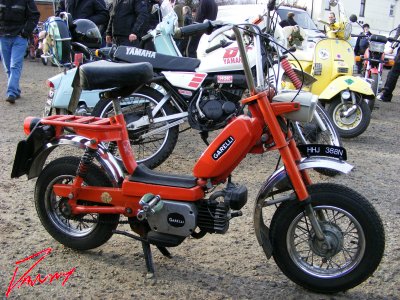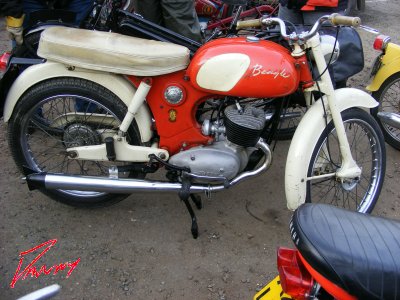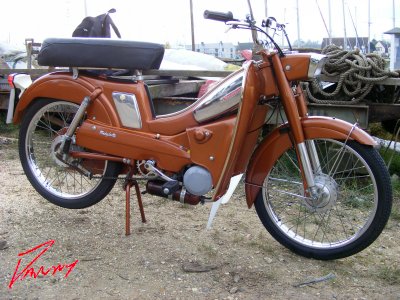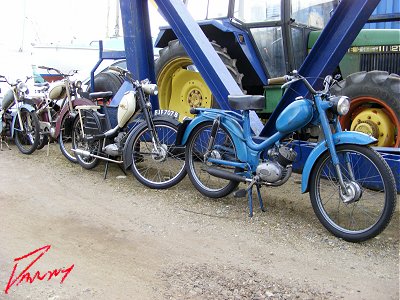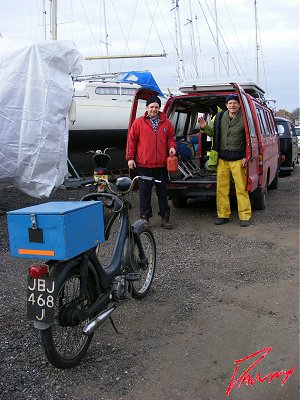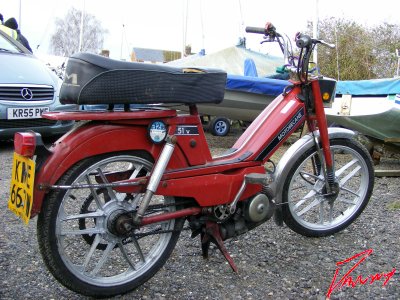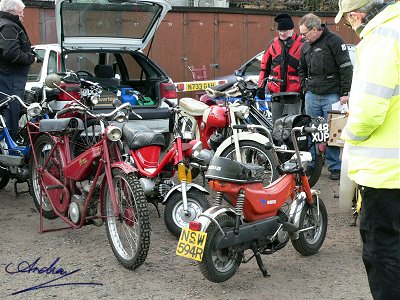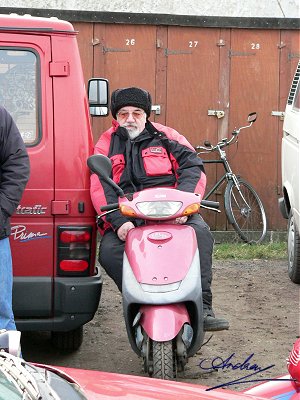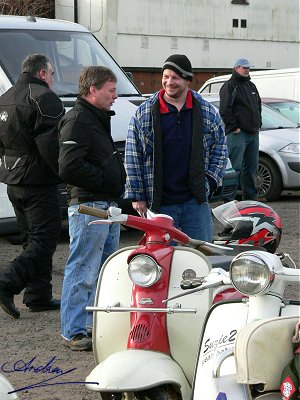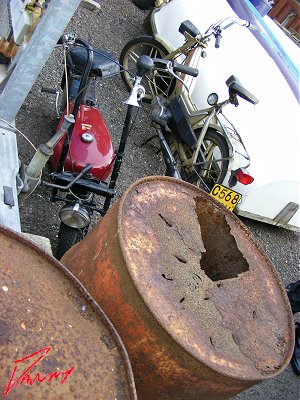 ---
| CAMmag Home Page | List of events |
---