Having seen advance publicity for this event, my son Mike & I decided to spread our wings a little and try something other than the usual Suffolk and Odiham runs. We wanted to see if the rest of Europe was similar to the usual manic dash to the pub for refreshments or would it be a little more genteel?
Mike came over from Hampshire with his OHC Honda PC50 on Friday 1st Sept and we loaded his bike and mine (I had decided to take my Flandria AF-A-047 on a nostalgic return trip to its birthplace) into my Vauxhall Zafira. We left Ipswich at 07:00 the following morning, made our way to Dover and boarded the Norfolk Lines 10:00 ferry to Dunkerque. It was a super new vessel with surprisingly few passengers which gave us ample room to sit and view the Channel while having drinks. A very smooth trip and on time.
From Dunkirk we made a swift dash to our stopover at Hasselt, booked into the Ibis Hotel on the main street and discovered we had rear facing rooms as there was going to be an outside music festival that evening! We watched workers assemble a stage and speakers, then went off to join a wine and cheese evening at the Relu factory car park at Wellen. We arrived to find a very varied selection of bikes and riders, mostly local and mostly on Flandria models, though unlike mine these were concours condition with loads of chrome (except for one in the back of a pick-up truck).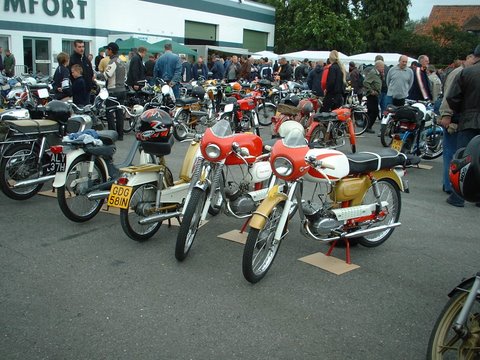 John's and Mike's bikes mingle with the locals
The food and wine were excellent and plentiful, as was the chat from those present, we enjoyed the company of the Pelders from Holland and the Zündapp man from Germany and had a thoroughly good time. I was given a newer petrol cap for my Flandria but, having cleaned it in the shower, I found it didn't fit!
On return to the hotel we discovered the music festival was not classical but the current monotonous and very loud bass beat with not a lot else, which kept us awake until midnight when it finished, thank goodness.
The morning of the run saw something like 360 riders and machines of all descriptions filling the Relu car park, the main street of Wellen was closed to traffic with bike and jumble stalls from end to end and very difficult to negotiate. Fortunately we had parked in a field at the back of Eric the Organiser's home and were able to do a circuit of all the traders prior to taking the bikes for registration. I returned the petrol cap with thanks and declined the offer of another Flandria and two engines for €40—they were junk anyway!
We awaited the start of the first run, expecting to be off with the VéloSoleX boys and slower machines, only to find we had been directed to the wrong point of departure. Meanwhile my left-hand pedal decided to fall apart and was being put back together by an insistent, over-exuberant Belgian while I was attempting to pull away, so we had some catching-up to do.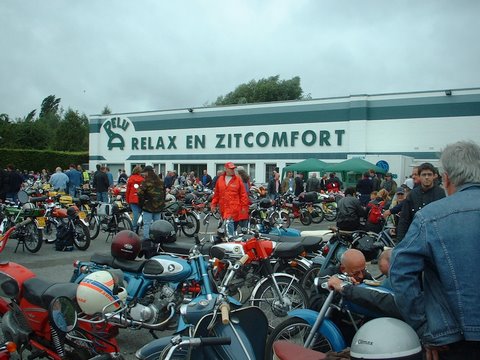 Some of the mopeds in the Relu car park
It really is an experience to follow the locals, all you can see is a large 'Builders Bum' with traces of underwear showing from a very wide smile and shirt-tails flapping madly, they disappear at high speed in clouds of smoke from the usual Flandria 'go faster' sport-mopeds. It is usual to be passed on either side wherever a gap appears and if the roads are crowded they take to the pavements, an unnerving experience at first but after a few miles you join in the fun.
The roads are varied and include several villages with cobbled streets which have the effect of shaking nuts loose, if you get my drift, and some very rural tracks liberally coated with traces of bovine activity. There was a posse of outriders on Monkey bikes, mostly ridden by girls who acted as sheepdogs and rounding up stragglers to point them in the right direction, although the markers were quite well placed.
The first ride was some 40km, the second in the afternoon around 45km, thankfully both covered without any problems with either of our machines and it was a relief to finish and collect our souvenir plaques for attending. We were staggered to be told we couldn't go yet as a trophy had to be collected. Shock, horror, what can it be, we wondered? When it was announce it was for the best original bike and it was for the Flandria we thought it hilarious the old girl had done so well, and with all those posh jobs too!
In short, the trip and rides were a fantastic experience and the scenery is good, the food and drinks provided for both meals was excellent and plentiful and well worth the 22 euros cost. If you fancy an 'awayaday', go for it, its good fun but take some Prozac just in case. Our local rides are going to seem very boring after this one!
---
First published, February 2007