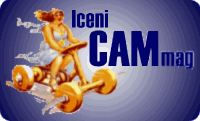 25 Mince Pies
Article by Mark Daniels
Photos by David Evans, Mark Gibb, Carl Harper, Neil Morley, & Andrew Pattle
---
For the 25th anniversary of the Mince Pie Run on 6th January 2008, once again the event was blessed with mild and fine weather. There's been some rumours going about that David Evans always schedules the MPRuns in the New Year, to take advantage of the supermarket discounts of post Christmas mince pie clearance offers—whatever the case, the pies still taste just as good.
First arrivals were MPR regulars, Chris Saunders (Raleigh RM5, Ralph Richardson (Rudge a/c), and Alex Lees (Norman a/c JDL), who had their familiar St Neots Breakfast Bar sizzling up bacon butties in the car park before the second transporter turned up, in the form of the Felixstowe mechanised infantry, Paul Nelmes (Sun 2F a/c), Bob Vince (Bown a/c), and Ted Riceman (James Superlux JDL). It was looking like potentially a big day for the autocycles as Neil Bowen showed up and unloaded his Excelsior G2, with Kevin Day (Honda C70) and Paul Hambrook (BSA Bantam), then Neil Morley (James Superlux 2F). Suddenly the tide turned as some 20 Coasters scooters arrived en masse with Aaron Cook (Yamaha BWS Spy), Mick Cook (Suzuki Street Magic), Julian Bocsi (Honda Dax), and Gary Riceman (Honda Chaley), all claiming the upper boatyard for mass parking.
More rolled in to the main park, Mark Gibb (Honda Camino), Carl Harper on a smoky Yamaha RXS100, Essex Chapter contact Paul Efreme (Kreidler Florett), and from London area Peter Lawson (Puch Maxi) and R Polley (Bobbcat?).
This was about the point we turned up, and it was only 9:20am! For David, reinforcements probably seemed to arrive at the kitchen in the nick of time, and Dawn waded in to sort out the culinary disaster area as our intrepid organiser gratefully retired from the battle zone. Meanwhile, Andrew Pattle was already established on the main table in the lounge, doing a busy trade in the latest IceniCAM 4th edition, and registering more members to the recently re-launched East Anglian Cyclemotor Club.
Out in the car park, more riders were checking in, cyclemotorists David Whatling (Cyclaid) and Luke Booth (Itom Tourist) up from Hastings. Carl Squirrell's latest creation attracted much interest, a Honda PC50 combination comprising a smartly engineered home built lightweight sidecar chassis, while Laurence Coates, Bill Doy, R Hatt, and Keith Flood all turned out on further Honda PC50s, making it the most popular machine of the day. Richard Illman and Brian Barley (Tomos A3Ms), Alan Chester (Moby AV92), and Mick Sudds with another Honda 50 (PF?) but older generation mopeds seemed rather in the minority on this occasion, Steve Cobb (Phillips Gadabout P45), Dave Jockel (NSU Quickly), Martin Gates (Raleigh RM11 Super Tourist), and Joe Lee (Mobylette AV77).
Paul Daniels comically brought along a sign to put in the back-up van window, "This space reserved for the Ariel 3", though maybe it was tempting fate considering the breakdown track record of this machine—as it happened, the back-up van wasn't required, fate struck back with a vengeance—the throttle cable snapped even before BSA's notorious granny-killer managed to escape from the car park!
As usual, everyone couldn't wait to get going, and the masses flooded out onto the road to tackle the daunting ascent of Bourne Hill on cold engines. That always takes the sting out of even the most enthusiastic riders and their machines as the vehicles labour up the incline, and not uncommonly call upon their jockeys for some pedal assistance. This climb always claims its victims, and on this occasion it was Alex Lees's Norman that seemed to have drawn the short straw as sacrificial autocycle to the god of the hill, for safe passage of the rest of the convoy. Waving on the back-up van, Alex doggedly waded into the ailment by the side of the road, eventually rewarded with problem solved and catching up with the rest of the convoy to a rousing a cheer as he finally arrived at the Shipwreck Bar in Shotley Marina.
One vehicle attracting much attention (and you could hardly miss it with its bright yellow paint finish), was the Felixstowe Motorcycle & Auto Centre Piaggio Ape box van piloted by Sid Flavin, which provided some entertainment in navigating the circuit, scrambling up banks at hairy angles on single track roads to negotiate 4×4s that wouldn't move over for fear of getting mud on their tyres. Then labouring up Lower Holbrook hill, Sid was surprised as the Ape suddenly seemed to surge ahead—it was Bocsi giving a boost from his 110cc Dax by pushing behind the box.
Finding the little Dunkley 4-stroke motor a little recalcitrant to start, your reporter (Mercury Mercette) finally got away well behind the main field, and did most of the outbound leg in company with Roger Howe (Mobylette AV78). We saw Alex Lees tinkering with Stormin' Norman at the top of Bourne Hill, and toward Tattingstone reservoir passed what seemed to be a blue Vespa Bravo (rider unknown), in company with Richard Polley on a sedentary VéloSoleX 5000 (presumably Snorfiets specification, limited to 25kph/18mph). Though clearly off the pace of the rest of the field, and shadowed by the back-up van like a circling vulture expecting its prey to expire at any moment, the brave little Solex soldiered on to complete the day in its own time. Well done Richard!
We caught John Gates (NSU Quickly S2) past Tattingstone, who tagged along behind us. Then saw Alan Bloys (Moby AV76 Special), Geoff Daw (Garelli BiMatic) following the longer dogleg route toward Holbrook. We were caught and joined by M Anderson (Garelli Como) and Neil Daines (Sun Challenger), passed Brian Hastings (Bown) from Norfolk after Lower Holbrook, then picked up our pace to ride on to the halfway stop together, rejoining the main troop lined up at the Marina.
The weather was mild, the sun shone and many enjoyed drinks on the front, generally chatting while studying the magnificent selection of assembled vehicles. Many people simply can't believe events happening like this in early January, but looking back over the history of The Mince Pie Run, one finds that it's actually quite usual for this region.
In a rather surprising result, regular Norfolk 'Team Stafford' riders Bob & John on raucous Honda PC50s seemed to have completed on this occasion without the usual entertaining mayhem that has accompanied many of their previous rides. Luke Booth struggled the Itom home with a carb float that had become a sink, switching on and off the petrol tap to control the flooding, while David Evans (Puch MS50) seemed to spend quite some time whizzing backwards and forwards along the course, shepherding his flock.
It was really difficult to figure out an accurate number of the assorted vehicles circulating the course, but a machine count at The Shipwreck reported a total of 70, though may not have included the dead Ariel 3, or possibly some of the later arrivals.
Though not riding, a number registered their attendance as supporting spectators, Keith Ashby (Norfolk), Alan Course (Cambridge section contact), N B-Jones (off to NZ that evening), and event photographer Andrew Pattle, requiring short cuts to appear at key locations, and setting up his camera traps to take action shots. I reckon this was probably my 9th or 10th Mince Pie Run, and it's interesting to observe over the years how the attending machines vary. This 25th MPR was notable in that the most common machine was the Honda PC50, but more surprising in the fact that there wasn't a single Raleigh Runabout at the event!
Gathering at Orwell Yacht Club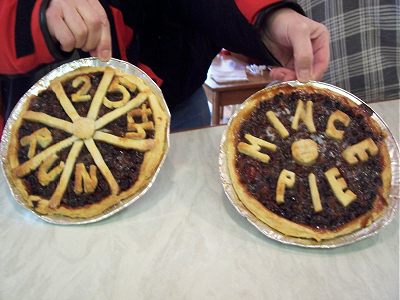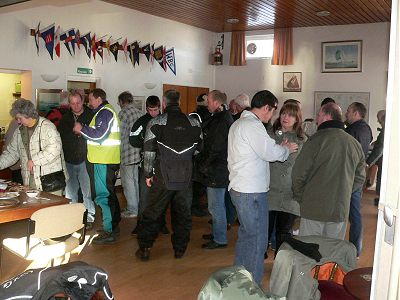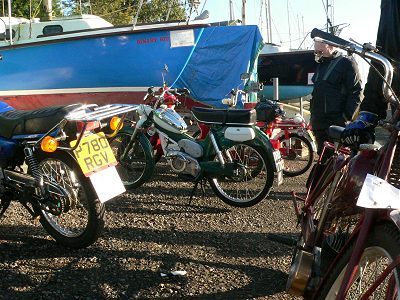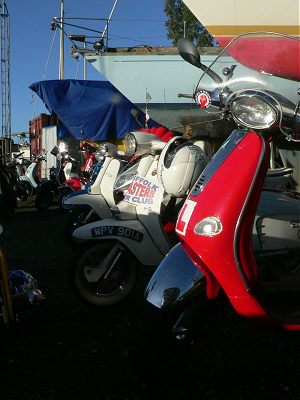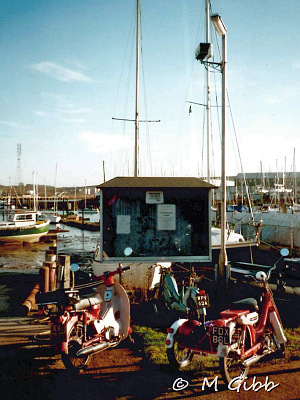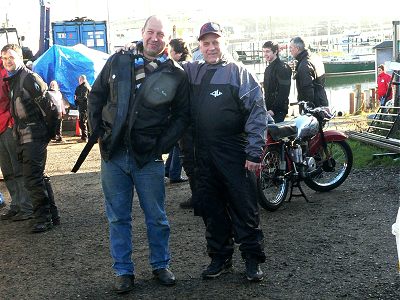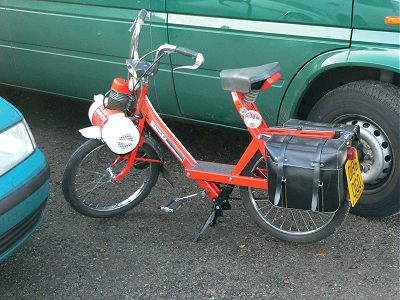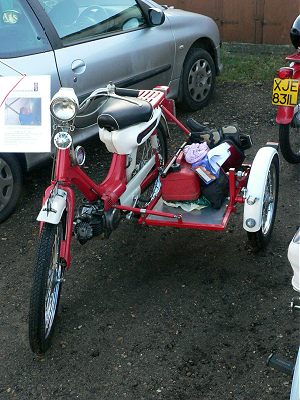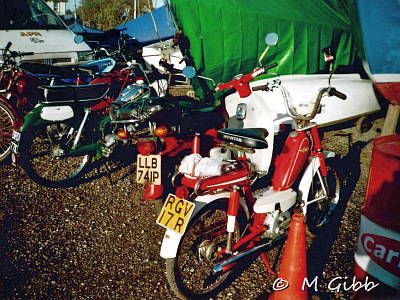 And they're off!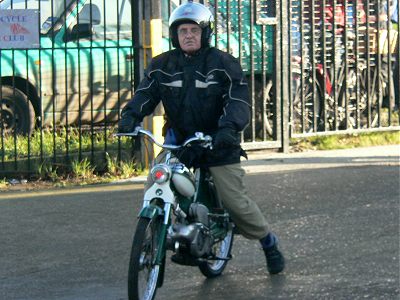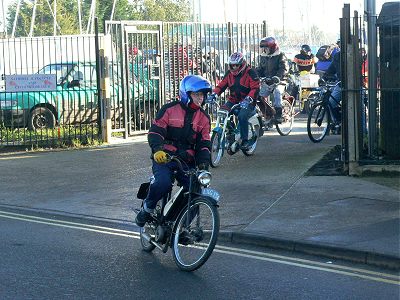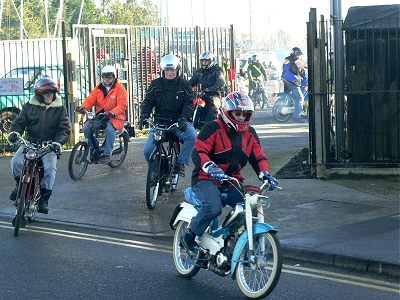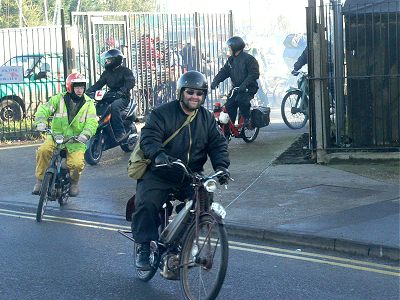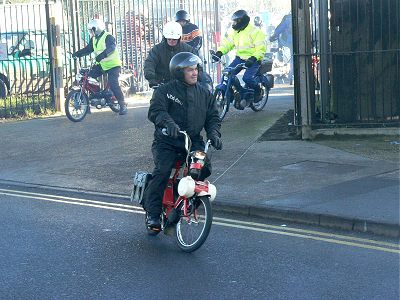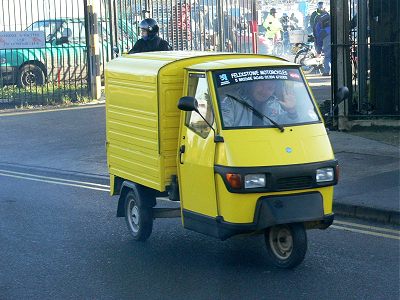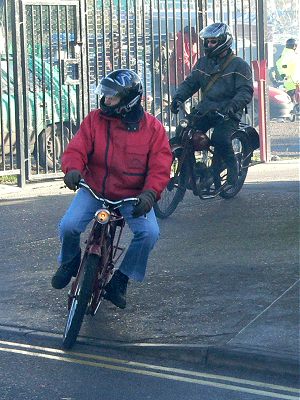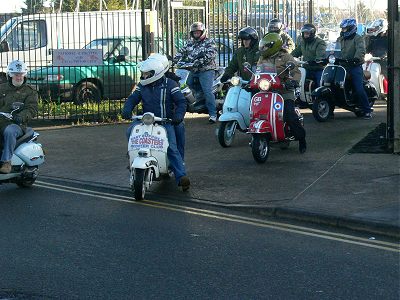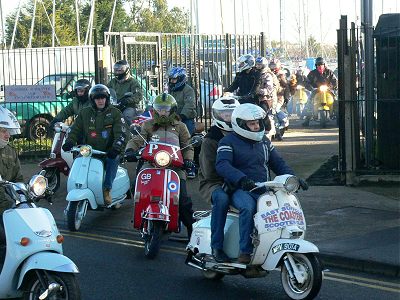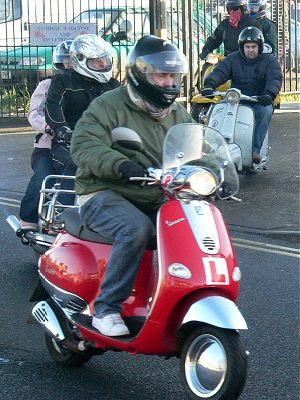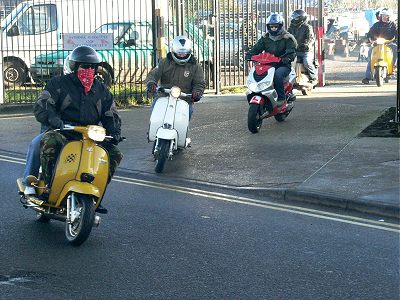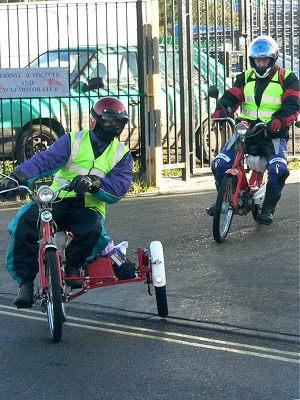 On the way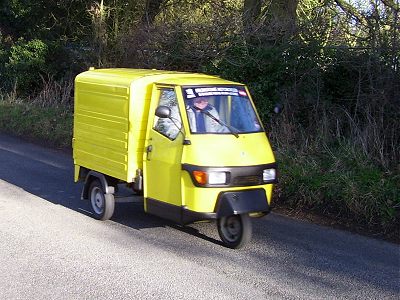 Arriving at Shotley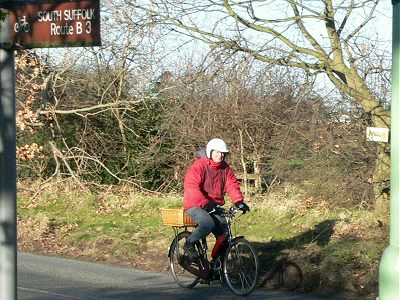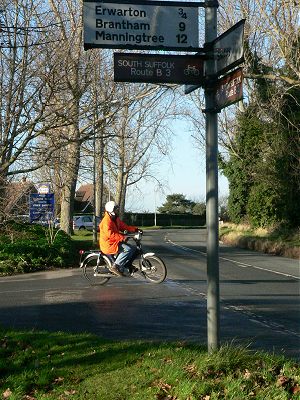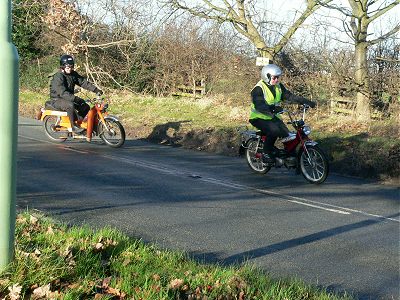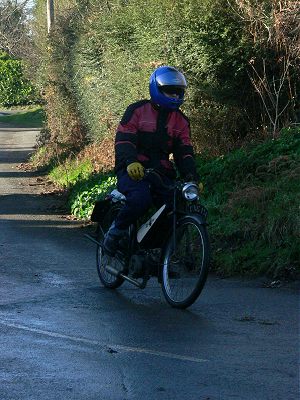 Lunch Stop at the Shipwreck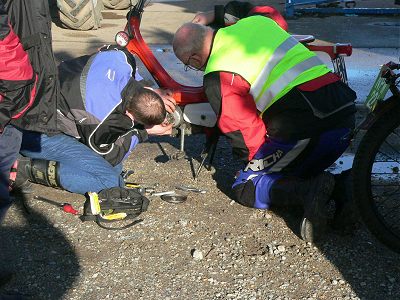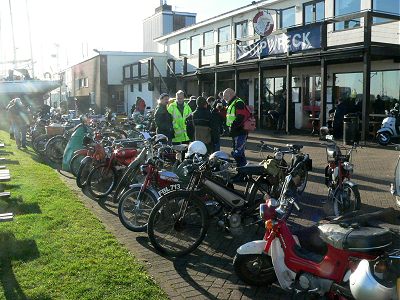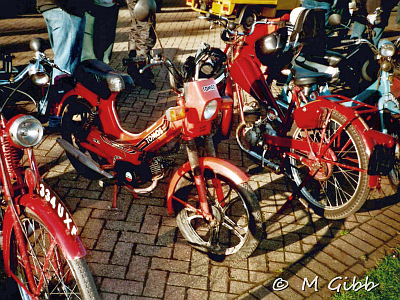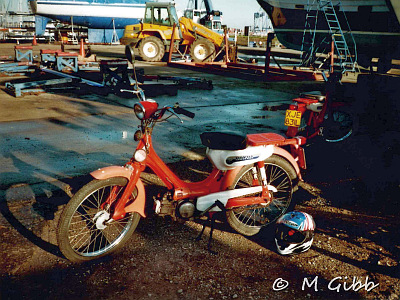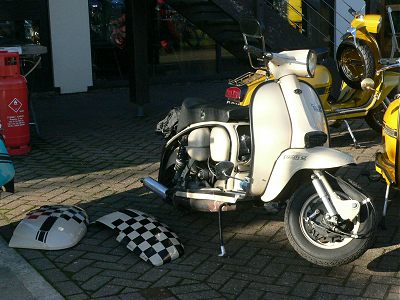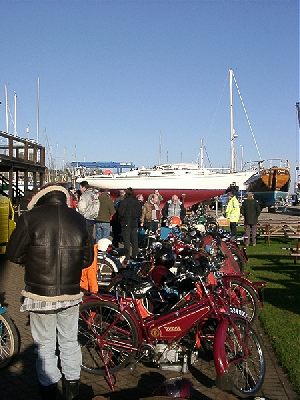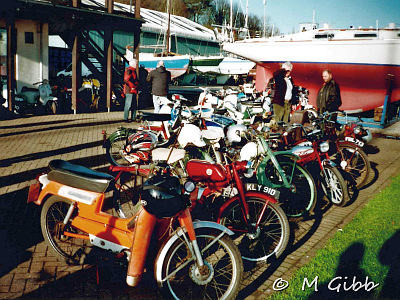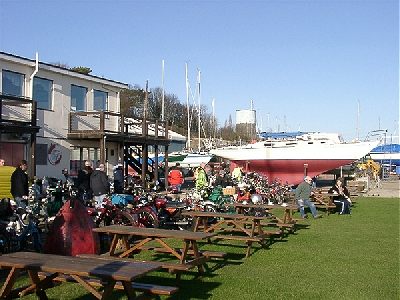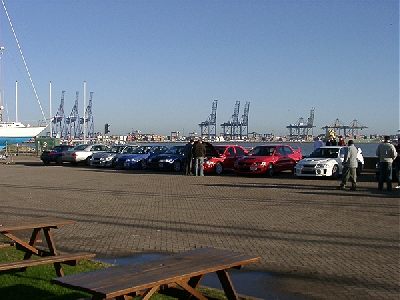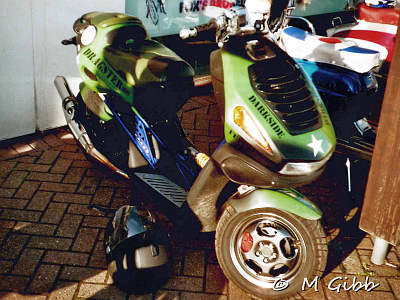 Return Journey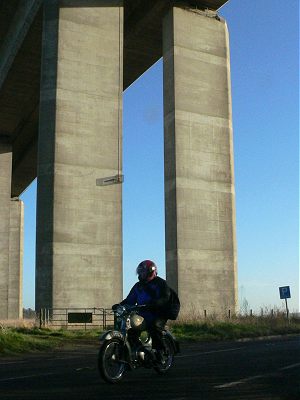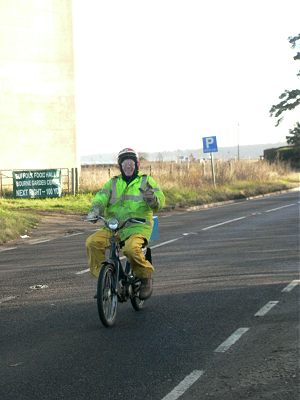 ---
This article appeared in the April 2008 Iceni CAM Magazine.

| CAMmag Home Page | List of events |
---