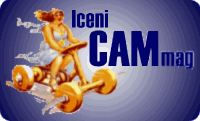 Article by Neil Morley
Photos by Aaron Cook, Mick Cook, Neil Morley and Andrew Pattle
---
Despite wet and windy weather over the preceding week, the skies cleared for Sunday. The initial signs for the day seemed pretty good and, as the first jumble stall operators, arriving at 8:45 to start setting up were surprised to find, several punters were already keenly waiting on the doorstep! Setting up proved even more frantic than the usual mad scramble since, on this occasion, TigerMan opted for the comfort of the hall due to the rather cold wind.
Other pitches were operated by David Evans (Puch), Mick Spacey (various), Danny (Chainmail), the Daborns (Moby & Flandria), Andrew Pattle (IceniCAM Magazine, EACC & Literature), and Eddie Constable from St Albans with a cyclemotor stand. It was immediately apparent that the jumble had attracted quite a significant number of non-riders and people from far afield in the eternal crusade to find parts. This event also marked a popular re-launch of the East Anglian Cyclemotor Club, which has not existed in its original form since 1985. Andrew Pattle was busily signing up members, and the new EACC website went on line the following week.
The morning session proved extremely busy, right up until Paul Efreme (Kriedler Florett K54) called the Remembrance Day two-minute silence at 11am. The end of the silence provided the cue for everyone to assemble in the car park for the off, my James Superlux 2F leading the procession away from the village hall. Local road closures for works around Claydon had necessitated a last minute change to the route, which confused the marker system, but was correctly incorporated into the route directions.
On the outbound route, Neil Bowen's raucous 2-speed Excelsior sounded like a biplane, but cornered with all the grace of a supertanker! It also seemed to be fitted with some long range radar that picked up any hill ahead, causing the engine to wheeze in anticipation of the incline, followed by the ritual crunching change down to 'crawler' ratio.
Cyclemotors were well represented with a trio consisting of Keith Rutledge (Trojan Mini-Motor), Luke Booth (Itom Tourist), and David Whatling (BSA Winged Wheel).
There was a small troop of monkey bikes too. Mick Cook (Suzuki Street Magic) demonstrated the pep of his 180cc machine by playing throttle wheelies. We wondered if he'd been practising for the "Long Way Down"! Sharon Wikner rode a Chinese copy of the Honda Dax (Jiancheng DX50), and Paul Daniels a Solo 726 that, for the first time, completed the route without the services of the support van. Gary Riceman (Honda Chaley) rode the remaining primate.
We even had a cyclist! Keith Ashby took the alternative option this time, leaving his New Hudson at home instead of riding it down from north Norfolk, choosing to drive down in his Austin A30, then sportingly cycled the course instead.
A number of vehicles navigated the course providing backup including Dawn (back-up van), Mrs Daw & Bloyce (back-up trailer) and Paul Nelmes (VW Camper) who arrived late from a VW event so was not riding on this occasion. Further jumble/trader cars followed the route for lunch.
While some riders tried some interesting diversions from the route, everyone managed to find their way to The Dog at Grundisburgh for a well-earned lunch.
The only casualty on the return route was Roy Wood's (not of Wizzard fame) green Puch Maxi with radial big bore and reed valve conversion which decided it just had to eat its own crank on the return leg!
Other riders taking part were Pete Smith (New Hudson), Ted Riceman (James Superlux JDL), Carl Harper (James Comet Ex-RAF), St Neots boys Ralph Ricardson (Rudge autocycle) and Chris Saunders (Raleigh RM5), David Evans (Garelli Como), Peter Lawson (Puch City), Mike Daborn (Moby M40), Roger Howe Moby AV78, Laurence Coates (Honda C90), Aaron Cook (Yamaha BW'S Spy), Gareth Farrell (Malaguti Phantom), Alan Bloys (Moby AV76 special), Greg Watson (purple Puch Maxi 70cc big bore), Ray Templeton (gold Puch Maxi with big bore and twin expansion system), Mark Gibb (Honda Camino), Alan Chester (Moby AV92), Mark Daniels (Phillips Gadabout P50 Rex), Martin Wikner (Mobylette), C Clover (Moby M40), Geoff Daw (Garelli BiMatic), John Daborn (Moby N40).
Kneel's Wheels had attracted people from Suffolk, Norfolk, Essex, Bedfordshire, Cambridgeshire, Hertfordshire, Bucks, East and West Sussex. The morning session was so busy that several late arrivals commented the car park was so full, they had trouble even finding a space! Remarkable, considering the sizeable car park at Henley!
The event was extremely well supported, and raised enough donations on the day to just about cover the high cost of the venue hire. It would have been hard to imagine accommodating the scale of this turnout at another smaller venue, and the popular consensus was that we should go with Henley Community Centre again for next year's event. Watch this space.
Gathering at Henley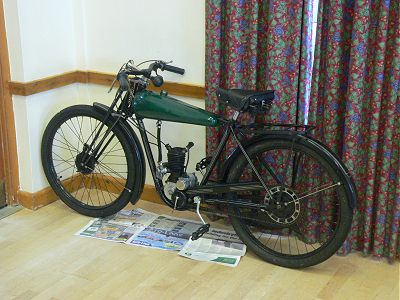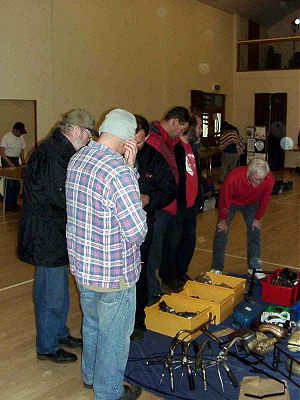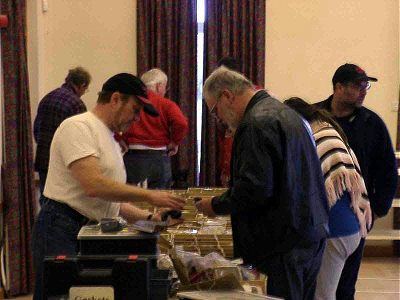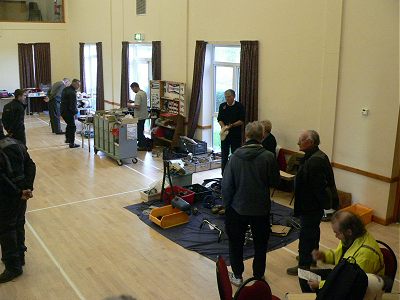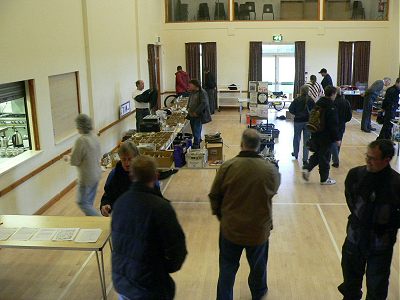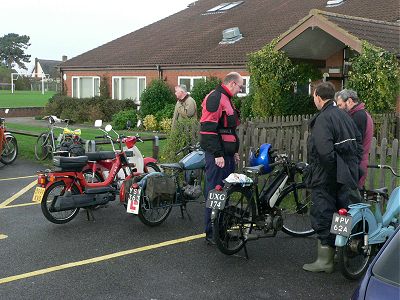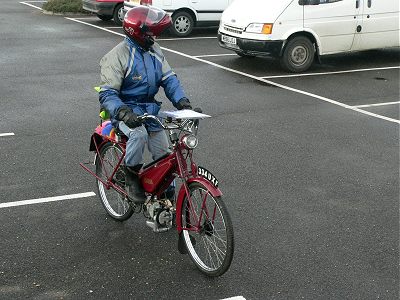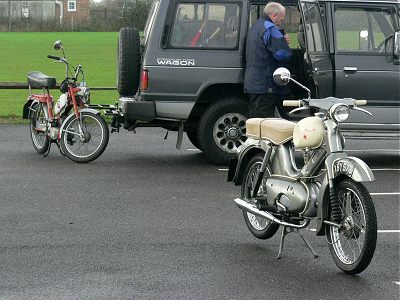 Leaving Henley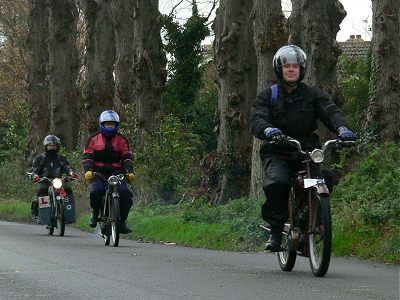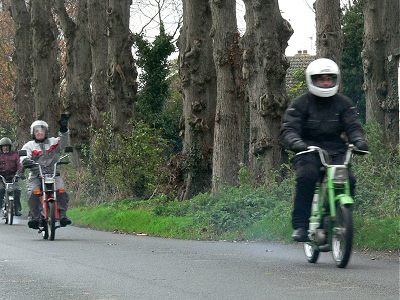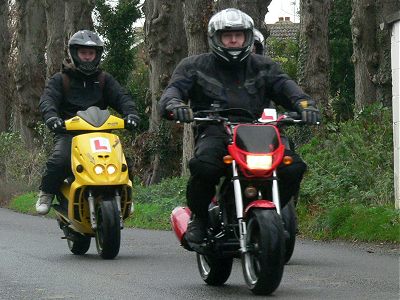 Passing through Henley ... again!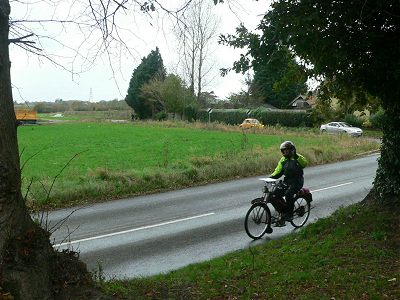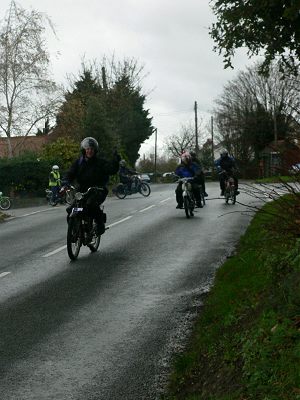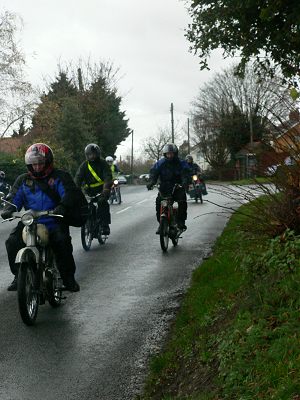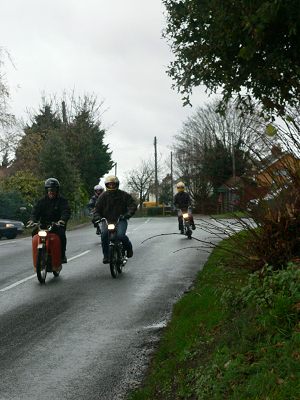 Lunch Stop at Grundisburgh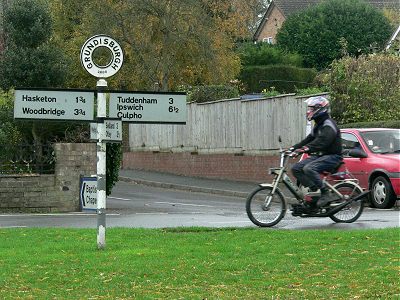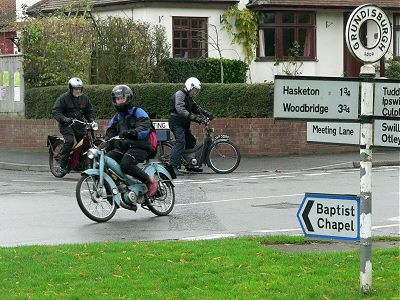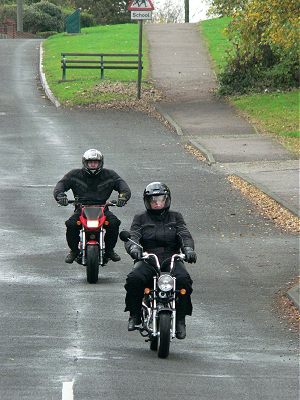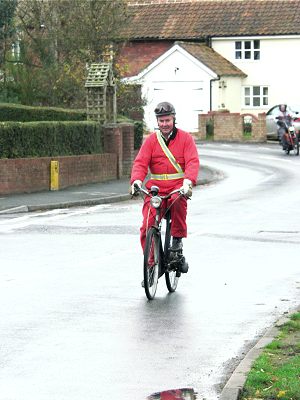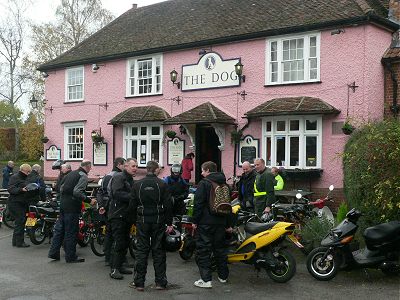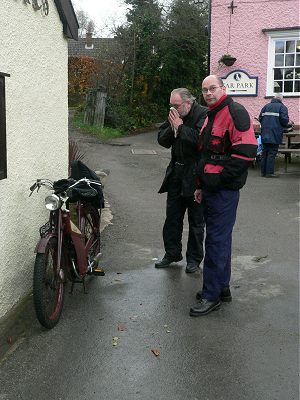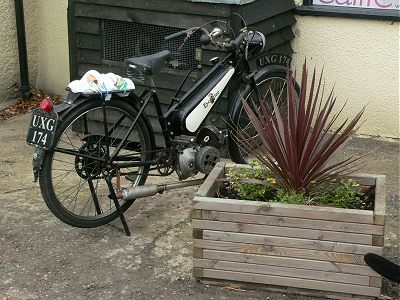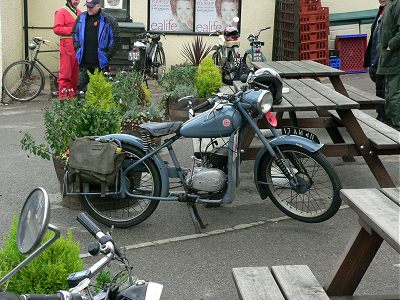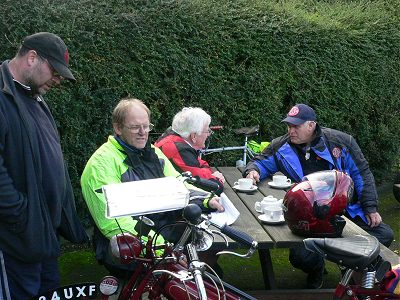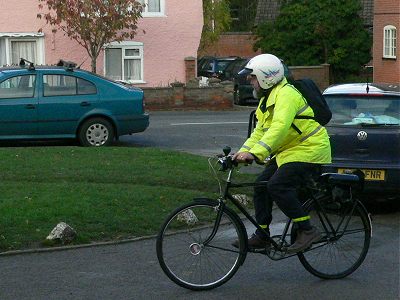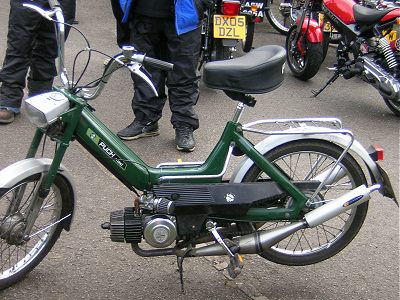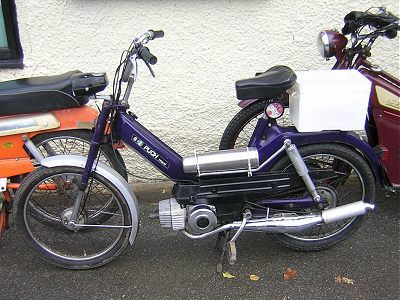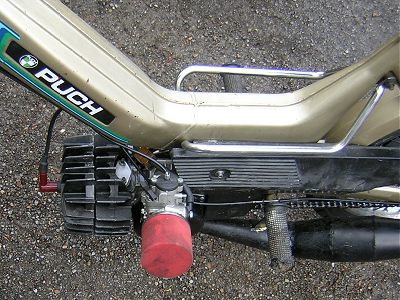 Return Journey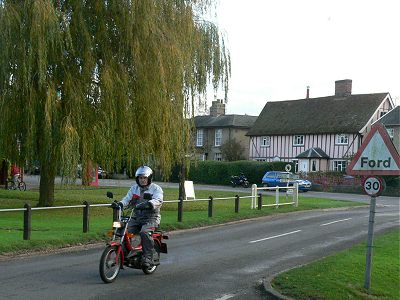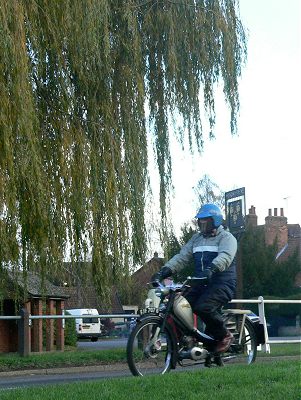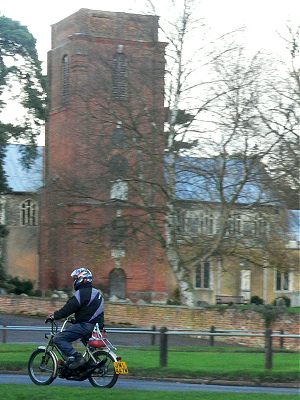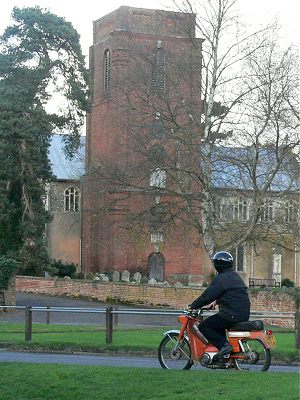 Back at Henley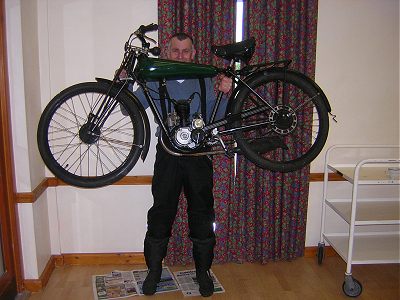 ---
This article appeared in the January 2008 Iceni CAM Magazine.

| CAMmag Home Page | List of articles |
---