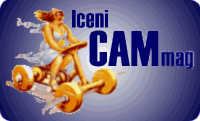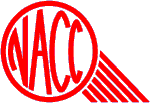 NACC East Anglian Run 2007
by Andrew Pattle
Photos by David Evans, Mark Gibb, Carl Harper, Neil Morley, & Andrew Pattle
---
As you might expect from something that's been going for 25 years, the East Anglian Run—like the machines we ride—is a bit old-fashioned. So there's none of this comfortable sitting around drinking tea in a village hall—standing about in a wind-swept car park is the order of the day. Except that the car park wasn't wind swept; one advantage of having run an event for this long is that you get to know who to have a word with about arranging some good weather.
At 8:30am I rode my James autocycle into the Iliffe Way car park expecting that to be nice and early and I'd be set up ready to greet the first arrivals. But no, the first arrivals had already arrived. Alex and Ralph were there unloading their Norman and Rudge autocycles before setting up their portable breakfast bar. Pete Smith was there too with his New Hudson. Within a few minutes, Bev Crook had turned up bringing his Bown Auto Roadster. So, one hour before the start of the 'official' arrival period and we already had five machines present—and all of them were autocycles.
Obviously, it wasn't going to remain 100% autocycles for long but, nevertheless we had an exceptional turn out in this class. Two more New Hudsons, two more Bowns, a Francis–Barnett Power Bike and another James brought the number of autocycle into double figures. Then there was Luke Booth's Levis-engine Hercules carrier. Is it an autocycle or is it a cyclemotor? The Levis engine is an autocycle design and the cycle parts are far more solidly engineered than is normal for a cyclemotor so the 'executive decision' put it in the autocycle class.
'Why worry about it?' you may be thinking. This brings us to another of the old-fashioned aspects of this run. There are prizes for the best machine in each category: Cyclemotor, Autocycle and Moped. The winners are chosen by a democratic vote among all the participants.
Cyclemotors were less well represented. This class was left to our two stalwart cyclemotorists: Frank Brzeski and David Whatling with a Mini-Motor and a Berini, respectively. David also brought his Cyclotracteur to put on show.
And the rest were mopeds—well, most of them were. There were a few motor cycles: an Excelsior Consort, a Francis–Barnett Merlin and a (rather large) Yamaha. No—there were more than that—a whole group of big bikes, including some with sidecars, turned up. Were they part of our run? I hoped not because, having planned the route for mopeds I knew that anyone attempting to get an outfit around one particular corner would end up in 'a spot of bother'. It turned out that they belonged to another club and were out on a Mystery Tour. Their leader knew about our run and had brought them along to watch us set off (and, while he just happened to be here, see if we knew anyone wanting to sell a VéloSoleX).
Back to the mopeds: Chris Saunders was one of the first to turn up with a moped. Chris, who with Alex & Ralph, completed the 'St Neots Three' (presumably the name comes from the fact that none of them lives in St Neots) timed his arrival so he could sit straight down to breakfast. Chris's moped is a Supermatic, but it's the sports models that get the most attention and we had our share. Neil Bowen's SS Fizzy was as shiny as always. Ben & Beb Teuben and Derek & Mieke Roest had come from the Netherlands with a Zündapp GTS50 and a Kreidler. The star of the show had to be Carl Squirrell's Puch M50 Grand Prix—the model in the black and gold JPS-alike colours that teenagers drooled over back in the 1970s. Among the more utilitarian machines, Dennis Iles's mount stood out—no, not exactly stood out, because at first glance it was just another 'Euromoped'. However, give it slightly closer inspection and you notice the name on the tank is 'AJW Pointer'. Coincidentally, the weekend before the run I had been told that two more AJW mopeds—a Collie and a Wolfhound—had turned up in an auction in Dorset. You don't see any AJW mopeds for decades, then three come along at once.
Eleven o'clock approached and there was a general drift towards the exit. Suddenly, someone made the first move and they were all off. Within seconds, all that was left was a haze of blue smoke over the car park and a couple of stragglers desperately sprinting down the road in the hope of catching up with someone who knew the way. Because, here comes another of those old-fashioned aspects of the run: there are no handy arrows set out along the route, you are expected to follow the route sheet (though most elect to follow someone else—if you're going to get lost, you might as well get lost in company). Also, to quote the run information sheet 'The East Anglian Run started 25 years ago when we were all young and naïve and never considered the possibility that these old machines might break down. True to the tradition of this first run, there is no official recovery vehicle following the route. However, if you get really stuck, call 07900 nnnnnn and we'll flap our arms up and down and cry "panic, panic" … and maybe even attempt to rescue you'. As it turned out, only one organised rescue was needed. Approaching the RAF/USAAF memorial at Wattisham, the rear wheel of Paul Daniels's Solo locked up, leaving an impressive black line down the road as Paul struggled (successfully) to stay on it and keep it upright. After a bit of roadside spannering it became apparent that something had gone Horribly Wrong involving the chain and sprockets. The consensus was that the Solo would not be continuing on the run. There were one or two other mishaps: Alex Lees had some trouble with his autocycle but Ted Riceman arrived on the Yamaha, disgorged an impressive toolkit and soon had a grateful 'St Neot's Three' running again. Thanks Ted. Paul Nelmes's 'wobbly fork' Francis Barnett seized. Though it freed up when it cooled down, it was a bad seize that wiped out the compression. Brian Hastings suffered whiskering on his Bown, and got it going again, only for something else to break, so he arrived at Bildeston Kings Head with the bike on a trailer.
Most of the forty-odd riders made it to the lunch stop at Bildeston Kings Head although some were a bit unsure about how they managed to get there as their route bore no resemblance to the recommended one.
The return route was shorter and more straightforward than the outward leg and soon the machines were all gathering in the grounds of the Museum of East Anglian Life. The afternoon is leisurely with most participants basking in the sun and enjoying an ice cream or afternoon tea and then doing a bit of light voting for the 'best machine' awards.
And the winners were:
Cyclemotor: Frank Brzeski—Trojan Mini-Motor,
Autocycle: Ralph Richardson—Rudge autocycle,
Moped: Carl Squirrell—Puch M50 Grand Prix,
Special: David Whatling—Cyclotracteur.
The Special award goes to a machine that's not eligible for one of the other awards—either because it doesn't fit into one of the classes or because it didn't do the run.
There was one more: the Luke Booth Award for the Most Spectacular Breakdown, which went to Paul Daniels—you're wrong, it's not called the Luke Booth Award because Luke has the most breakdowns, it's because Luke generously donated the prize; thanks Luke.
Finally, because of the minimal expenditure of doing everything the old-fashioned way, the run does make a profit. However, this £1.17 boost to Suffolk Section funds isn't quite enough for us all to retire on.
---
The Start at Stowmarket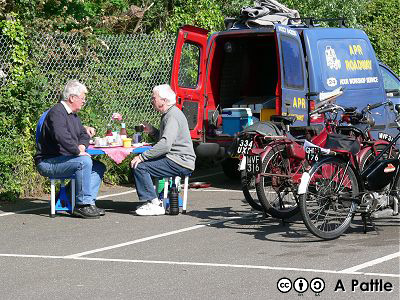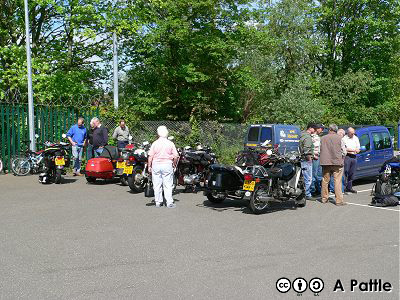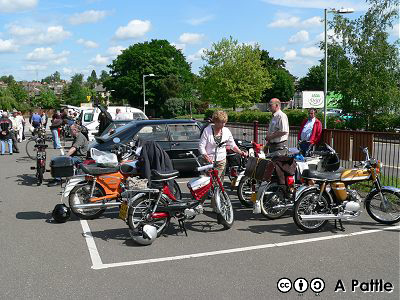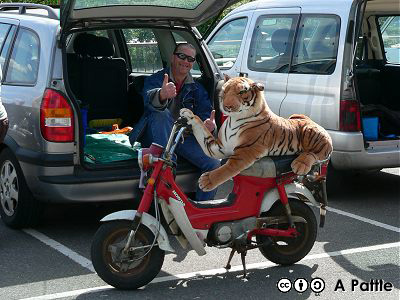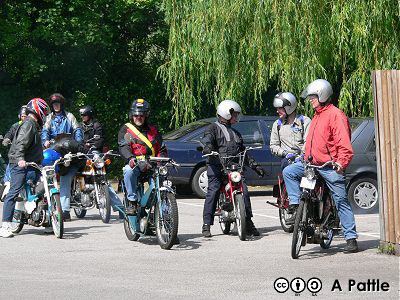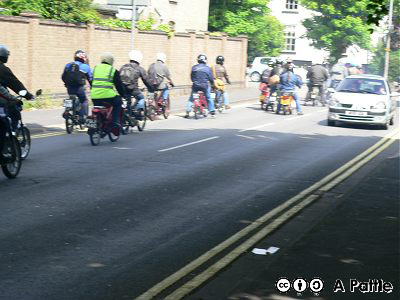 Shattering the peace of the Suffolk countryside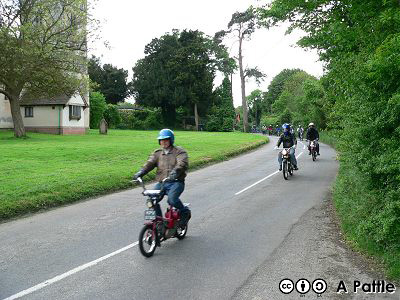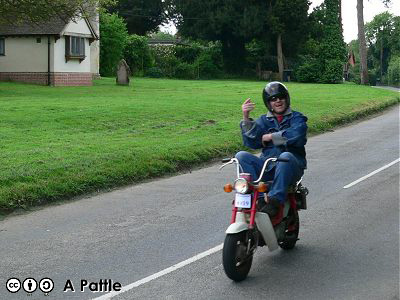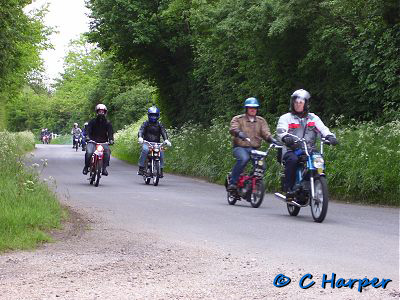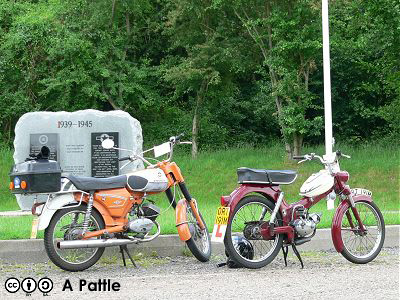 The Museum of East Anglain Life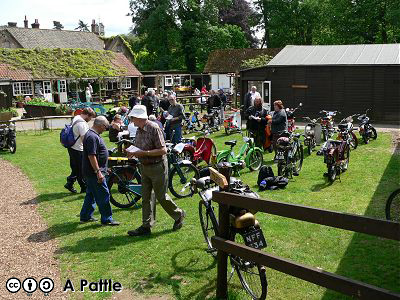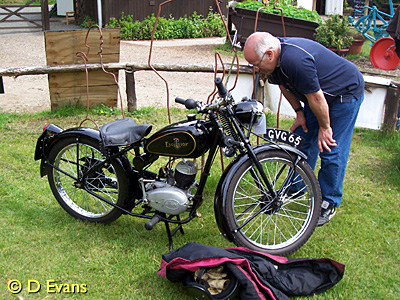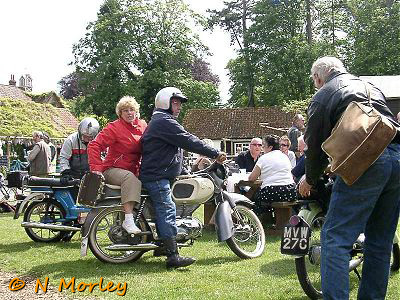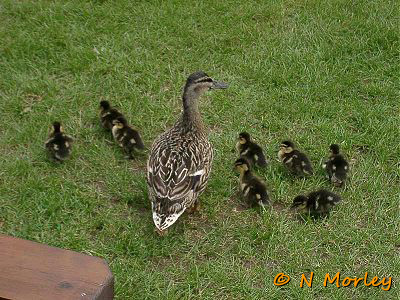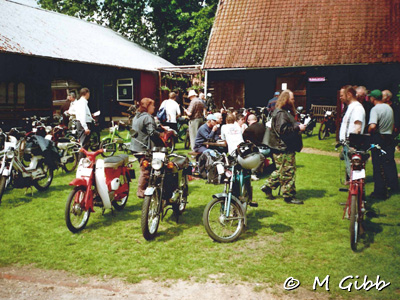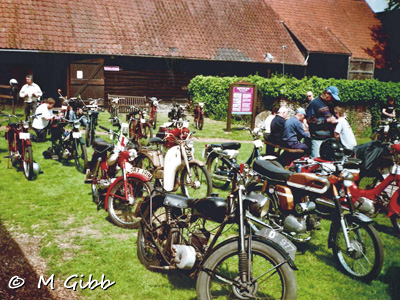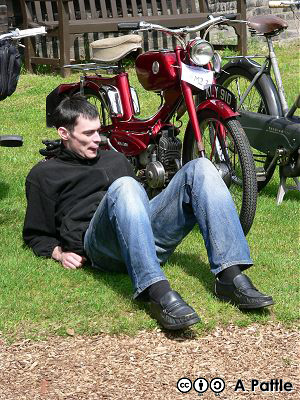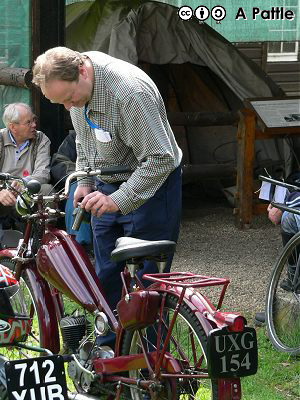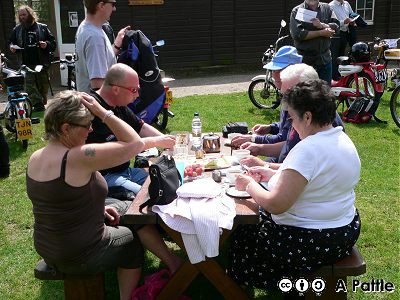 ---
| CAMmag Home Page | List of articles |
---