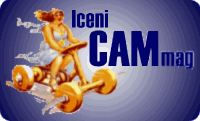 ---
Paul Nelmes's superb event started out in a way that was anything but pleasurable. While in Felixstowe on Friday, riding his rare Sun autocycle, an inattentive motorist drove straight into the back of him. Although Paul wasn't seriously hurt, the same cannot be said of his mount. It had to be taken 'off the run (Fire Brigade term) with a mangled stand and damaged frame. Thus, it became necessary for Paul's Norman Trade Carrier to make another welcome appearance.
The St Neots boys: Alex Lees, Chris Saunders and Ralph Richardson, arrived early at Bromeswell Village Hall. They promptly set up camp and prepared breakfast. This was augmented with copious amounts of café au lait, courtesy of Dawn.
In all, some 45 riders signed on at the start, plus a good number of other attendees lured by the excellent moped jumble stands. These were provided by Danny, David Evans, Tiger Man, Mick Spacey, Nelmo and Andrew Pattle - who vended the outstanding Iceni CAM Magazine.
The run itself was not without mishap. Wally's Lambretta Lui number plate came adrift and had to be reattached with string. Tim Shields from London broke down on his RM5; luckily, it came back to life at the half-way stop. The petrol tank of Rob Hodder's Norman Model C autocycle split, losing more fuel than the London to Brighton would have needed.
The 'High Noon' showdown between Lindsay Neill's souped-up Moby and Manic Martin Gates's RM11 failed to materialise - the Moby expires at Hollesley Bay.
All the other participants seemed to cover the course without major troubles. Indeed, your intrepid reporter's Phillips Gadabout was faultless throughout.
Back at the Village Hall, a very poignant sign accompanied the voluntary contributions dish at Dawn's Diner. It read "The Radar Run cost the organiser around £75 to stage, to which the mean NACC committee contributes absolutely nothing. We hope that you can be more generous - Thank you!" A sad reflection on the parent organisation, which purports to promote these vehicles.
In all at least 75 people - possibly even a hundred - turned out to what became a terrific day out. This shows what a great concept the moped jumble is. I shouldn't think this notion has escaped people's notice.
A short break at Shingle Street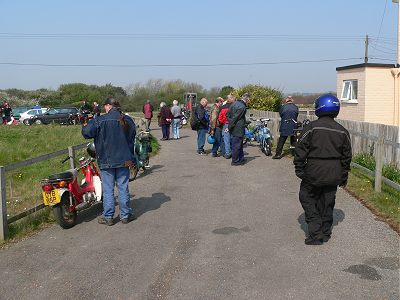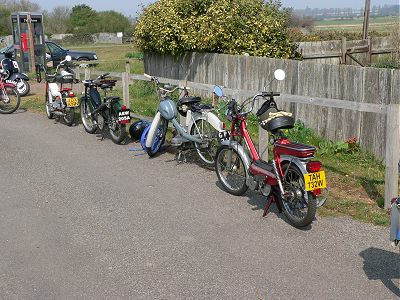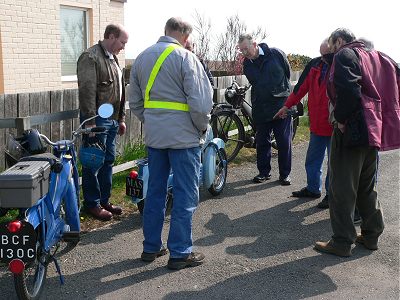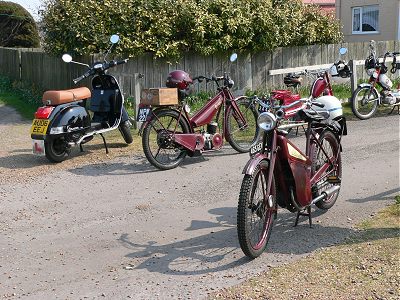 The lunch stop at Ramsholt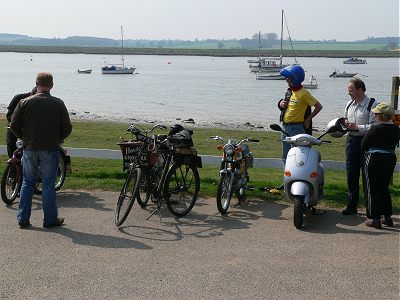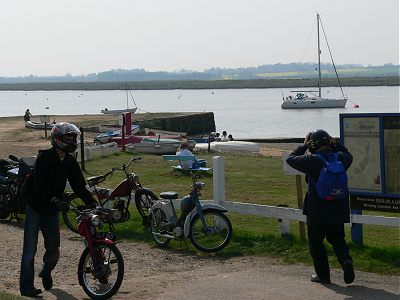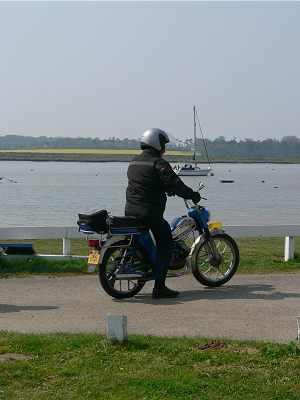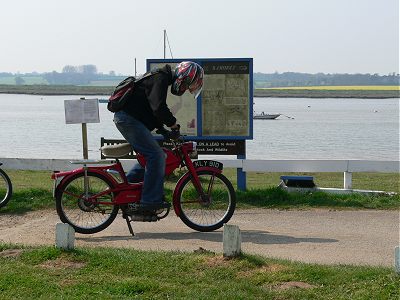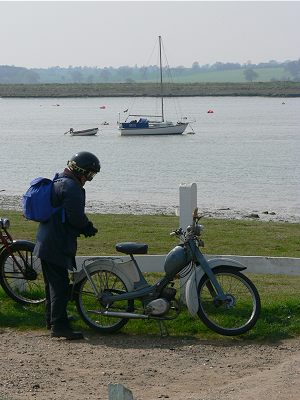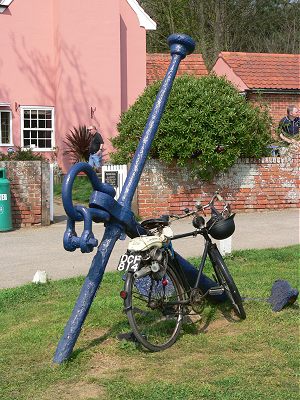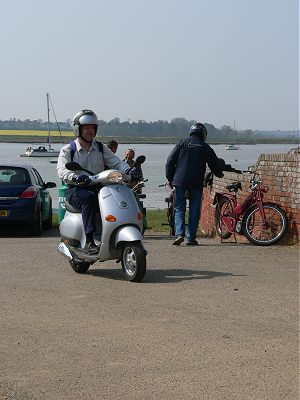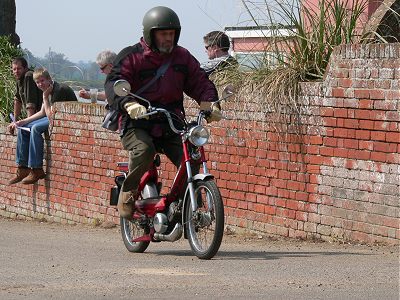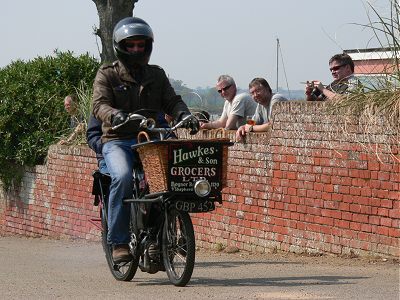 Back at the finish: Bromeswell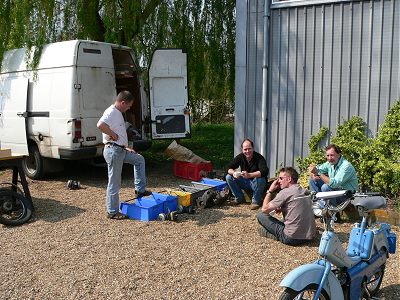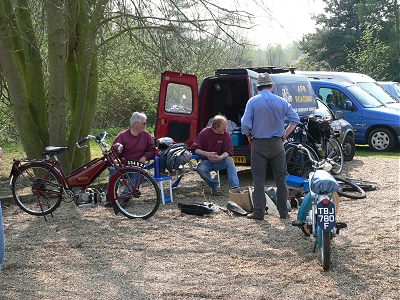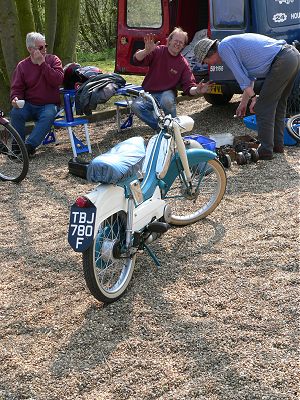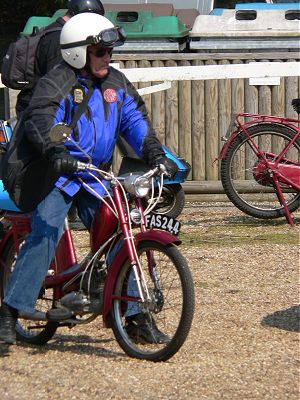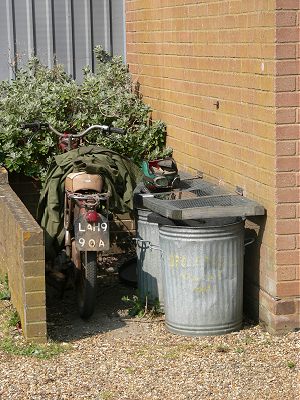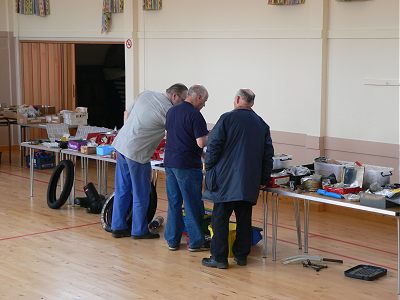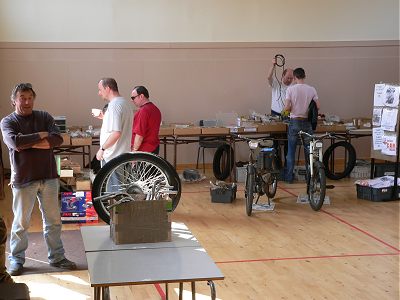 ---
This article appeared in the July 2007 Iceni CAM Magazine.

| CAMmag Home Page | List of articles |
---