Nostradamus of Surbiton in Surrey had a vision of the future about a new and original vehicle concept, the specification of which may be reasonably summarised as a tilting three-wheeler, to combine a tricycle's stationary and low speed stability with a motor cycle style leaning main body for capable cornering at speed.
For BSA, the dream turned into the nightmare of its disastrous Ariel 3, which was listed from 1970 to 1974 … but this wasn't the end of the saga.
Daihatsu in Japan put another licensed version of the Wallis tilting trike design into production in 1974 as the Hallo 50cc two-stroke with differential drive, along with an ES38V electric version; however, the Daihatsus were never sold in the UK.
It may have seemed as though the tilting three-wheeler dream died with the ill-fated BSA Ariel 3 debacle but, since Wallis had recovered control of the original design patents at the failure of BSA Motor Cycles Ltd in the summer of 1973, he subsequently contacted other Japanese parties, who expressed further interest in the concept.
Over the next few months Honda, Kawasaki and Yamaha came to visit, each bringing their own engineers to test-drive and discuss the designs.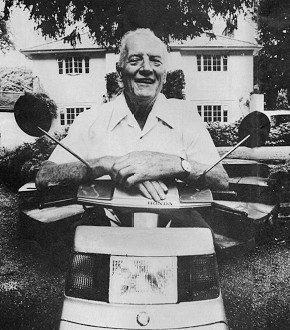 George Wallis & Honda Stream in 1982
Five years on from the Ariel 3 project, Honda contacted Wallis again, asking him for a licence on the tilting three-wheeler design—instead, he sold them the Wallis & Son design company for over £200,000, complete with all its patents, and suddenly there was a new vision of the future on the cards.
All designs and prototypes were shipped to Japan where Honda suggested it didn't expect to have a final product to the market until 1983, though Honda actually introduced its first new version of the tilting configuration in November 1981, as the NV50 Stream.
Specifications were given as a 49cc forced-air fan-cooled two-stroke motor with crankcase reed-valve induction, of 40mm bore × 39.3mm stroke for 49.4cc in a cast iron cylinder with 6.8:1 compression ratio alloy head, producing 3.8bhp @ 6,000rpm, and with CVT drive. Wheels & tyres are sized 3.00×8, with a wheelbase of nearly 48 inches, and an overall length of 65½ inches. The seat height is 26 inches, with a dry weight of 74kg (over 11½ stone).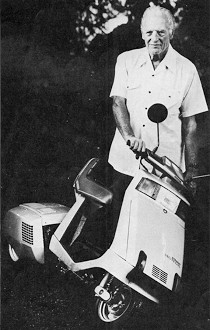 George Wallis & Honda Stream in 1982
At the age of 79, George Wallis had the opportunity to examine and try a Honda Stream in 1982 and, while being impressed with its finish and styling, he felt that Honda had missed the whole point of having torsion bars on either side of the frame, so that pressure would be equally distributed to both rear wheels. He criticised the centres track of the rear wheels for being too narrow at a width of just 300mm (11¾ inches—the Ariel 3 was wider at 15 inches), and believed this would make the machine unstable at higher speeds. He also felt that the luggage capacity was inadequate and complained that 'it was wobbly to ride'.
Mr Wallis didn't seem so impressed by Honda's new Stream, so could it still be blighted by the same curse as the dreaded Ariel 3? Let's see what we think anyway…
The Ariel 3 was constructed in 1970 to comply with the old moped specification, which required pedals, but in the meantime, moped specifications were re-defined to a 50cc machine limited to 30mph, so the Stream has electric starting and a backup kick-starter and, since it's a sort of scooter, it doesn't have any pedals.
Stream's carburettor is a 12mm KeiHin with 14mm inlet venturi, but it's a bit puzzling why the manifold only has a 10mm inlet hole? We can only guess it might be something to do with one of the features limiting the bike to 30mph as per the 'slo-ped' plate. The Stream features several developments from the initial Ariel 3 design, not least being that it seems to demonstrate an effective rear suspension arrangement, where not only does the forward section tilt at the front of the pod, but the body is also sprung about the same point, which looks strangely as if it's hinging in the middle!
The Stream employs the same drive principle as the Ariel 3, with transmission only being delivered through one rear wheel, while the other rear wheel simply idles. With the Stream, the transmission is delivered through the back right-hand wheel, where the Ariel 3 was by the back left-hand wheel. The Stream does however have braking to both its rear wheels, where the Ariel 3 only braked its driven wheel.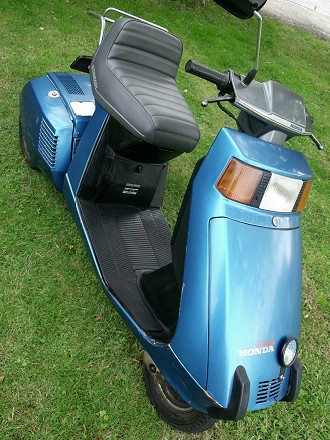 Our first road test Stream is a blue 1983 Y-registered machine.
You can only turn the ignition switch to 'lock' position when the parking brake is on, and you have to unlock the ignition to be able to disengage the parking brake, so locked in this mode, the bike is extremely difficult to move. 'Off' position allows the ignition key to be removed and parking brake to be freely engaged and disengaged with the key removed.
The parking brake is only effective on the right-hand rear drive wheel, but also locks the tilting body so the vehicle can be stood up without falling over.
Turning on the ignition indicates a red light to warn the parking brake is on, and the 'oil' light shows momentarily, and then goes out provided the pozi-lube reservoir has sufficient lubricant level.
There's a fuel gauge in the console to indicate petrol level.
Somewhat surprisingly, Stream doesn't have an automatic vacuum fuel valve, just old fashioned technology in the form of a manual fuel tap on the left-hand side of the body panel below the seat, simply off–on with no reserve.
Choke operation, however, is automatic, but pressing the button won't start the motor until the front brake is pulled in.
The engine fires up readily enough after a few spins, but isn't keen to be hurried while the choking function is operating—but since everyone is always impatient to get going right away, we ignore Stream's reticence and splutter reluctantly up the road.
First impression is that the bike rides with a vague and wobbly uncertainty, which is probably pretty much what you'd expect from a combination of a tricycle and small 3.00×8 wheels. Actually, the riding characteristics are readily adapted to and shortly it proves to be nowhere near as bad as the initial impression. To be fair, the steering and handling are a lot better than you might expect; while it'd probably be difficult to follow a sharp line, we've certainly ridden a lot worse!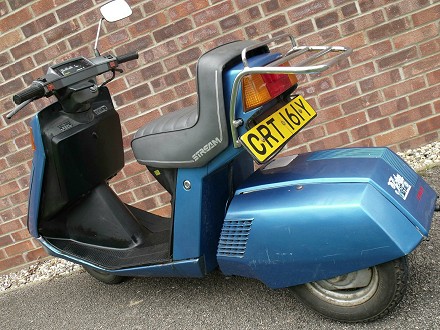 Stream sort of follows a slightly vague, wobbly and bouncy line—but does go where you point it without much feeling that it might suddenly take off into hedgerows of its own accord, and you can confidently ride one-handed without any real concern of losing it.
Both front and rear braking prove effective enough, but operation of the front isn't particularly pleasant as the front-end rears up on its leading-link suspension, so it doesn't take long before you find yourself consciously choosing to do all your stopping on the back brake alone for better control, which is generally fine since braking works on both the rear wheels.
Once the motor has worked up to temperature and the choke cleared, acceleration is strong and consistent. There's no issue in cruising up to maximum speed, clocked at a best on flat of 32mph with a strong tailwind, and our blue Stream gave a good account of itself running the opposite way, still pulling up to 30mph into the strong headwind after we turned around.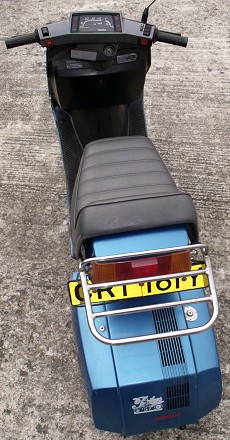 Our best 34mph downhill run was seemingly held back by rev-clipping, possibly limited by the reed valve, which dramatically felt almost as if the fuel supply had suddenly turned off—the motor just cut back! We've reported this very same effect before in several other Honda 'slo-ped' models of the period. Our impression was that Stream operated well within the intended range, but wasn't meant to be capable of much over 30, where it seemed to regulate its performance from exceeding the designed range.
Though the main body leans on cornering, both wheels of the rear driving pod seem to remain on the ground much more effectively than the notorious Ariel 3 (it had to come at some point, there was always going to be some obvious moment where these two machines would have to be compared). The Ariel 3 can be quite an unpredictable machine to ride on bumpy roads since the unsprung drive pod wheels can often leave the ground. If you follow behind an Ariel 3, you'd probably never want to ride one—it could put you off for life!
Stream's drive pod does seem to stay on the ground thanks to having a rear suspension arrangement that the Ariel 3 never had, and rides more comfortably as a result.
The Stream saddle is nothing short of sumptuous, but only when you settle onto it can you suddenly appreciate how cramped the foot well is. It's quite tight on your knees to the glovebox–steering head–handlebar set, and would probably be a most uncomfortable accommodation for anyone over 6ft—Stream effectively comes with a rider size limit!
Being equipped with a 12V DC electrical system, the lights, indicators, electric starter, brake lights, and horn are all effective equipment and well up to their respective tasks.
Stream's legacy today however, is easy-break and crummy fitting plastic panels that don't fit properly anymore, and extreme difficulty in sourcing spares.
The seat locks down with a release latch operated by the ignition key (lose the key and you're in a whole world of trouble with this machine) and reveals the fuel tank and pozi-oil reservoir beneath.
There's a glove box in the front leg shield, and a lockable front bonnet panel, though not much useful space in either of these storage compartments.
Mounted from the main body, the rear parcel carrier seems strangely angled downward, and ready to tip items off the back unless you've got them well strapped on.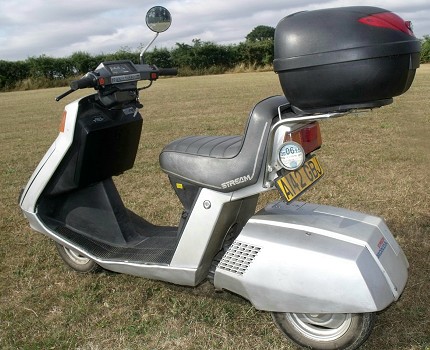 Our second road test machine is silver dream Stream A-prefix registered and dated 1983 and, other than being fitted with a rear box carrier, appears to be identical.
To try and make it go a little better however, this machine has been slightly modified by opening up the inlet manifold bore to match the 12mm carburetter venturi, and it's also been fitted with a new drive belt, which confirms a full and effective range of CVT operation.
All other aspects of the general road test were a repeat of the blue machine, however pace results did notably differ around exactly the same course.
The speedometer on this machine wasn't functioning at time of the test, so our pace vehicle tracked the results by sat-nav, 33 on the flat into a headwind, 35 on the flat with a tail wind, 39mph downhill, and only slowing to 26mph on the uphill climb where it very capably crested the top.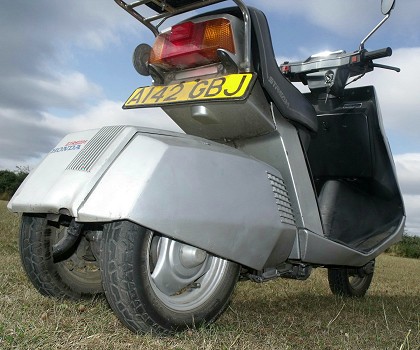 What was noticeably improved on this silver machine was that it didn't suffer any of the rev-clipping issues that afflicted the blue example. The motor in the silver bike revved cleanly and smoothly right up its range, giving 3mph more into a headwind, 3mph more with a tailwind, and a whole 5mph more on the downhill run.
Other than the larger port modification of the inlet manifold, we can't really account for any other reason why the second test machine would run so dramatically differently to the first, but it does appear that all Streams may not be so equal after all!
The Stream engine seems to share a number of identical components with other Honda moped & scooter models. It uses the same cylinder and head as Melody, and some compatible clutch & variator parts. It has the same piston as an NC50 Express, which means that an extensive pattern range of oversizes could be available. The Stream/Melody standard cylinder bore at 40mm has a fairly thick sidewall (4.5mm) to the liner diameter of 49mm, so there's a fair amount of room for capacity expansion in the piston size. Pattern oversizes have been listed up to 46mm, though going as extreme as down to a 1.5mm sidewall may prove a step too far…
If the cylinder were bored out to a more likely 44mm, would leave a more sensible 2.5mm wall to the liner, which with the standard 39.3mm stroke equals a nice round 60cc. Since a 20% larger capacity would then be squeezed into the same combustion chamber volume of 7.2cc, the compression ratio would then be increased to 8.3:1, so there might seem to be some potential for performance improvement…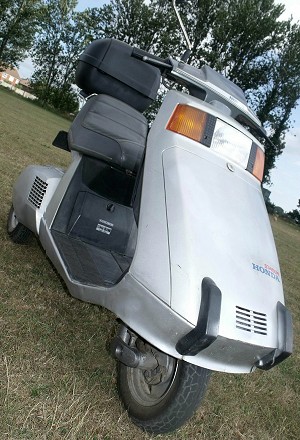 The Stream was styled and priced as a luxury scooter, for which Honda's suggested retail price in 1981 was a relatively expensive ¥198,000. It was primarily intended as a personal transport machine with no capability to carry a passenger: the Stream's only cargo capacity comprised a small forward compartment rated for 5kg, a glove box rated at 2kg, and a rear rack which may further be fitted with a box carrier.
The first Honda NJ50 Gyro X tilting tricycle variant was introduced in October 1982, and became available for use as a light commercial delivery vehicle and small item express services by strapping packages on to front and rear tie-down cargo racks. The wheels & tyres were a larger size, 3.50×10, with a wider rear track and limited slip differential for better traction in poor conditions. The engine in the 'X' was higher rated as 5bhp @ 6,500rpm to cope with this version's heavier extra weight of 100kg (15st 10lb). Economically priced for basic commercial operation, the Gyro X listed at just ¥189,000, slightly cheaper than a Stream.
Mostly sold into the Japanese home market, over 135,000 Gyro X units had reportedly been sold by May 2002, and the model was popularly still on sale 26 years later in 2008, when Honda's suggested retail price for the basic Gyro X commercial had by then crept up to ¥252,000.
The Stream was shortly followed by three other personal transport tilting trike versions, the NM50 Joy, NN50 Just, and TG50 Road Fox. The Joy was introduced in April 1983 as an economy version, with only a small bicycle-style front basket and equally small rear carrier. It was a considerably less expensive vehicle than the Stream, being priced at only ¥99,800.
The Honda NN50 Just was introduced in May 1983, and was largely a similar vehicle to its Joy stable mate. The bodywork featured slightly more styling, and it was priced at ¥129,000. Instead of the bicycle-style front basket of the Joy, it had a glove box behind the leg shield. The Just was only a very brief model, and wasn't even re-listed for the 1984 season.
The TG50 Road Fox model was introduced in July 1984 as a motor cycle styled departure from the scooter series. The Road Fox had an exposed tube framework with rakish angles suggesting a motor cycle-styled chopper look with foot pegs, and no carrier capacity.
Honda's new tilting three-wheeler vision of the future however, looked as though it was quickly becoming a vision of the past, as the Stream was discontinued in 1984, along with the TG50 Road Fox and NM50 Joy models.
A further Gyro UP commercial version was introduced in October 1985, differing from the Gyro X by replacing the front and rear tie-down racks with a single heavy-duty baggage platform fixed directly to the rear engine pod, giving the impression of a scooter-based pick-up truck in the style of the Tina Truckster prototypes. The UP platform has a rubber mat loading area of 45cm × 57cm and rated at 30kg loading, which Honda claimed was sized for a 20-bottle beer crate.
The standard Gyro UP did not initially come with any roof-type fairing or commercial box units; however these fittings soon became available as add-on aftermarket modifications from the MR Company.
Honda introduced a Gyro Canopy model in December 1990, which was distinguished by a roof-type fairing and rear cargo box rated for 30kg, which was mounted to the tilting main body. The front wheel, tyre, and brake were also enlarged to deal with this model's further increased weight, and slightly higher cargo platform. 62,600 Gyro Canopys were quoted as being sold by May 2002.
Honda built a total of seven vehicles in the tilting three-wheeler configuration. The four Stream, Joy, Just, and Road Fox personal transport versions didn't prove particularly successful, and like the Ariel 3 before them, were quite short-lived. The cargo-oriented Gyro commercial series begun in 1982 however, found a ready market, and all three variants were still in production over 25 years later.
Ironically, Wallis's original concepts for his three-wheel tilting tricycle designs were all primarily intended for cargo carrying vehicles, so it looked as if he was absolutely right from the start, and the personal transport versions were actually never the most suitable route to go in the first place.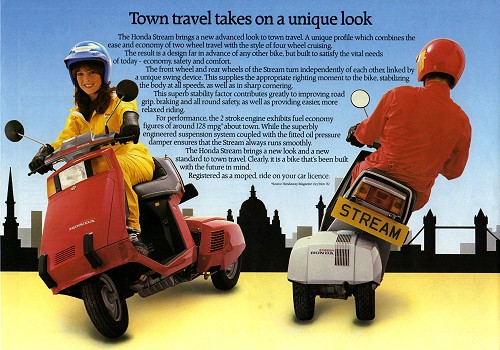 ---