Another history of mystery begins with the Achilles-Werke Weikert & Co KG, which had moved from Czechoslovakia after World War 2, to re-establish in Western Germany.
We pick up this episode in December 1948 after Ernst Weikert has spent an entire year's effort in building up a new works at the former Wilhelmshafen–Langewerth barracks site, and motor cycle production has barely resumed, before the factory is completely destroyed by an overnight fire.
Achilles started again, rebuilding the plant, and investing in new equipment. This time however, instead of trying to return its old models again, Ernst decided he wanted to produce new machines for a new age, and contracted Swiss design engineers in a collaboration with Walter Haefner Holding AG, to produce a series of modern and stylish machines including 150 and 175cc Roller motor cycle/scooters, which were presented in 1953. Designs were also developed for Achilles Capri moped models, which became sold in Britain as Norman Nippy Mark 1 and Mark 2 (type-1) Sachs-engined mopeds, and the futuristic Achilles Lido, which later became adopted as the Norman Lido, and formed the basis for Nippy Mark 3 and Matk 4 models.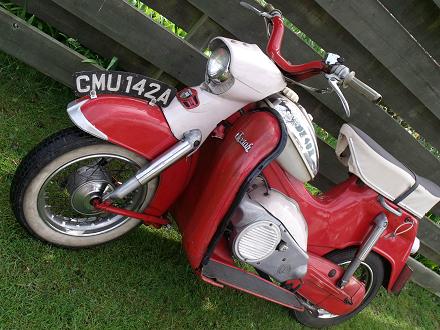 Achilles Motorrollers were a mini-wheel compact hybrid cross between a motor cycle and scooter, mounting a motor cycle style forward top-tank, with panelled-over bodywork and small wheels like a scooter. Rather than a having a step-through frame like a scooter, the Roller frame was more leg-over like a motor cycle, and with a centrally mounted engine.
In 1954 the Italian Moto Rumi Company presented their classic interpretation of a twin-cylinder 125cc Roller scooter called Formichino (Little Ant), and developed a number of derivatives on the theme.
The Roller-Scooter became a popular style across the continent, and a number of other European companies produced variants on the Roller-Scooter theme during the later 1950s.
Ordinarily, Roller-Scooters range outside our general under-100cc spectrum, but not all—Puch made a Roller Mini-Scooter that does fall within our remit.
The Puch Cheetah DS60K Mini-Roller Scooter was first listed in the UK from February 1960 to December 1960, and was then replaced by the more powerful Mark II DS60R in February 1961.
The Puch Cheetah came in two models, DS50R of 50cc, and DS60R of 60cc, with the same 70kg weight given for both types. The motors were basically a kick-start derivative of the established fan-cooled three-speed moped engine, but both models were fitted with a 17mm Bing carburettor for greater performance.
Wheel & tyre size is 3.00 × 12, and rims are spoked onto the Puch full-width alloy hubs with 105mm diameter brakes. Twin shock swing-arm suspension systems operate at both ends, the front fork being an Earles type. Electrical installations came in two optional models: a small 85mm headlamp, without stoplight, fitted with a 6V, 17W generator driving a 15/15W headlamp bulb and 2W taillight; the large 120mm headlamp version, with stoplight fitted with a 25/25W headlamp with 18/3W stop & tail lamp.
The 50cc specification listed 38mm bore × 43mm stroke, with 10:1 compression and was rated at 3.6bhp for 60km/h (37.4mph). Since today we're expressly 'Into the 60s', our particular interest is in the 60cc model, which engine specification only differed by a larger 42mm bore × the same 43mm stroke with 10:1 compression, and rated at 4bhp for 70km/h (43.5mph). The capacity increase though, wasn't executed by a simple increase in bore diameter, but found a completely different top-end for the 60cc motor, with bigger fin cylinder head, barrel, and fan cowling.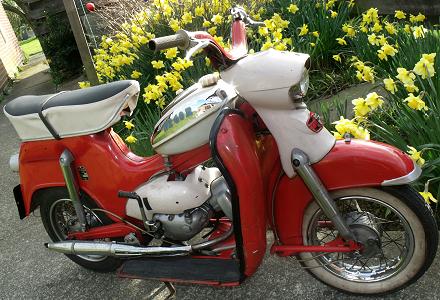 Our featured DS60R Cheetah is a 1963 registered small headlamp version.
Starting: fuel tap at back right of the tank, down for on, back for reserve. There's a choke plunger sticking out of the carburetter top, which pushes down to close a strangler shutter, but this will progressively raise with any movement of the twistgrip, so you may need to gingerly tease the throttle open once its started, or the engine can die out. There's also an extended plunger to flood the float chamber if required, and using both can help.
The kick-start is a forward acting operation because of the motor being an adaptation from a pedal start system. Kicking forward is a little odd, though it works effectively enough, but may not be a system quite so suited to larger capacity engines. After a couple of dead jabs at the kick-starter, the engine fires up readily enough, but there's a little gentle running required before it'll clear the choke. Tweaking the throttle, response is sharp and crisp, and with a smart buzz from the exhaust—this engine is obviously a whole different game to the usual MS50 mopeds we've ridden before!
Selecting first is still the familiar clonky hand-change, let out the clutch and the motor readily takes us away from the kerb and up the road. Even cold, the motor proves snappy and very responsive, and the gear quickly runs up the revs, so clonk out of first, through neutral, and grind around the shift to feel for second—these Puch hand-change gear selectors are always the same, they feel like stirring a thick bowl of custard with a load of metal cogs mixed in.
Second locates and we can start to get the feel of how she pulls under a bit of throttle, and this is a very eager engine! Even cold we can power away at a cracking pace, clonking up to third is easier to locate because you just turn the shift to the end of the stop and let go the clutch, so there's no feeling around needed this time. Top delivers quite a ratio jump, so if the revs are down, then the motor has to labour up to its power band while we encourage it with a handful of throttle again. Once the revs get up, our 60 Cheetah fairly hurtles up the road, and looking back we see a big gap as our pacer has suddenly realised he might have to work a little harder to keep up on this occasion. Our 60mph VDO speedometer indicates more like a windscreen wiper, swinging wildly backwards and forwards under acceleration and deceleration. The needle does however settle down at constant speed, so we think that its damping has gone.
The combination of the 10:1 compression ratio and the 17mm carburetter seems to make a big contribution towards the powerful urging acceleration. There's certainly a strong response when you give it a big handful, and it really turns the power on. The motor eagerly soars up the rev-band, and such performance is probably not something you'd quite expect from the looks and diminutive size of the bike. Raise the revs in first to just under the boiling point, then crank open the throttle, and it will power the front wheel into the air—who'd have thought you could do throttle wheelies with one of these?
A lot of typical old mopeds that we ride need working up to speed, but Cheetah requires consciously holding down to a sensible speed, or you can easily find yourself thrashing it around like an angry, howling rev-monster. We settle the throttle down to cruising around 30mph to get the motor worked up to temperature, before setting about the on-flat pace trials. DS60R easily pulls up to 40mph sitting upright, then we dip down into a crouch and our pacer clocks a best on flat 43/44mph—exactly what Puch said it would do. Cheetah screamed through the downhill run at 48mph, then rushed into the following uphill climb with a full head of steam, to crest the rise at 34mph, still very firmly in top gear. Hill? What hill?
Our test run results show the DS60R Cheetah would certainly be a performance match against any good unrestricted Yamaha FS1-E—what a bombshell!
We were quite surprised at good handling throughout the ride; the fat little tyres took corners better than expected without the random wandering that can often affect small-wheel machines. The suspension seemed to ride well too, since we didn't particularly notice many bumps either.
Where Cheetah did prove awkward was under braking, not because they brakes were weak—just the opposite in fact! Over-braking was the difficulty, because the brakes didn't give much feel with the small wheels, so it was easy to get them locked up under hard deceleration, then the tyres started hopping over the dry road surface. You'd really want to be careful in the wet, or frost…
The rear footbrake easily tended to lock up, so required a particularly sensitive feel or it would have the back tyre skipping along the road beneath you. The front handbrake similarly had little feel, before it might suddenly grab, so you really had to treat that with caution or it could absolutely deliver more excitement than you might be bargaining for. The brakes would certainly take some getting used to—use lightly with caution.
While the headlight reportedly blazed away like a blinding laser on the test run (we didn't realise the lights were switched on), the back light didn't appear to be on at all, which might have explained the extra power over-exciting the front filament. The horn could only manage the typical period froggy croak—they really couldn't seem to make decent horns in the old days.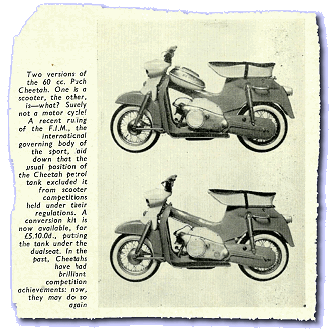 Provided you have the key to release the lock, and after unscrewing the finger-wheel security knob at the back of the seat, the mattress sprung dual saddle hinges up from the front to reveal a cavernous space inside the pressed steel frame. This isn't really any particular or useful shape, and you can't get a crash helmet in there like any modern scooter, but you could probably stash your waterproofs inside, and a wrapped-to-go supper of fish & chips.
60cc Puch engines had been around before the Cheetah. Even in the UK, Puch briefly listed a VSK60L 'scooterette' model at the end of 1956, a VZ60R Cobra and MC60 Scrambler from January 1963, and LR60R Pony from August 1965, but these were all fairly obscure models and are rarely encountered.
As the popularity of scooters started to get these machines involved in motor cycling competition, the FIM (Fédération Internationale de Motocyclisme) governing body for the sport, had to come up with a definition for the scooter, and decided that Roller Scooters fell outside the classification due to the high forward positioning of the fuel tank. In September 1961, Puch resolved the sport exclusion issue by releasing a conversion kit priced at £5–10s–0d that replaced the top-tank, with a tank in the frame cavity beneath the seat.
Cheetah and Cobra model imports ended in December 1967, which marked the end of the 60cc engine in the UK, though the 60cc capacity continued in models for other markets.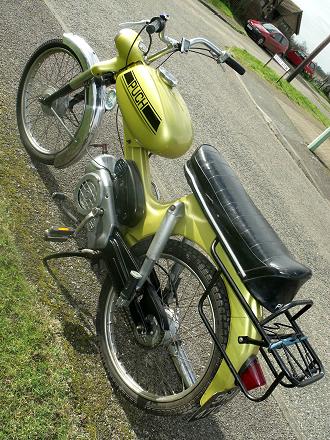 Wouldn't it be nice if you could still get 60cc Puch motors for that little bit extra get-up-and go today? Well you actually can, because some 42mm aftermarket bore kits are available…
New Puch M2 (2-speed) and M3 (3-speed) moped models were imported from January 1974, and though not perceived as being particularly sporty, were technically classed as 'sports mopeds' due to their motor cycle style fuel tank, which nearly adjoined the seat and practically closed off the step-through frame. They also had some other peculiar features that were typically characteristic of sports mopeds of the 1970s, and which might appear slightly bizarre today.
Based upon the traditional MS and VS50D models, the M3 has a modified development of the MS three-speed hand-change motor, so it now has foot-change three-speed gears by means of a selector unit bolted to the bottom of the gearbox. One of the difficulties with this type of foot-change motor is that if the bike goes over and impacts the gear lever, it can break the selector mechanism in the gearbox. Fine in normal operation, but they can prove a little fragile so you do have to be careful with them.
Gear selection is up for first, then down through neutral to second, and down again for top.
With foot-changed gears, you'd ordinarily be expecting to be putting your feet onto motor cycle style footrests, but this is a moped from the mid-1970s, so it has to have pedals to meet its legal definition, and a number of different manufacturers employed imaginative designers with fiendish ways of engineering alternative interpretations to the law.
These M-models pertain to be almost the same as a motor cycle by means of dangly pedals acting as footrests, so allowing operation of the foot-change gears to the left, and a footbrake pedal to the right. The dangly pedals do, however, swing somewhat disconcertingly backwards and forwards. You can get sort of used to it, but it doesn't feel quite right.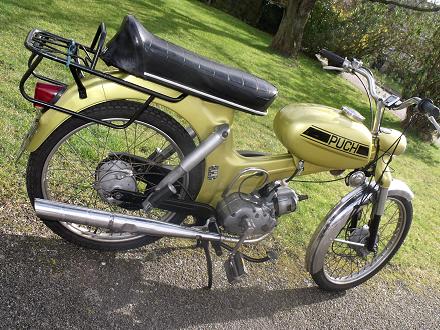 The pedals can be returned to cycling mode by pulling out the right-hand pedal arm at the crank to disengage its dogs, then rotating the pedal arm back 180 degrees to reset into normal pedal mode. To pedal like a bicycle, latch in the clutch and put in gear, but realistically, nobody is ever going to actually pedal one of these even if the engine breaks down—it's basically a 50cc motor cycle pretending to be a moped.
The familiar Puch fan-cooled M-type moped engine still has exactly the same 38mm bore × 43mm stroke cylinder, with an internal combustion chamber volume of 7.5cc, for a compression ratio of 6.5:1. Our featured M3 however, has a 42mm bore aftermarket cylinder conversion, so once again we're going … into the 60s. This 60cc conversion demands an associated up-rate of the carburettor jetting, and finds the standard 6.5:1 cylinder head returned to the motor, so the 20% increase in capacity will also have increased the compression ratio by 20%, which will now be 8:1, which should make the motor pull somewhat stronger.
M3 wears a long dual seat with rear footrest fitted, so was produced with an intention for two-up riding.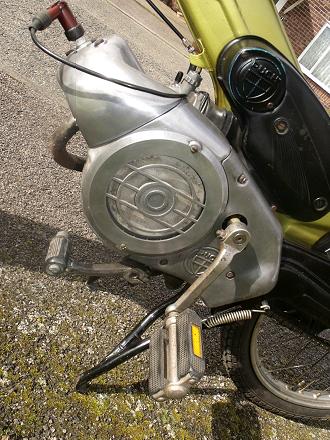 With a shutter choke and flood button on the 12mm Bing carburetter, you should get it to start however inclement the weather conditions may be. To start the motor, you raise a pedal on your chosen side (both pedals raise together since they're connected by the same pedal shaft through the motor), then forward kick down in the same manner in which you would 'kick-start' any conventional moped. As the engine starts, the pedals naturally assume their dangling position.
Standard gearing for an M3 is 12-tooth front sprocket driving 34-tooth rear, but this bike has been geared-up by 8.3% by fitting a 13-tooth front sprocket. With the capacity and compression ratio changes we don't expect there to be any issues about it pulling this higher ratio.
Acceleration is brisk on the throttle, and the bike pulls very strongly right up the range, easily powering up to cruise at 35mph+ in upright position. The foot change gear lever clicks through the ratios and locates the selection appreciably better than the hand change ever did.
Top speed was paced at 41mph downhill in a crouch, and the feeling was that, with the ample power produced from the capacity & compression increases, the motor would likely still pull a further ratio increase to a 14-tooth front sprocket, probably making up to 45mph quite attainable.
The exhaust tone was still effectively stifled so that it didn't give away any suggestion by sound that the engine had been up-rated.
This 60cc M3 certainly performs appreciably better than we'd expect any standard 50 to do, but was still a little short of the fiery aggression that the DS60R delivered. You could still feel the Cheetah's advantage with its 17mm carburettor and two-point-higher compression ratio.
Puch M2 and M3 'Sports' moped models were discontinued in October 1976, shortly before the UK law change to moped definition, where it simply became 'a 50cc machine limited to 30mph', and all the tricky pedal arrangements became irrelevant.