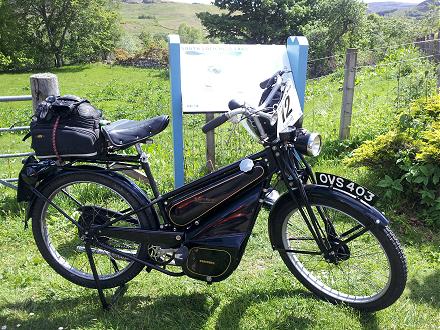 As we do most years, I and three or four other Francis–Barnett Owners Club members set off for a few days in Scotland that normally end up with the Highland Classic Motorcycle Club's Loch Ness Rally. This year, just to make it interesting, I decided to try it on the latest bike in my collection: a 1950 Francis–Barnett Powerbike 56 … all two Horse Power of it.
Being the twelfth oldest I was twelfth away. As those that know me will know, my navigation is not good and it wasn't long before I was lost. I could see the road I wanted about half a mile below me. Eventually, I came across a farmer and he directed me to keep going ahead and it would take me to Whitebridge, the half way point. Problem was, there was a fork in the road and I went the wrong way. It said 'no HGV or caravans' so off I went, the road got narrower and narrower and then the surface turned to just mud and gravel, over the cattle grids and through gates tied shut, sheep everywhere and even deer jumping in front of me.
I was starting to worry as no way would the Powerbike get back up the way I had come. After about a mile the road started to improve but then it was steep downhill, brakes back to the handlebar and the back-pedal rear brake on, apart from the six hairpin bends, and eventually I came out on the main road. Off I went until I got to the steep hills and then I had to pedal assist on about three and get off and push on one.
When I got to the halfway point at Whitebridge and told them where I had been they said 'hell, you have been down the corkscrew'.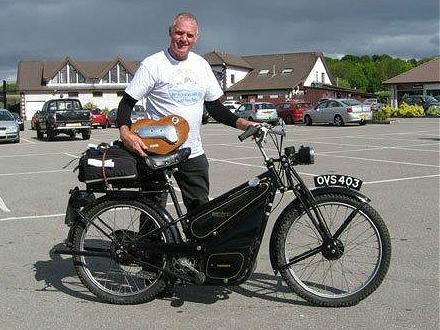 The ride back at the end was a good run and I only had to pedal on about three hills and push on one more. The little Powerbike never missed a beat in 65 miles and managed 43mph at its best.
I got the trophy for the smallest bike so it was worth the effort.