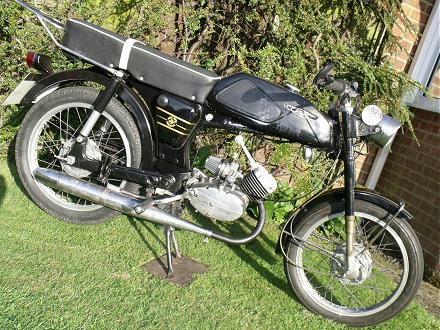 Following all the action at the bleak and muddy battlefront of our previous Moped Army feature, we just feel like getting away from all the seasonal cold, stress of article production, and editorial deadlines—we deserve a break! What better than to award ourselves to a well-earned holiday? A short flight to some warm, quiet and sheltered sunspot with secluded beaches and cool wine, well away from anything to do with autocycles and mopeds, where we can relax and recharge ourselves for the next edition … yes, Portugal! There can't possibly be any motor cycling distractions there …
Ahhhh! … Here we go again!
Metalugia Casal was formed in 1953 at Aviero in Portugal to produce engines for agricultural and industrial use.
Founder and owner João Francisco do Casal met representatives of the German Zündapp company at a Hanover trade fair in the early 1960s and cemented a business relationship to license Zündapp engines and designs towards the intention of establishing the production of light motor cycles in Portugal as Casal irmãos e Companhia.
The first Casal vehicle was a two-stroke Zündapp-engined scooter produced in 1964.
From 1966 Casal, began manufacture of its own derivative motor cycle engines as license-built developments of Zündapp's original designs. Many Casal engines are based on evolved concepts of the German Zündapp company, who also supplied advisors and technicians to assist the business's development.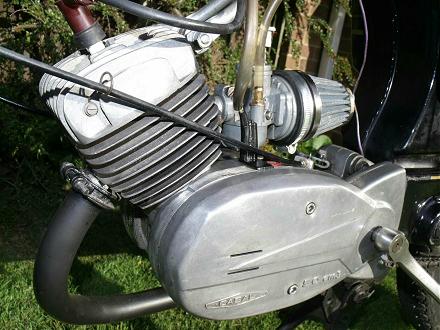 The first all-Casal model was a 50cc four-speed S-170 Carina scooter, from which production expanded to the building of its first moped in 1967, then further motor cycles beginning with model K181.
In the early 1970s, Casal began building motor cycle products for export to European and Scandinavian markets, the Netherlands, UK, Denmark and Sweden.
Casal mopeds were among some of the earliest 'continental sports styled' mopeds introduced to the UK but, initially, only sold in small numbers.
In January 1975, the early spine-frame K190 four-speed and K196 two-speed models were remodelled and re-launched as the SS4 and S2 respectively, and a new ST50 motocross style model was also presented.
A high specification Phantom-5 model was introduced in July '75, with a five-speed gearbox, 6.2bhp motor, and twin leading shoe hub brakes to stop with. Claiming 55mph performance, this was certainly a 'sixteener' machine to aspire to. We'd probably also aspire to one of the Phantom models, but for the purposes of this article have to settle for the basic two-speed S2 for now since that's all we've got.
Our Casal S2 sports moped was registered on 14th February 1977 but, presumably, made in 1976 and pre-dates the restricted moped law, so carries no 'Sloped' plate.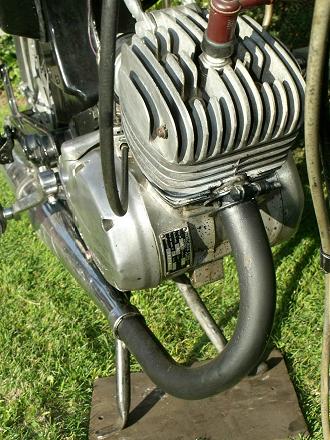 While some Sports 50s of the time were equipped with various peculiar pedal–footrest–gear-change arrangements to circumvent the moped laws of the day, our S2 is fitted with pedals in the traditional 180° orientation, which you use to rest your feet on in the normal moped style, and operates the rear brake by conventional back pedalling action. Full width cast-alloy finned brake drums appear to be around 120mm diameter for both front and rear. They certainly look the part, and are probably expected to provide good stopping power.
The two-speed gears are selected from a hand change twist-shift with neutral in the middle, so all the controls are conventional and time-proven arrangements—not like some of the bizarre interpretations on other sports mopeds of the period!
The seat measures 25" long, and the bike is equipped with rear footrests, so clearly intended to carry a pillion passenger if required, or ample space for a solo rider to tuck down into a more aerodynamic profile. There's also a 10" long rear carrier beyond the seat, so this bike sure looks long.
The frame has conventional twin-shock swing-arm rear suspension, and a very capable looking set of telescopic forks up front. Tyres are 2.50×17 forward, and 2.75×17 aft, on Casal-branded alloy 'gulley' rims and with those beefy cast alloy full width hubs, the wheels really do look the business. You can be pretty sure S2 is going to be well planted on the road, and with those 120mm brake drums, it should stop well too.
The whole chassis is built along the lines of a really well-made light motor cycle, which represents a very high standard of construction considering the bike is actually classed as a moped.
An engine plate indicates the motor as type 148 and rated at 2.5bhp, which is obviously going to be well within the capability of the chassis, so let's see how she goes…
The electrical system is direct AC and not battery supported, so there's no ignition switch.
To start, just switch on the fuel tap and one kick on a pedal gets the motor going straight away. There is a choke and flood button on the 17mm Bing carburetter, but neither of these prove necessary.
Our VDO speedometer is graduated in kilometres, and the needle swings about a bit, so we just rely on results from the pace bike.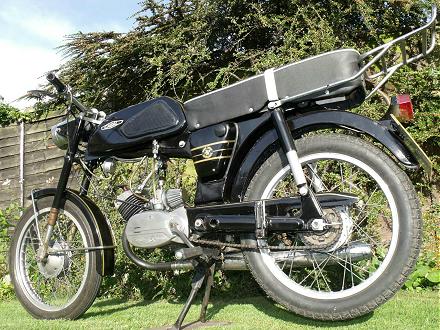 The motor feels plenty strong enough when you let the clutch out, giving a healthy pull from that big 17mm carburetter as you wind on the throttle. This doesn't feel a machine to be easily stalled.
As the revs run out in first, then switch up to second (top), which is obviously going to represent a fair ratio jump for any two-speed motor, but again the torque overcomes any prospect of the bike floundering the change, and we continue our build up to pace.
It quickly becomes clear our S2 is going to have quite a limited and 'un-sporty' top speed performance as the revs appear to run out around the urban limit. The motor isn't particularly afflicted with any four-stroking issues, so its limitations are not down to exhaust gas scavenging, but just seem to top out, and that's mostly all it has to give. This effect is undoubtedly down to limited transfer porting, an obvious necessity as a result of the two-speed transmission, to prevent the motor being revved out by its rider.
With this early impression largely setting the obvious pattern for the rest of our test, we press on regardless to see if anything much changes as the motor gets some heat worked into it … no it doesn't, that's pretty much it…
Typically, on the flat, S2 maintains around 28–30mph. Best on flat in a crouch with a tailwind was 31 … maybe touching 32.
Drawn by gravity to overcome the porting barrier on the downhill run, 37mph, at which the motor was obviously revving well past its normal comfort zone, but handled the moment easily enough. Our uphill climb did fall back to 21mph, but demonstrated a gutsy assault against the gradient and confidently completed the climb in top gear (second) with power to spare.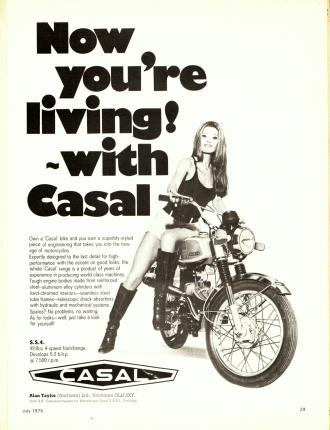 The brakes proved every bit as good as they looked, and well capable far beyond the performance of the motor. The AC direct lighting system seemed adequate for the performance of our S2, but we did wonder if the much more potent Phantom-5 might have employed the same battery-less electrical set—which might have challenged the night vision rather more…
The Casal business later re-titled itself as Veichlos Casal, becoming the largest Portuguese motor cycle manufacturer, and was further considering a progression into car production, but these plans were never to be realised.
In 1986, Portugal joined the European Economic Community (EEC), that later became the European Union (EU). In the following years, Portugal's economy progressed considerably as a result of EEC/EU structural and cohesion funding giving Portuguese companies easier access to foreign markets—however this didn't work out for everybody…
Increasing social prosperity in its most important Portuguese home market, compromised sales of Casal's mopeds in favour of imported cars, resulting in the business finally declaring bankruptcy in February 2000.
Significant parts of the company archives were lost in the subsequent liquidation.
Small salvaged elements of the former Casal organisation continue to operate as a Suzuki agency into Portugal.
During its time, Casal also supplied its engines to other Portuguese manufacturers:
Famel (Fabrica de Produtos Metalicos Lda) based in Agueda, became one of the largest Portuguese moped and light motor cycle manufacturers between the 1960s and '80s. Famel's last product was the Electron electric scooter developed in 1993, of which the entire pilot production was sold to La Poste before Famel ceased manufacture the following year in 1995.
Since 1987, AJP founded by António and Jorge Pinto at Penafiel was another moped and light motor cycle builder that was somewhat compromised by the loss of Casal engine supplies at the time, but has successfully continued with a range of specialist off-road motor cycles.