When we last left Peugeot in 1939, they were making vélomoteurs, but the occupation of France by Axis forces soon suspended that commercial activity.
During the war years, a French Vichy government decree of 5th June 1943 technically re-defined the original BMA specification, and created a new Bicyclette à moteur de secours (later called Cyclomoteur), under-50cc category. A number of French companies started producing compliant machines following the liberation and Europe starting to get back to business again in 1945.
Even before the end of World War 2 it was looking possible that the next European 'economy capacity' could be the new sub-50cc group and Peugeot cautiously decided not to invest in resuming production of its old vélomoteurs, but to wait and see where the market was going. During these austere and impoverished times, it was indeed the new sub-50cc group that now proved to attract the greatest demand, so Peugeot quietly slid into the new cyclemotor business with their PHV-25 mixte framed cycle of 1949, which mounted a VAP-4 engine. Peugeot's association with VAP led to the development of the VAP-5 roller-driven motor for mounting beneath a cycle bottom bracket, and made exclusively for Peugeot in 1950 to power their BMA25L and BMA25GL models. The BMA25 was widely sold in an aggressive campaign to saturate the market under several Peugeot-owned brands as Aiglon, Automoto, Griffon, Météor, Peugeots own label, and Trophée de France.
The BMA25 range was only sold for one year, then was replaced by the Peugeot Bima cyclemotor range in 1951, engines for which were produced within the Peugeot group. Bima cyclemotors were also similarly sold under Peugeot controlled brands as the company sought to secure its position in this competitive sector. It soon became apparent the post-war cyclemotor boom was only going to be a brief flash-in-the-pan. Sales were increasingly moving across to more complete and dedicated machines as society began emerging from the residual effect of post-war blues, and people began to find a little more disposable income, then graduated on towards the next big thing: the moped!
Once again, Peugeot followed the game, to introduce a new BB series of Peugeot mopeds at the Paris Salon in 1957, which was launched by the original BB1 model with a powder clutch. The powder clutch was a fashionable gimmick of the day that a number of manufacturers (including Raleigh) dabbled with at the time, but none of the various interpretations of the idea developed any longevity, which serves to underline how ineffective the novelty system was in actual operation. The real winning transmission system for small capacity motors soon proved to be the simple and automatic centrifugal clutch, and Peugeot very quickly switched over to the more logical solution.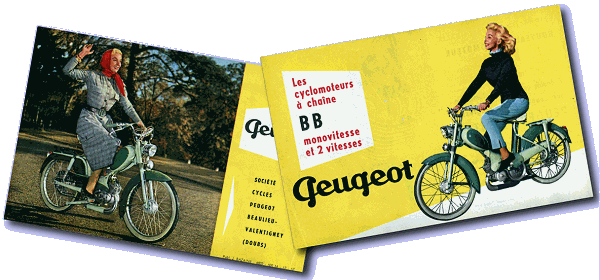 The re-engineered BB1 (aka BB Centri) remained in the range for 1958, and was joined by a BB1GL (Grand Luxe) with telescopic forks.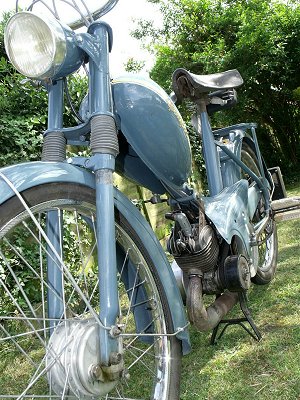 There were four models for 1959:
BB1N (Normal) with no suspension
BB1T (Télescopique) with tele forks
BB1TL (Télescopique Luxe) with tele forks, deeper valances & covers
BB1TLS (Télescopique Luxe Suspension) as TL + swing arm.
Our featured test machine is a BB1T model, dated 1959.
The 49cc automatic motor is marked 'SEMAS type 1V' of 40mm bore × 39mm stroke to the alloy cylinder barrel, and a 7.4:1 compression ratio, with the usual misleading plate riveted to the cylinder head bracket indicating 'Fev 1957'. This isn't the actual date of the bike, as many people often think, but the date the motor model was introduced. The single-speed automatic is equipped with what appears to be an open dry clutch with a hard plastic outer basket! Maybe Bakelite (Phenolic thermoset plastic), though that might be too brittle, so we suspect this might be some 'engineering plastic' like Acetal maybe? There's an inboard drive pulley behind the clutch basket with belt primary drive and chain final drive, all laid out in conventional manner.
The carburettor is a D10mm Gurtner, and rims & tyres are 2.00 × 19 (23 × 2).
The general impression is quite similar to the familiar Mobylette arrangement, and might readily be mistaken for a Motobécane product if the decals weren't there to indicate its true origin. There's something classically Deco and slightly sensuous about the delicately valanced mudguards, the full-bodied teardrop tank, voluptuous curvy handlebars, and slinky pressed side panels that cling across the bike like a flowing silk dress. French design was in the fore of fashionable European style during this era, and BB1T manages to reflect a little of the taste of the time.
Electrics are adequate and basic, there's no clutter of wires or switch on the handlebars to mar the elegance of its lines, no beam-dip, merely a single filament front lamp & tail circuit switched at the headlight, no electric horn, just a bulb hooter. Wiring couldn't be easier, just one power wire up to the headlamp switch, and one wire back to the rear light. There's a lot to be said for simplicity.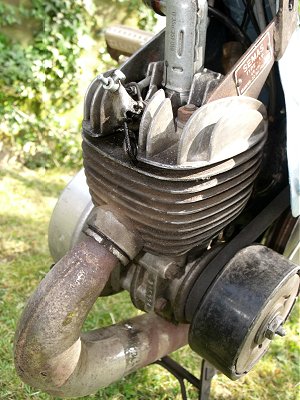 Preparing for our test run, we find that it's rather crowded to settle your hands on the grips with padded gloves, since the inverted brake lever arms are fairly close to the bars, so your hands feel cramped to operate the CIE controls. It's a warm day, so we abandon the heavy motor cycling gauntlets, but that could be a hardy choice to make in the depths of a Scottish winter. The bike was probably intended for sunny Mediterranean countries with little thought beyond light fashion gloves, and its designers presumably never deigned to even think about the harsh rigours of any northern European climate.
Unsurprisingly, since it looks quite similar, starting the Peugeot is fairly comparable to an old Mobylette.
Fuel off–on–reserve at bottom right of the tank, and an identical choke lever to the period Moby is triggered by your left thumb. The Moby though, has a dual function throttle with twist forward to decompress. Instead, Peugeot has a little right-hand trigger to work with your thumb, but proves quite hard on your thumb to operate, and doesn't prove so easy to twist the throttle at the same time.
With a little experience it's possible to 'kick-start' by the pedals on the stand, à la Moby fashion, but you have to get the decompresser release & throttle timing just right, and we don't have all day to practise the art, so just pedal up the road—decompress to get the engine turning—drop the decomp trigger—flick the choke and a little throttle—and the motor fires right up. Well that was easy to start!
Giving a minute to clear the choke … the exhaust is shaped like an extended banana, producing a low and flat note with a quiet and smooth tone … it sounds fairly subdued, and reacts in a pleasant and docile way when we open the throttle. It's like a louder droning noise to listen to while you're waiting for something to happen … oh yes, we are starting to move … like some slow-motion replay … no, getting bored with this, we're going to have to help with the pedals or this might be a long job.
That initial take-off cries for a little pedal assistance, the clutch bites in, and once the motor manages to build up a few revs and get going, then mid-range usage seems more capable.
In the late '50s and early '60s, speedometers were generally considered 'extra accessories' since the law didn't require machines under 100cc to be fitted with them—the same UK law remains today, and under-100s still aren't required to mount a speedometer.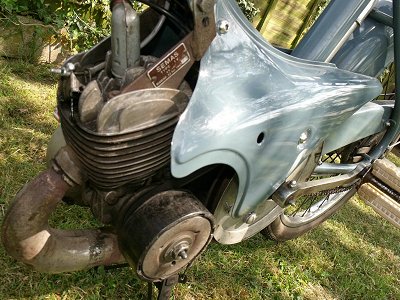 Our Peugeot was never installed with any such instrument and the 110mm Soubitez headlamp shell is stopped with its original Veglia blanking plate, so the test run is accompanied by our usual pace bike to track the readings.
Relatively comfortable cruising ranges up to 20mph, when you start to become aware of vibrations creeping in through the saddle, handlebars and pedals. Maintaining a pace much above 20mph for several miles can become slightly tiring, so it's best to keep the speed down if you have much distance to do.
Like a lot of old two-stroke machines, our Peugeot moped engine wants to be good and hot before it will deliver its best performance.
Best on flat 31mph, upright with a light tailwind. Best on flat in crouch position, 33–34mph.
Aided by gravity on the downhill run, our Peugeot engine was encouraged to revs it might never achieve on the flat, with the pace bike tracking us at an absolute best of 36 into the dip.
We weren't expecting any great things on the following hill climb since the engine is relatively low compression, and the motor steadily faded away to finally crest the rise at 15mph—which was probably more than might have been expected since the bike managed the ascent under its own motive power and never called upon rider assistance.
The front lamp is a healthy size 110mm Soubitez, and Soubitez Catalux rear, so turn on the lights … hmmm … and peer into the front lens to see the bulb filament glowing dimly. Maybe it's because the motor's only on tick-over, so we flick down the stand and buzz up the revs … and the filament nearly glows to a dull yellow. We peer at the back light … is that working? Well, maybe just!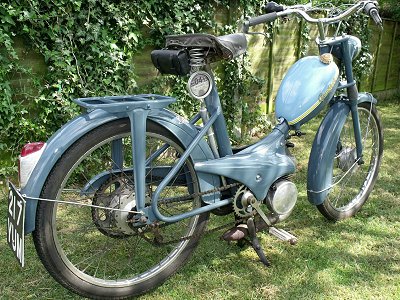 You wouldn't want to navigate any dark country lanes at breakneck speed by these lights. They may be called lamps, but they certainly don't illuminate anything. It's a relief to know that it wasn't just the old Brit bikes of the time that struggled with poor electrics.
The full width Leleu cast alloy hub brakes appeared nice quality, but their ability failed to match their looks. Both brakes proved pretty poor, though still managed to be just about adequate for the generally undemanding performance.
Handling proved OK, though wasn't really challenged by the sedentary pace. Considering the frame is rigid rear, and the telescopic forks with only a token ½-inch travel (which probably doesn't make much discernible difference on a basic performance model), the ride was acceptable enough for a short range commuter … though the coil-sprung single saddle by J Reydel, had saggy springs in the middle when you sat on it, and scored low on the comfort grade.
Peugeot looks interesting and stylish in an old-fashioned art-deco vein. Performance was soft and woolly, nice enough in a steady sort of way, it gets the job done, but is never going to set the moped world alight.
The TL model was dropped from the range for 1960, as new variator models appeared with more flexible performance. Single-speed BB1 models remained in the range up till 1965, when they dropped from trade listings in the Autumn, leaving the variated models to continue on for one more year.
UK listings show the BB Centri was imported for a year from June 1958. In June 1959 the BB1T and BB1TLS are imported instead.
Glass's Guide references suggest some interruption to Peugeot imports in 1960, and it's May 1962 before they indicate a return to the market, however the BB1T and BB1TLS remain in Power & Pedal price listings up to March 1962, so the actual sales situation of Peugeot moped models over this period remains a little confused.
Time ticks on again … and our next Peugeot stop is now right at the end of the century in 1999—and everything has completely changed yet again!
The old pedal moped age pretty much fizzled out in the later 1970s with changing regulations permitting footrests and kick-start 50s, but at the penalty of limited performance.
A number of different interpretations of footrest and kick-started mopeds came and went in the early 1980s as all the various manufacturers searched for the next winning formula (see future article 'Evolution'—when it comes out someday).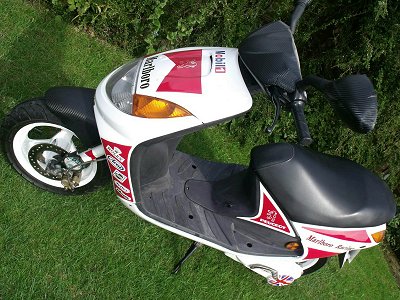 Following a number of evolutionary dead ends, the future finally settled upon the 50cc CVT scooter.
Peugeot's modern scooter is a machine that would have been completely beyond imagination back in the pre-war era of the vélomoteur. Just 60 years separate the 1999 Vivacity 50 from those pre-war Peugeot models, yet its specification would have seemed like the plans to a spaceship back in those days.
It features cast aluminium wheels shod with 120/70–12 sports tyres, an integral drum brake at rear, hydraulic disc brake up front, and upside-down telescopic forks, with single-sided suspension at the rear, pivoting from the forward engine mount. The spine frame is completely covered in a styled plastic body shell comprising an assembly of mating plastic panels and matched seat.
This speedometer ambitiously indicates up to 80mph/130kph, but surely it won't go that fast … will it?
Specification of the motor would have been equally unimaginable, a 50cc reed-valve induction two-stroke with forced-air cooling, CVT transmission & electronic ignition. The electrical system is 12-Volt DC with electric starting, indicators neatly and smoothly built-in into the bodywork, a steering lock, a secure helmet bin beneath the locked seat catch, even a cigarette lighter in the front apron (not standard equipment).
With all its body panelling, Viv is certainly a bulky vehicle, 18 inches wide × 44 inches high × 68 inches long, and does seem to fill a lot of floor space in the garage for a 50cc scoot.
Some traditional moped riders may not like or respect the modern scooter, but the humble 50 had developed into a truly awesome and very capable machine within half a decade … except for being limited to 30mph … though there are ways of changing that …
These days, lots of 'sports' and 'custom' after market goodies seem to be available for practically every modern scooter type, and parts can be sourced (at a price), and fitted to make the bike bigger, faster, and look more 'individual'.
Our Vivacity originally came with its own menu: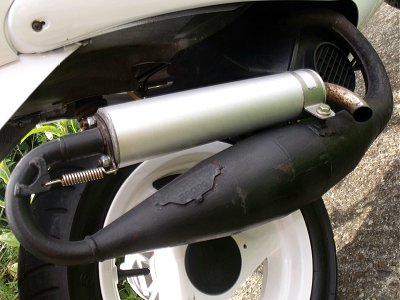 Doppler full circle endurance crank, Polini Corsa 70cc big-bore Nikasil alloy barrel with chrome bore, piston and head kit, Dell'orto PHBG 19mm carb and Hebo air filter on Stage-6 inlet manifold, Yasuni-R de-restricted exhaust and Polini speed control kit … What does it all mean? Well, we think its some sort of code for lots of after market bolt-on, go-faster goodies that are probably going to make it go a bit quicker…
When the scoot was offered cheaply on a well known internet auction site in tatty condition as 'spares or repair', the accompanying sales patter suggested optimistic speedo readings over 60mph, and speeds of 55mph being 'verified' by Satnav (for what those may be worth).
Following tidying and cosmetic restoration, the bike certainly proved capable of 45+ performance for a while, before the expensive Italian Polini 70cc alloy/Nikasil big-bore kit was wiped out following a destructive seizure, to be replaced by a cheapo eastern-block 'Polandski' 70cc cast-iron big bore kit, which seems much the same … in that performance is fairly similar, but still exhibits some tendency to seize up at a moment's notice—which is how it came to us with a warning for the road test!
All this modern technology, yet the age-old problems with basic mechanics still remain…
Looking round the bike we're intrigued as to what the lockable feature in the rear panel might be, and finding a red key on the ring fits, discover it's an integral 'snake-lock', where a 3-foot long armoured 'tentacle' pulls out from inside of the frame, to coil right through and lock the rear wheel … was this the ultimate on-board security?
Maybe it's some sort of social reflection that Peugeot's pre-war vélomoteurs were equipped with no security at all?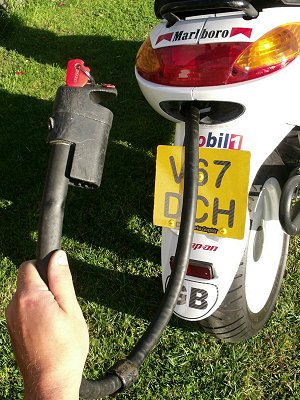 Peugeot apparently didn't fit the snake-lock to their scooters for long, presumably because it significantly added to the basic price.
The 'Marlboro Racing' decal sets are all custom made graphics, as also the 'spoof sponsorship' artworks, from Rolex, Tetley (tea), and Kleenex.
For starting, the fuel tap is vacuum and automatic, as would have been the original choke operation but, because of the carb conversion, it now requires flipping a manual trigger set into the panel below the front of the seat. Switch on the ignition, pull on a brake lever to enable the starting, and just push the starter button—werrrhhh! Ahhh … the battery is flat … thwarted by technology yet again!
Never mind, Peugeot also thoughtfully equipped Vivacity with a kick-starter for just such occasions. This is a typical scooter rear-acting foot pedal type lever which requires standing off the left-hand side of the bike to kick with your right foot, while holding the choke trigger with your left hand (which tends to spring back otherwise), tweaking the twist grip throttle with your palm while holding on the front brake lever with your fingers (just to make sure the bike doesn't fly away without us when it starts). This seems a bit like playing Twister…
A couple of jabs and the engine fires up with a rowdy and raucous note that plainly announces this is not a mild mannered restricted 50 anymore. Need for the choke clears within a few seconds so we can let the trigger go and try a couple of blips on the twist grip to clear the tubes.
It's a surprising discovery that you can actually blip the throttle to quite a degree without the bike responding, but that's an effect of the speed control kit, comprising stronger balanced springs and lighter clutch shoes so the revs can go higher into the motor's power band for better performance.
The variator roller weights are also reduced so higher motor revs are maintained up through the range as drive ratio changes. It's all very scientific, balancing all these factors by changing components to get the drive system delivering optimum performance from the big bore–big carb motor, but buzzy performance all comes at a further cost to fuel consumption—just 50mpg!
Feed in the throttle and the motor eagerly responds to urge the bike up the road. All feels quite stable with the handling for a small wheel machine, so satisfied in that department we try a bigger handful of throttle. Plenty of useful acceleration rolls in to power the bike on its course, accompanied by a louder bark from the exhaust and burst of unsuppressed carburettor induction roar that clearly indicates the throttle is well open now.
Acceleration is certainly much sharper than the average moped, and readily pushes the bike up its range, making a busy little town scoot that isn't going to be holding up the impatient motorists in getting away from junctions.
Power delivery is smart, and balanced about right, since even cracking on the throttle doesn't get the front wheel lifting, so the bike is snappy and responsive while still remaining easy enough to ride without having to be concerned about keeping it on the ground.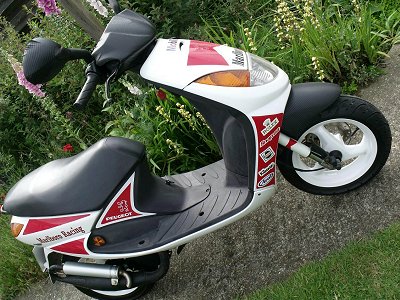 Vivacity cruises quite comfortably at the urban limit and will make easy work of maintaining pace and outperforming any of its vélomoteur and moped predecessors that we've previously tried.
Best on flat in upright posture can readily achieve 50 on the clock (pace 46mph), and downhill run saw 52 on the dial (pace 48). These results don't feel like any definitive ceiling, so with a thoroughly hot motor and really urging the bike in a crouch with following wind, there's little doubt the revs would go on further to scream like a banshee, but we weren't inclined to compel it into the seizure risk zone just for the sake of pushing the numbers up a little further.
One of the slightly odd effects that come as a result of the speed control kit is that the clutch readily disengages when the throttle is backed off and the revs drop down, leaving the bike coasting along with no effective engine braking on the overrun. This requires a little more frequent reliance on the brakes to arrest speed, and can easily result in a 'series-of-bursts' type of riding style as the bike 'comes on throttle', then goes off again.
It's not so easy to find a smooth and even riding style due to this off–on automatic clutch, which is probably a factor towards a proportion of the diabolical fuel consumption.
Once we've run the bike for a while to get some charge back into the battery, and the motor's still warm, the electric starter functions OK, but left for a while, the dead cells leak away their residual charge and it's back to the kick starter once again—the only real solution being a new battery. This is not an uncommon complaint for modern scooters with big-bore kits, since the starter motors and batteries do have to work harder to turn the larger capacity–higher compression engines, and require everything maintained in optimum condition to enable function.
Any uphill climb figures would have been quite pointless since the scooter easily despatches inclines, so wasn't even an issue worth recording. Everything worked well, handling, brakes, lighting, etc, and the bike was easy to ride … and actually had a comfortable seat (which seems a rare thing with most of the bikes we get to test).
The revs and noise could become an issue as the motor's state of tune tends to make the Pug a bit of a thug to ride, and could possibly attract unwanted attention if not ridden conservatively.
Now 15 years on from this scooter model, Peugeot continue producing much more up-to-date scooters than our now 'antique' Vivacity. Body styling and specifications have become even more incredible, with liquid cooled motors and front radiators, fly-by-wire fuel injection systems, ABS braking sets, and lots of computer controlled electronic servo systems that have already rendered the Viv about as obsolete as a steam engine in just a decade and a half!
Where will the rush of ongoing progress and development end? It won't, it'll just keep going on, in the same way it always has … and Peugeot will probably still be there…