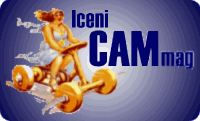 ---
Well, I guess the first SIM was what spurred me on to look for unusual 50cc mini bikes ... and look where that got the magazine: pages and pages of info.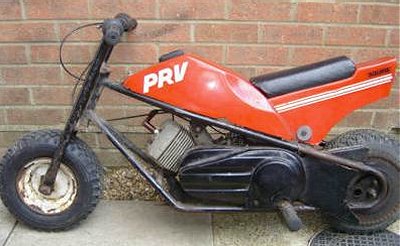 I came across this little Squire on eBay and bought it. I had first trawled the Internet at length for any information, but all I found were queries going back to 2005. The first clue was that it has "Squire" on the rear seat area. Not the logo that Squire used officially by Watsonian-Squire, more a block type, so was it a Squire? I ended up on a Mini bike forum in the USA where someone said they had one but, not being a member, I couldn't see the picture. He had also mentioned that Watsonian-Squire had e-mailed him and said they were instrumental in the manufacture. I joined, brought up the picture, and it was indeed the same as mine.
I guess the only thing to do would be to e-mail or ring Watsonian-Squire. I had an e-mail next day saying "please ring me for more info, Mike". 'Mike' was unstinting in his information and was decent enough to answer, without hesitation all the questions I asked. Although this following is not transcribed word for word, the content is accurate. It did catch me unawares that he would want to talk so freely, and really I ran out of questions!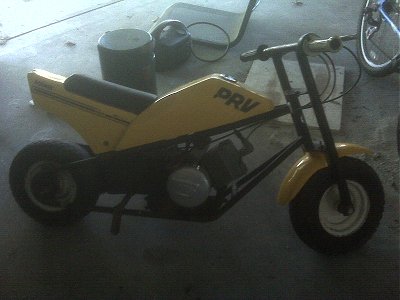 Mike, why were they made?
The Yamaha PW50 was out there being sold in great numbers, but also being left out in all weathers, and they were a little flimsy for this treatment. We (Mike and partner) thought there was a market for a more robust, simple, cleaner looking mini bike for youngsters. This was late-'70s
Whose brainchild was it?
Myself and partner.
What does 'PRV' stand for?
Nothing, we just liked that combination of letters [!]
How did they sell?
Well, it was also our first venture into laser cutting. We were manufacturing these late '70s and marketing early '80s. Unfortunately the recession came in quicker than anyone expected, and then Peugeot doubled the price of the engines, and that was that.
What engine was it then?
Peugeot 103, 50cc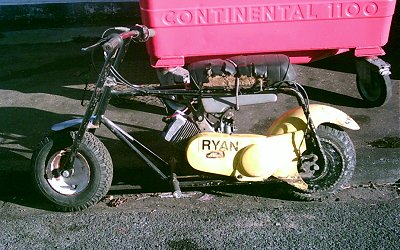 I have seen there is one on the USA site that has a tubular, square looking frame, similar to a lot of their 'Tecumseh' engine mini bikes, but mine has a sloping top tube. Were there two models for two markets?
No, the 'USA' styled ones, as you call it, were the earlier models, but we realised that the USA's own models like this, with pull-start industrial engines were quite raw and brutal. We decided to make it more genteel and appealing by redesigning the style.
So, what you are saying is that the machine needed to be aimed at a child's market. More 'round the garden' than 'round the WW2 Airfield' (laugh)?
Yes.
I have heard the name 'Squirrel' mentioned.
Yes, the earlier one was called the Squirrel [Squire Squirrel seems to work? GS] but the later one was called the PRV. As I remember, Bruce Preston's wife called it the Squirrel. [Bruce Preston was a prolific writer of all things motor cycle for various magazines and a BMF stalwart. GS]
Mike, do you happen to know how many all told, were made?
450 (instantly, end of answer)
One last question, do you ever see any?
Oh, yes they pop up now and again, my friend still has his original one and it's on the second, (or is it third?) generation of children.
I have now run out of questions. I would have asked "were the fibreglass bits made in house?", but that would have been pretty naive, of course they were. I could have asked where the wheels originated, but my seller showed me a caravan jockey wheel of the day almost identical, tyre the same and everything. I didn't have to ask about the brakes, there aren't any. A de-compressor lever, looking very much like a bicycle front brake lever, is all you have to slow down the little bike. Probably with a loud sucking sound, as they do.
An engine, two wheels, a frame and some fibreglass was all you got with this little gem.
Incidentally, mine was originally recovered from a Council tip by someone who had the 'rights' to any metal going in there. I notice the one in the Suzuki Owners Club forum was a similar find. Hanging's too good for these mechanical vandals!
With sincere thanks to 'Mike', a delightful man who has filled in the information on another one of the UK's cottage industry motor cycles
---
[© 2012 G Smith.]
---