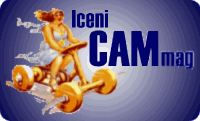 Reincarnation
---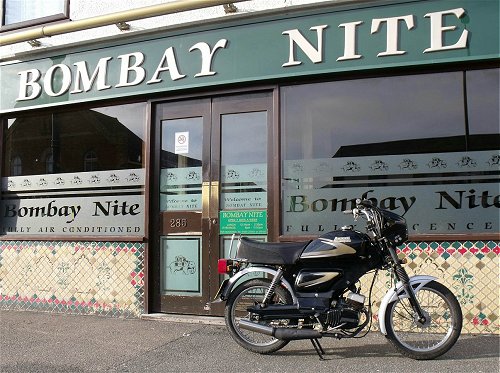 Avanti?
Chances are that most folks are going to say 'What? Never heard of it!'
It might be a fair guess to suggest it sounds like Latin, and does exist as an Italian word that translates as 'forward' or 'ahead'.
An Avanti car was also introduced to America by Studebaker in 1962, but neither of these examples relate to our Super City moped. The Avanti in this case takes its name from a kingdom of ancient India, in the territory of present day Madhya Pradesh state and was, for a time, part of the historic province of Malwa.
Kelvinator started the Avanti (Corporation) as an automobile company (not so unlikely when you consider that Kelvinator was merged with Nash Motors) and, in a technical collaboration with Agrati from 1984, made licence-built copies of Garelli-engined mopeds from a factory at Alwar, Rajasthan.
Agrati-Garelli Gruppo Industriale collapsed in 1992 but, unaffected by the demise of its European partner, the Indian concern continued.
The 50-acre plant was bought over by Pacco Ind Corp (carburettors & fuel pumps) in 1999, renamed Monto Motors and expanded into building lightweight motor cycles and scooters in partnership with the Chinese Lifan Group.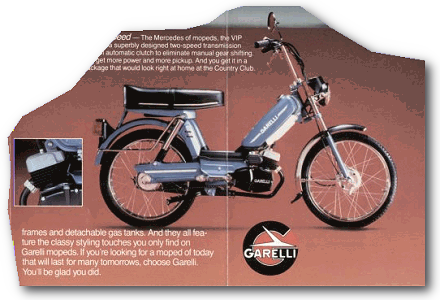 Garelli VIP from the 1980s
This 2001 Avanti 'Super City' model appears to revisit a usual European retro look that became popular on the continent during the late '50s to early '60s, and known in Holland as a panelbrommer. This was a fairly brief fashion, where sports mopeds were panelled over any see-through spaces in a unique styling cross between a scooter and 1950s' Cadillac. It's maybe no surprise that the Indian penchant for retro-fashion revisits this unique style and so we find the Super City echoing this earlier period.
It's a rather individual look among modern mopeds, and the different impression draws our attention to look a little further into this machine.
Just a few statistics as we look around the bike: 44-inch wheelbase, 32-inch seat height and tyres are 2.50×16 Dunlop Maxi-Grip, marked 'Made in India'. Since these still appear to be the original tyres, we can only presume the bike hasn't had enough use to wear them out!
The pressed chain guards trimming each side of the rear swing-arm appear to be historic pressings inherited from the Garelli BiMatic of the late '60s and early '70s.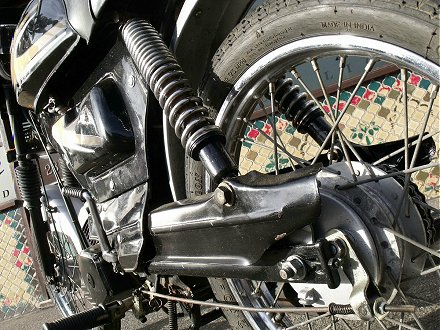 The engine is a licence-built Garelli three-speed cable-change with manual clutch and mainly looking pretty similar to when the original version was manufactured in Italy, though the Italian pattern clutch cover has been replaced by a new black finished casing with 'Avanti' die-cast onto the face.
On the other side of the engine, the originally die-cast aluminium Garelli magneto casing has now been succeeded by a black polypropylene plastic moulded cover.
While an Italian Dell'orto was historically fitted to the original Italian motor, this is expectedly replaced by a 14mm Pacco (looking similar in design to basic Mikuni or Keihin models), since carburettors are a staple product of Monto's parent company.
A pad choke is engaged by pressing down the clearly marked lever, and the fuel turns on for main tank or reserve as indicated by a graphic near the tap.
A Minda key operates the steering lock, lockable toolbox on the left-hand side and a three-position ignition switch: off–ignition–lights. A second Gae key on the ring works the lockable fuel cap.
The steel petrol tank seems a familiarly shaped pressing that presumably originates from some other (Lifan?) motor cycle. It's trimmed with silver and gold decals that seem to cover some other tank badges beneath. We're tempted to peel these off to see if there's some other branding below, but seeing as it's not our bike…
It's notable that the plastic magneto flywheel cover case also has a blanking insert to accommodate an interchangeable panel on its moulding, and we wonder if these might be to offer options for market branded versions?
The mid-section frame is completely panelled over in the style of Dutch panelbrommer sport mopeds of the early '60s, the panels are fibreglass mouldings on both sides with lockable toolbox on the left and a plain fibreglass panel on the right with matching dummy toolbox form moulded in.
Fibreglass mouldings are also found on the handlebar fairing and an instrument nacelle that houses a Galaxy–Avanti 80km/h (50mph) speedo next to the ignition switch, marking its red-line at 60km/h (37mph).
This leads us to wondering if this bike might not actually be classed as a moped and we set about looking for a 'Sloped restricted to 30mph' plate, but fail to find one, so we're really not sure in what category the machine might have been sold on the UK market.
While looking for the Type plate, we can't help noticing the welding 'quality' of the frame about the headstock and that factory attempts at dressing lumps with a disc grinder have failed to disguise this much.
The exhaust pipe finishes in a race type expansion silencer, for which all the fittings appear correct, so we presume it's probably original equipment.
The saddle is a deep, foam-padded, dual-seat some 18 inches long, but there are no rear footrests and, due to somewhat confined space once the rider is installed, there doesn't appear much comfortable pad left for any passenger.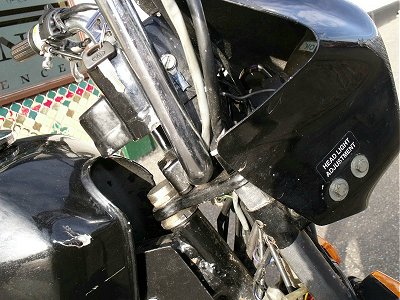 Since lights and horn fail to operate unless the engine is running, we presume the system to be battery-less AC. Certainly we can't find any battery on the bike but are surprised when removing some lenses, to find 12-Volt bulbs, so the magneto generator seemingly delivers enough 12-Volt current to power this equipment and indicators!
The headlamp fairing has a couple of bolts each side, clearly marked by other decals 'Headlight adjustment', but there'nothing technical in this operation, it simply tilts the fairing!
The rear brake-plate looks like a multi-functional fitting, since it has bosses for both cable and rod operation. The rear hub brake looks big and effective for a 50cc moped, and rather as if it was originally made for something bigger. In contrast, the front hub brake appears quite tiny…
Judging by the yawning 4-inch gap between the inner ridge of the tank and the top frame tube, we rather feel the tank has been adapted from something else. Because the tank sits so high, the instrument nacelle would have fouled the tank on full lock. This seems to have been resolved by raising the nacelle to perch 3 inches higher up on metal strips, then vaguely camouflaged by the headlamp fairing. It's like loads of odd parts improvised together that, overall, don't look too bad—unless you start to look closely.
Starting proves to be pretty straightforward: fuel, choke, ignition on, and it goes first kick. It doesn't take much running before the motor starts clogging with overfueling and asking for the choke to be taken off, and in bending forward to flip up the lever we notice that smoke readily comes out of both ends of the stainless silencer tube—so either there's some sealing problem or overpressuring issues with the tiny outlet pipe there!
The exhaust tone is rather tinny, and reasonably quiet for an expansion box style.
Forward on the hand shift to first and the gear takes Avanti up to a maximum 19mph paced, twisting back to second extends this onwards to 28mph, then third finds comfortable cruising up to the speedo's indicated red band at 37mph. It's surprising how easily the motor pulls up to this paced speed, and the speedo proves fairly accurate to the pace bike clock right through the range.
Gear selection on the twist-shift is something that can't be hurried; otherwise you just find a handful of neutrals and gnashing cogs. The slow change to secure engagement doesn't really befit the sports styling, but is something you have to accept since that's just how it is.
Pushing the bike on beyond the indicated red-line gave us 39 on the flat with rider sitting upright, and 40mph in a crouch, but not a confidence inspiring stance to ride since the steering felt particularly light at the head and the front adopted a seemingly tyre-related tendency to drift. Probably the short wheelbase wasn't helping much in this respect, as longer wheelbase machines tend to become more stable at speed, and the stubby Avanti was certainly feeling rather nervous.
Feeling the strong motor, and with such a promising flat performance, we were expecting more on the downhill run, but such was not to be. As the motor was now getting hot over the three-mile mark, it seemed to lose power and failed to pull revs. Whatever the complaint was, it wouldn't run clear, so we returned to base to investigate the problem.
The 12-Volt headlight proved impressively bright, though intermittently flashed on and off, and didn't seem to have any dip control, so something's odd there?
The big-drum rear footbrake proved quite effective, while the tiny front brake performed comparatively in relation to its size … it was pretty poor, and unlikely to contribute much more to stopping than a strong religious faith.
Apart from at higher speeds in a crouch position, handling and general ride were pretty reasonable, though all the fibreglass and tin-ware certainly seemed to be adding to and channelling a tiring selection of mechanical noise, rattles and resonation to the rider.
Concluding, the Avanti performs a little better than expected for 30mph restricted 'Sloped' compliance, it's rather a puzzle how it ever actually qualified to be classified as 'Moped', but that's how the registration document indicates its class, so we just go along with that!
Accompanying paperwork led us to the original owner, who said the machine was not purchased from any agency dealership in the normal way, but marketed through advertisements posted in the motor cycling press.
Supplied by Champ North West of Bolton, this Super City cost £795 on 30th October 2001, and was delivered the following day by Relay Express in a palletised box for home assembly. The majority of the bike proved fairly complete, pretty much requiring only the handlebars and console mounting, plus a couple of other minor fittings. A week later found the machine issued with a registration serial by Peterborough authority, and ready for road use.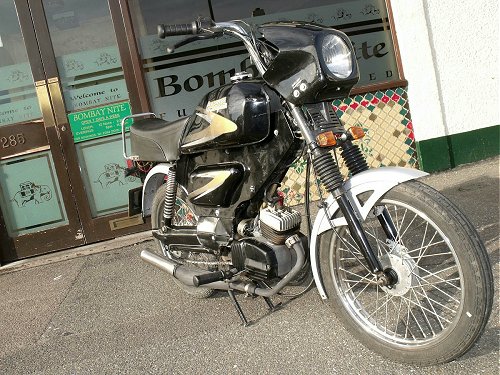 Since this time, the bike bears all the scars of having been 'round the houses', as the V5 document indicates six former keepers. Though it's not atypical of moped class machines to frequently change hands, the first owner related that the machine always suffered from inexplicable power loss running problems, and no amount of investigation ever seemed to resolve the problem, which became attributed to some erratic fault in the electronic ignition set. Tiring of being unable to cure the frustrating condition, the bike was sold on within a couple years and apparently circulated since, with no one else being able to pinpoint its problem, from which the motor still seems to suffer today.
Accepting the power loss issue is established within this bike, we decided to try re-running the top speed before the engine got hot enough to provoke the problem and, of two runs, our best downhill indicated showed 45, though the pace bike clocked this as an actual 42mph, so the speedo starts to indicate a little fast as it gets further up the range.
The following uphill section fell back to 28mph before cresting the rise, a practical climbing performance, until the mysterious power loss affliction returned with a vengeance at the top of the slope, so we sputtered back to base again.
The persistent running issue with this machine perhaps underlines that oddball brand products sold without formal dealership support might not be quite such a 'bargain' when problems start to manifest themselves. Champ North West doesn't seem to exist any more, and it appears that no other agent has taken over Avanti imports, so if you're after spares, then you're probably out of luck!
Since the end of the '90s the Garelli mark was revived to market, mostly through telephone sales, branded scooter designs imported from China and constructed by the Baotian Motorcycle Co.
Following the collapse of Agrati–Garelli Gruppo Industriale in 1992, the re-formed Garelli marketing company had no obligations to supply components for preceding models and the availability of spare parts for machines up to this date became a particular problem for owners of earlier bikes.
Summer of 2007 presented a new range of Garelli scooters for European market sale, from the GSP50 to the XO 125 and 150cc models, reportedly &lsquoentirely designed and built in Italy&rsquo.
Presenting machines today under the familiar red and black badge, the New Garelli Spa brand is based in Milan and controlled by Finsec Inc, a holding company of Paolo Berlusconi.
Various Garelli scooters are now listed with engines from 50cc to 200cc, and the range is topped by an electric hybrid propulsion model.
Back in India, Monto Motors continue to market a number of Avanti-branded models based on the old Garelli moped engine, from the single-speed auto 'Mont', two-speed 'Auto Power' (moped), 'Carrier' styled scooter, 'Porta', three-speed 'Kobra', 'Top Tank', and 'SS' sports styled models.
---
Next - Maybe there's something 'fishy' about our next 'oddball' machine for the third feature slot.
We're popping down to the local Sushi Bar for a light lunch - though some may find this Japanese white whale a little blubbery for western taste.
---
[Text and photos © 2011 M Daniels. Period documents from IceniCAM Information Service.]
---
Making
Reincarnation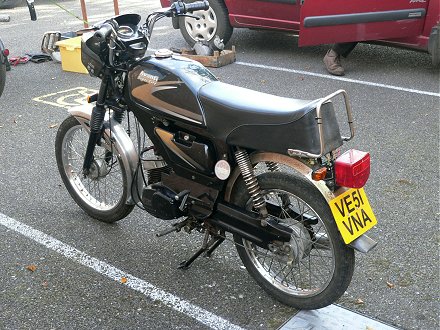 The Avanti for sale at the 2007 Coprolite Run
The Reincarnation article on the Avanti had been in the pipeline for nearly four years, when Mick Spacey originally turned up with the bike for sale on his jumble pitch at the Coprolite Run in September 2007. Bought by David Evans, the bike was promised for a feature when fixed up, but was never finished, and subsequently sold on to Geoff Daw at Sudbury in spring 2010, who completed the renovation.
We finally received the bike for road test and photoshoot in early September 2010 when Geoff delivered the bike to us, but we returned it, so just a one way, there-and-back run to keep the expenses moderate.
We fancied some suitably Indian background for the photoshoot&mdashBombay might have been nice, but the accountancy department probably wouldn't have been favourable, so we settled for the Bombay Nite Indian restaurant in Walton, just 5 miles away!
Total production cost involved around just £10 for diesel fuel, and with a small donation still in the kitty, Jeff Lacombe's name pulled out of the hat to score yet another sponsorship credit for The Leicester Enthusiasts.
The hunt for the original Champ North West advert led down some long and fruitless avenues.
The original owner said he thought he'd seen the advert in maybe … Classic Bike … or maybe Classic Bike Guide … or maybe Old Bike Mart, so appreciating this must have appeared around Summer 2001—how hard could it be to get a copy?
Well we didn't have any copies ourselves, so it was off to the British Library in Euston Road to register for a reader's pass and order the magazines into the Humanities Reading Rooms. Drive to London, leave the car at Newbury Park, Central Line to Bank, change to the Northern Line for St Pancras/Kings Cross, and the library is next door to the station.
Complete the reader's pass application, only to find that all these magazines are on 48 hour order—so we'll have to come back again next week!
Also, only Classic Bike was available to order. CBG and OBM collections were on 'relocation' and probably wouldn't be available for months! The advert proved not to be in CB, so it'd cost TWO days and £80 to eliminate just one possibility.
OK, so we'll speak to Morton's who own CBG and OBM, maybe they can help—except they prove no help at all, so we'll keep trying ourselves for the old Champ North West advert. Maybe we can add it in at some later date.
---