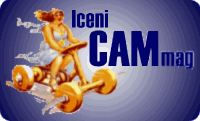 ---
Sometimes, particular 'standard' engine capacities may be established from incidental creations by vehicle manufacturers, but they can also be initiated by politicians defining categories for taxation purposes, and motoring history is littered with evidence of this in statute records.
A particular example within our own small capacity bracket was presented by Chancellor Philip Snowden in the British budget of 1931, which introduced a new tax concession for machines under 150cc, and created incentives to produce a motorised bicycle. It would be 1934 before Wallington Butt built his Cyc-Auto to qualify within the classification, but within a few more years a number of manufacturers popularly produced further pedal assisted cycles with engine capacities up to 98cc. So the Autocycle in the UK may be attributed to a combination of government legislation and a manufacturers' personal selection.
This may raise a question as to why the Autocycle wasn't 148cc?
Wallington Butt probably selected his under 100cc capacity to comply with continental standards. The French Circulaire 32, Série B of May 1926 introduced the Bicyclette à Moteur Auxilaire (BMA) specification: under 30 kilogrammes, less than 30 kilometres per hour performance, below 100cc capacity, and fitted with pedals, to qualify for exemption from registration.
German and Danish pre-war manufacturers were also producing a number of under-100cc Autocycles, though these often tended to be more heavily built, two-speed machines, so similar specifications appear to have been established in other European countries.
Initiated by improvements in the efficiency of engines that made smaller capacities more capable for economic transport, a new category of small motor assisted cycle engine probably began its evolution during the Second World War. It may be reasonable to attribute the origin of the 50cc capacity to the French Vichy government decree of 5th June 1943, which defined three motor cycle categories as Motorcyclette over 125cc, Vélomoteur between 125cc and 50cc, and Bicyclette à moteur de secours (later called Cyclomoteur), under 50cc. Like the earlier British 'under 150cc' class, it didn't mean that there were actually any engine builders already producing motors to the newly specified 50cc category, and rather than the immediate development of cyclemotors, it would seem that most manufacturers within German-occupied France during the war years were probably engaged with other issues at the time.
With the ending of hostilities technically coming to Italy at their signing of the Allied Armistice on September 3rd 1943, France's liberation would not even begin till D-day on 6th June 1944. Though parts of Italy were still not freed from German occupation until April 1945, Aldo Farinelli had his 'little pup' Cucciolo prototype yapping around the streets of Turin by late 1944, and in production as the 48cc Ducati by 1946. Following the war, and driven by the urgent demand for economic transport, sub-50cc motors began appearing across Europe in pedal assisted cyclemotors and mopeds. Later, with ongoing developments boosting engine performance and improved practicality from multi-speed transmission systems, the capability of the 50cc motor outgrew its need for pedals - and so we end up, in various guises, with 50cc motor cycles and scooters.
While Europe embraced this new 50cc capacity, the UK returned to its 98cc Autocycle, and didn't really start catching up with smaller capacities until the cyclemotoring boom of the early 1950s - by which time, British manufacturing was slipping behind the times as Europe was already moving on to the moped! By the time British manufacturers started producing their first mopeds from the mid-1950s (many of which were primitive improvisations or badged models based upon continental imports and designs), many continental manufacturers were already involved in 50cc motor cycles and scooters. It was like a game of catch-up, that the British motor cycle industry never caught up, mainly because it was locked into a traditional big-bike culture. Last of the old British production autocycles, the 're-styled' New Hudson, was de-listed by BSA Group in July 1958, primarily because Villiers had discontinued its 2F engine because of low sales.
Strangely, Britain didn't actually get to recognise the 50cc moped as a specific vehicle category in its own right until a change to the Motor Vehicles (Driving Licences) Regulations of 1963 defined and classified 'Group 12' on driving licences as: "a motorcycle whereof the cylinder capacity of the engine does not exceed 50cc, being a cycle equipped with pedals by means of which it is capable of being propelled". Prior to this date, there was simply a general taxation group for 'motorcycles below 150cc'.
So we enter a new decade, the early 1960s. Another decade where entrenched British motor cycle manufacturing is lagging behind its European competitors in small capacity products, and other new problems begin arriving from the Orient.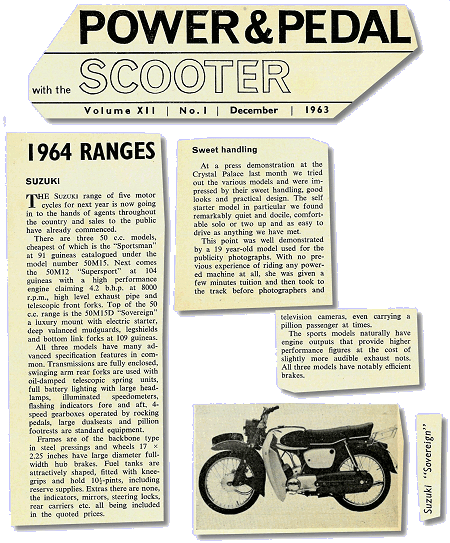 The new Suzuki range reported in Power & Pedal.
First there was Honda, as the first major Japanese motor cycle marque imported to the UK from November 1962, then shortly following in its tracks, Suzuki imports to Britain commenced in October 1963, through Suzuki (GB) Ltd, 87 Beddington Lane, Croydon. The range was initially presented with 5 models:-
M15 Sportsman 50cc @ £95-11s
M12 Supersport 50cc @ £109-4s
M15D Sovereign 50cc with electric start @ £114-9s
K10 Sports 70cc @ £122-17s
And T10 Twin 250cc @ £248-17s, as flagship of the line-up.
They were further joined in February 1964 by:
K11 70cc @ £128-10s
So it was, with this range of relative lightweights for the opening of the 1964 sales season, Suzuki sought to take on the might of the crumbling British motor cycle industry.
Our feature tracks Suzuki's base model, the M15 Sportsman, and the first place to start is by looking at what British products it might actually be competing with ... so in the home manufactured 50cc motor cycle category we have just:
The Ariel Pixie @ £79 10s 0d, a sort of scooter/motorcycle cross by the BSA/Triumph Group, with a 50cc 4-stroke, 4-speed version of the BSA Beagle engine. (Production ended August 1965).
Then in further branded products by lesser British manufacturers:
AJW Fox Cub, an imported Italian Guilletta with 3-speed Minarelli 48cc @ £84-0s
AJW Vixen, an imported Italian Guilletta with 3-speed Minarelli 48cc @ £95-0s
Kerry Gran Prix, an imported Italian Testi with 3-speed Minarelli 48cc @ £93-19s-6d
And that was it! Basically the British motor cycle industry wasn't interested in the 50cc motor cycle category, and the few machines in it were either branded Italian imports, or the decidedly odd Pixie, which few would probably ever consider as any serious commercial effort!
The only other machines the Sportsman might compare with in the UK were other foreign imports, so the field was pretty much wide open.
Other classes Suzuki might have attracted buyers from within a comparative price bracket could have been other slightly larger capacity light motor cycles and scooters:-
Raleigh Roma scooter 78cc 2-stroke @ £115-10s-0d (production ceased August 1964)
BSA Beagle motorcycle 75cc 4-stroke × 4-speed @ £95-0s (production ceased August 1965)
Triumph Tina scooter 99cc 2-stroke @ £94-10s-0d (production continued to June 1970)
Excelsior Consort motorcycle 98cc 2-stroke × 2-speed @ £106-14s-5d (production ceased October 1964)
James Comet motorcycle 98cc 2-stroke × 2-speed @ £113-10s (the Comet actually stopped production before year-end 1964, though remained officially listed till December 1965).
Not only had James products become compromised by the contracting Associated Motorcycles empire beginning its fateful collapse, but Villiers also discontinued manufacture of Comet's 6F engine in the early 1960s, so James had probably found the model without any motor. The same 6F engine situation almost certainly sealed the end for Excelsior's Consort model, though the company was also suffering trading difficulties at that time too. Excelsior folded in 1965 and the remains of its business subsequently became acquired by car accessories firm Britax.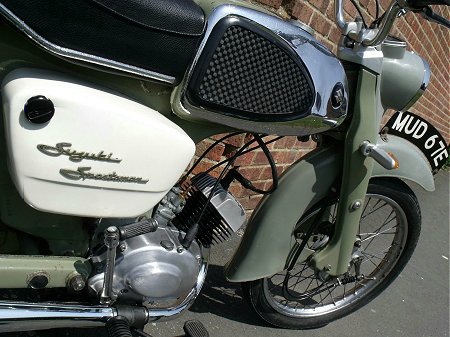 It's also worth noting, that none of the above suggested competitors to Suzuki's M15 Sportsman appointed any indicator equipment, and generally only fitted inferior AC direct lighting systems.
Browsing the specification on our M15 ... 41mm bore × 38mm stroke, and 'theoretical' (swept volume) compression ratio at 9.4:1, with a 'corrected' (after the exhaust port has closed) compression ratio given as 7:1. Maximum output appears as 4.2bhp @ 8,000rpm, and Suzuki literature plainly claims 50mph performance is available from a 'forward inclined posture'. Pretty ambitious for any road going 50cc in the early '60s!
Both the Owner's Manual and Workshop Manual surprisingly indicate an Amal VM15SC carburettor, but this has Mikuni cast on the body, so we can only presume it might have been some licensed design?
Inclusive fitted equipment is certainly generous for the period, 80mph speedometer set, the novel inclusion of direction indicators was pretty much a characteristic Japanese feature as few other world manufacturers involved themselves with such gimmicks at the time, rear brake light, steering lock, and 10-piece tool set.
Like the first wave of Hondas being sold on the UK market in 1963, Suzuki echoes a similar theme of introducing plastic components; the front mudguard, headlamp nacelle, and both side panels are all moulded from polypropylene.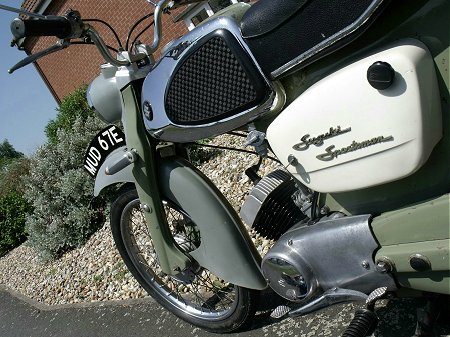 Optional accessories listed a plastic moulded leg shield kit, and 'semi-up' handlebar conversion.
Though many accompanying pictures illustrate machines fitted with rear carriers and handlebar mounted mirrors, strangely no mention to these items seems to appear in any references. Perhaps the marketing wasn't quite so sharp in back in those days!
Coming to the road test, it does seem worth mentioning a number of features that people today seem to simply take for granted, but back in the early '60s it should be appreciated that some of the equipment would not normally be expected on a machine of this class.
We start by introducing our Sportsman with a phrase that motor cyclists would become increasingly familiar with in the not too distant future: "Now where did I put that key?"
Lockable ignition wasn't found on many machines at this time, so that was something fairly new for riders to start getting used to. There was a steering lock supplied to the bottom fork yoke too, so fitted security was probably better than most other bikes being sold on the market.
These days the keyswitch is mostly found on a headset console, but back in this age it's located through a hole in the side panel, and operates with three positions, off/ignition on/ignition + lights on.
The lever petrol tap sits at the bottom left of the tank and includes a reserve position, not a feature you could always count on with other makes of motor cycle.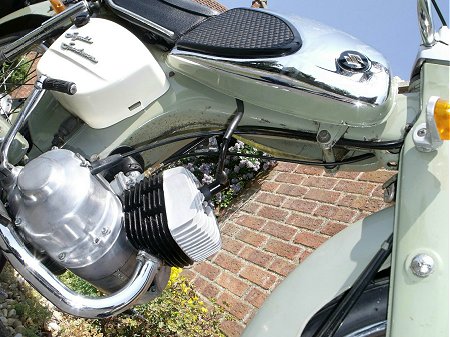 The choke functions by rotary lever on the left handlebar, and just a couple of easy jabs at the kick-starter achieve the desired result. The motor readily starts lumping against the rich mixture, so you're quickly turning back the choke lever and clearing its throat on the throttle, as the exhaust expels jets of smoke in response.
This brings back memories of the early Suzys always being fairly smoky things and, even with the move to semi-synthetic oils in lower proportional mixes, nothing seems to have changed much.
Nudge the bike off the centre stand, and the clutch lever really feels delicate for a bike of its time. One can imagine traditional motor cyclists with a gorilla grip from decades of grappling monstrous Brit clutches, and wondering how such a light action could possibly even work?
Then there's the gears ... a rocking pedal on the left hand side! The footbrake's to the right toe where the gear lever is supposed to be? Oh, surely this is all wrong, but there's more to get your head round yet as we go to select gear! First is a forward click down, and engages with a bit of a jolt, but there does seem a little too much slack on the clutch lever adjustment, so we discount that.
The motor is eager enough to pull away, but for the traditional rider expecting their neutral between first and second, heeling back only gives you neutral again, and there's nothing behind that, since Suzuki's gearbox has neutral at the bottom, with the rest of the gears all forward down! That would certainly have been a most unfamiliar arrangement for many riders of the time.
A pulse of smoke on the throttle becomes complemented by a deep induction drone from within the bodywork, as the carburettor intake is connected to the pressed-steel frame by a rubber tube. The motor delivers a surprisingly torquey and brisk acceleration from low revs, quite unlike the peaky characteristics of later day two-strokes. There's a stronger porting urge as the revs come up, but a much softer transition than the power band snap of subsequent generations.
Acceleration proved particularly effective for a 50cc machine of its day, and well capable of keeping the bike from being overwhelmed by town traffic of the period, in fact, quite good enough to be comparable with the performance of many later unrestricted sports mopeds that were to become so widely popular a decade later.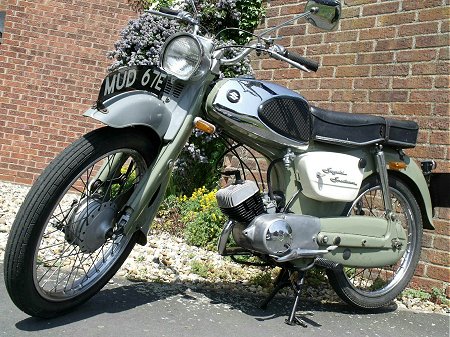 Suzy's soft suspension seemed to glide along smoothly enough, as Sportsman cruises comfortably around 35mph on the flat with rider sitting upright, and once turned out of the headwind, could readily be worked up towards 40 with a little coaxing. This flat running in top gear was accompanied by a low background hum, as the engine never felt to be pulling revs against the high 'overdrive' ratio, but readily picked up more pace on the downhill run, and easily clocking 48mph by our pace bike.
The period claim by Suzuki of 50mph in a crouch position might certainly seem possible under favourable downhill conditions, though appeared highly unlikely along the flat.
As regards 'favourable conditions' for our test mount, bumpy bends certainly wouldn't be qualifying, since the soft suspension wallowed and weaved quite unnervingly, and made the pilot grateful the bike didn't go any faster than it did, or the test might have excitingly included an off-road section! The leading-link front, and bouncy rear spring combination was undoubtedly a major factor in this personality disorder, but possibly some of the original hydraulic damping units had not stood the test of time?
The following uphill run was confidently dispatched in top gear, and cresting the rise at 35mph, a most commendable performance for a 45-year-old 50.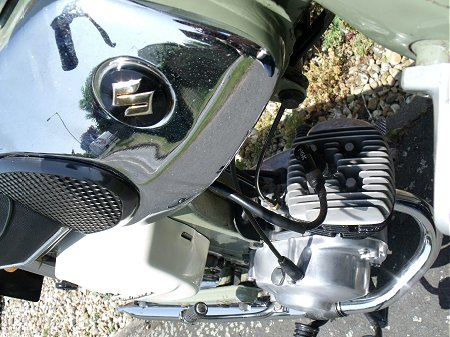 The torquey motor allows general cornering without changing down from top, and will still pull back up to pace again with no labouring protests from the engine, so it's easy to maintain a steady town pace without working up and down the gearbox, and allows a lazy and relaxed riding style.
Brakes were very good at both ends, easily delivering all the braking performance required from a light action, and without any need to be 'loading up' the levers. Standard equipment of an 8 Watt rear braking light was another fairly exceptional feature for a small machine of it's time ... and indicators! Worked by a simple left/off/right thumb switch on the right cluster, this was all cutting-edge electrical technology of the day, and a feature mostly being led by Japanese import models.
Probably initially scorned by many traditional riders of the day, "Don't need them fancy gadgets, when I can just stick my arm out". As things worked out however, relatively few machines are now produced without indicator systems, so time rather seems to have justified this early equipment.
The battery supported and voltage stabilised 6 Volt DC electrical set delivered good light from the 15/15 Watt headlamp, though the 2 Watt taillight contrastingly lacked much obvious red presence at the rear.
The passage of years seem to have caught up with the horn, hiding somewhere behind the nacelle, since a push of the button no longer returns any response.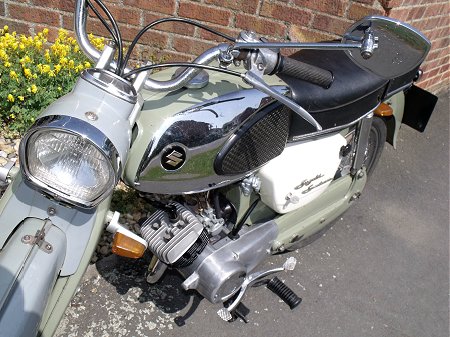 Possibly also from the effects of age, the speedometer displayed some odd behaviour, seemingly giving reasonable indication up to 20mph, then erratically slow above that mark. At full speed the instrument barely read a peak of 40, nearly 10mph slow!
The sprung mattress saddle proves surprisingly comfortable, particularly when compared to typical period Italian bench like offerings from Stiffasaboardio SpA.
Joining the success of Honda's Cub 50, Suzuki introduced their 50cc M30 Suzy 2-stroke version of the popular scooterette from July 1964. Though new to the UK, the M30 however, was not a fresh model, having been introduced on the Japanese market in the previous year.
M15D (electric-start) Sovereign imports ceased during 1966, and the model was de-listed.
Imports of the original M15 Sportsman ended in September 1967, to be briefly replaced by a M15 Mark 2 Sportsman imported from February 1968, only to be discontinued in September 1968.
A new 'clean' U50 Suzy scooterette with Pozi-force lubrication commenced importation from April 1968, replacing the earlier pre-mix M30 when that model was withdrawn in August 1968.
At the time of introduction, Suzuki's M15 Sportsman was particularly strong on fitted equipment, competitive on performance and price.
The saleroom door was wide open, so it was hardly surprising that the Japanese manufacturers walked right in and took their opportunity.
---
Next - Total confusion with the lead to next third feature, since the link from the second Agrati-Garelli article already carries a crossover to our 'oddball' slot. Alternatively, we might have cross-linked back up to the top slot for next edition, since that was also originally planned as an oddball feature, but got promoted to Number 1 when the connection from 'Dandy' seemed so natural, and we needed to get "Change of Tack" out quickly, since so many other publications are clamouring to take franchise versions!
So, you might say that next edition is set to feature two 'off mainstream' machines.
That seemingly leaves us with a link up to second slot then, and very much a split decision between two options. The Final Card got the call in the end, mainly because we felt obliged to actually include something with pedals. This article returns us to the original mini-feature concept, and fills in a little gap left at the end of the Pandamonium feature from January 2009
---
[Text and photos © 2011 M Daniels. Period documents from IceniCAM Information Service.]
---
Hi Andrew & Mark,
In 1962 I was serving in the RAF in Aden (don't ask why an Australian was in the RAF) and bought my first ever new motorcycle, a Suzuki M15 Sportsman. I was familiar with them as Suzuki had already been in Australia for a few years and of course they had recently won the first ever 50cc TT in the Isle of Man.
You'll note this was well before Suzuki ever got to the UK which was one of the last markets they took on.
Your test brought back happy memories of a marvellous little bike that completely lived up to everything the maker claimed for it and yes, you could get an honest 50mph out of it if conditions were exactly right, down hill, tail wind, come over the top of the hill flat strap, etc, etc.
I don't think you truly appreciate how far it was ahead of Britsh lightweights of the time. You compare it to mopeds and autocycles of the time whereas it really directly competed with British lightweights such as the BSA Bantam, Fanny Bee, James and the like and emphasized what nasty rubbish they were.
You remark on how well equipped it was but you don't know the whole story. As well as the points you mention it also came with a windscreen and plastic legshields as plus a rear carrier complete down to Ocky strap on the carrier. I kept the carrier with ocky strap but turfed the windscreen and leg shields as completely irrelevant in Aden. It rained twice during my two year posting there. Each time it was for an hour or so.
I could rattle on but you get the picture.
Thank you once again, your test really did bring back memories of an excellent miniature motor cycle, one of the few bikes I've owned that I would unhesitatingly buy again.
Cheers,
Bob McGrath
---
Back in the '60s and '70s, many of the little Suzuki Sportsman motor cycles were running around locally, mostly in red or blue livery, and some with high level exhaust systems. They always seemed to be good little bikes since you'd see them being used, year in, year out, so they must have given good service. Then eventually, like all these things, they just don't seem to be about anymore - and you realise they're gone!
Paul Barber near Oxford had been progressively tidying up this M15 for a while but, approaching completion of the renovation, was already looking to another project and decided he wasn't going to keep it. Not wanting to risk such an uncommon specimen getting away, we whizzed down ASAP to collect the machine for test and feature.
With the ridiculous cost of diesel running around £1.25p/litre at the time (seems cheap now!), two trips down to Oxford and back ended up costing around £80 in fuel, so we're most grateful to Mike Bagshall of Wilts, Oxon & Gloucs section of the East Anglian Cyclemotor Club for covering the heavy expenses on this one by sponsoring the article.
The roadtest and photoshoot happened in May 2010, when we found it easier to catch some decent weather and good light. With the light green colour of the paintwork, there was concern the bike might become lost in any verdant background, so we opted for a simple brick wall as contrast for the pictures - after all, it is about the bike, not the horticulture!
The road test notes were drafted together into a partial text section, and trimmed with little more than a token of supporting research, then duly consigned to the can to await their time.
Having already committed to the Suzuki article in the leader from Part of the Union in January 2011, the looming editorial deadline for IceniCAM 17 approaching, and a rising sense of panic, the Sportsman text file was dug out on Tuesday 8 March at 12:30am, for a marathon overnight session up to 05:30 in the morning. After just 3 hours sleep, writing resumed again at 8:30am, and mostly worked up into a fairly developed article by 2:30 in the afternoon.
Another five-hour session over the early hours of the morning of Thursday 10 March completed the work, so pretty much all done within just two days. It may probably seem a crazy way to produce articles, but when the mind works, you just have to run with it - whatever the time!
---