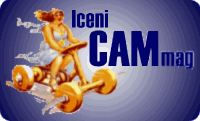 ---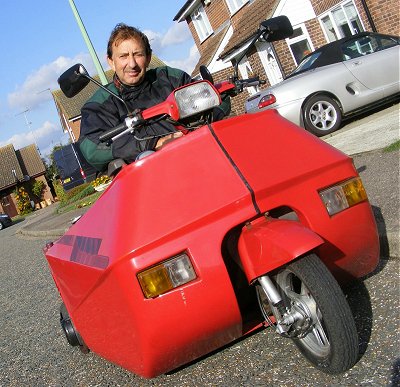 OK, so we've had a little accident, got ourselves all busted up, and won't be doing any walking for some time. You'd probably think that might eliminate riding bikes for a while - but not so... We could roll right out of the hospital in our wheelchair and ride straight home, because now we've got hold of a Nippi mobility trike!
A range of these vehicles has been produced by Nippi Cars Ltd since 1983, and came about as an appreciation that the market lacked a motor cycle for the wheelchair user. The vision was to produce a practical mobility machine that offered the fun and thrills of riding a motor cycle to the disabled.
Both Mike Barnes and Dr Lloyd Jenkinson are credited as joint designers of the Nippi vehicle. The first models were based on 50cc Honda Vision and Melody scooters, and 80cc Honda Lead machines, and were assembled from a combination of reworking complete new scooters, and additional purchased parts. All works from welding the chassis, producing the fibreglass mouldings and complete assembly of these vehicles was performed at the company.
Our test vehicle is one of the Melody-based models, registered at DVLA on 1st February 1986, as Make - SV (as these machines were originally called 'Special Vehicles'), with the V5 recording Body Type - Tricycle, and Wheelplan - 3-Wheel.
The fibreglass-moulded body is formed from two main sections joined in the middle at the front, with plywood floor panels, and powered by a 50cc Honda motor unit driving on the offside rear wheel, while the nearside rear is left to freewheel.
There is easy access to spark plug, ignition set and exhaust from the outside of the body, while the battery, carb, and other parts of the engine are accessed from within the vehicle by removal of an internal fibreglass panel set inside the right wing.
The main body measures 4 feet wide x 5½ feet long, and houses petrol and pozi oil tanks nestled within the right hand body section above the motor. Fillers for both these tanks are accessed on top of the wing.
Handlebar controls are all conventional twist & go style scooter arrangement, with the right lever operating the front brake, and left lever actuating the rear, with drum brakes operating on both back wheels. The left handlebar lever has a secondary latch that allows it to be locked and act as a parking brake.
A big lever at the front left inside the body may look like a handbrake, but is actually the means for the rider to raise and lower the access ramp/tailgate. A latch secures the tailgate in the up position, and requires release by a second lever at the back left before the tailgate can be lowered.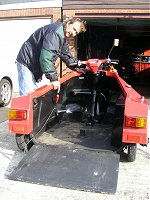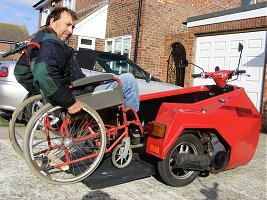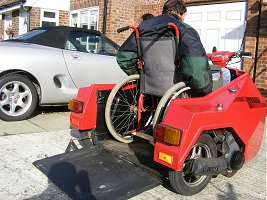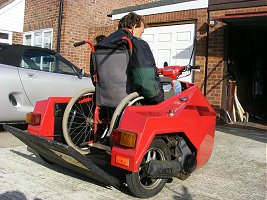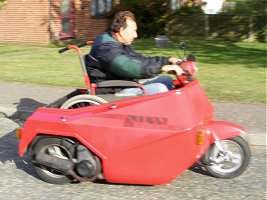 Starting is pretty much typical of conventional modern scooters. The petrol tap is vacuum operated when the engine turns, so there's nothing to do there, and the choke is automatic, so that looks after itself too. Turn the key switch to on, you have to hold in the back brake lever to enable the starter, just push the electric starter button - and the motor fires right up.
It's hard to think of many vehicles we've tested that are so easy to start!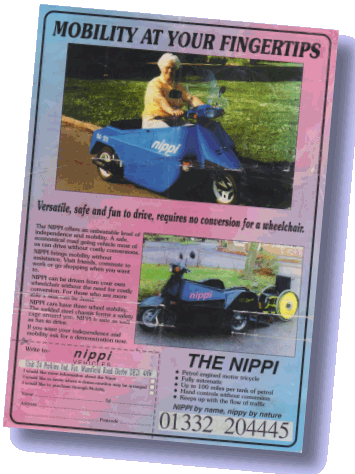 To pull away is simple: just twist and go. Nippi obviously feels a little strange initially, with the first appreciation that steering a trike is rather heavier at the handlebars than riding a two-wheel machine. Similar to riding a motor cycle combination, you have a bit of arm work to do in physically turning the bars to guide Nippi where you want to go, but the steering action is still fairly natural in a different sort of way, and is readily adopted. The width is easily accommodated since you can easily see where the sides are, so there was no absolutely no problem in being aware of where the edges of the vehicle are, nobody kerbed it even once.
There's an indicator switch on the left hand cluster, simply thumb either way to operate the winkers. Few of the old bikes we typically test are equipped with any such luxuries, so it's a real novelty for us, but with proper car-style flashing winkers, you do feel much more confident that other motorists will be aware of what you're doing than briefly sticking your arm out left or right.
Cruising speed was found pretty much up to 30mph with a maximum of 32 to 33mph only proving achievable when running downhill, and comparative results from our pace bike confirming that the speedo was reading fairly accurately. Running back uphill, the speed had only dropped down to 23 or 24 when cresting the rise on the other side, so there seems little issue that Nippi should have any problem coping with most motoring demands.
Though the handling did prove a little twitchy over bumps, and the body panels made the machine susceptible to buffeting in crosswinds, these weren't anything that couldn't be managed by maintaining firm control of the handlebars. One odd thing you do periodically become distracted by, that you rarely seem to notice when riding a conventional motor cycle, is kicked up stones from the front wheel that rattle away underneath the floor pan until they escape from below the body.
The lights are pretty bright by comparison to many of the old relics we generally feature. They're quite good enough to navigate by down blackout country lanes, and certainly adequate to feel that other motorists should spot the vehicle after dark, so unlike many of the autocycles and old mopeds we typically test, we did feel Nippi should still be suitable for safe use at night.
Both brakes proved effective enough for suitable stopping, though our test machine did pull to the left a little under rear braking, but probably only because the drum on that side may need adjustment or servicing. Considering the machine dates from 1986, and is still motoring well at 23 years old, this stands as a pretty good testament to its general construction.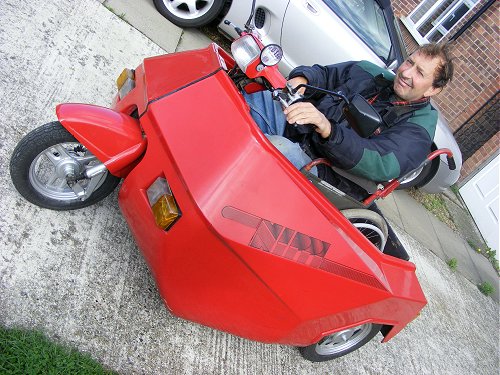 Nippi is a very practical vehicle for covering moderate distances in a reasonable time, and with the capacity to accommodate a manual or battery wheelchair, offers the potential to greatly improve the mobility of a disabled rider. It satisfactorily maintains the pace of town traffic speed and is far safer to drive on the highway than the alternative of slow electric buggies with their limited range, that seem to be increasingly criticised as a hazard to all other vehicles on the road, and a menace to pedestrians on the pavement.
Driving Nippi also gives an appreciation that it could actually be among the safest machines to use on the road, simply because other motorists seem to notice it more as it's such an unusual vehicle. Its very novelty raises awareness, so that works in its favour. Nippi's looks are also pretty good, which aroused a variety of comments from "red stealth trike", to kids who thought it was a "really cool bike", so nobody is going to feel embarrassed when riding one.
Older Nippi trikes like our featured example, occasionally appear for sale at fairly reasonable prices, and now seem to generating interest from people for fun riding rather than a mobility function. For general use by an able-bodied person, it might be easy to see the wheelchair seating replaced by a bench seat across the width of the inside of the body, or a conventional motor cycle style dual-seat.
Several hundred Honda-based models were built up to 1997, when the company switched to new designs centred on Piaggio machines.
Anyone interested in one of these vehicles, contact: Nippi Cars Ltd, The Workshop, Lodge Hill, Tutbury, Burton-on-Trent, DE13 9HF. Tel: 01283 520620 or visit their website at www.nippi.co.uk
---
Next - Other 3-wheelers are available to continue the ongoing oddball theme of our second support feature... No, not plan-A, not the Ariel 3, that's far too mainstream, something much more unusual than that! Our next feature comes right from the far end of the alphabet; this is ... Plan-Z
---
[Text and photos © 2010 M Daniels.]
---
Dave Watson turned up at Stonham Barns to ride the Nippi mobility trike at the Microcar Rally, and there was no hesitation that we'd just have to cover such an unusual machine. With the Raleigh Rackabout article going out in edition 11, the Nippi was ideal to continue the oddball theme of the third feature, so was pencilled straight into the programme as a fast-track article.
The Nippi seems to be one of those machines that attracts interest from everyone, wherever it goes, so proved part of the winning formula at Copdock Motor Cycle Show as the East Anglian Cyclemotor Club was awarded 'Best Club Stand', now the teams third win in six years! Following the show, Dave delivered the Nippi for road test and photoshoot, and it proved to be a really practical vehicle to ride. Several people came round and tried it up the road, and everyone liked the experience.
It was something of a novelty to have a machine that didn't need any fixing, tidying up, or even cleaning; that could be started so simply, worked properly, and drove so well. Luxury!
We also think this is probably the first time that the owner of a featured vehicle has sponsored presentation of the article. Dave didn't know much about the background of the Nippi, and figured getting IceniCAM to produce a feature was the easiest way to find out more about it.
---