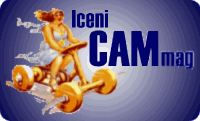 New Zealand Cyclaid Register
National Cyclaid Rally
19 - 21 February 2009
Report by Geoffrey Clark
---
The theme this year was "Cyclaids Go Art Deco". This coincided with the Art Deco Weekend at Napier.
The National Cyclaid Rally was privileged this year to have the participation of John Maddison, accompanied by his wife Brenda, who came from the UK. John Maddison is the Editor of the newsletter for the British Salmson Owners Club and has published many books and articles on British Salmson cars and is presently building a British Salmson Cycle Car. British Salmson also made aero engines and after the war produced the Cyclaid.
Registrations for the rally this year were:
Kelven Martin & Sharon Collier - Te Puke
William & Kerrie Ballantyne - Napier
David & Shirley Cooper - Paeroa
John & Brenda Maddison - UK
Mark Malam - Auckland
Geoffrey & Brenda Clark
This gave us seven Cyclaids, all of which proved very reliable.
The rally was headquartered at 9C Charles Street, Westshore, and hosted by Geoffrey & Brenda.
The programme started with a get-to-know-you BBQ at 9C Charles Street, overlooking the ocean at Westshore and the rally was officially opened with encouraging words from John Maddison.
Thursday saw an early morning run from Westshore to Bayview and back followed by breakfast and then the main run of the programme which was from Westshore to Taradale to Missionview Gardens. This is a plant nursery with an excellent coffee shop. The site was selected as they have over a number of years been donated a considerable number of bicycles which unfortunately are put out on display to rust. Little did we realize when we selected this site that Kelven Martin would negotiate direct with the owner to buy all the cycles and the owner even offered a selection of old wheelbarrows. Kelven was last seen leaving Napier with in excess of seven cycles loaded on top of his trailer. From the gardens we went to Awatoto and back around Bluff Hill to Westshore. Everything went well on this run with only one small exception and that was that William Ballantyne's Cyclaid blew its spark plug out of the cylinder head due to a worn thread. William quickly organized a thread insert to be put in and was back in the field that afternoon.
The garage at 9C Charles Street was converted to the pits and there was always much activity there with Cyclaids being prepared and tuned. The residents of Westshore became well used to the appearance of Cyclaid cyclemotors going up and down Charles Street.
By Thursday the Art Deco Weekend was in full swing in Napier and all the streets had bands playing and lots of outdoor activities, massive vintage car displays, stationary engines, agricultural equipment, etc. All the ladies and most of the gents in town were dressed in period clothes. At one stage John and Brenda Maddison were seen dancing in the main street of Napier to a band. The afternoons being free left plenty of opportunity for everyone to join in the Art Deco Weekend theme.
A further BBQ was held on Thursday evening and John Maddison showed us some information on British Salmson Aero Engines and British Salmson cars.
On Friday 20th February, an early morning start with a warm up run from Westshore right through the centre of the city and around Bluff Hill to Port Ahuriri for breakfast at a local café, then a return to Westshore. After morning coffee we left for an unused road by the airport for an attempt on the Cyclaid World Speed Record which was previously set at 36kph in Ohakune in the local run in December 2008 by Geoffrey Clark. Two attempts on the speed record were allowed with pedalling to one point and then the speed taken without pedal assistance. The speed was timed with a radar gun and the following best times were:
Kelven Martin - 38kph
William Ballantyne - 37kph
John Maddison - 41kph
Mark Malam - 35kph
David Cooper - 40kph
Geoffrey Clark - 42kph
Geoffrey's run created quite a discussion on how much wind assistance he received however it was a credible run in as much as Geoffrey was riding his wife's 26 inch wheel Pashley Sovereign Princess and not his normal 28 inch wheel Pashley Roadster which had suffered a collision with an electric power box and the frame was bent.
With the Cyclaid World Speed record at 42kph there was a lot of discussion taking place on how to lift it and it is rumoured that preparations are already in place to increase that speed record again at the next National Rally.
All the ladies in our group spent some time getting together Art Deco clothing, hats, gloves, shoes, etc and for our evening meal at the Mission Vineyard they were all beautifully dressed in Art Deco clothing as were some of the gents. A very enjoyable evening was had at Mission Vineyard and the food and service was excellent.
Saturday 21st February saw an early morning warm up run around the track at the Ahuriri Estuary with morning coffee in Port Ahuriri. At 10:30 am we assembled at the National Tobacco Company's building for our photos as the front of this building is considered one of the finest Art Deco facades. From there we left to go to Corunna Bay for the Hill Climb Competition. This was on a road that started flat and progressively increased in an uphill slope. The competition was for pedal assistance to a given point and from there on allow the motor to do all the work, avoiding stalling and stopping by decompression. As expected the lightest riders on 26 inch wheel cycles went the furthest and the Hill Climb was won by a creditable effort by John Maddison followed by Mark Malam, Kelven Martin (28 inch), William Ballantyne (28 inch), David Cooper (28 inch) and Geoffrey Clark. Two attempts were held and the results were the same for each attempt.
After that we left for Napier city via George Drive to Marine Parade and then on the cycleway back around the Bluff Hill to Westshore. Mark Malam suffered a puncture on this run.
Saturday evening was the prize giving which took place at Westshore Fish Shop where a delightful meal was served.
The following prizes were awarded:
Best Presented Cycle - David Cooper
World Cyclaid Speed Record - Geoffrey Clark
Hill Climb Championship - John Maddison
Best New Entry - William Ballantyne
Best All Rounder - Kelven Martin
Most Kms Covered During the Rally - Mark Malam
Sunday morning saw pack up with the Clarks, Maddisons and Mark Malam leaving for Ohakune for further Cyclaid cyclemotoring. All participants thoroughly enjoyed themselves in Napier and the cycleways right alongside the seashore are most spectacular and we had excellent weather.
In closing we would like to say that the effort put into organizing this rally was truly rewarding. It is amazing how people with a like interest get on so well together and have so much fun. Napier will remind us of good fellowship, good Cyclaid cyclemotoring and best of all it was fun.
---
[© 2009 G Clark.]
---
| CAMmag Home Page | List of articles |
---