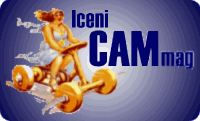 ---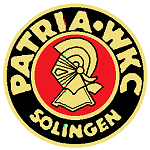 The badge of our feature machine may seem to be a puzzling enigma, a mysterious golden helmet from some medieval knight—certainly a most unlikely emblem to find adorning a moped!
On this occasion however, the history of our obscure subject may seem to start way back before anything we've ever featured before! Around the glittering logo, "Patria WKC" and we are challenged to a quest to discover what this may mean.
The symbol seems to have been adopted from 17th century arms manufacturing based in Solingen (near Düsseldorf), which is known as the home of the German knife industry, in a similar way as Sheffield is for cutlery in England. The knight's helmet with lowered visor can be traced back to around 1650, when the device was already displayed as the trademark for the weapons blacksmith in Solingen.
At this historical location, Solinger and Siegen Industrial was founded on 23rd December 1872, to develop into a giant cast steel plant covering 23.5 hectares of Weyers Mountain and registering 4,000 employees by 1921. This huge site was one of the largest German steelworks, with smelting plants, foundries, a steam hammer forge, pipe drawing, plate rolling, rod and wire drawing, cold rolling mills, machine shops, mechanical workshops, laboratories, and its own railway station with an extensive network of track, locomotives and siding to service the industry.
This place was also the origin of the arms factory of the Weyersberg brothers, which merged with another company in the same line of business, W Kirschbaum & Cie, to form Weyersberg, Kirschbaum & Cie. The steel works became the majority shareholder in the new WKC company, founded on the site at Cronenberg Street in 1883, making cutting weapons, machetes, scissors, hairdressing equipment and typewriters.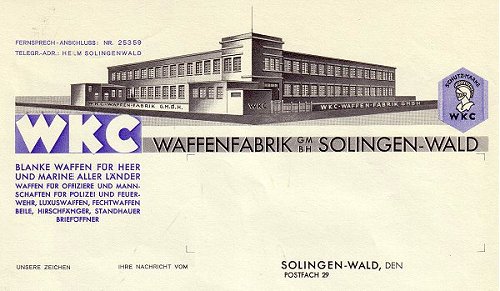 WKC letterhead—note the the helmet logo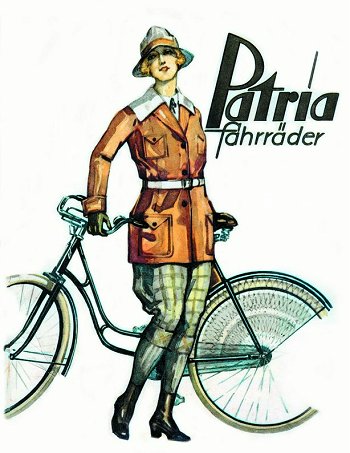 When weapons turnover considerably decreased in the middle of the 1890s, the factory switched to manufacturing seamless tubes and, with the increasing popularity of bicycles, became active in the production of cycle components. Progressing to building complete machines, at first these were branded WKC, but the Patria emblem was adopted from 1898 to badge the company's bicycle products. Quite how WKC selected the name is unclear, since Patria doesn't seem to appear as any word from the Germanic language, though it will translate from Latin as paternal or father, and from Portuguese as homeland.
Patria bicycles sold well on their reputation for good quality, steadily rising to 100,000 units annual production, and also traded under brands of Waffenschmied (Weapon Smith or Armourer), and Tell. Manufacture of cycle parts for other companies also boomed, trade wholesale orders, components for small cycle builders, and competitively priced bespoke frames also being sold on under other names.
Now calling itself "Patria WKC Fahrzeugbau GmbH" (Fahrzeugbau = company specializing in the construction of motorised vehicles), the first Patria motor cycles designed by Johannes Rössig appeared in 1925, fitted with Roconova 248cc and 348cc ohc single-cylinder engines, but these models were discontinued in 1927.
In 1930, the unthinkable happened: the vast Siegen Steelworks fell into bankruptcy, a victim of the global depression. As the plant facilities were dismantled and the site cleared, the Siegen collapse compelled abandonment of the Cronenberg site on Weyers Mountain. This wasn't the only problem at this time, as the Siegen shareholding in WKC would have dragged the company into receivership too, but it was salvaged when Hans A May took over the business and relocated its factory to Beethoven Street in Solingen.
In 1931, production of bicycles was joined by a range of autocycles with Sachs 74cc two-stroke, 2-speed engines, and available in a choice of three frame versions, gent's, lady's, or heavy-duty trade carrier. Patria-branded knives, daggers and bayonets for military orders also returned with increasing numbers as the '30s decade progressed. Further mofas with 98cc Sachs engines were added to the programme, and a Saxonette motorwheel cycle in 1938, but these were only produced in relatively small numbers as the business generally favoured the manufacture and sale of components.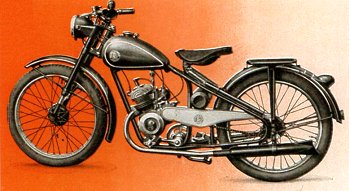 1949 Patria–WKC 98cc motorfahrad
With the ending of arms work in the post-war period, the company once again turned to motor cycles as alternative products from 1949, introducing a mofa Patria–WKC 49 Niederrhein (Lower Rhine) Sachs 98cc powered autocycle. Other sources indicate 98cc Imme engined models, and 125cc Sachs two-stroke motor cycles also being produced about this date.
Following the sudden death of its owner Hans May in 1950, references suggest the company closed down, but seemingly returned under new ownership in 1952 with an entry in Motorkatalog of a new Patria–WKC Model Niederrhein powered by a 2-speed, hand-change, Fichtel & Sachs KM 50/98 engine. The second issue of Motorkatalog for the same year goes on to list other models: PM 51/175 with a 4-speed footchange Jlo engine, a KM 50/125 Jlo of 5.5HP, and PM 51/150 Sachs of 6.5HP.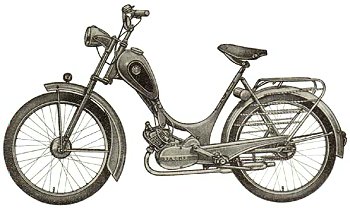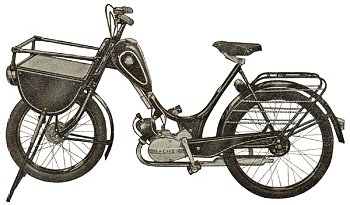 1955 Patria–WKC mopeds
The Patria factory was struggling with financial problems during the year, and reports relate that just before Christmas of 1952, production came to an abrupt halt when creditors seized everything that could be shipped away by truck!
References to all these earlier machines disappeared from subsequent Motorkatalog editions and, once again declared bankrupt in 1953, Patria showed no entry for a couple of years.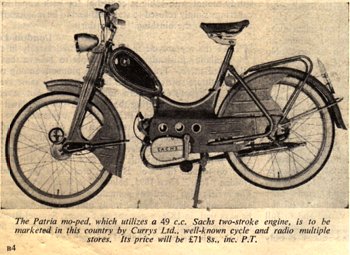 Patria moped announced in Motor Cycling
In 1955 the Patria–WKC brand re-appeared on a range of mopeds advertised by the company Stutenbäumer & Ottens in Beckum as 'The Moped with Stature'. (Beckum is located some 50 miles further east, out of the main industrial area, between Hamm and Bielefeld). Versions were offered in telescopic-fork Moped or Transport (Carrier) rigid fork frames, with optional 1-gear engine from Zündapp, or 2-gear motors from Jlo or Sachs.
For the 1956 season, the Moped was extensively restyled with the addition of fashionable port-holed side panels, valanced mudguards, and a pressed-steel, band suspended leading link fork set.
Glass's index listed Patria in the UK from June 1956 with frame number 113285, to October 1956 last frame number 118044, though whether this suggests that Curry's imported a complete serialised batch of 4,759 bikes, we can't be sure. To sell such a number of machines over so short a period would seem rather unlikely.
An illustrated notice appeared in Motor Cycling on July 12th 1956, announcing that 'The Patria mo-ped, which utilizes a 49cc Sachs two-stroke engine, is to be marketed in this country by Curry's Ltd., well-known cycle and radio multiple stores. Its price will be £71–8s inc purchase tax'.
---
Our test machine is one from this Curry's import batch, wearing chassis number 113839 and now over 50 years old. It was something of an incomplete ruin when its current owner took on the restoration project. While Sachs motor parts still prove reasonably available to enable rebuilding these engines, there is little practical prospect of acquiring any cycle parts, so some missing components had to be improvised. The original steel rims were totally rotted, and wheels re-laced with a compatible pair of ex-Quickly 19" alloys, which are quite sympathetic as a number of continental makers were building wheels with Magmeg alloy rims about this date.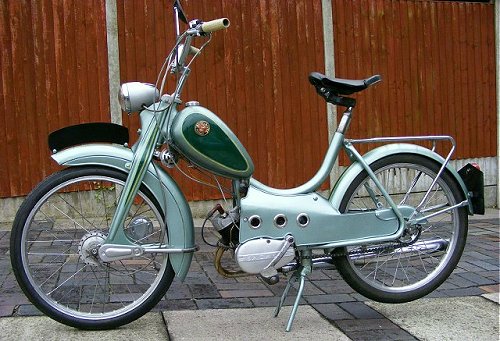 The frame comprises a conventional form-tube welded assembly with rigid rear, leaving much of the Patria's character to bolted-on components. The chunky, forward-mounted petrol tank is a proprietary German market item that was fitted by a number of manufacturers to various machines, also found on Pantherwerke Bobby models, Göricke, and others. The contrasting, coach-lined tank side panels are badged with the impressive Patria logo of a knight's golden helmet, and fuel tap turns on at the bottom leht-hand side of the tank.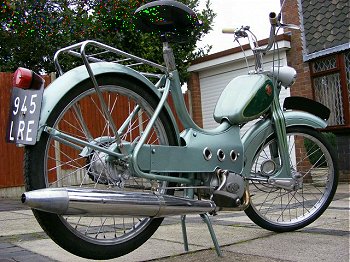 The side panels are probably the bike's most eye-catching feature, with the novelty of three portholes disposed along each side, of which only the front left hand port seems to have any practical function for access to the carburettor flood button, all the rest appear purely ornamental. The porthole feature was a brief continental fashion of the period that could be found on a number of European machine makes; it's hard to say exactly who started the style, but portholes can also be found on the Göricke Diva Luxus, Cyrus 'Super' models, RAP, Burgers, and some Rabeneick bikes.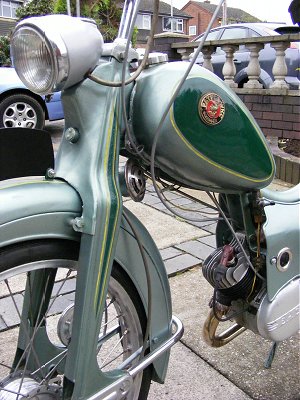 The front forks comprise a pressed-steel welded assembly with band sprung, leading link suspension, and concealed rubber straps connecting to anchor the links from underneath, just behind the axle. Only in wheeling the bike into position for photoshoot, it's noticeable this arrangement doesn't seem to be rearing up the forks when the front brake is applied—so now we've probably got the attention of a few million Honda owners?
The rebuilt gear driven motor carries a 1.6ps series plate, but the combination of cast vertical strikes up the cylinder transfer ports and the early model Bing carb suggest this configuration of engine may not have met this rating at time of test. It might have been re-assembled from parts closer to the earlier 1.25bhp specification. Rather than acceleration, our suspicions appear to be realised by a gentle building up of speed, to a happy cruising pace around 25mph. According to conditions, 30ish is about the flat best our limited motor manages to pull, though downhill will run up to around 36–37 with the taller gearing, at which the Sachs is spinning smoothly and unconcernedly handling the revs with practically no vibration.
The Sachs hub brakes are effective, though unspectacular. Standing on the back pedal brake with a firm pressure will adequately hold the bike back on a steep downhill descent, but doesn't offer enough leverage to threaten any over-braked dramas. The front brake is similarly retarding and adequate, without the tendency to excite, but offers the rare enjoyment of inducing no dramatic rearing-up demonstrations that blight the operation of so many leading link arrangements. The band anchored, floating link suspension also rides surprisingly well, and effectively irons out the road surface—so it really does appear to work, but seemingly failed to offer the salvation the company might have been looking for.
The Curry's listing ending in October 1956 proved to be the very last traceable reference for the Patria Moped. Certainly the machine ceased manufacture in 1956, though the reason for this discontinuance is unclear. Curry's were known for buying receiver's stocks from bankrupted European manufacturers for clearance on the British market, so this may be a probability.
Since 1971, the Ernst Kleinebenne Company at Leopoldshöhe near Bielefeld continues making bespoke bicycles under the Patria–WKC brand, describing itself as a 'bicycle factory—since 1950 in Bielefeld', and still demonstrates the helmet motif as its trademark and sign of quality.
The Patria mopeds were listed by Patria–WKC Fahrzeug-Gesellschaft mbh, Solingen (Gesellschaft = Public Limited Company), so presumably this was registered as a separate and different company that would appear to have ceased trading.
The conclusion is that upon the death of Hans A May in 1950, the bicycle aspect was sold off separately and transferred to Bielefeld, where it has continued independently. There are ready examples of this sort of thing happening within the British industry, James motor cycles were produced under the auspices of the Associated Motor Cycles (AMC) Group, at the same time as James branded Cycles were being sold by the British Cycle Corporation as part of Tube Investments (TI) Group—both completely different companies.
Next: the support feature would seem to be continuing its warrior theme, as we appear to follow our medieval epic from Patria even further back in time—to visit the Bronze Age!
---
[Text and photos © 2009 M Daniels.]
---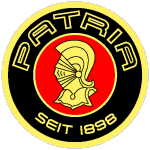 Making
The Golden Helmet
The support feature bike was kindly offered by Keith Glover up in Stoke and, despite the distance, you've got to take such opportunities since machines such as this are most uncommon, but trying to uncover anything on Patria was simply research agony! There's practically nothing in the mainstream motor cycling encyclopaedia (as usual), so this was a major Time-Team excavation. It's often hard enough to unearth fresh material on the lesser British manufacturers, but obscure German producers enter a whole new league of difficulty! Collating and translating every grain of material from the most unlikely sources, and against all odds, The Golden Helmet finally presented an interesting tale, and surely has to stand as the single most comprehensive publication on Patria by anyone to date.
Though located some 200 miles from IceniCAM base, expenses were kept to a minimum in covering the road test and photoshoot by taking an extra day on a return drive back from North Wales, so film, processing, and fuel costs only ran about £20. Jeff Lacombe scores yet another credit for the Leicester Enthusiasts, who seem to be dominating this particular issue of Iceni CAM Magazine!
---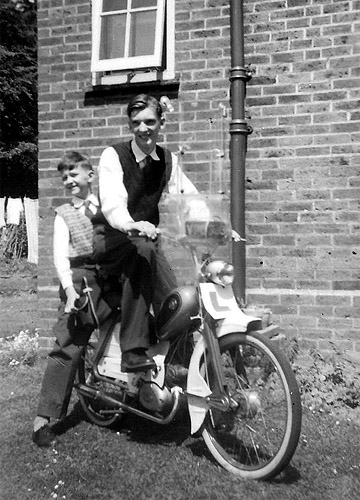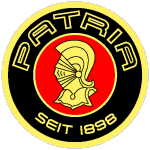 Feedback
July 2020
Good Morning Sir,
I have been enjoying your Moped Index. My 'part time job' is the DVLA Rep & Archivist for the BMW Club UK&I, now in my 6th year and over 500 requests sorted from early 1930s to circa 2012. I do get enquiries 'can I help on German mopeds?' No, but I do point them in the right direction if I can.
My first transport was the Patria Moped pictured. In 1958 at age 16, I would use it to go from Lower Beeding to Bakery School at Brighton. It was cream and green with a huge windscreen; in a strong wind one went backwards. I passed my test at Crawley on the Patria in 1958, then went to buy a motor cycle at Grey & Rowsell Ltd in Roffey, Horsham. I had £100–0–0 The 'salesman' was a boy from my class, in 1957. He offered me a 1000cc Vincent Rapide, a bit big; then a 500cc BSA Gold Star Clubman's, bump start, clip ons, etc. I bought a Triumph Tiger Cub, which was replaced by a 1938 Triumph Speed Twin for £7–10s. Then I went to work in Germany 1962–63 & on return bought a new 500 BMW. I kept that till 2012. I have had BMWs ever since and am now an officer of the club.
I learnt the language and really use it everyday in communication with BMW Historic Archive in München.
My Father had a new BMW in 1938, so I caught the disease from him.
My brother Peter is the pillion in the photo; he is 73 now! He always had bikes and fast sports cars.
All I have now is an original May 1951 250cc BMW R25. I cost me £10–0s in 1966. My 'real' life has been, still is, a Professional Jester, Magician, Fire Eater, Stiltwalker, and Actor in TV & Film.
Keep up the good work,
Robert Freeman.
thejollyjester.com
---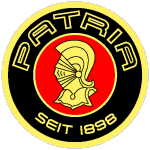 More Feedback
April 2021
Dear Mr Pattle and Mr Daniels,
I just found on your homepage the very interesting 'The Golden Helmet'.
Referring to: 'In 1955 the Patria–WKC brand re-appeared on a range of mopeds advertised by the company Stutenbäumer & Ottens…', please find attached a piture from my grandfather's (Heinrich Stutenbäumer) factory. The address of the factory at that time was: 472 Beckum, Parallelweg; today it is: 59269 Beckum, Hans-Böckler-Ring.
My father, Hans Stutenbäumer, had a shop at 472 Beckum, Oststraße from 1951 to 1955 where he sold the Patria WKC moped.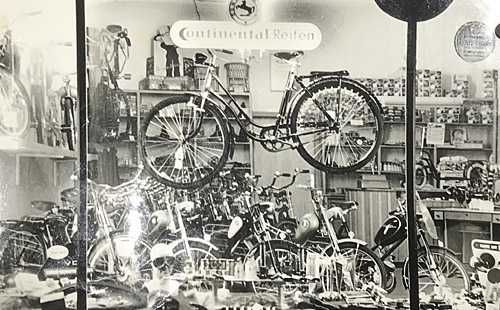 Around 1955, Hans Stutenbäumer's shop moved from Oststraße to 472 Beckum, Nordstraße 22; the picture below are from 1956.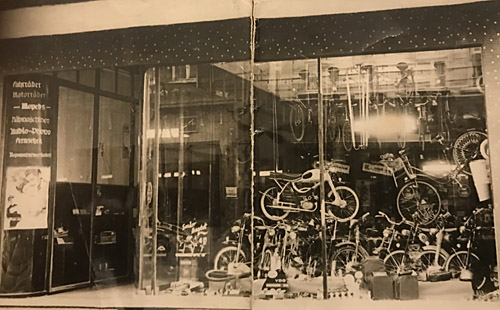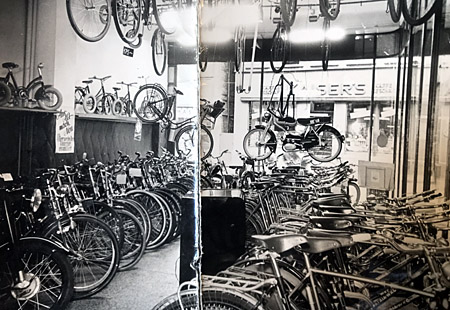 I remember my father told me in 1970 that my grandfather Heinrich Stutenbäumer had been very proud to take over the Patria WKC brand and factory in Solingen.
The photo below is from 1937 and shows Heinrich and Antonia with eight of their eleven children. (Three girls died very young, suffering from Consumption.)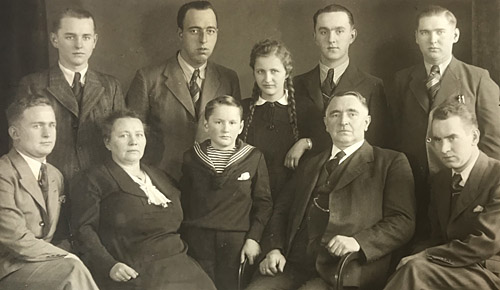 Mit freundlichen Grüssen,
Johannes Stutenbäumer
---
| CAMmag Home Page | List of articles |
---