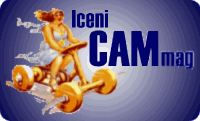 ---
The brand is probably just as familiar to many people as Mobylette, Motobécane, Motoconfort or, these days, MBK. It's all much the same badge engineering.
The Motobécane 51 was introduced to the UK from August 1980 as three models: 51VLCB, 51VSB, & 51SU. Our feature machine was registered in November 1980 and, though there's no indication on the frame plate or anywhere else of exactly what model this example is, the spoked wheels and dual-seat specification identify it as a 51VLCB.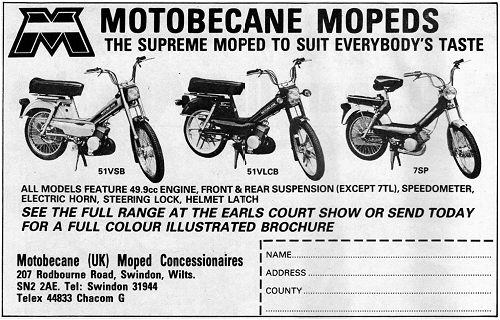 Motobécane advertisement from September 1980
The cycle chassis is basically the same as the preceding 50V model, just made to look a little different by the addition of plastic styling panels over the petrol tank, and other detail trim.
Ok, so why might we want to do an article on what appears to be a modern Moby commuter? When you add up the numbers, this machine is 27 years old, but only on its second owner, and certainly isn't retired yet either - it's still used for work every day. As it happens, the 51V was also quite a revolutionary Moby, since it introduced their reed valve motor.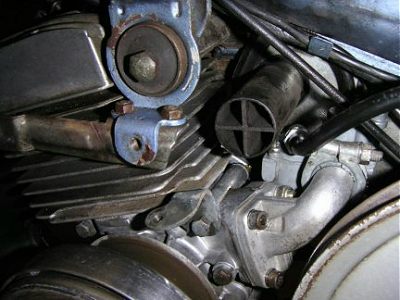 All models before this time were piston ported, which meant the inlet port closed at 55° after TDC, therefore, particularly at lower revs, a third of the undercase scavenge is going back up the inlet manifold! With reed valve induction, the reeds close immediately after TDC, so none of the undercase scavenge is returned to the carb, and the full charge travels up the transfer ports to combustion in the cylinder.
Starting is conventional Moby, though the 51V has its decompressor on a trigger instead of the more familiar dual-action forward-twist throttle. The motor fires up very smartly with a deep, rasping exhaust note, then wring back the grip and the bike is off like a shot before you've barely sat down!
There is quite some noticeable difference in the torque of this motor compared to any Moby that preceded it. One of the greatest handicaps of the older piston-ported machines was the sluggish pull-off, particularly in town with impatient urban traffic snarling at your back, or trying to take off against an incline with the engine straining against the automatic clutch. Under such conditions, the only solution was pedal assistance.
The 51V ushered a whole new generation of Moby, returning practicality in traffic, and taking hill starts with barely ever any need to pedal.
Having established that the 51V accelerates pretty smartly, you might think there'd be some issue that it's only kitted with 80mm brakes at both front and rear, however this shouldn't be any concern since the headstock carries a frame plate "max design speed 51mph" so despite the torque, incredibly it's classed as a Sloped!
The qualification of a moped changed on 1st August 1977, from "a machine of capacity not exceeding 50cc, and equipped with pedals, by means of which it is capable of being propelled", to "a machine of capacity not exceeding 50cc and restricted to maximum 30mph". The new definition meant mopeds were no longer required to have pedals and, while many manufacturers drifted toward kick-start and footrest arrangements, Motobécane continued with the traditional format.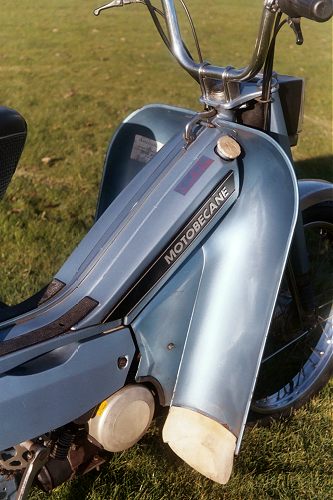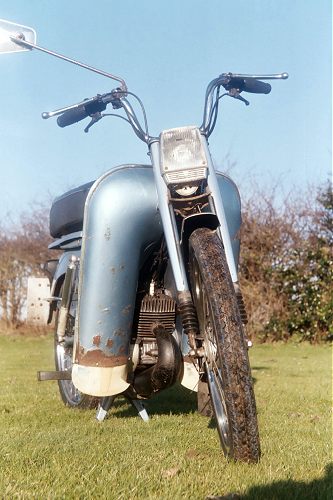 Our test took place on a particularly blustery day, and we still managed to maintain 25mph (indicated 30), despite running into a strong headwind with driving rain. On the flat with a tailwind the pace bike recorded 33mph (indicated 40), so the effect of the Sloped restriction was quite apparent. Best downhill was paced at 38mph (indicating 45), and back up the other side maintained a strong 25mph+, which appeared an appreciable improvement on its piston-ported cousins on the same incline. Once again, another Huret speedometer receives particular credit for its optimism.
To compare the relative acceleration, we thought it'd make a challenging comparison to put the 'V' up against Motobécane's best piston ported motor, in its lightest chassis - the famous AV89 engine in Raleigh's 1966 Super Tourist: 9:1 compression, H14mm Gurtner carb, wide ported cylinder, rated at 2.67bhp, and only 102 pounds. On the grid, 51V's reed valve lines up with its own 9:1 compression, Gurtner AD13mm carb, but what we suspect will be small-ported Sloped transfers. Our available info suggests the standard 51V rates at 2.2bhp, and weighs in 11 pounds heavier at 113 pounds, so let's see how it measures up against the best from the old generation.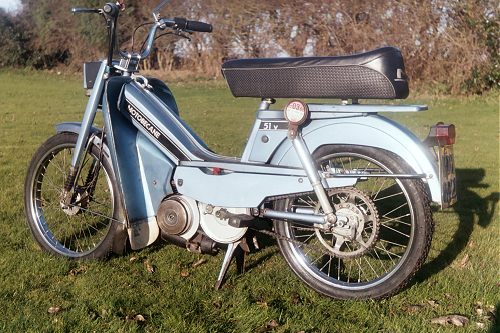 Straight off the mark, 51V steals 5 yards on the Super Tourist, and holds that lead right up to its maximum speed, when the Raleigh finally overhauls us and pulls away with its greater top speed. Several runs, but the same result repeated every time - the 51V always accelerates faster. It's a pity that the reed valve motor is 30mph limited in the UK, but on the continent there's a whole world of go-faster accessories for these motors: big port cylinders, high compression heads, big carburettors, water cooling, the list seems endless and is only limited by how much you want to spend on your Mob Chop as the French fondly call them.
Our 51V is fitted with 2¼×17 4-ply tyres, feels very sure-footed, and rides its undamped front and rear suspension quite comfortably. The brakes proved perfectly adequate at all times. Still favouring the simplicity of the battery-less system, the lights appear pretty bright and the horn goes beep - what more do you need?
After only 5 months, the 51VLCB became de-listed in December 1980, though the other models continued to September 1983.
Motobécane's moon was on the wane, and they changed their name to MBK in 1984. Re-branding hardly seemed likely to turn about the company's fortune, and it was shortly purchased by Yamaha. The MBK brand still continues, having re-established itself as a major producer of European scooters.
---
This article appeared in the April 2008 Iceni CAM Magazine.
[Text & photographs © 2008 M Daniels. Period document from IceniCAM Information Service]
---
Making Reed Revolution
For Reed Revolution, we'd had our eye on this machine for a while, so when the 51V came in for some work, we took the opportunity to cover it with a feature. Owner Steve Eastall isn't a moped enthusiast or anything like that, he just uses the bike for everyday transport, reliably taking him to work in all weathers - which is exactly as intended, not swanning around occasional sunny Sunday rallies. The Motobécane has to work hard for its keep too, since there are some significant hills on its regular route, and the rider is a strapping chap, more than twice the weight of the bike itself! This mini-feature was ridiculously cheap to produce, just £4.50p for film, developing, prints & CD, though that hardly reflects the huge amount of work put in rebuilding the bike to return it to a representative standard for roadtest and photoshoot. Moby enthusiast Lindsay Neill scores the sponsorship credit for the East Anglian Cyclemotor Club - North of London branch.
---
| CAMmag Home Page | List of articles |
---