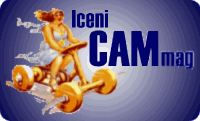 In Circulation
---
Circulation is the national magazine of the NBS (National Blood Service). NACC Cambridgeshire Section organiser, Alan Course, was featured in the June 2007 edition of Circulation, as a result of the Section's fund-raising efforts at the Yesteryear Road Run from Cottenham. Not only was he featured in the magazine - he was on the front cover too...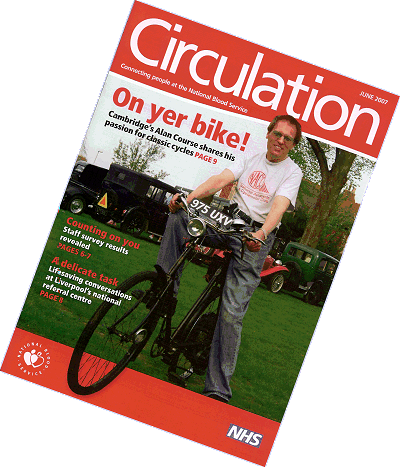 ...and this is what the article inside said:
---
When Cambridge-based driver Alan Course isn't out and about in East Anglia on behalf of the NBS he swaps four wheels for two to indulge his passion for classic motor cycles and autocycles.
Kate Daley

caught up with Alan to find out more.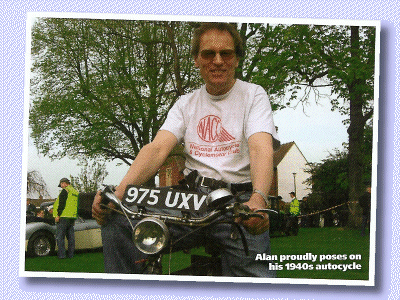 Kate: Tell me a bit about your role at the NBS.
Alan: I'm an NBS driver based in Cambridge - this involves blue light deliveries, hospital deliveries, collections from blood donor sessions and occasional stem cell deliveries.
Kate: What do you enjoy most about your Job?
Alan: Having been a blood donor since 1967, I have always known about and been interested in the blood service. After taking early retirement from the Home Office Immigration Service where I managed a large section and had constant dealings with the public, I wanted to do something different and I didn't want to sit around all day. I wanted to do something active that got me out and about meeting people. I get to travel all around East Anglia and I'm not constantly supervised. I also still have time to enjoy my days, as often I don't start work until the afternoon and this suits me at my time of life.
Kate: You have a fascination with classic motor cycles - tell me about that
Alan: I've had classic motor vehicles since I was 18. I had a very old 1930s car and I was offered a couple of smaller moped-sized cycles. People tended to restore vehicles in the 1970s but they were more interested in the top of the range bikes, the type you rarely saw because no-one could afford them. Most of the everyday utility motor cycles, autocycles and 'clip on' engines for cycles from the early 1950s were thrown away. Just after the war a number of companies made small utility 'clip on' engines to fix on to an existing bicycle or made a complete autocycle. Midwives used to ride round on autocycles provided by local authorities to do home deliveries. During the late 1950s, when the scooter craze took off and the mini car became popular, people threw all their 'clip ons' and autocycles away.
Kate: You mentioned autocycles - what are they?
Alan: The autocycle is a lightweight motor cycle, usually about 98cc with just one gear and pedals, very similar to the mopeds of more recent years but with a bigger engine. The autocycle was developed between the Wars and, by the mid-1930s, had adopted a design which changed very little until the end of production in the mid-1950s. I'm involved in the National Autocycle and Cyclemotor Club, as one of their officers, and we have a national membership of people who restore these cycles and enjoy going out for runs on them. It is great fun and at the same time we raise money for charity.
Kate: Do you restore the vehicles yourself?
Alan: I'm not an engineer, although wish I was. I do struggle but I've got a lot of friends that are engineers and that way I get by. I do the labouring and they help me out with the complicated bits.
Kate: How do you use your machines to raise money for charity?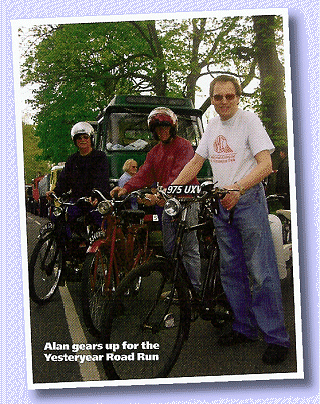 Alan: I entered the Cottenham Yesteryear Road Run in April, which raises money for the Mid Anglia General Practitioners Accident Service (MAGPAS) through sponsorship. MAGPAS is a charity which trains, supports and provides equipment for volunteer doctors who give lifesaving treatment at road accidents and other incidents; they often go out with the air ambulance. This treatment can and does save lives. The Cottenham Road Run aims to raise about £9,000 each year for the charity.
At the run there were over 300 vehicles of all descriptions. My 25cc Cyclemaster was the smallest there; its engine was made in 1951 and is attached to a 1940s Co-op bicycle. The Coop produced and sold their own make bicycles back then. My daughter also came along on my larger bike, a 1965 Triumph Tiger 90, so she could pick me up if I broke down. I am very grateful for the sponsorship colleagues in the NBS have pledged for the run.
I'm hoping to raise over £100 for MAGPAS this year.
Kate: What would be your dream cycle?
Alan: A Ducati Cucciolo - the first cycle 'clip on' Ducati ever produced in the 1950s. Ducati now produce top of the range motor cycles. Just before Christmas, a Ducati Cucciolo engine sold for more than £2,400 on e-bay.
Kate: What advice would you give to somebody who would like to get involved in this hobby?
Alan: Look on our club website [www.buzzing.org] where there are various sections relating to regions around the country along with a wealth of information and details of national and local events.
---
This article appeared in the June 2007 issue of the National Blood Service magazine Circulation.

| CAMmag Home Page | List of articles |
---