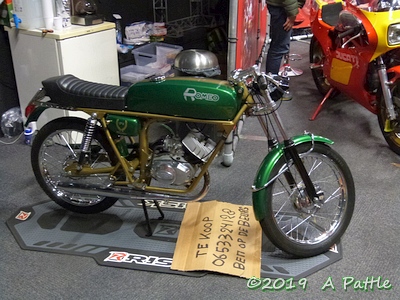 Romeo sports moped.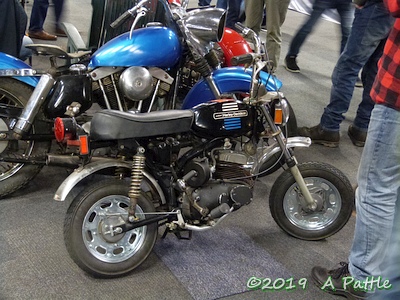 A little Harley–Davidson.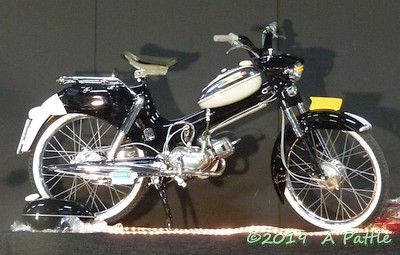 A fan-cooled Puch displayed against the wall.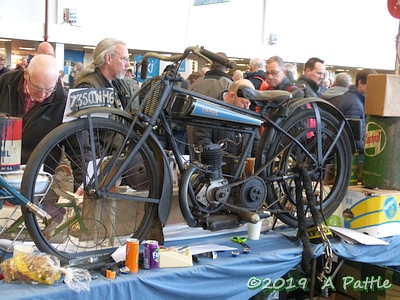 A Favor Moto Légère B dating from the mid-1920s—possibly brought back into use just after World War 2 we deduce from the 1947 registration number.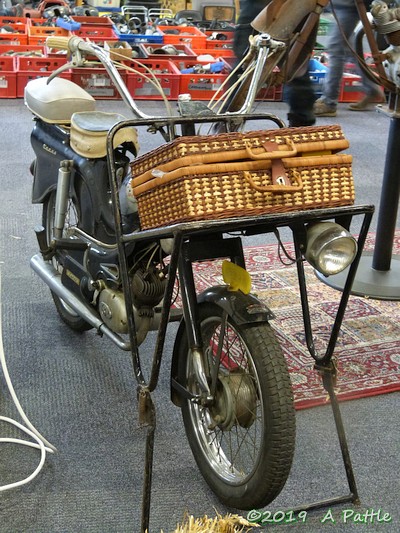 A Cyrus F75 Transport moped.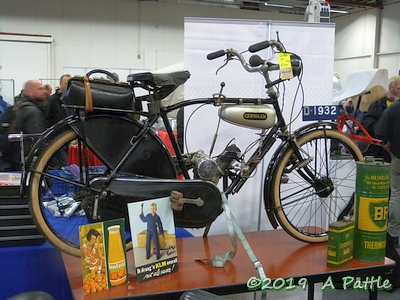 Germann autocycle.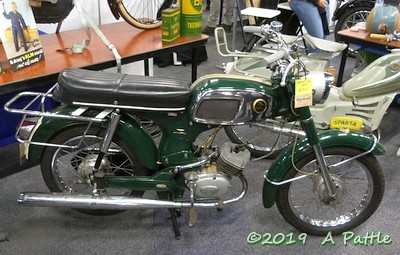 Sparta 3V Sport priced at €750.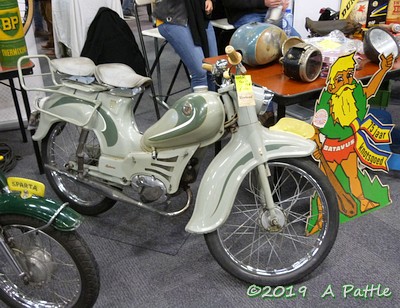 1959 Batavus G50 Toerist for €1,150.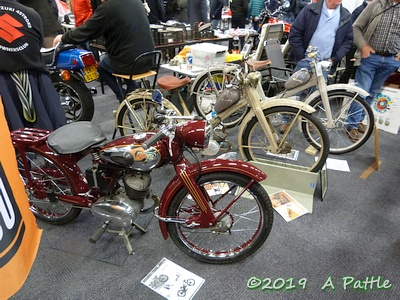 Three NSUs: a Fox and two Quicklys.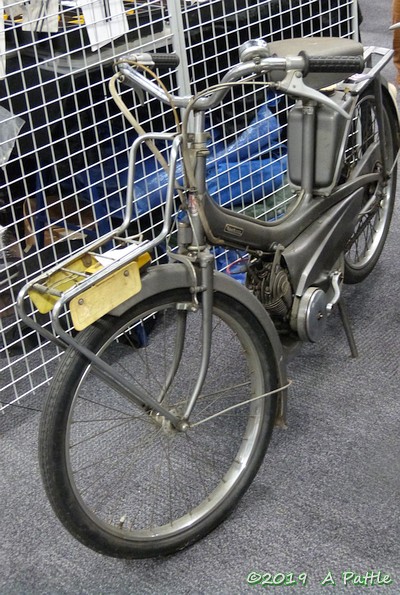 Kaptein Mobylette.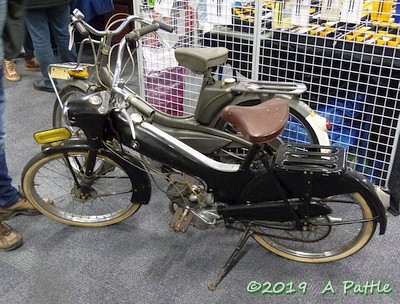 DMF Nestor.

Moto Morini ZetaZeta.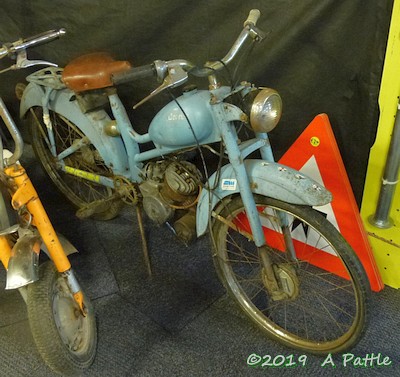 Itom.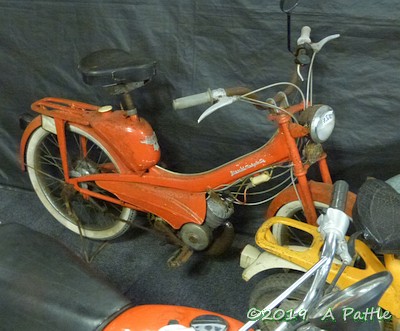 A Bianchi Mobylette, made in Italy under licence from Motobécane.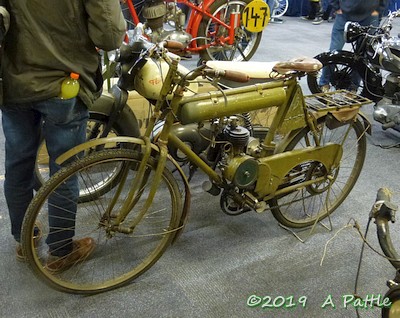 A Colibri, made in 1920 or thereabouts, and for sale a €4,250.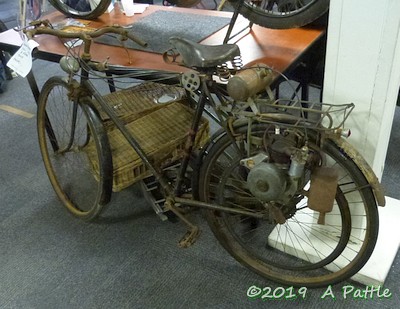 This Serwa cyclemotor is on a Terrot bicycle and it dates from 1949. The Serwa is a four-stroke engine and has a two-speed transmission, achieved by tilting the engine forward or back to bring one of two pulleys in contact with the dummy belt rim. €2,450 was the price.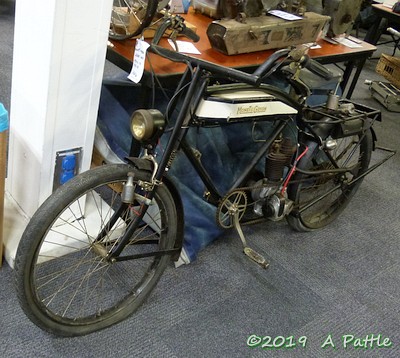 A Monet–Goyon dating from immediately after World War 1.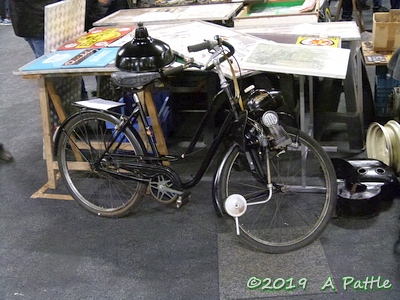 A VéloFlandria, Designed to compete with the VéloSoleX.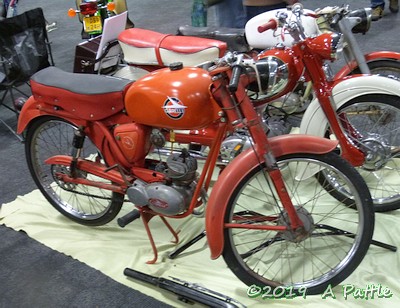 A Garelli Sport…

…and another Garelli Sport.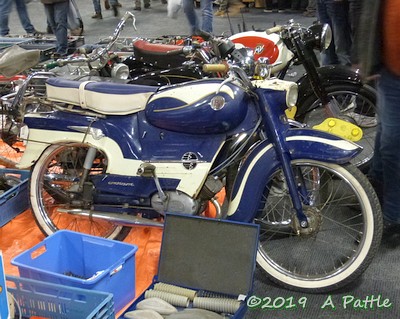 Batavus Combisport.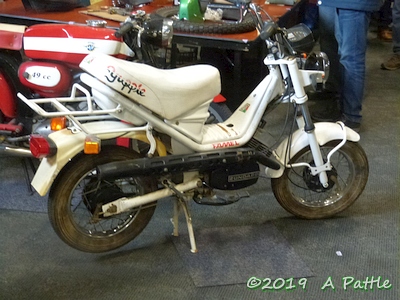 A Famel Yuppie; this Portugese moped is powered by a Zündapp engine.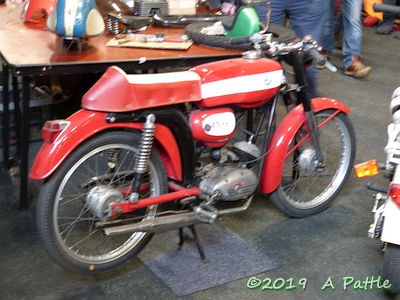 MV Agusta sports moped.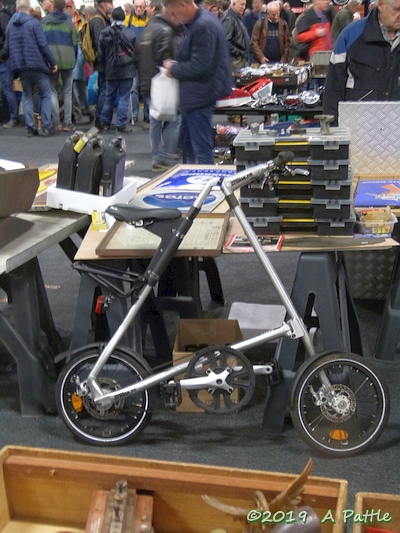 Strida folding bicycle.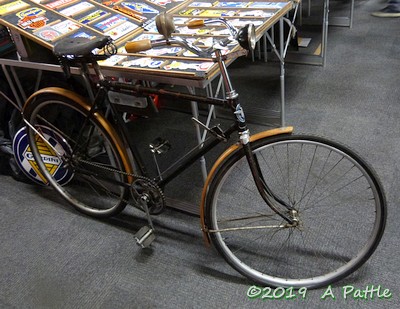 This Adler bicycle has a three-speed gear built into the bottom bracket; does that make it worth the €890 asking price?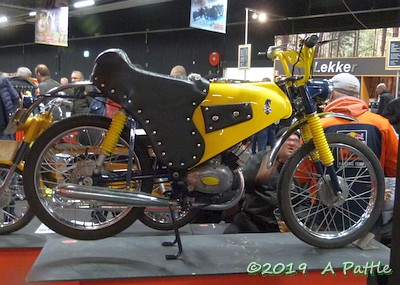 Italjet Rodeo.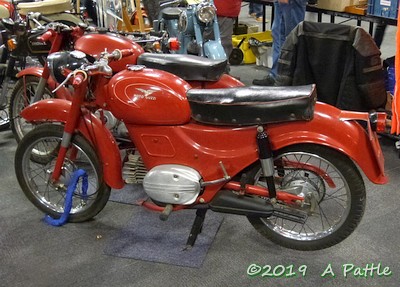 Moto Guzzi Zigolo.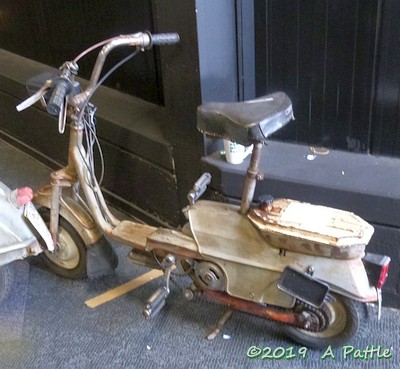 A Peripoli Giulietta mini-bike.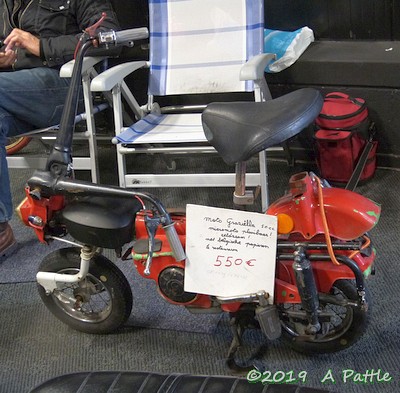 Moto Graziella: €550.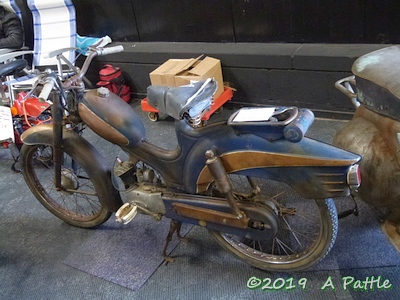 A bigger Peripoli Giulietta—can't quite remember how much this was, €850 perhaps.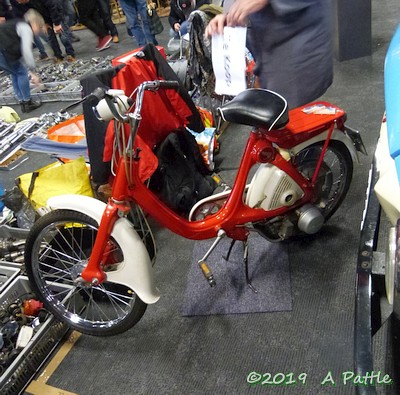 Honda P50. It looks complete with all the parts that usually go missing.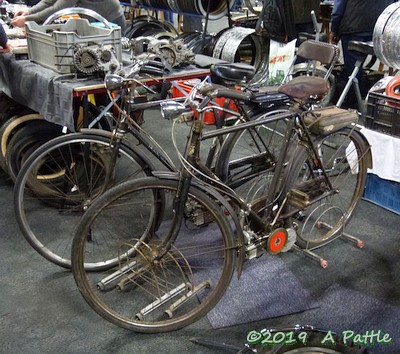 A pair of Mosquitoes.

A pair of Peugeot 102s.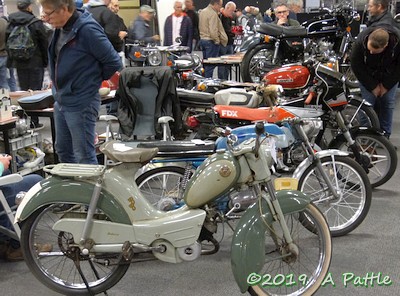 Jlo-engined Batavus: €750.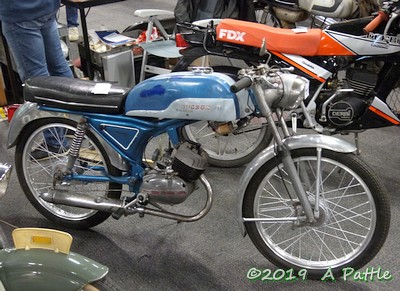 Ducson S12 Especial. Can't tell the price but, presumably, it was reasonable, as it had already sold.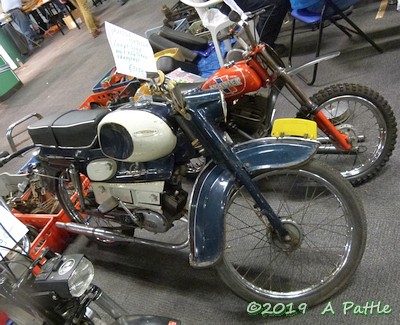 €1,150 would buy this Gazelle Isabella.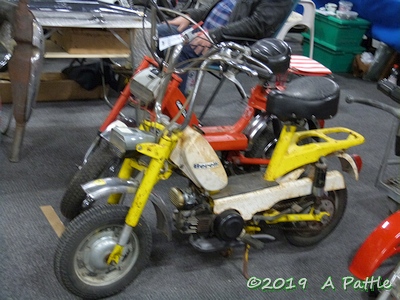 Benelli mini bike.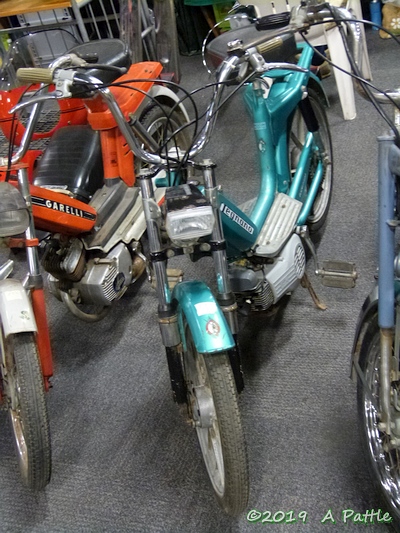 Legnano.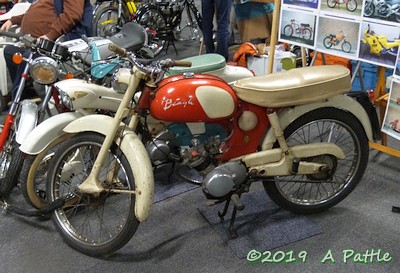 A BSA Beagle, and what's that behind it?.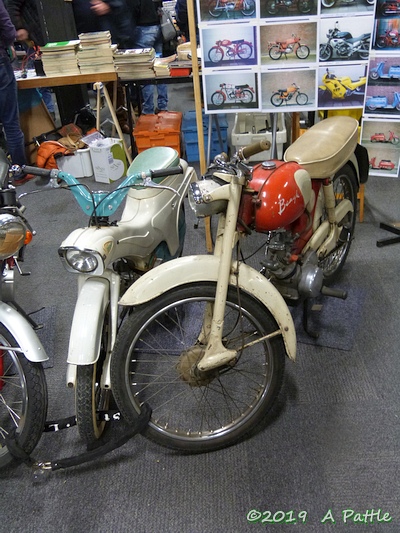 Yes, an Ariel Pixie.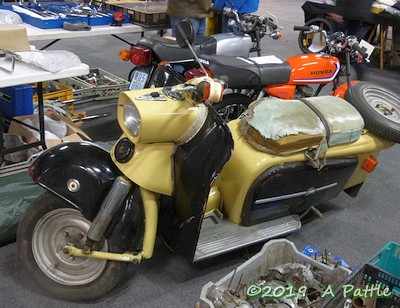 An IWL Troll.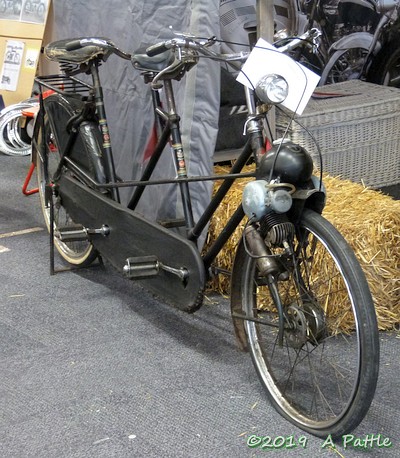 Berini cyclemotor on a Straaljager tandem: €1,250.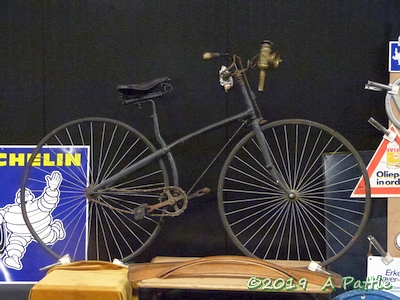 An early safety bicycle .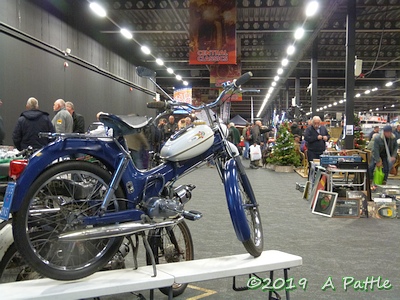 Puch VS50L.